For many, the prospect of using a 60% keyboard would be ridiculous. That's a keyboard that's 6/10 the size of a regular one, a little of half has big. Already, removing the number pad for tenkeyless keyboards needs some getting to for conventional users – now imagine removing the F keys and arrow keys as well. That's a real life-changer. But if there's anything we've learnt from recent keyboard models, it's that less usually means more.
The new Razer Huntsman Mini certainly demands users to change the way they use keyboards. In essence, this keyboard is the result of literally sawing off everything from the full-sized Razer Huntsman Elite and the Huntsman Tournament Edition down to just the standard keys used for typing. Yup, no F keys, utility keys, and, most strikingly, even arrow keys, which is arguably the biggest change here.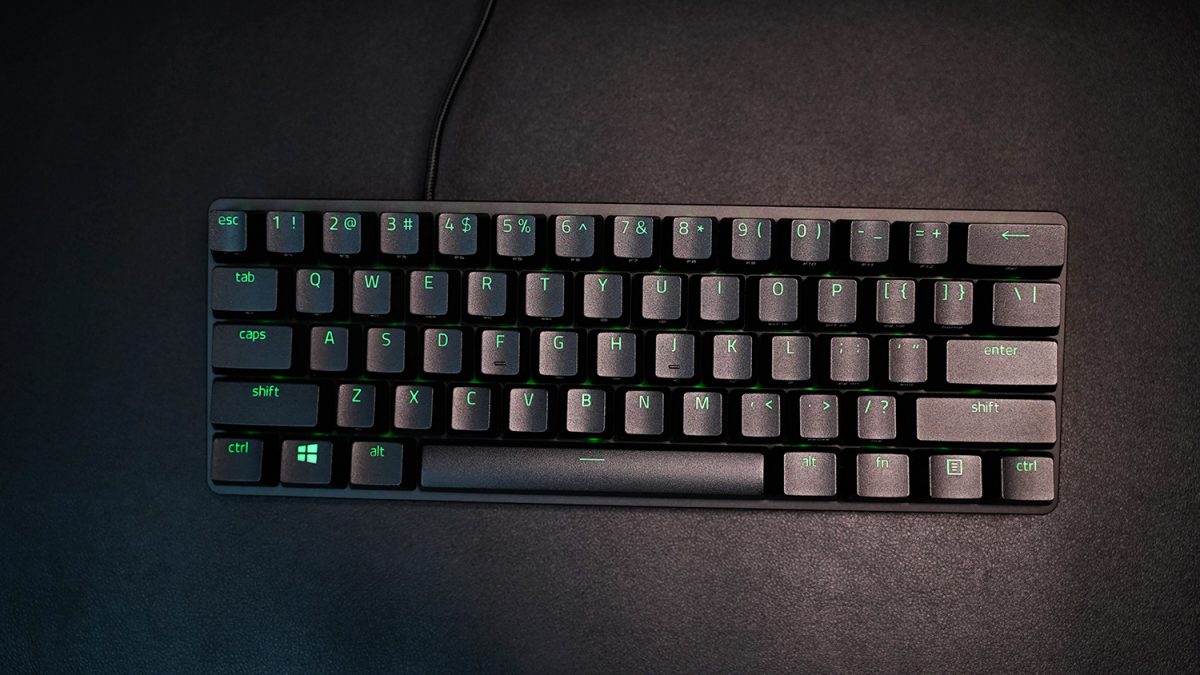 But as is the case with all other 60% keyboards, you lose all that extra utility for a ton of extra space on your desk, which is perfect for gamers who tend to use wide swipes in FPS games such as Overwatch and Apex Legends, or for folks who just don't really need all the extra keys, and want to keep things really simple and want the extra space on their desktop.
Right out of the box, it's not hard to notice that the Razer Huntsman Mini carries on the company's recent focus on streamlining the design on its peripherals. Its all-black colour (or white, if you pick the white variant) is just good on the eye in general, and means it can suit just about any PC setup from an aesthetic standpoint. The font on the keys are really clean and easy to read, and contrast really well with the black paint job when the RGB lighting kicks in. We don't have the white variant on hand, but we imagine the keys are much easier to see against the black colour.
Ports-wise, it uses a single detachable USB-C braided cable, which makes it super portable. We were expecting the keyboard to come with a small pouch to complement that portability aspect, but we were probably expecting too much in that regard. That said, however, it probably wouldn't hurt for Razer to throw one in just for the heck of it, given how easily keyboards can get beaten up while tumbling around with other items in your backpack.
Don't immediately write the Huntsman Mini as a dumbed-down keyboard, though – it's actually far from simple, despite its super understated and clean look. A closer look at the individual keys reveals a host of secondary functions imprinted on the side on some of them. This includes media keys, the standard page up/down, home/end and, in an interesting twist, arrow keys.
To aid with the presence of so many alternate functions, Razer has included a light passthrough that lights up only the keys with alternate functions when pressing the Fn key. This is a really underrated feature as it means one doesn't need to fumble around as they search for the function they're looking for, accidentally pressing the Sleep button instead. Moving forward, Razer absolutely needs to include this feature in all its future keyboards that include such multifunction keys, and not just the smaller ones.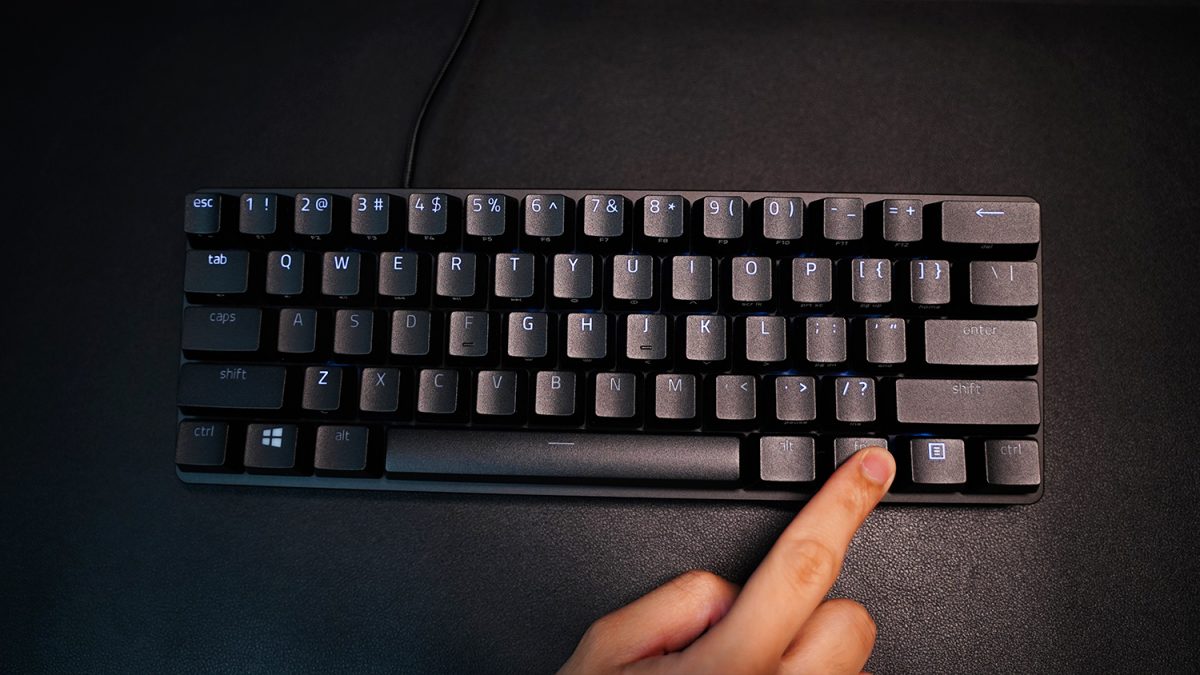 Razer has done a fantastic job at maximising the space saved on the Huntsman Mini, which should be the case for a 60% keyboard, as those utility and arrow keys will still come in handy from time to time. Of course, it won't replace the actual presence of said keys, especially the latter, and often we found ourselves sorely missing the arrow keys while typing. Again, this will take some time getting used to, but it does make one feel the stark difference when using this keyboard and a traditional one.
The keycaps themselves are made with Razer's own version of the more durable doubleshot PBT plastic, which feel really great while typing. The coating also means they are virtually grease-proof, and hold up well even after heavy use, unlike standard ABS plastic keycaps as seen on the Huntsman Elite, which tend to attract finger grease which glosses the keyboard up, and not in the best way either.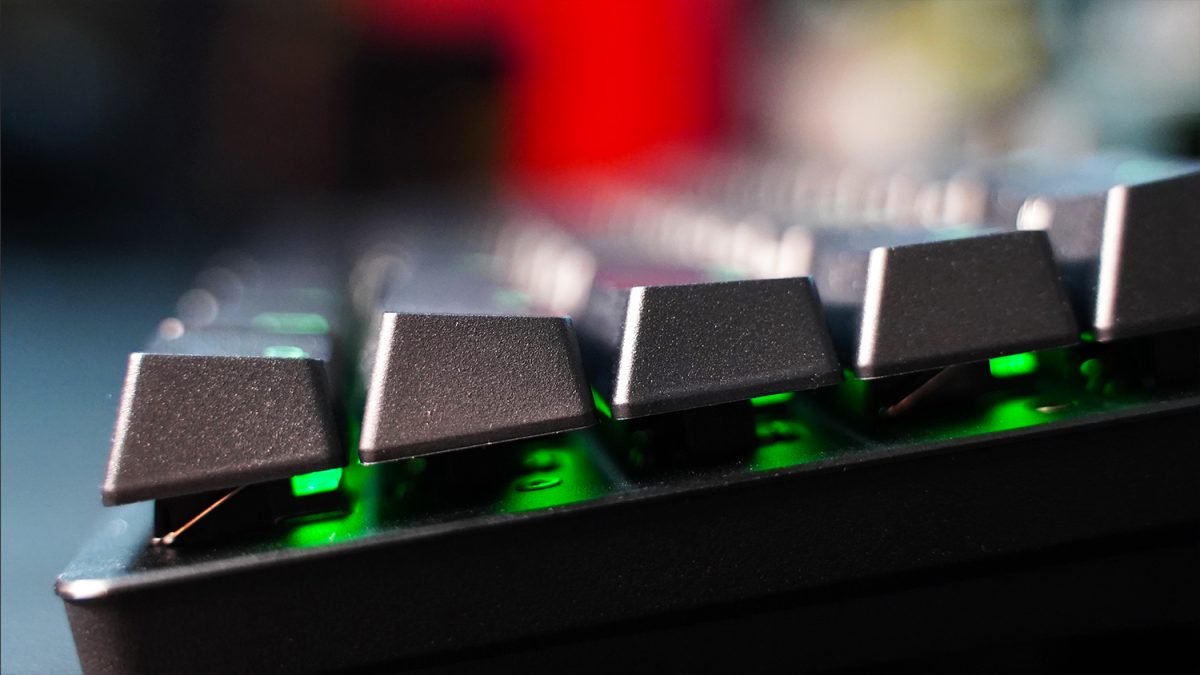 The Razer Huntsman Mini comes with Razer's patented hybrid optical mechanical switches, which are designed to minimise key travel time and actuation force for the highest amount of precision possible by way of a mechanical switch activating a light-operated circuit board with every key press. It comes with two variants – the clicky Purples and the silent Reds – and we opted for the former for our review unit.
As with Razer's hybrid optical switches, the ones on the Huntsman Mini feel great to use in general. The actuation force and key travel time feels significantly lesser compared to standard mechanical switches. Though this isn't automatically noticeable, at least in casual use, but it makes all the difference when it comes to fast-paced competitive play, where split-second reaction time makes the difference between victory and defeat.
Of course, you might find yourself at a bit of a disavantage if you're more of an MMO player, such as Final Fantasy XIV or World of Warcraft, in which case you'll find your fingers literally dancing around the board itself as you'll be relying on the Fn key a lot to be able to access those much-needed F keys simply due to the sheer amount of buttons and hotkeys one needs to press in such titles. Buyer beware in this case, though the extra space on the desk is always appealing to anyone.
Interestingly enough, the purple switches, in particular, work just fine even for typists, as they don't feel too light to become too sensitive for every key press, while at the same time don't provide enough resistance to require one to exert too much effort in order to type. My go-to keyboard before this was the Keychron K6 65% wireless keyboard, which used Gateron Blue switches – the most similar standard mechanical switch to Razer's Purples. After a week of typing on both keyboards, it's safe to say that the typing experience on the Huntsman Mini feels much more comfortable compared to the Keychron K6, which owes to the fact that it requires less effort to type on.
Still, the absence of the arrow keys can be sorely felt here, as we found ourselves often mistakenly reaching for the space where the arrow keys would have been. Of course, there's still the option to use the Fn + arrow key combo, but it really doesn't replace the actual arrow keys themselves. It's a price to pay for such a small form factor, but how big of one depends on how dependent on the user was before switching over to the Huntsman Mini.
Now, it can be said that there are other 60% keyboards in the market that, by sheer specs alone, trump the Razer Huntsman Mini. And while that may be true in some cases, especially with the likes of the Ducky One 2 Mini, what truly separates the Huntsman Mini from the competition is that it comes with the Razer Synapse software that makes the customisation experience so much more enjoyable.
Most 60% keyboards that are currently in the market have only been manufactured as such, and don't come with any software to aid in its programming. As such, programming custom macros using the keyboard's analogue controls, while entirely possible and maybe even much more extensive than the Huntsman Mini, are just too clunky to navigate, by sheer merit of having to memorise too many button combinations just to record and input said macros.
With Razer Synapse, users can easily switch between up to 5 different gaming profiles, customise per-key RGB lighting, and program macros on the Huntsman Mini, and get straight to playing without so much as breaking a sweat. The best part is that, since Razer Synapse is tied to your account, these on-board profiles carry over to whatever PC you connect the Huntsman Mini to – all you need to do then is just to log in using your Synapse account.
At just S$189 (for purple keys at least, as the reds retail for S$209), the Razer Huntsman Mini is a solid addition to any PC gaming setup. Its super petite build alone should warrant a purchase from minimalist enthusiasts. Once you've gotten used to the fact that it lacks a lot of otherwise essential features to traditional keyboards, it packs enough punch in its superior build quality that makes it punch above its weight (literally).
GEEK REVIEW SCORE
Summary
Bigger isn't always better, and the Razer Huntsman Mini is a testament to that. It's got all you really need, and gets the job done really well, at that. And the best part is that you can now fit so much more onto your desk space. What's not to love?
Overall
9.3/10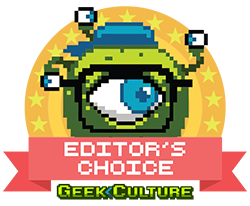 Aesthetics -

9/10

Build Quality -

9.5/10

Performance -

9.5/10

Value -

9/10

Geek Satisfaction -

9.5/10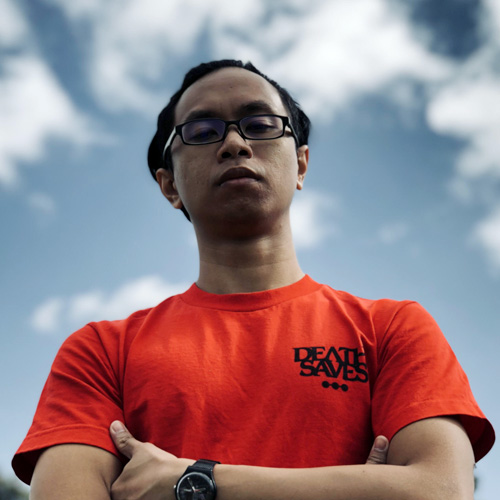 Marion has a serious RPG addiction. Sometimes it bleeds into real life; he forgets to sleep because he thinks he has a Witcher's body clock. Forgive him in advance if he suddenly blurts out terms such as "Mind Flayer" and "Magic Missile", because never once does he stop thinking about his next Dungeons & Dragons game.
---

Drop a Facebook comment below!