You know the feeling – you spot the item you've been wanting, and it's at a great price, so you pick it up, only to find out that it's cheaper online. So you start buying online, only to constantly wonder – what if this can be found cheaper elsewhere but you haven't looked hard enough?
Well, Lazada knows that feeling and wants to set your mind at ease, which is why for their upcoming 5-day LazMall 9.9. Big Brands Sale and Online Tech Show, they are introducing the Best Price Guarantee. Their prices are going to be the lowest and if you find the same product cheaper elsewhere, they'll refund you the difference.
---
One attractive feature of buying online is the fact that you are able to compare prices across the web to search for the best deal, but given the limited availability during sales, doing price checks is painful, time-consuming, and may even cause you to miss out on limited time offers. Lazada's Best Price Guarantee is the ultimate service for streamlining your shopping experience, as Lazada offers rebates if you happen to find items you bought from LazMall during the sale at cheaper prices on competitor sites.

How this works is that from 9 to 13 September, customers who happen to find the exact same product they bought from LazMall on another site with a cheaper price, can simply send screenshots of the price report with links and receipts to Lazada. The platform will then proceed to credit up to S$30 of price difference to your Lazada wallet. The item must also have been purchased on that same day from LazMall in order for the claim to be valid.
This convenience beats running back out to the mall to pick up something you forgot on your shopping list, or waiting months for a shop to restock, which is exceptionally tedious. Hence, with the convenience of having everything found on one platform and delivered right to your doorstep, most people will choose to shop online from the comfort of their own home. Combine the need for social distancing and the ongoing coronavirus pandemic together with the Best Price Guarantee and eCommerce has become more essential than ever.
---
But, shopping online isn't the most pleasant experience if you have to agonise over lost parcels and dubious sellers. Thankfully, Lazada steps in to offer a worry-free shopping experience with their newly refreshed LazMall, otherwise regarded as one of Southeast Asia's biggest online malls. LazMall is Lazada's leading platform with authenticated brands that bridges the gap between customers and brands, to offer a smoother premium shopping experience.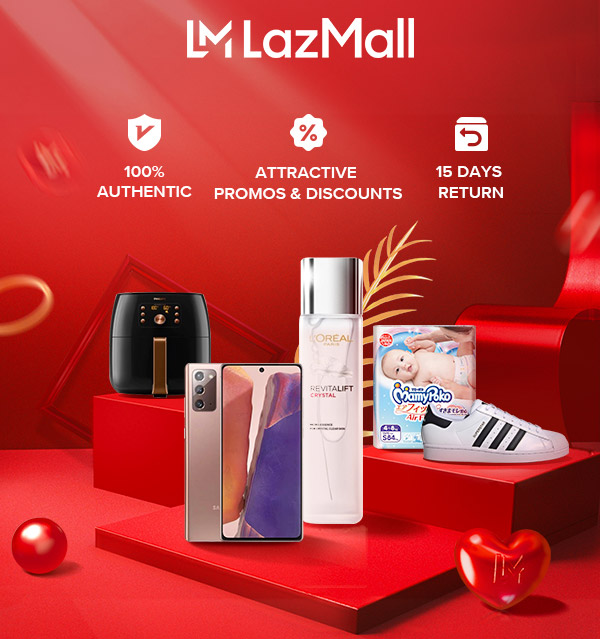 After their upgrades on 1 September 2020, the new LazMall aims to enhance that experience further with four newly added features. They are:
Beat the Price – Get the most bang for your buck by locating the top selling products with the best market values daily on this page.
Brands for You – Do away with irrelevant products and enjoy brand recommendations tailored to your tastes based on your recent browsing patterns on LazMall.
Brand Directory – Easily navigate through brands organised into easy to locate categories across a comprehensive directory on the site.
Follow Button Feature – Follow your favourite stores on the LazMall channel and get latest updates on deals and offers available. Plus, it's a good opportunity for brands to improve customer engagement with their new subscribers.
These new features help to streamline the customers' shopping experience while supporting brands in increasing visibility and traffic. With the new technological infrastructures, brands can even integrate their loyalty programme into the platform and open their Lazada store easily. And if these new reasons aren't enough to convince you, let's not forget their other exciting features too.
Standing as one of the largest virtual malls in Southeast Asia also means that Lazada houses over 18,000 international and local brands such as Starbucks, Samsung and Under Armour. The platform even features Singaporean beloved brands such as Metro, LiHO and POPULAR.
Heck, with such a selection, why would anyone even bother with traveling to town to do their shopping?
These are in addition to LazMall's unique guarantee policy for authentic products in which customers can get a 2x return for purchases proven to be non-authentic.
The company drives its worry-free shopping promise further with a 15 Days Hassle-Free Return Policy. It even helps brands to ensure validated product authenticity for fostering a stronger customer-brand relationship.
And all of this is coming in time for the 9.9 LazMall Big Brands Sale.
---
Lazada is no stranger to mega sales, with an aim to support big brands and help them to stay at the top of their game. For the 9.9 LazMall Big Brands Sale, Lazada is adding their Online Tech Show, and turning 9.9. into a five-day super sale, where brands, sellers, retailers and even shopping malls will be offering various exciting prices and promotions. The campaign will take place from 9 to 13 September, with a teaser campaign running prior to that from 2 to 8 September.
The teaser campaign will allow shoppers to enjoy early bird discounts more than 50% off and 1-for-1 promotions especially in Pre-Sale, all you have to do is to place a non-refundable deposit of 9.9% of the sale price and complete the payment only on 9 September.
---
Shoppertainment
Beyond being an e-commerce platform, Lazada has also included innovative initiatives such as in-app livestream shows and LazGames for you to score great deals in the form of rewards and vouchers. The rewards can be redeemed with the coins accumulated. You can also get bigger deals during the campaigns via participating in these activities:
Activity
Details
Dates and Time
Slash It!
With the help of friends and more, you can help slash the prices of these products to as low as S$0!
2 September 9am to 8 September 11:59pm
GUESS IT
Hosted by popular Mediacorp DJs from CLASS 95, YES933 and 987. Participants can stand a chance to win with S$5,000 of vouchers up for grabs.
8 September, 10-11pm, hosted by Muttons

9 September, 7-8pm hosted by Jeff and Chen Ning & 10-11pm hosted by Kimberly Wang and Gerald Koh
Storewide Flash Sales
299 stores will be holding storewide flash sales with up to 90% discounts.
9 September, 12-2am only
Surprise Boxes
150 branded surprise boxes will be up for grabs at these tantalising prices:
● S$19 (worth at least S$60)
● S$29 (worth at least S$100)
● S$49 (worth at least S$150)
● S$79 (worth at least S$200)
9 September
Shake It (TV)
Simply shake your phones to earn vouchers! Tune in to watch your favourite Mediacorp shows on Channel 5, Channel 8, Suria, Vasantham and Channel U during these dates at these timings.

When the Lazada logo and a prompt "shake it" appears on screen, open your Lazada app and shake your phone to win a S$19 off S$20 voucher.
9 to 10 September at 7.30pm and 8.30pm
Top Spender
Stand a chance to receive some big rewards with over S$800 worth of prizes including a gaming laptop (U.P. S$1,749) to be won!

Be one of the top 35 spenders to shop from the Electronics or Home Appliances categories during the period stated to win one of these prizes.
9 to 13 September
Trade-In Program
Receive cash by trading in your old laptops, tablets and mobile phones during the Online Tech Show.
9 to 13 September
---

Drop a Facebook comment below!