At a time where the 3.5mm headphone jack is more a luxury than a mandatory feature, audiophiles have entered the era of the USB-C earphones.
Apple led the way, and the likes of Samsung, Huawei and more have followed. When the Razer Phone was released, Razer introduced Hammerhead USB-C in-ear headphones. And now that the Razer Phone 2 is out, it has given the Hammerhead headphones a slight upgrade – it now comes with active noise cancellation (ANC).
Right out of the box, it comes with a soft carrying case, Comply t-500 foam tips, as well as 3 addition silicone tip sizes.
Design and comfort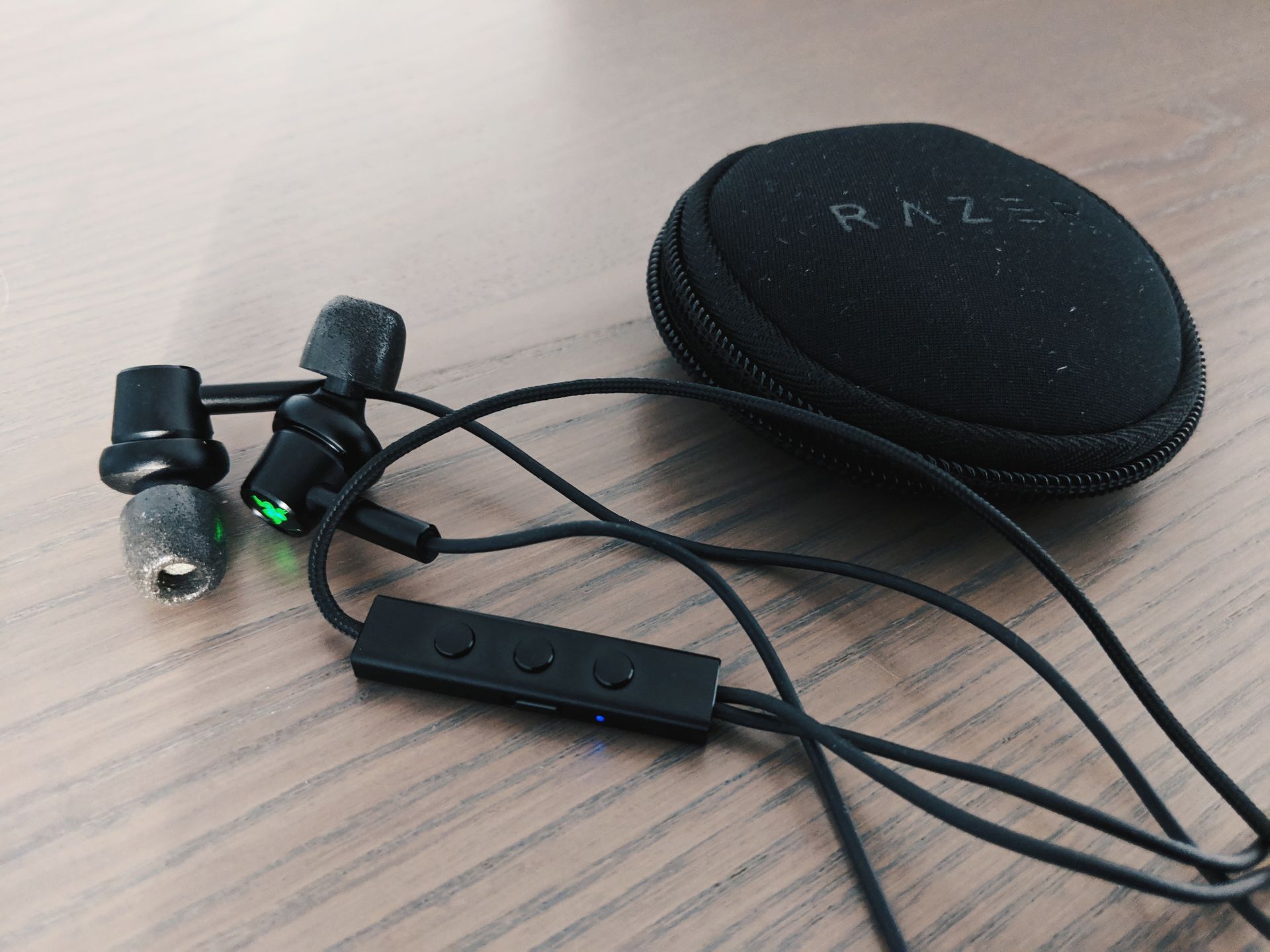 The Hammerheads ANC look much, much subtler than its predecessor. The cables are now black, instead of the loud, classic Razer green that the non-ANC version had.
It also has an inline remote with three buttons (volume adjustments, play/pause/, and calling functions) and a switch to toggle its ANC function. The centre button also can be used in a few ways: single-pressing it will allow you to accept or end a call, or to play or pause the track.
Unfortunately, there is no option to skip tracks or play the previous one with the inline remote. Double-pressing the centre button doesn't skip a track, but pauses and plays the current one instead.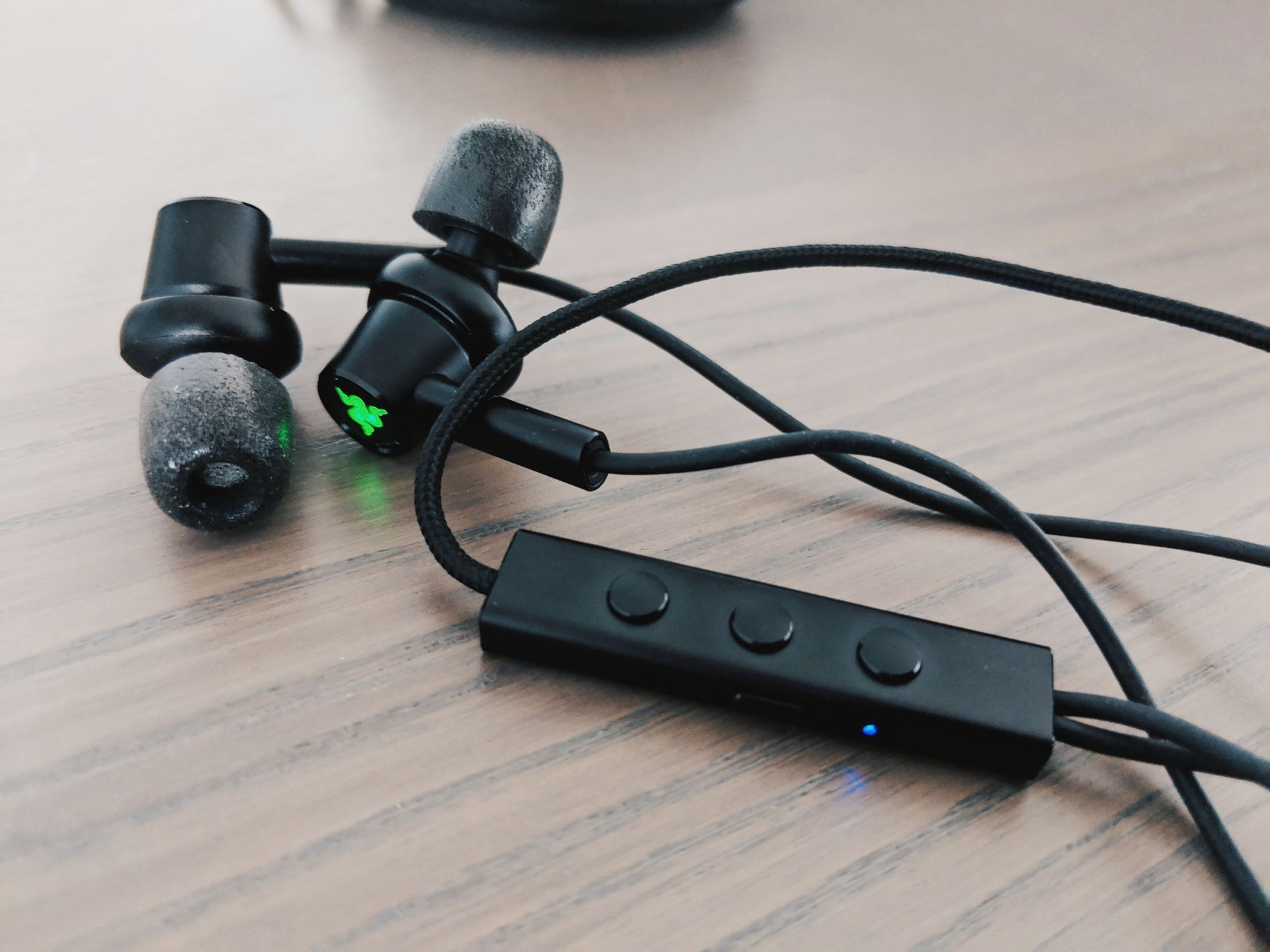 The wire connecting the earbuds to the inline remote is a normal rubber cable wire, but the wire with the USB-C end is made of braided fabric. It feels more durable, but it tangled a lot more when stuffed into a pocket or in the soft case. That made for a pretty frustrating experience at times because it means – time wasted untangling the cables.
As with most Razer products, the earbuds have the Razer logo emblazoned on them. With the Hammerheads, they glow. Brightly. It lights up in a pretty obnoxious green, and it would have been perfect if there was an option to turn this off.
With the matte black earbuds made out of aluminium, they're a little heavier than most earbuds. The Comply foam tips are a nice addition and sit perfectly in the ears, so that's an added bonus.
The supplied soft carrying case is no-frills – black, with a small carabiner, and a little compartment in it to put your spare tips. Unfortunately, it's small size caused the silicone tips to keep falling out from the compartment whenever the case was opened.
Sound
The sound quality is crisp and clear, and they would suffice for a casual listener.
However, the bass is not the punchiest. It disappointed when listening to bass-heavy tracks, like heavy metal or rock, as the audio sounded distinctively thin with no weight behind it.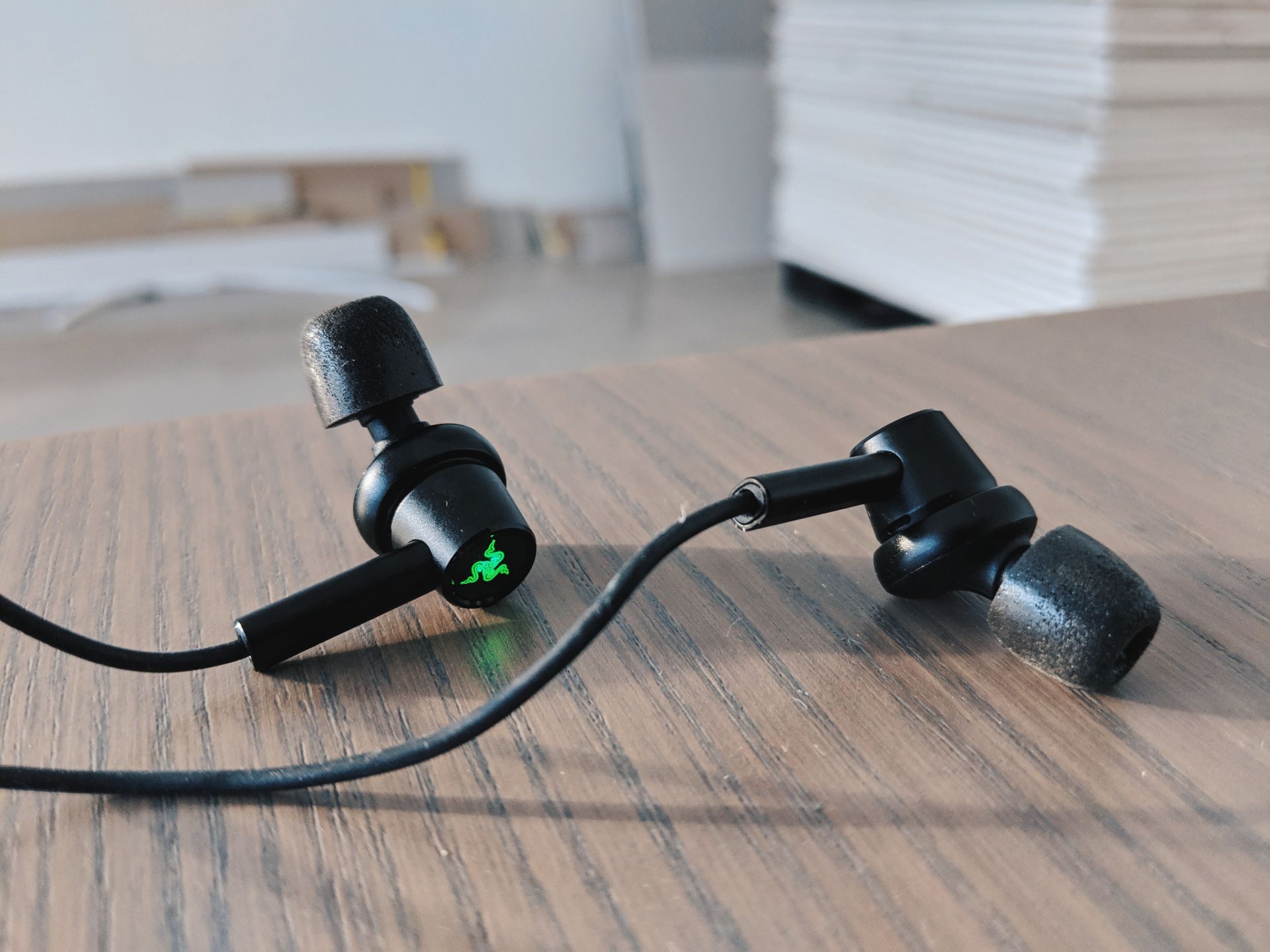 When it came to EDM, pop or jazz, the Hammerheads performed admirably. The tracks feel energetic, and the mids did slightly better when listening to these genres.
Testing the mids with Frank Sinatra's Summer Wind, with ANC on and off in a quiet room, followed by the nearby coffee shop, the headphones works as advertised. Sinatra's smooth, rich vocals could be heard without distortion, and the background accompanying melody was just right. The tiny bass wasn't an issue here.
In contrast, trying it with a track like Mick Gordon's Rip and Tear from the DOOM soundtrack, it was quite laughable. The bass was subpar and you don't feel even an ounce of the energy that the track brings.
Active noise cancelling is activated through the switch on the inline remote, which has a little blue light to indicate if ANC is on. Obviously, it's not as stellar as the big boys from Sony or Bose, but it still gets the job done.
The ANC honestly works best in a quieter environment with moderate chatter, like a quiet café, but it's essentially useless in a noisier one like a crowded train with lots of voices and movement. It's especially convenient that there is no need to charge it even though it has ANC, because unlike most ANC headphones, this one is powered by your phone.
But here's the catch – these headphones are not guaranteed to work with every USB-C based smartphone.
Compatibility
Razer states on their compatibility chart that their headphones are not fully compatible with phones like the Samsung Galaxy S9 series, the Huawei P10 series, and the Huawei Mate 9 series, which are three of the more popular devices in the market. But being curious, I tried the Hammerhead on the Galaxy S9 and while the audio worked, the buttons didn't work for music controls nor did the mic on the earphones as well.
There were no issues when it was used on a Google Pixel 2 XL. The convenience of just plugging and playing on my Pixel 2 XL without having to use a USB-C to 3.5mm jack converter was awesome.
However, wanting to use it on other devices like a laptop proved to be a challenge, since most were not USB-C compatible. Thankfully, in the office, there was a lone Macbook which had a USB-C port but alas the Macbook failed to deliver any sound.
Guess the bottom line is, there'll be a hit and miss in terms of compatibility so it would still very much be a roll of the dice with the new Razer Hammerheads.
Mediocre for its price point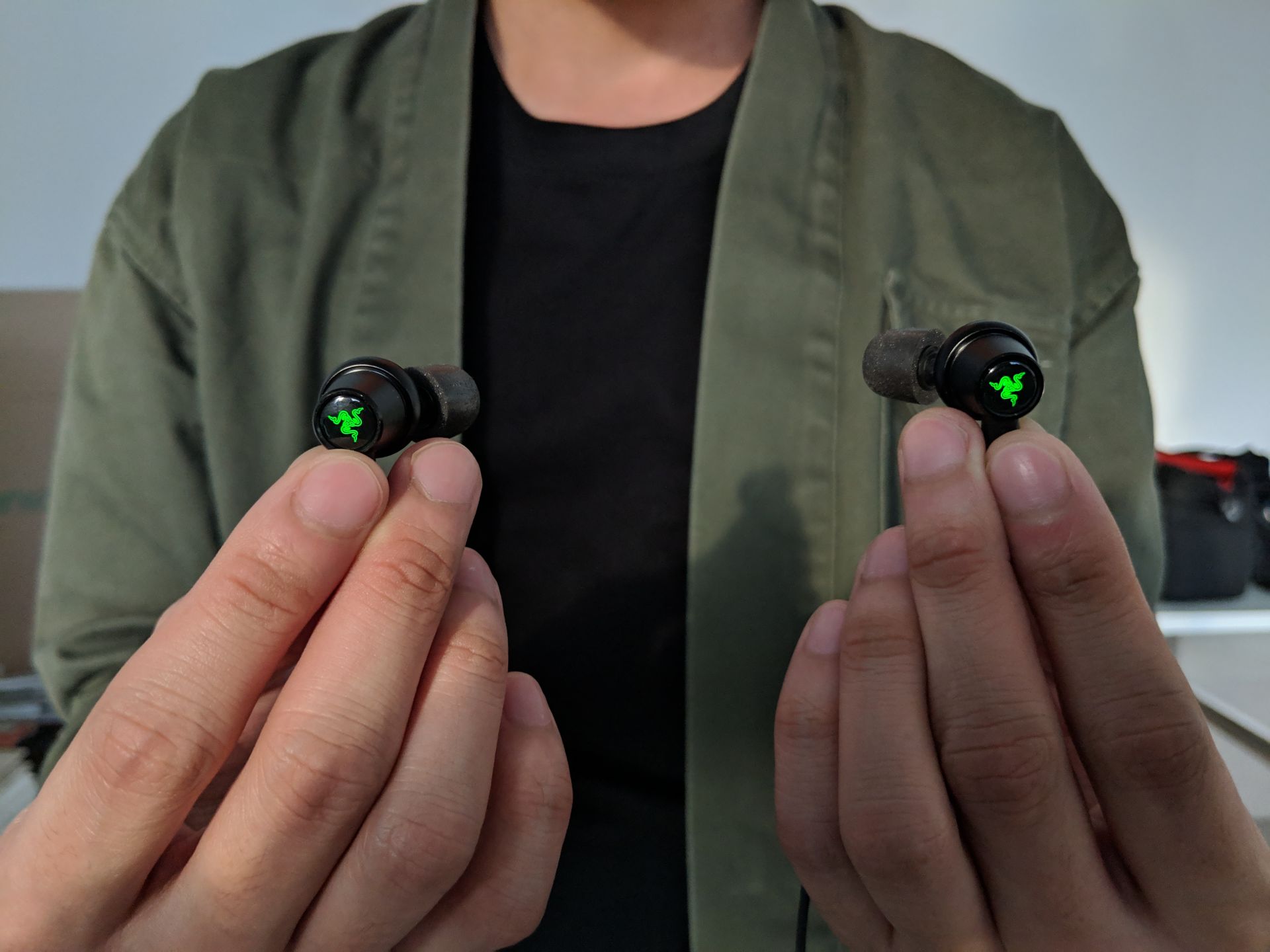 The Hammerhead USB-C ANC in-ear headphones are a decent pair of headphones if you're:
someone who doesn't mind a lighter bass in their music;
someone who listens to a lot of jazz, pop and EDM;
or just a casual, no-frills listener.
At S$159.90, they may be a little pricey for headphones that don't really shine. Nothing really stands out about the ANC Hammerheads (except the literal glowing Razer logo) and it's mediocre at best. There's no feature that will get you raving about it, or telling yourself you have to buy it.
Just don't expect booming bass and Bose-level noise cancelling, and maybe… don't play DOOM while you're at it, too.
GEEK REVIEW SCORE
Summary
With time, hopefully these earphones will get better, but it's a hard sell at it's current price point.
Aesthetics -

7.5/10

Build Quality -

6.5/10

Performance -

6.5/10

Value -

6.5/10

Geek Satisfaction -

6.5/10
---

Drop a Facebook comment below!