After giving their Razer Blade laptops a fresh makeover for 2021, by decking each of them with NVIDIA GeForce RTX graphic cards and Intel's latest 11th Gen Tiger Lake-H processors, Razer essentially assembled one of the greatest line-ups of portable gaming laptops in the market.
But there one something missing and Razer still had one major gap to their line-ups, one that would inherently satisfy the desires of their fans, by outfitting their Razer Blade laptops with an AMD processor.
Surprised? Since the first Razer Blade, Razer has always been exclusively running them on Intel CPUs and has been progressively upgrading those models with the latest processors and graphic cards, until the all-new Razer Blade 14 was unveiled at the company's E3 Keynote Event earlier this month.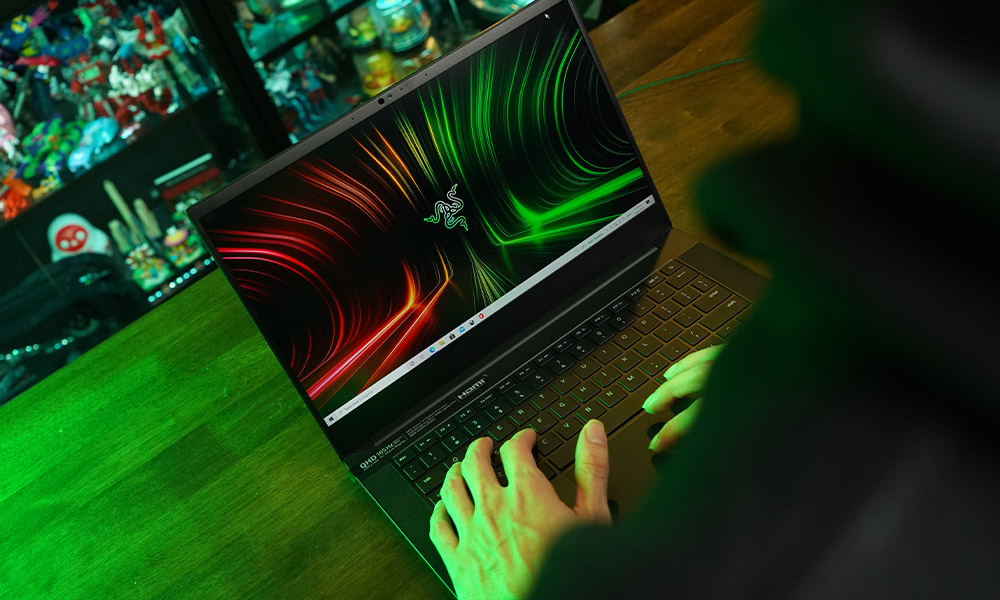 While Intel's CPUs have been a constant with the PC market, AMD has been playing catch-up, until its Ryzen series, which offers great multi-threaded performance at a more competitive price point, with many even acknowledging that AMD offers better performance in terms of multi-tasking.
While the wait for Razer to fit an AMD processor into its gaming laptops is finally over, Razer has taken things further by doing what any other competitors couldn't – fitting the ultimate performance into what's considerably the smallest and thinnest gaming laptop in the market.
What makes the Razer Blade 14 unique is its extremely compact chassis and the top-spec GPU that comes along with it – it is the combination between visuals, performance and size all integrated into one ultimate gaming system that makes the Razer Blade 14 the smallest gaming laptop with the best-in-kind hardware.
The Razer Blade 14 is fitted with the AMD Ryzen 9 5900HX, currently the finest AMD CPU processor in the market and it performs better than the 5800H and the 5900HS, since both have a slower base clock speed. The GPU options offered here runs up to the NVIDIA GeForce RTX 3080, the most powerful graphics card in the market right now, aside from the RTX 3080ti.
Razer packs all that into a slim 14-inch laptop that has two display options, and our review kit rocks a 2K (2560 x 1440p) display with a 165Hz refresh rate display. The other option is an FHD (1920 x 1080p) display with a 144Hz refresh rate.
Our first impressions of this sleek black anodized chassis were of portability, and how effortlessly you can fit this into your bag. The gaming laptop, which measures 16.8 mm x 220 mm x 319.7 mm, and weighs 1.78 kg, completely passes off as a simple productivity laptop due to its compact size and weight.
Still, it doesn't come without any compromise. The first Razer made is with the onboard RAM – with a fixed dual-channel DDR4-3200Mhz 16 GB RAM, you won't be able to upgrade it in future. While it's not a big cause of concern, some content creators or multi-taskers might prefer a 32 GB RAM option, and find the permanent 16 GB RAM off-putting.
Additionally, the laptop only has a single slot m.2 SSD storage that is expandable up to 2TB (single-sided). This doesn't necessarily come as a surprise since fitting the RTX 3080 on such a small chassis might mean they have to give up having more storage slots.
That said, the Razer Blade 14 offers impressive performance. We took the laptop for a spin in the world of Night City in Cyberpunk 2077, and the visuals were incredible with FPS stable around 60 on max settings. To be honest, the combination of an RTX 3080 and a Ryzen 9 CPU leaves us without any doubt on performance here. Whether it's Apex Legends, The Witcher 3, or Call of Duty: Warzone, everything was buttery smooth, which means this will run the latest AAA titles with a breeze.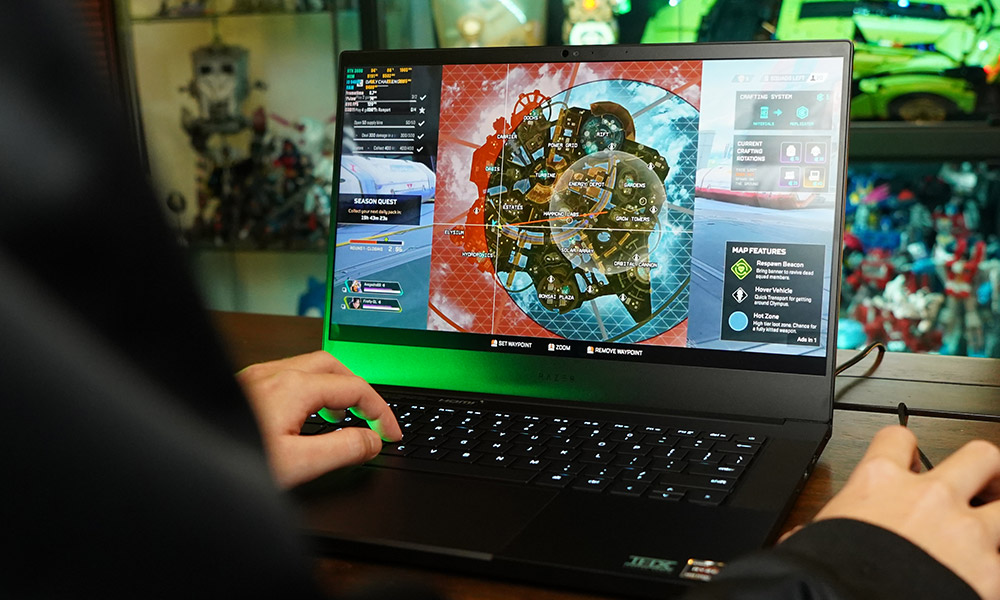 For benchmark enthusiasts, the Razer Blade 14 has an overall score of 9,355 on 3D Mark Timespy with a 9,476 GPU score and 8,726 CPU score.
It also has the following benchmarks on Cinebench R15:
However, with that amount of performance squeezed into a small chassis, heat does become an issue. Razer utilises their next-gen vapour chamber cooling system, which has two fans under the laptop and a few exhausts, one at the bottom of the laptop where the fans are at, and one behind the laptop. But because of how much performance and power the thin laptop is packing, the cooling system doesn't seem to be able to catch up with the laptop.
When we were roaming the streets of Night City, the laptop temperature went up to 97 degrees celsius with CoreTemp and it was a little scary. This heat isn't just on the software as the laptop runs hot to the touch, especially on the right portion slightly above the keyboard.
While the keyboard itself does not get too hot, you won't want to be playing games on your lap as we couldn't last more than a few seconds when we tried putting our hands directly on the surface area. Laptops are usually capable of handling high heat, so maybe this might not be too big of an issue, but we're not entirely sure if it'll last in the long run.
One other important issue with the Razer Blade 14 is with the massive power brick that is required if you want to game at the optimal settings. Without it plugged to a power point, this machine won't run well at all if you're going to game on the best settings.
When we tried playing Cyberpunk 2077 on battery alone, the game was extremely sluggish and a chore to proceed on maximum settings. It's unplayable, and the FPS drops significantly. Things will only run smoothly when you're on low graphic settings.
Once you're plugged into a power socket, the laptop works perfectly, and begins kicking in its FPS power and RTX performance, driving the frame rates back to normal, but it is also when the heat kicks back in. When we were unplugged, the temperature only went up to 72 degrees.
Battery wise, we throttled the machine with Cyberpunk 2077, unplugged, on full brightness with RGB Chroma on and the battery went flat in an hour and twenty minutes. So if you're going for a portable gaming set-up, regardless of settings, always bring along your charger. However, if you're on light casual work, the laptop can run up to 12 hours with minimal brightness and keyboard backlight turned off.
We also left YouTube on to test how long it'll run, and the machine lasted approximately six hours and thirty minutes with average brightness and keyboard backlight turned on. After that, the battery takes approximately one hour and thirty minutes for a full charge.
The Razer Blade 14 also comes with a per-key anti-ghosting keyboard powered by Razer Chroma. The typing experience, however, feels pretty average and doesn't offer anything too special.
The laptop comes with quite a handful of ports for its small size – a HDMI 2.1 and two USB-C ports with DisplayPort 1.4, so if you have external monitors to connect, the Razer Blade 14 can do the job. Additionally, it also comes with 2 USB-A ports, a Windows IR Camera, Bluetooth 5.2, and Wi-Fi 6 support.
In terms of audio, we can't expect anything much from the small chassis. It's loud and enough for normal use, but lacks treble and bass for the audiophiles. Still, it's a reasonable compromise for the performance it has packed in.
If you're not looking for a gaming laptop, the Razer Blade 14 might seem like an overkill but the entire package of performance plus portability is simply too much of a temptation, making this a natural option for a quality laptop.
That is, if you're not too bothered by the heat.
The Razer Blade 14 is available from S$2,949.
GEEK REVIEW SCORE
Summary
The AMD Ryzen-powered Razer Blade 14 packs the ultimate performance and power into the most compact gaming laptop ever at the expense of a little heat.
Aesthetics -

8/10

Build Quality -

7/10

Performance -

8.5/10

Value -

8/10

Geek Satisfaction -

9/10