In modern Star Wars lore, only one person has ever piloted the TIE Advanced X1. That's about to change.
Propel, the makers of casual-use drones has joined the big leagues, with its recent wave of Star Wars themed drones. Now, there are many types of remote controlled drones in the air, from cheap, lightweight flying machines, to ones with elaborate cameras that can film and capture images with amazing clarity.
This is not it. Modeled after the iconic vehicles in the Star Wars Universe, this series of drones appeal to the hardest of hardcore of geek fandom. Naturally, the good folks at Propel sent us the Star Wars TIE Advanced X1 Battling Drone to take out for a spin. (Maybe it's because we threatened to force choke them if they didn't).
For just US$199.99 (excluding shipping), Star Wars fans will be getting a decent sized flying quad-copter, crafted with the kind of attention to detail you would expect from Lord Vader's ship. The fan-service begins the moment you receive the admittedly awesome package, complete with wax seals, as well as a sweet embossed representation of the drone on the inner box.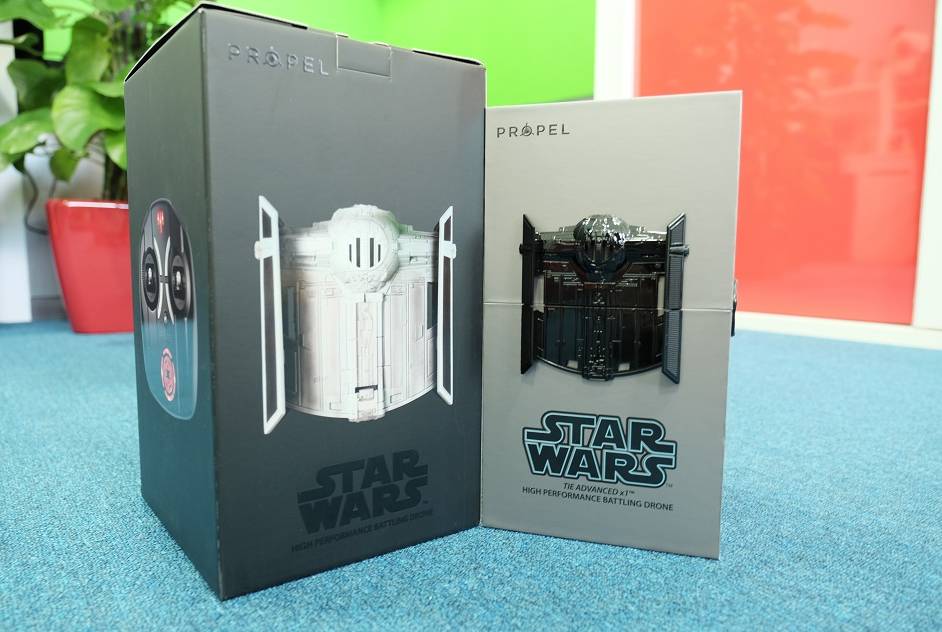 Remove the cover and get ready to bathe in nostalgia, with 6 different music tracks (The "Imperial March" is the definitive favourite) that play, as your drone shines in lighted glory. Yes, Propel certainly understands its audience and knows that many owners will not want to fly this baby, but use it instead as an ornament in their home. The transparent screen helps with keeping the drone protected, and the music and lights merely enhances the premium presentation of this toy.
The drone itself is a great piece of hardware. Lightweight but sturdy, the polypropylene used ensures that it can survive bumps, and still remain flexible. Each drone is painted by hand, so you know it's made with plenty of love. (Hence, the diminished desire in actually flying this thing). The TIE Advanced model may house the drone's engine, but what makes it take flight are the four mini propellers that give it its lift.
Packaged with the drone are an additional 8 propellers, to replace any you lose/break. You also get the 2 x 800mAh batteries, which offers 6 to 8 mins of flight time each, an extra set of wings for outdoor flying, a training cage, a multi-tool, the charger, and a really cool instruction manual for aspiring Imperial pilots. Oh, and a controller for the drone.
There are instructions to teach you the basics of your drone, the myriad flying modes, battling tips, as well as the adjustment of the music that blasts out of the controller.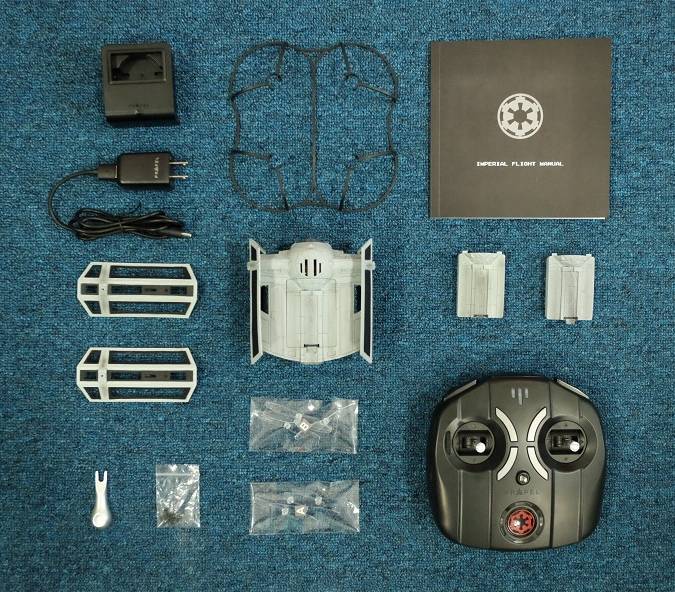 The batteries take about 30 to 40 minutes to fully charge, which is pretty normal for battery types of this capacity, so ration your flight time accordingly. The controller uses 4 x AA batteries, and those lasts for a considerably longer time. With the hardy controller comes a handy screwdriver tucked into its side, for easy access. There is also a smartphone holder provided, for future integration with the companion app coming in 2017. The plan is to have several unique features; such as guiding you through various "missions" in the Star Wars universe to improve your proficiency, or letting users host events with their own multiplayer twist for friends to partake in. The battle stats will all be uploaded and tracked in your profile, see if you are good enough to advance from a Cadet to an Admiral!
Even cooler, there's a special Easter egg in the battery compartment, that has Lord Vader actually tell you what to do, you insufferable Padawan. And yes, we all know what he did to those padawans. (Check out the video at the end. There's just something about having a Sith Lord tell you to insert 4 batteries, to witness the full power of this drone.)
For drones novices, the instructions are invaluable. The included T-mode will lock you within a restricted altitude, both high and low, and also lowers the speed of the drone.
For those already familiar with drones, it's way easier. The barometric pressure sensor will help keep the drone centered, but you can turn it off for a more precise, manual control. With 3 speed modes, you can have a leisurely flight, or send your X1 zooming across the horizon. There are even triggers that make your drone do automatic barrel rolls for the death-defying escape!
If you manage to get a gang of like-minded pilots (up to 12) equipped with any of the Star Wars drones from this series, you can stage massive battles across the skies with the each drones' IR battling system. Wait, did anyone say "recreate the Death Star battle along the meridian trench"? It is possible, but unfortunately, we do not have a second set to test it out, but we will update this review with the full details when we have the chance to do so.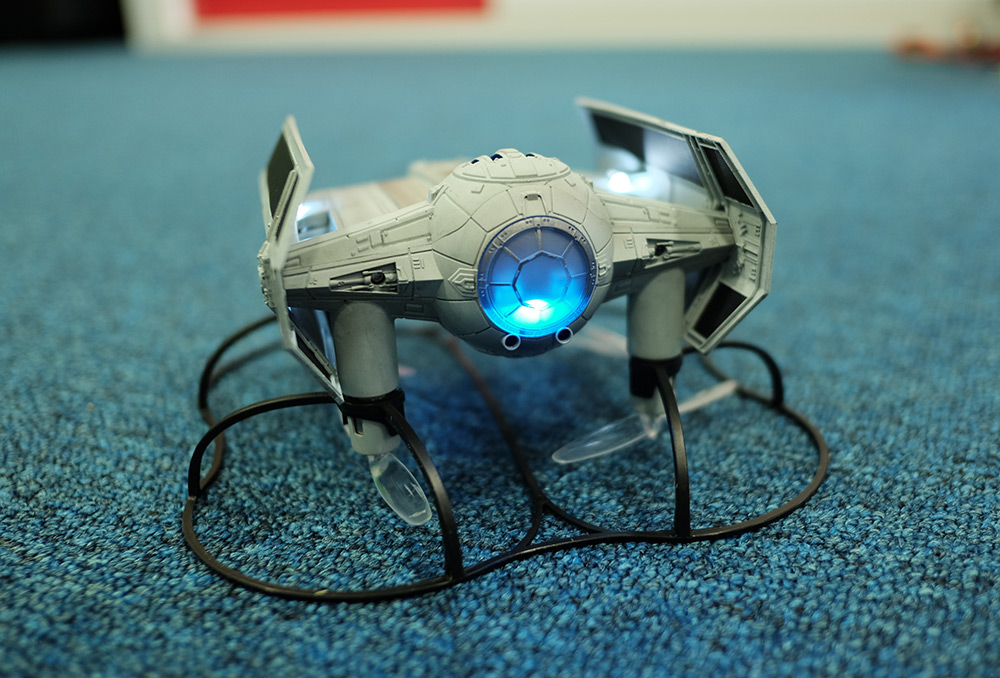 With the 74-Z Speeder Bike, T-65 X-Wing Starfighter and the TIE Advanced X1 already available, and the Millennium Falcon coming in 2017, Propel has a line of drones that are awesome for both drones enthusiasts, and for Star Wars fans alike.
To be able to fly both indoors and outdoors is great, but the battery life makes for sessions that are shorter than we would have liked. The drones also do not come with an on-board camera, but hopefully, something can be added in future iterations.
We were really excited when we found out about the drones, and having played with the TIE Advanced X1 over the week, we are definitely satisfied with the product, and would love to see what Propel will bring in the future!
If you want a unit, you can order it from the website. Propel has indicated that they are charging a fixed US$60 to ship each unit here (to Singapore), and US$259.99 seem like a great price to pay, for either a lighted display replica, or a drone, or both.
GEEK REVIEW SCORE
Summary
With a solid build and simply stunning reproduction of the TIE Advanced X1, the Propel Star Wars Battling drone is a great product that is even better if you are a Star Wars fan. The battery life aside, the drone has everything going for it and then some. I have you now!
Aesthetics -

9.5/10

Build Quality -

7.5/10

Performance -

8/10

Value -

7/10
Jake is a full-time trophy hunter and achievement gatherer on consoles, and part-time Steam Sale victim. He has a thing for Batman and awesome statues, and running out of space for both. Send help.
---

Drop a Facebook comment below!