It's bizarre how many brands out there are using the word "true" in their branding, as if products without it in their name are automatically false.
But then again, there are plenty of gaming headsets out there, and it can be hard to choose the best one for your needs, especially when it comes to key features which differ from user, from ergonomics like comfort during prolonged hours of gameplay, to audio fidelity and not to mention latency – considered to be the most important factor especially during multiplayer sessions.
For these reasons, many gamers prefer going the wired route to eliminate latency but with that comes a slew of problems one can face; cables running about, and you're always tethered to your device, unknowingly minding your own business when all of a sudden your headphones are yanked away. We've all been there at some point in our lives.
Plantronics, best known for hands-free wireless handsets, are mixing their wireless solutions with headsets and want to set a new standard for "true" wireless gaming headset, with the Plantronics RIG 700HD. An ultra-lightweight, all-day comfort with zero lag and accompanied with Windows Sonic Surround Sound ensures you're never caught off guard or weighed down.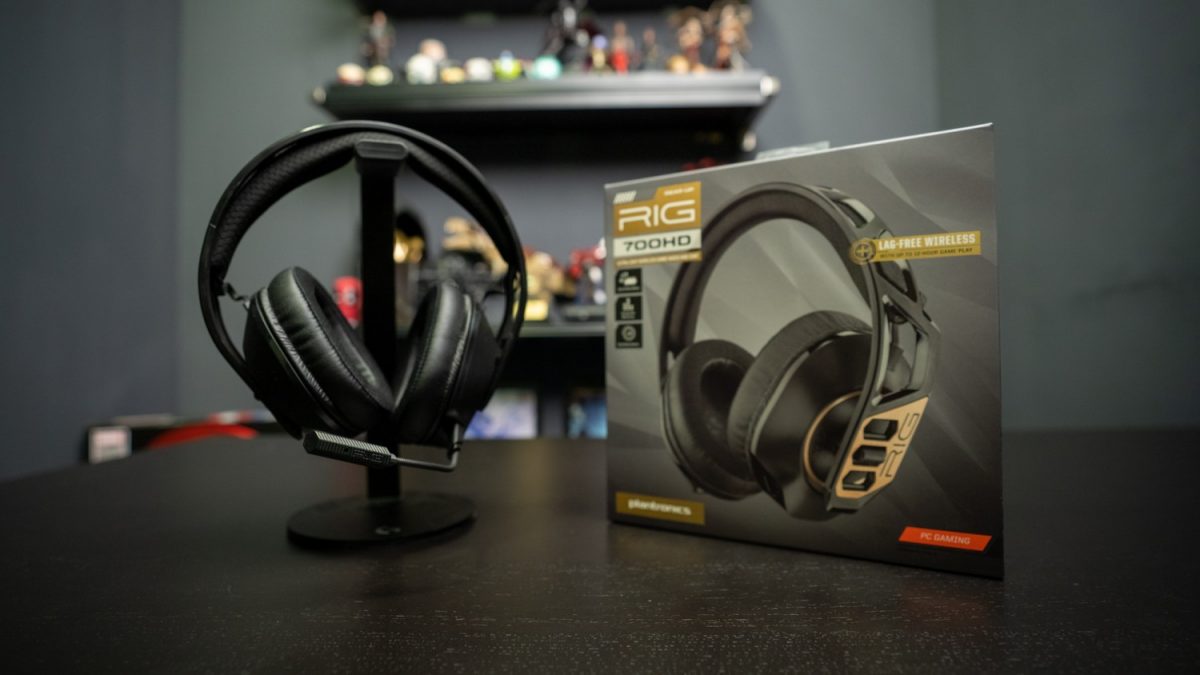 Right off the bat, one thing very noticeable about the headset is its frame which feels extremely lightweight, even with its 40mm drivers. It doesn't weigh you down on the head and even after a few hours on Call Of Duty: Modern Warfare, there were no achy ears or neck to bear with.
When you turn the headset on, a female voice would tell you that the headset is on, connected and the current battery status. There's also a small LED that lights up blue when you turn it on and red when you turn it off or when charging.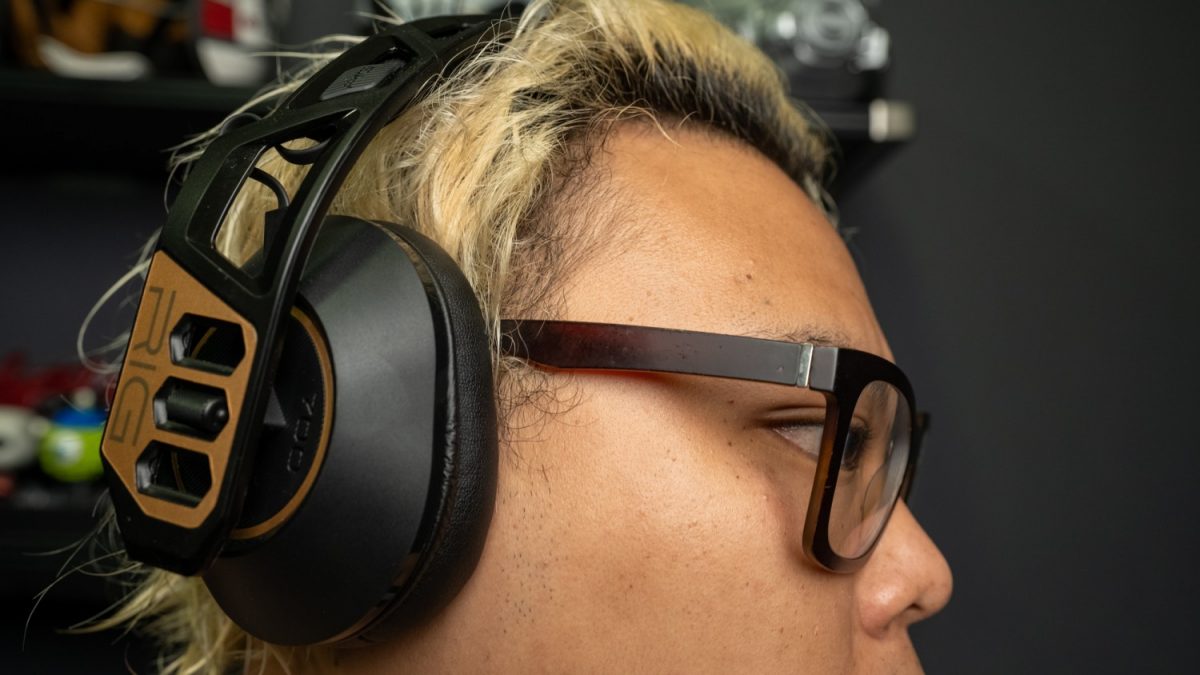 The headband is self-adjusting and is roomy enough to accommodate all head shapes and sizes due to its flexible headband. For additional utility, you can remove the earcups from the frame and set them to a different position, which allows for a little more height. However, not everyone will like a headset made of plastic, but with its design in mind for rough handling and longevity, it more than makes up for it in that aspect. To add on to its durability, the headband is actually rather flexible, as we've found out. After twisting and skewing the headband for quite a bit, it doesn't seem to bend or snap off.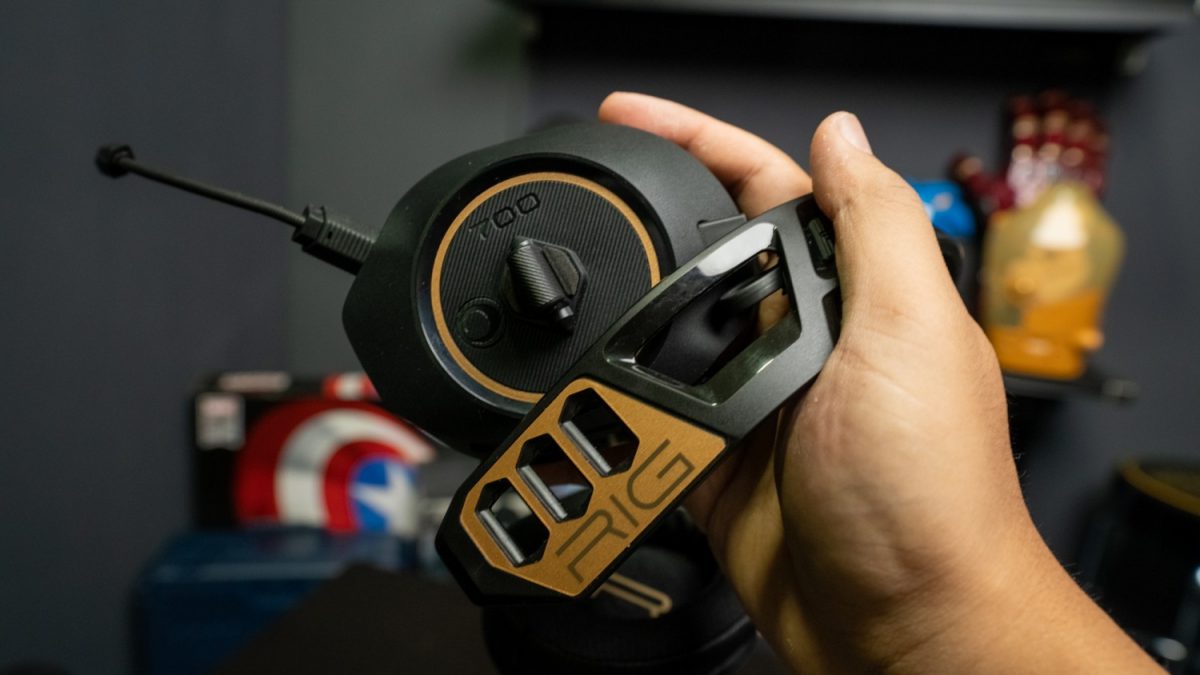 The ear cushion is extremely soft and hugs your ear, and while it doesn't have profound sound isolation that keeps audio in, you can still expect enough audio fidelity to keep you where you're seated. From listening to Spotify, to playing Overwatch, the audio was clear and distinct. It goes without saying, that it would have been nice if Plantronics would have given an extra pair of earpads – if you're living in a humid or warm environment, it will be nice to have a replacement while the other is in the wash (it's completely removable and washable by the way) or perhaps a cloth variant to allow more breathability.
Accessibility is also a prominent feature in the RIG 700HD with it's left earcup bearing all the bells and whistles you need to control, voice chat, game volume and the mute function on the mic. It's great if you want to bring down the volume of the game to listen to your teammates or vice versa.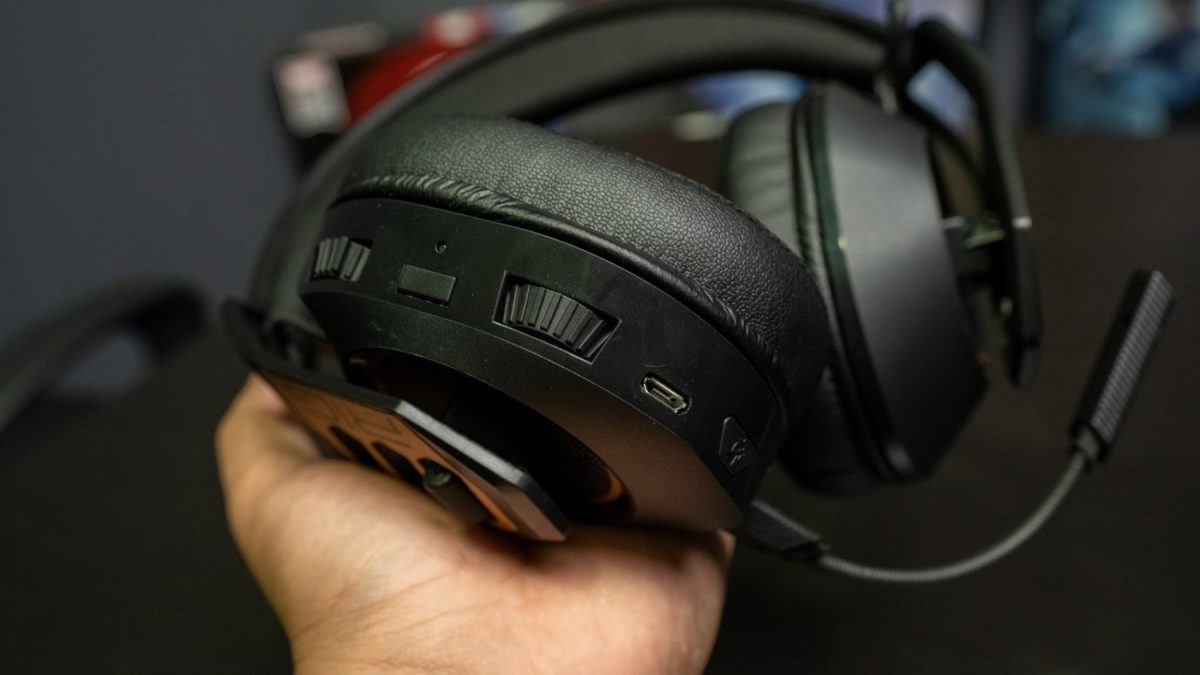 What Plantronics promises is a lag-free wireless performance, which is due to the RIG 700HD coming with a wireless base that connects to your PC via USB, just pair it with the button and you're good to go – simple plug-n-play.
There's also an option for an added optical cable connection for you to want to mix chat and game audio. However, if your motherboard does not have an optical output, you aren't missing out on much.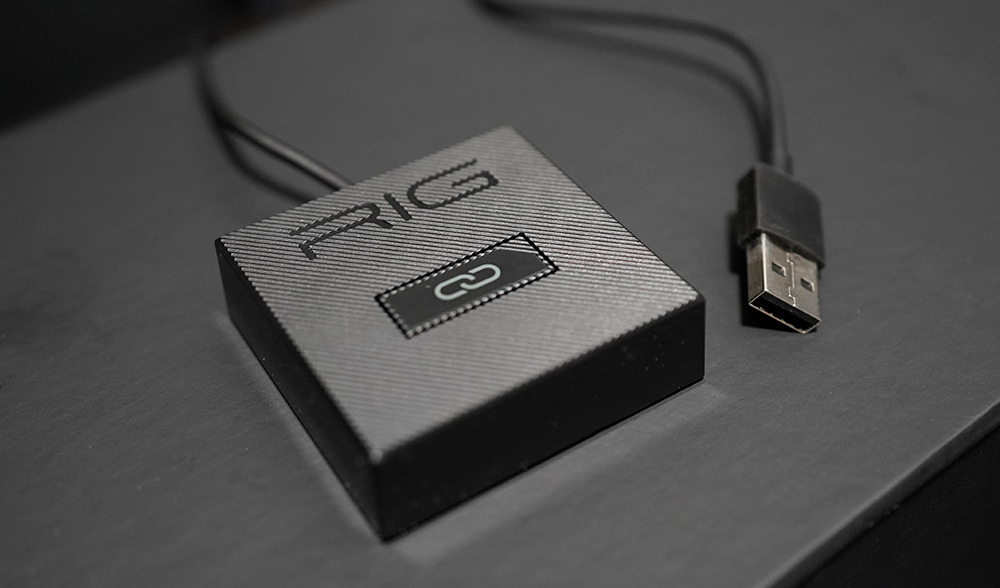 What you get is up to 10 metres of range, of course this can be varied if you have thick concrete walls, but you can take hassle-free walks to the loo or grab a Dew; safe within the confines while listening to your teammates duking it out or going through an unskippable cutscene you've watched plenty of times.
Battery life is about 12 hours of game time, but it's not the best out there, especially if you're the type to throw it on the couch after you're done. But with a quick charge of up to 2 hours for every 30 minutes of charging, it will be enough to keep you in your game sessions. You can also charge simultaneously so it's a worthy sacrifice in the short run.
While not the best in audio fidelity, it is still exceptional for its price; bass is punchy, mids and highs were standard but there's no denying a lack of oomph in certain places, especially when it came to listening to music. Explosions, rumbles, atmospheric background can be heard and distinct, but with many choices of headphones offering more like supported 7.1 Dolby Surround Sound dedicated hardware, this might not be the headphone you might want to invest in, especially if you're a complete audiophile. Windows Sonic is generally regarded to over-exaggerate sounds a little too much.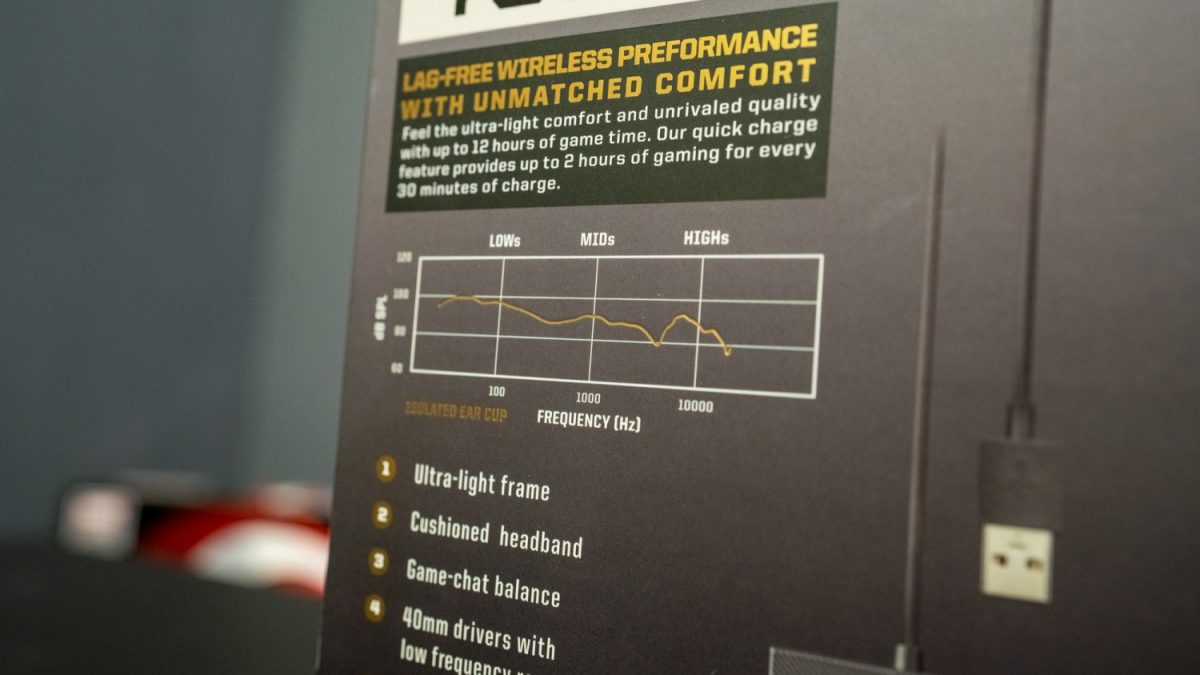 The RIG 700HD's microphone is nothing impressive, sadly, especially considering this is a gaming headset. Players might pick up some chatter or keyboard clicks in a busy room but the boom mic makes a good effort to make your voice clear and crisp for your teammates. There's no additional software support to cater to your preferences. But with its removable mic, it adds the options for solo players to kick back and relax.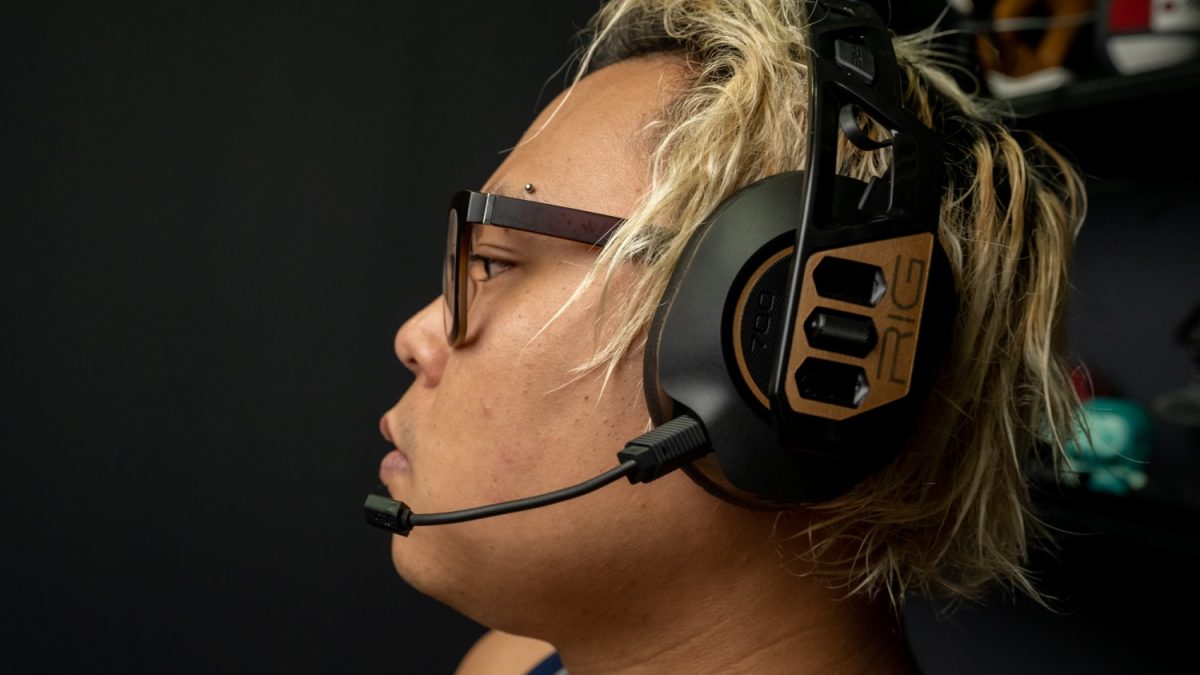 The Plantronics RIG 700HD is definitely a headset worthy of purchase with the mindset of gamers who are looking for something on a budget. Hardcore gamers, on the other hand, will feel that this headset may prefer the likes of the Logitech G Pro X, but it still stands as a headset that is comfortable, exceptional sound quality and able to take on long hours of gameplay on a single charge.
GEEK REVIEW SCORE
Summary
With an affordable US$129.99 price tag, this pair of RIG 700HD might be some thing, casual players and hardcore-fans who are on a tight budget will want to invest on. They are light, comfortable, good microphone, and sounds good as well not to mention it suits most if not all head types through its flexible frame and modular adjustments.
Aesthetics -

8/10

Build Quality -

7.5/10

Performance -

7/10

Value -

9/10

Geek Satisfaction -

8/10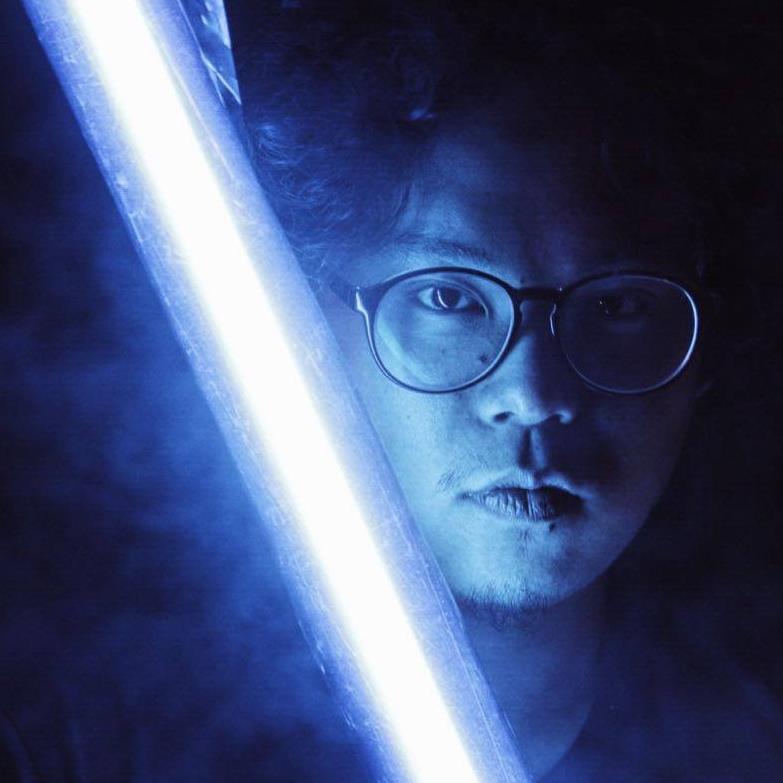 Beer, Bikes and BBQ, 3 of Zacky's favourite things. He may look like a gnarly badass biker on the outside, but a gentle soft geeky teddy bear in the inside.
---

Drop a Facebook comment below!

---