You bid farewell to your pet, close the door, and off you go to work while ole Mittens gets free rein of the apartment. Is she just snoozin'? Rummaging through your stuff? Leading a wild and exhilarating second life?! While there are plenty of pet cameras in the market, Petcube Play aims to take things one step further, to allow pet owners the chance to remotely entertain their pets.
Setting up the Petcube is simple enough – just supply power with the provided USB-C cable, then follow the directions on the Petcube app (available on iOS and Android). The steps involve connecting your phone to the Petcube via Bluetooth, then inputting your Wi-Fi details and you're good to go.
As the name suggests, the camera is packaged in a chunky 8x8x8cm cube design, with rounded corners and a glossy black front. The sleek rose gold finish on the aluminium body does up its appeal on an otherwise basic look, and the cube blends in and rest comfortably on a shelf. If you need to give it a little vantage boost, the Petcube is also equipped with a standard tripod thread on its base.
But placing it really up high isn't too necessary, as the camera has a generous 138 degree wide-angle view giving a clear perspective of a room. The camera streams video to the app at an impressive 1080p, a step above numerous other pet cameras on the market, such as the Furbo and Petzi, which only offer 720p resolutions.
There's no option to pan about and turn the camera angle, but there's 3x zoom and the video quality on the app is excellent. It also sports automatic night vision in dark environments that captures a decent amount of detail for keeping track of night-time activities.
In the live camera feed comes the "Play" aspects of the Petcube Play, which sets it apart from its regular Petcube sibling. Sure, there's two-way audio where you can speak to and hear your pets, and voices are transmitted clearly both ways with minimal delay, but the defining feature is the laser pointer. Controllable within the app, the laser pointer lets you gain the attention and play with your pets when you're not at home, although this seems better in concept than in application.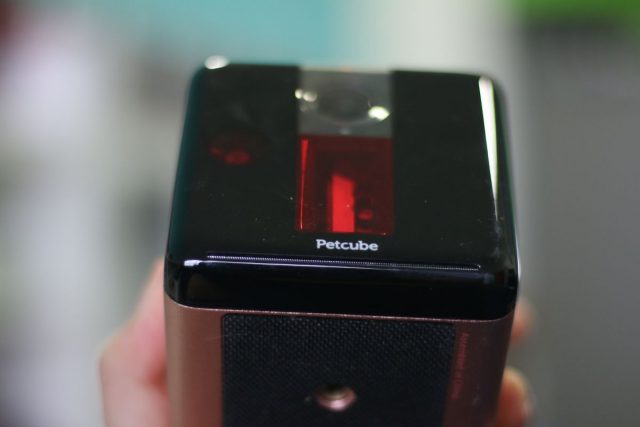 Appearing as a dot on your phone's screen, you direct the laser by dragging your finger across the screen. But instead of precise, fluid motions, the actual laser darts around erratically, with a significant lag in response to your movements – a 3 to 5 seconds delay on average.
Unless you have the camera pointed at a large wall or open floor area, this means the laser is jerking around your furniture, making it difficult to spot or follow for your pet. We tested this out with dear little Chloe here – unfortunately she had trouble following the dot, and was captivated by it for barely half a minute before losing interest.
And therein lies another issue, not directly the Petcube Play's fault exactly, but having a laser pointer immediately makes the product more cat-friendly than good for dogs. We generally associate laser pointer play with cats, and a simple google of "laser pointer dogs" brings up dozens of hits on how it may be dangerous for canines, potentially causing compulsive behaviour.
Apart from the live feed, the camera can be set to save video and automatically move the laser randomly whenever it detects motion, sending a push notification when it does so. This is useful for monitoring the pet's activities when left alone, but laser-aside, the function is nothing out of the ordinary for any home security camera.
As for the application, it is so much more than just a companion app for Petcube camera users. Petcube has created a sort of social media network of their own, where users have the option to set their cameras to public so all can marvel at their adorable pets.
It seemed really creepy at first, tuning in to a feed and just peering into someone's living room; Sometimes the pet is nowhere to be seen, and sometimes we can move the laser pointer about if they enabled that option.
It's no surprise that a majority of the users with public feeds are cat owners – some of them are animal shelters and cat cafes sorted into an "Adoptable" section, offering a glimpse into their kitty-filled catteries. You can follow people to keep up-to-date with their pets, and watch animals from all around the world. If you're lucky, sometimes even adorable newborn kittens!
Video-saving features in the app come at a cost though. Upon purchase, you get a 30-day free trial, but a subsequent Petcube Care subscription costs US$4.99, US$9.99, or US$24.99 per month for 3, 10, or 30-day video cloud history respectively, along with 2-year warranty and video downloads. Without a subscription, you can only access up to 4 hours of video history, and only 10-second long clips compared to the 30 seconds of subscribers.
At S$321, it's a reasonable price for its features although, taking into account the subscription model, you could fare just as well sacrificing the sluggish laser pointer and opting for other home security cameras under $100 instead. But as far as pet cameras go, the Petcube Play might be a worthy purchase for busy owners, providing the peace of mind and high-quality video and sound to monitor behaviour and alleviate the anxiety of being away from home.
GEEK REVIEW SCORE
Summary
Probably best-suited for cat owners, the Petcube Play has an impressive camera with a great companion application, but is hindered by the unresponsive laser pointer and pricey subscription model.
Aesthetics -

7.5/10

Build Quality -

8/10

Performance -

7/10

Value -

7/10

Geek Satisfaction -

7/10
Joyce is a language nerd whose idea of a good time includes speed-solving Rubik's cubes and binging Netflix, all fuelled by drinking many, many mugs of tea.
---

Drop a Facebook comment below!