Many Singaporeans may not be familiar with the brand OnePlus, and its understandably so, since the brand isn't quite active here, even though its name has been widely associated with top-end Android devices. Locally, their devices can be found in a few shops and most notably online via eCommerce platforms such as Lazada, where the brand maintains an Official Store. And while it may not have made waves with their launches in the past, the new OnePlus 7 Pro has become one of the most lauded Android devices in the market, for a combination of looks, design aesthetics, specifications and price.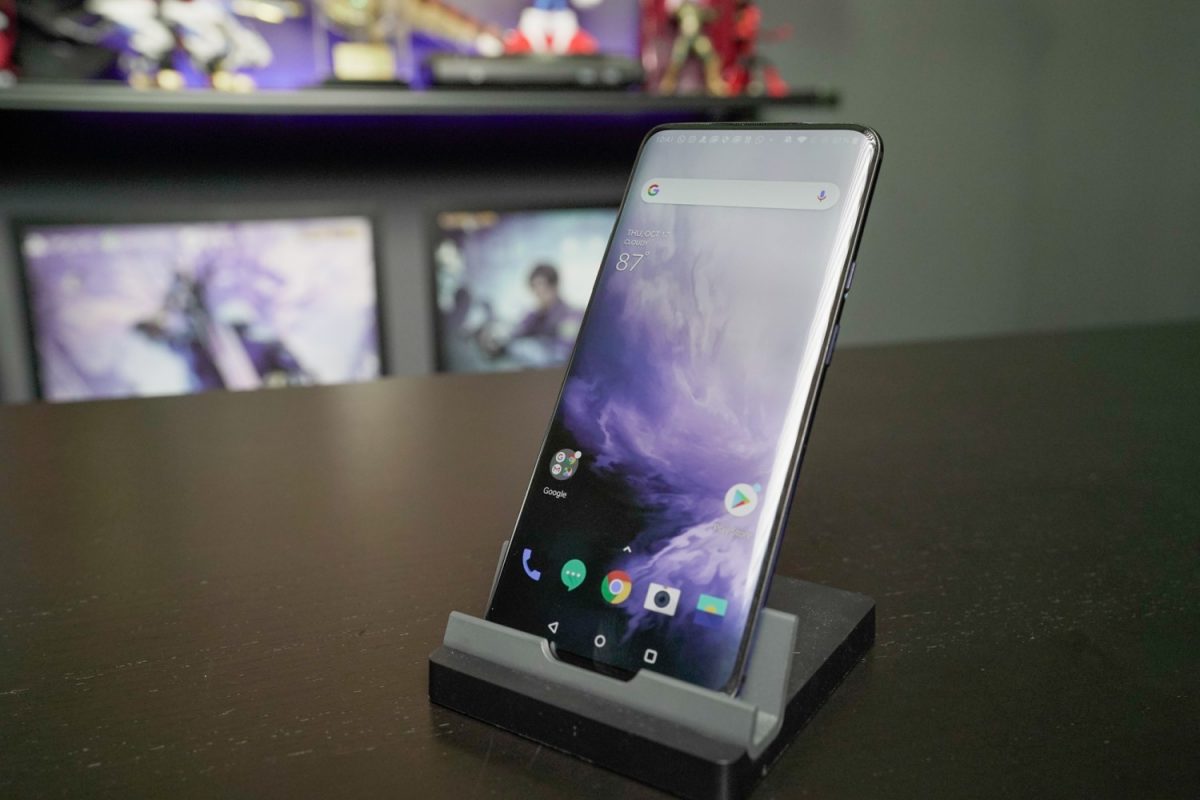 As a native Apple user, it's easy to shun other phone options without experiencing how things are like on the other side. But with all the good things this model has going for it, it just can't be ignored. So what makes the OnePlus 7 Pro stand out? Performance-wise, it uses the Qualcomm Snapdragon 855 processor, with 12GB of RAM, for smooth, powerful performance this side of Android. Combined with an edge to edge 6.67-inch Quad HD+ AMOLED screen and triple rear camera set up, and a S$1,150 price point on Lazada, few high-end phones with such specifications are available at such a price point.
But the devil is in the details, and what sets this phone apart from the rest, is its 48MP (f1.6) primary rear camera. Sure, the triple-lens system is also made up of the 16MP ultra wide-angle (f/2.2) and 8MP (f/2.4) telephoto with 3x optical zoom lens, but the 48MP shines in terms of performance.
And OnePlus is not merely chasing numbers. Like many Android phones, the colours from the OnePlus 7 Pro cameras are warmer than an iPhone's, and this ended up being a strength more than a weakness. The low-light Nightscape mode is an especially impressive feature and taking photos at night is a much more enjoyable experience now with clearer images and brighter colours. Sure, it's not all rainbows and butterflies as the feature takes a second or two to process and requires you to keep still, but keep a steady hand, and blurry low light shots are a thing of the past.
Even with ample lighting, the 48MP camera produces crisp, clear photos that are so vivid, it could cause any native Apple user to consider even if for a split-second, crossing over to the OnePlus camp. The 48MP camera provides a certain level of detailing that is simply unheard of for the iPhone XR.
The telephoto lens is impressive in its own right, allowing you to zoom up to three times the regular camera, and although it is much clearer than its predecessor the OnePlus 6, it doesn't match up to the likes of the Huawei P30 Pro or the Google Pixel 3.
The triple cameras on the back of the phone run straight down the middle, with the 48MP main camera on top, the 16MP ultra-wide lens in the middle and the telephoto lens right at the bottom. This camera configuration makes just holding the phone awkward as you're bound to place your finger perfectly on the telephoto lens while you type or scroll through your apps.
Another interesting feature is the pop-up selfie camera, which is something some phone brands have tried to adopt. To keep the OnePlus 7 Pro completely bezel-free, the selfie camera instead rolls up with a little mechanical whirr when you want to take a selfie. The fact that it pops up feels a bit gimmicky but it does give users that beautiful unobstructed screen. The camera has its own anti-dust feature and the really cool thing that if you're prone to dropping your phone, the camera retracts automatically.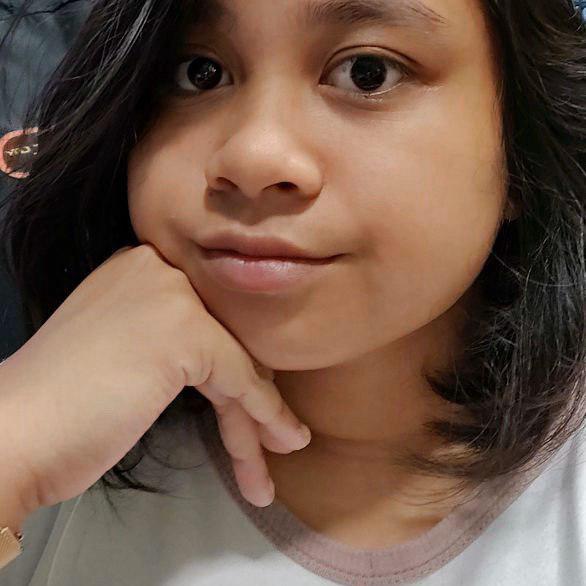 Choosing between the iPhone XR and the OnePlus 7 Pro for selfies, the clear winner is the former. Some may disagree but the diffused look provided by the latter is off-putting. Users could opt for the OnePlus if they prefer an airbrushed appearance bu their selfies will also lose out on the natural definition of their facial features.
If you have 12 hours of free time, you can check out the stress test for the selfie camera that OnePlus published on their Youtube channel.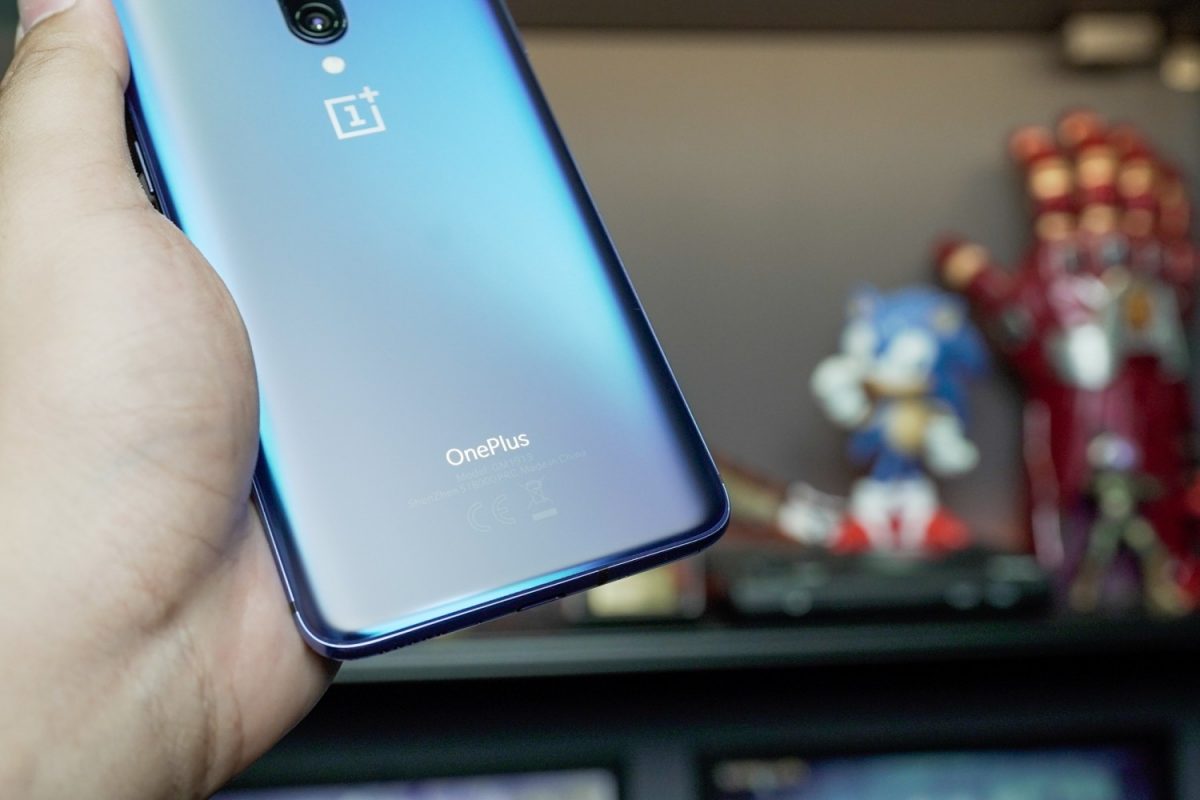 The OnePlus 7 Pro comes in three colours, Almond, Mirror Gray and Nebula Blue. The Nebula Blue has a really nice, smooth metallic finish that definitely feels more high-end than other phones. However, nothing you can do can prevent prominent fingerprints, so a cover is crucial and a transparent cover is ideal to show off that pretty blue sheen.
Design-wise, the physical Volume and Power buttons on the side of the phone are subtle and fit in well with the phone's thinness. The only issue with the design is the lack of an audio jack. Many people still don't know exactly why audio jacks are being removed from smartphones, maybe it's a ploy to make consumers spend more on accessories or maybe thinner phones have made the inclusion of an audio jack impossible. Either way, it's still not a welcomed change.
Real estate wise, the 6.67-inch screen is a marvel to behold. It's touted as the first QHD+ AMOLED screen with a 90Hz refresh rate on a smartphone, and every scroll, tap and button push is smooth like butter and the fluid motion is especially impeccable since the display is entirely notch-free. Even the screen unlocks way faster than expected with the combination of fingerprint scanning, facial recognition and its amazingly quick processor.
The curved, clear display is perfect for immersing yourself in your favourite Netflix show on your way to and from work. Even if you're unwinding after a long day, the Night Mode 2.0 reduces blue light so you can finish that those last few chapters without straining your eyes.
But with any device, it's the inside that matters most. The 4,000mAh battery may not be the biggest in the market right now but it is definitely enough to last you an entire day while still using social media, video streaming, messaging apps and other apps. What really shines through, is the charging cable and port.
Also known as their Warp Charge technology, this marvel charges the OnePlus 7 Pro from 0% to around 50-60% in just a little over 30 minutes. This is perfect for charging your phone at your friend's place without hogging the only available power socket for too long. In about an hour, the phone charge went up to slightly below 100%.
The OnePlus 7 Pro promises that playing video games while charging your phone won't result in overheating and it definitely lives up to that promise. Whether you're playing Flappy Bird or Asphalt 9: Legends, this phone and the charging equipment are sure to remain cool.
Speaking of gaming, the processor on this is the Qualcomm's Snapdragon 855 and it doesn't get any snappier than this. Playing Mario Kart or scrolling through Instagram, you can expect zero lags or crashes and no unexpected restarts. With up to 12GB RAM, this phone can pretty much handle anything you throw at it.
Truly made for gamers, the OnePlus 7 Pro even has something called Fnatic Mode. It gets rid of any and all distractions as well as optimises the mechanics to give you the best and most immersive gaming experience.
This is even better when paired with the Oxygen OS.
OnePlus' take on the Android operating system, Oxygen OS provides users with a variety of shortcuts and gestures that would astound any smartphone user. The gestures create an unprecedented level of accessibility to your phone. It is super helpful that when your phone is locked, drawing a V on your screen activates the flashlight or drawing a circle opens up the camera. Of course, it takes a while to remember all the gestures, so your best bet is to watch some videos on its features. Once you have mastered all the hidden tricks of the operating system, you'll quickly realise that the best feature is the split-screen option, where two apps can run side-by-side. Nothing feels quite as satisfying than not having to pause Netflix while replying messages from friends and family.
Although the high level to which you may customise your device has always been an appealing quality, The mix of wallpapers, icons, colours and themes may be overwhelming to many consumers. There are so many areas that users can customise that the OnePlus 7 Pro can look almost entirely different, depending on who is using it. But that's one of the benefits of Android's open ecosystem, versus the walled garden that is Apple.
And when you need a break from constant messages or social media usage, Zen Mode helps you take some time out of your day to focus on the world around you. Essentially, it locks you out of your phone for a few minutes. Be warned, once you begin Zen Mode there are no take-backsies. Even restarting your phone will not turn Zen Mode off.
Considering that this phone retails for S$1,199 at its lowest and US$1,399 at its highest, it is definitely a worthwhile investment and gives you bang for your buck, even if it is one of the most expensive OnePlus phones.
GEEK REVIEW SCORE
Summary
The OnePlus 7 Pro is definitely comparable to the other high-end smartphones and has one of the biggest potentials to convert Apple users, second to maybe the Google Pixel 3.
Aesthetics -

9/10

Build Quality -

8/10

Performance -

9/10

Value -

8.5/10

Geek Satisfaction -

8.5/10
---

Drop a Facebook comment below!