Don't let that cutesy pastel veneer fool you, because OlliOlli World is as brutal as real world skateboarding can be, minus the bruises, burns and road rash. Instead, you'd be trading all of that for blistered thumbs, as one attempts to climb up the leaderboards to achieve bragging rights worldwide.
For what it's worth, it's an awesome ride.
As showcased in our earlier preview, OlliOlli World captures the trials and tribulations of skateboarding in a video game perfectly. While it's not the same aesthetic that one might be familiar with in the form of the more popular and well-known Tony Hawk series of games, the spirit is retained and maintained through and through.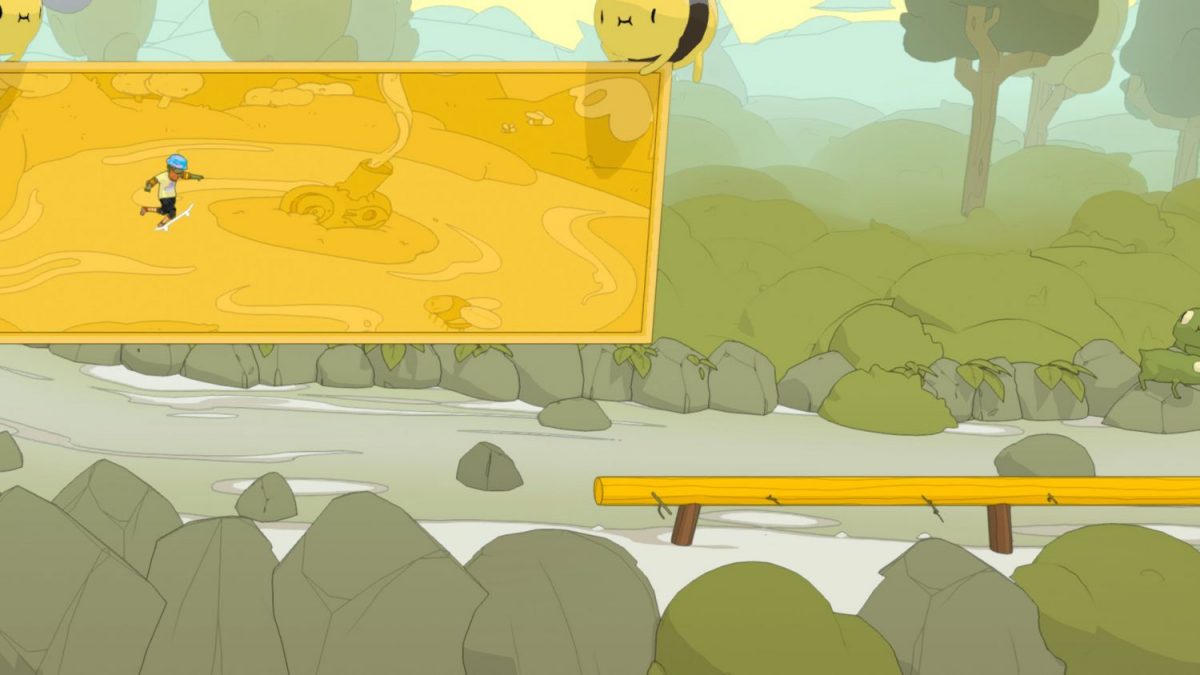 The main difference between Tony Hawk, Riders Republic and other games in a similar vein as compared to OlliOlli World would be transitioning from a 3rd person view to a side scroller / platformer. While the former allows for more perceived freeform expression, OlliOlli World affords more structure and gives everyone something to experience. While the main goal is to still garner massive airtime to pull off tricks, OlliOlli World encourages experimentation and pushing the limit to achieve high scores.
Players start off by customizing their avatars in a myriad of ways in all shapes and forms. If you've ever wanted to be a dude that skates in a dress that has green skin, you have the power to manifest it to life. Because at its core, skateboarding culture is very much about being inclusive and as long as you're showing up with the passion to skate, pull off tricks, and have a good time, you'd be welcomed to the community. And that's also pretty much how the main story starts off as well.
In an attempt to find the next Skate Wizard, the denizens of Radlandia are holding tryouts for anyone worthy to journey through 75 levels to find the next chosen one. Chiffon, the existing Skate Wizard, is nearing her retirement and it is simply time to pass the torch. Along the way you'd meet a variety of characters who would give you challenges to pull off within each level and players would be rewarded with a great deal of cosmetics to deck out their character. The premise is straightforward and chill just like the game itself. But for some, the pacing of the actual game unfolds at a relatively glacial rate. While the actual levels might zip by pretty fast (more on that later), the pace in which the game takes players through the process can be sped up a fair bit.
With the game broken up in five different worlds, each world would kick things off with a tutorial to give players additional tools at their disposal to increase their high scores. The issue here is that all these tools are available right from the very first level and if you're the inquisitive sort, you'd quickly be figuring out how all these moves come together. Pulling off moves and tricking in OlliOlli World is not exactly hard per se. The most basic ollie simply has players holding down on the left thumbstick and releasing as they please. The real challenge as with all skateboard games made to date is being able to chain a string of moves together and racking up a massive multiplier.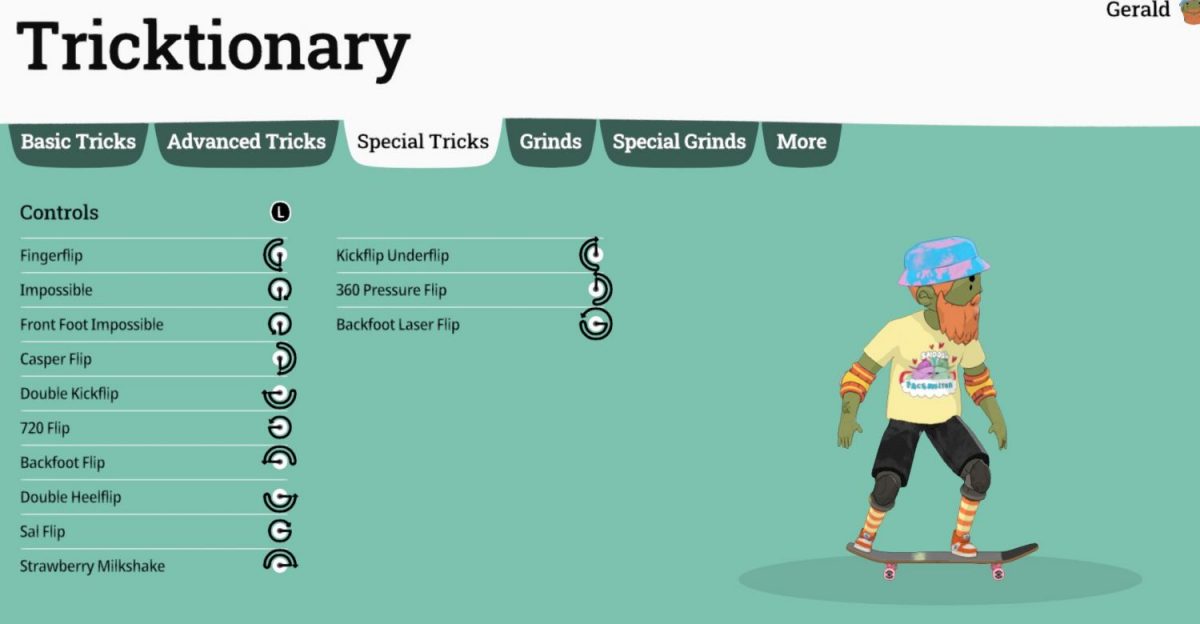 When pulling off a special trick is similar to executing a Street Fighter super move with repeated joystick inputs, and then chaining it into a grind on a well placed railing before finishing off with a manual (think of it like a wheelie), your thumbs will never be the same again after a long OlliOlli World session.
And that's the easy part.
Getting from level start to level end is easy for the most part, as players will just end up with a horrible score. Throw in some insane speeds that you have to build up on your own and the game is here to challenge players to squeeze in as many tricks as possible to gain the highest scores, in the hopes of making it to a checkpoint to bank their scores. If you've played any Tony Hawk or the SSX games, you'll be in familiar territory.
Miss a jump and spill, and there goes that sweet multiplier. Nothing is impossible and players will test their finger limits as they try to break through the high score and if this sounds exactly like what you'd like in a video game, then OlliOlli World is certainly for you. With its high skill ceiling, the game is bound to attract the same individuals who would love to see their name at the top of any leaderboard and that's where the game offers a great deal to both the casual user and the hardcore.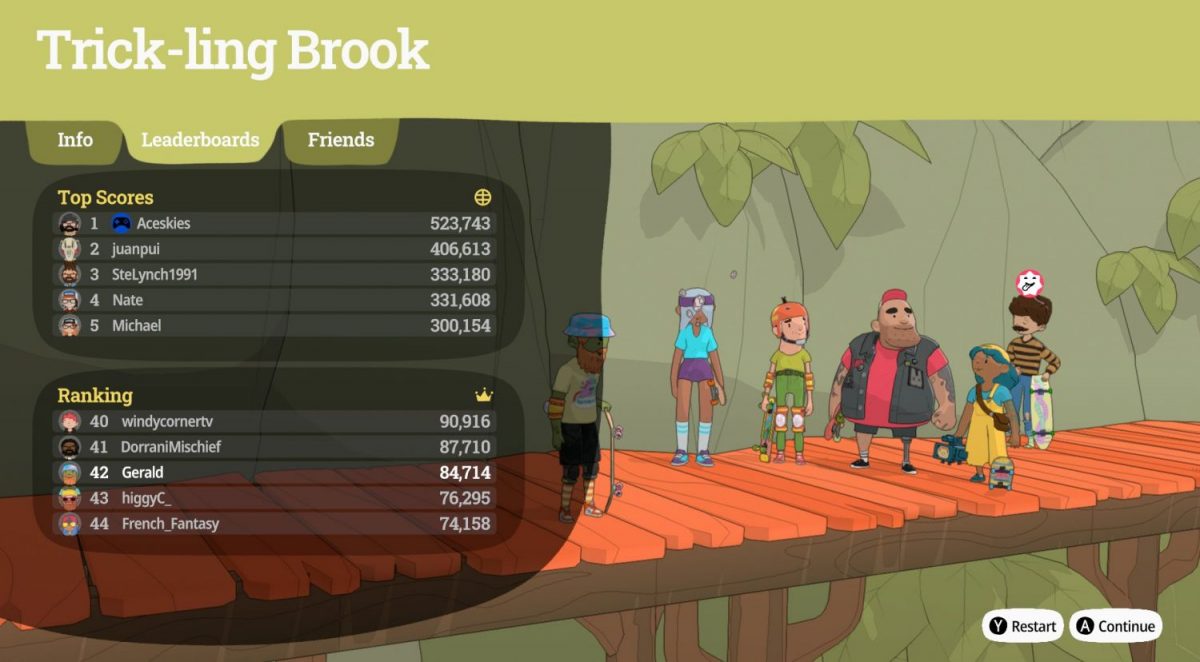 Even if players are not chasing to be the top 10 on the leaderboard, their scores for each level will be registered anyway. Upon repeating the level, players will be assigned a "rival" in the form of another player who is one rank higher than your existing score. This serves as a form of motivation to strive into becoming the very best. The coolest part about the entire leaderboard system is that players are able to review and recap the run of the top 5 individuals in a particular level and it's down to the player to break down the tricks and moves that allowed them to achieve such insane scores.
For a skateboarding game, there's a good mix of skill and strategy in being able to understand each level's design in order to achieve maximum scores. But, at some point it does really feel that the level designers might have put in certain obstacles in the game in order to bait and mess with the greediest leaderboard climbers. However, at the end of the day, there's a great sense of accomplishment as one slowly climbs up the ladder to become the very best.
Combine that with an awesome soundtrack, players will easily watch the hours melt away as they attempt to discover the most optimal route in a level to achieve the highest scores. And even if you're not the kind that cares about landing on the leaderboard, OlliOlli World gives players looking for an alternate skateboarding experience to pull off a variety of challenges in games to unlock even more sweet cosmetics to deck out their avatars. In between each loading screen, players will be shown a variety of characters from players all over the world dressed up in their own unique garb which makes you wonder how they attained that unique piece of gear.
Simple to get into but extremely hard to master, OlliOlli World is just one of those games that truly rewards the patient and dedicated. While it might not look pretty to those witnessing you fail over and over again on a Twitch stream, the shared euphoria in completing a particularly challenging section or achieving a high score is something that OlliOlli World is able to successfully replicate repeatedly in one's journey to becoming the greatest Skate Wizard of all time.
OlliOlli World is slated to release on 8 February 2022 on PlayStation 4 & 5, Xbox Series X|S, Xbox One, Nintendo Switch and PC via Steam.
GEEK REVIEW SCORE
Gameplay -

8/10

Story -

6/10

Presentation -

9/10

Value -

9/10
Gerald currently straddles between his love of video games and board gaming. There's nothing that interests him more than trying out the newest and fanciest gadget in town as well. He dreams of publishing a board game sometime in the future!