You've seen this before. A child meets a strange creature that is being hunted down by evildoers. Child and strange creature bond, and together (along with some other friends), they embark on a journey to get the creature safely back home. It's a formula we've seen largely in movies back in the 1980s, most successfully brought to screen with E.T.
Three decades later, this formula is painfully predictable, and you'd probably have guessed the outcome five minutes into the movie, and you're left wondering if the movie is worth the time.
With a title like Monster Trucks, you know that the movie isn't taking itself too seriously, and you shouldn't either. The creature in question here is huge and octopus-like, with a friendly Beluga Whale-like face. Unless it's pissed off and you want to get the full impact of its shark-like fangs, the unnamed species found deep within the Earth is relatively harmless. It has lived peacefully in subterranean waters, until an oil company decided drill past its home, for some black gold. Intense drilling efforts results in three of these creatures being forced out of their home and into hiding. Two were caught, leaving one to fend for itself, in a junkyard.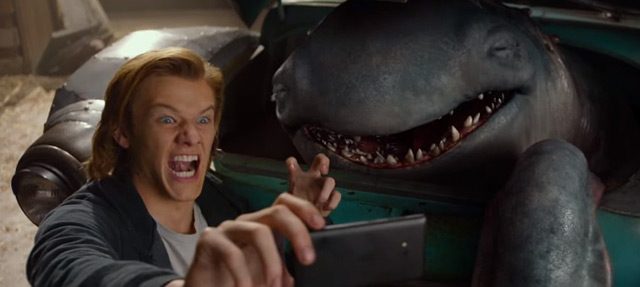 Enter disgruntled teenager Tripp (Lucas Till). He's hardly the popular kid in school, and has some family issues, what with his dad walking out on the family, and a soon-to-be-stepdad who's pretty much the token town sheriff. He works at a junkyard after school, and longs to escape this small town. He builds his own monster truck, sourced from scraps he finds at the junkyard, and hopes one day to find an engine that would power the truck, and give him a new lease of life.
For reasons unexplained, younger school mate Sam (Tucker Albrizzi) looks up to him, and attractive classmate Meredith (Jane Levy) fancies him. There isn't much time devoted to developing the characters, as the movie rushes to show us the bonding between Tripp and the creature he named "Creech". Creech conveniently seeks refuge in Tripp's monster truck and after a rough start, the pair gets along splendidly. Then the bad guys closed in on Creech, and Tripp enlists the help of Meredith and Sam (now we know why they're added to the story) to help Creech find its home.
There are many elements of the movie that don't add up, but we're talking about a giant octopus-like creature that hides in a monster truck, so it's alright for us to suspend reality here. What the movie gets right though are its comedic elements, and knowing who its audiences are. Obviously catered to the younger audience, the movie does its best to elicit laughs from the little ones, with scenes including a high speed chase that left one of the characters vomiting on himself, and a Creech-controlled monster truck gingerly climbing up walls to escape being caught. Creech itself is designed to appeal; younger children are likely to find it cute and even cuddly. I caught my three-year old son waving to Creech in one of the scenes, and gasping when it was in danger, seemingly invested in the fate of this peculiar creature.
Monster Trucks isn't the movie for those looking for deep, meaningful storyline about the bonding between two individuals. It's really more of a family joyride aimed at the younger audience looking to be entertained. Older audiences, however, will be left lamenting about the severely underused Danny Glover, who plays the junkyard owner that's like a mentor/ father figure to Tripp.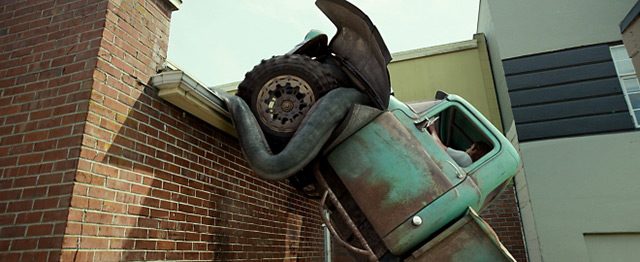 ---

Drop a Facebook comment below!