Tool sets are play toys to the hardware enthusiasts, and ThinkGeek is looking to inject an extra bit of fun without making any compromise to the practicality factor.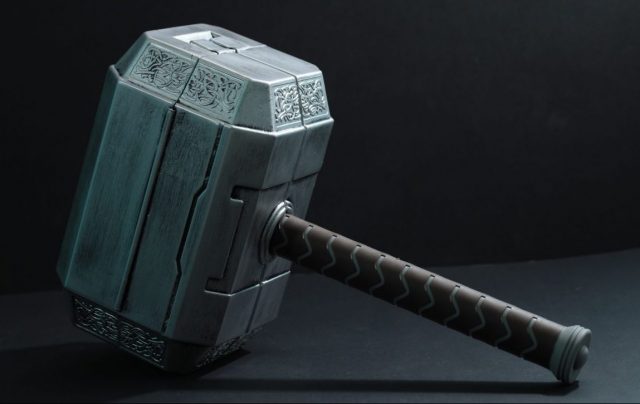 With their cheeky creation of the Thor Hammer Tool Set, users are now able to harness the power of Mjolnir for some fix-'em-up time. Not worthy enough? Well, nobody said anything about wielding the other 43 tools that include, but are not limited to, a measuring tape, wrench, bolts, and a utility knife.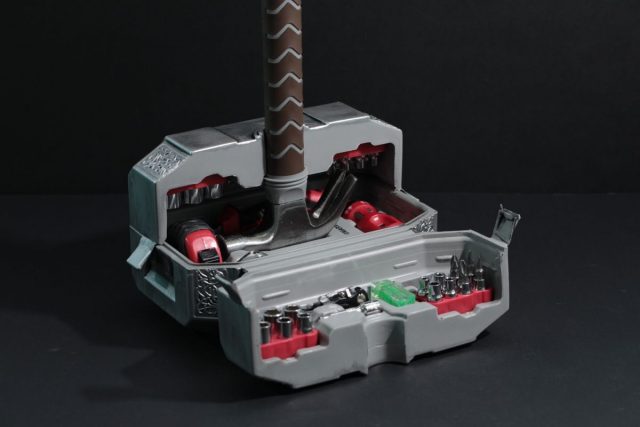 Of course, the obligatory hammer sits snuggly in the middle, surrounded by the arsenal of basic tools.
Decked out in a Mjolnir-moulded case, the tool set is adorned with intricate patterns on its sloped surface. We think they're hardly the perfect replication of Thor's hammer in canon, but the design does introduce some personality to it, which would otherwise appear too plain.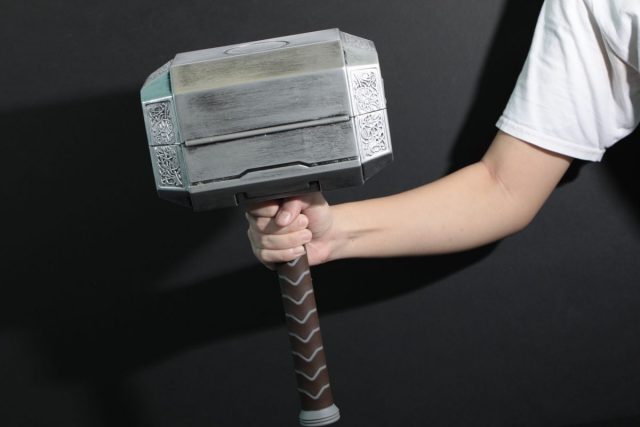 And while some may feel that the plastic exterior cheapens the overall appearance, it's a necessary move to lighten the load. Weighing in at 2.4kg, it's an acceptable mass for a toolbox, considering how some of them can easily outweigh that number. The attached handle certainly does help its cause, and the portability is much welcomed.
In a stroke of minimalism, the latches to open up the box are subtly placed on the sides, expertly blending in with the lines creeping above. Hook two fingers underneath, push the two halves apart, and voila – hardware heaven awaits! It's neat, simple, and practical.
Taking a look inside reveals a very symmetrical look, with bolts and nuts immaculately nested on both sides, alongside the smaller tools. In the centre surrounding the slim and lightweight hammer are the tape measure, pliers, six-inch wrench, and a very handy screwdriver. This neat arrangement means that foam is no longer needed as a divider between the various tools.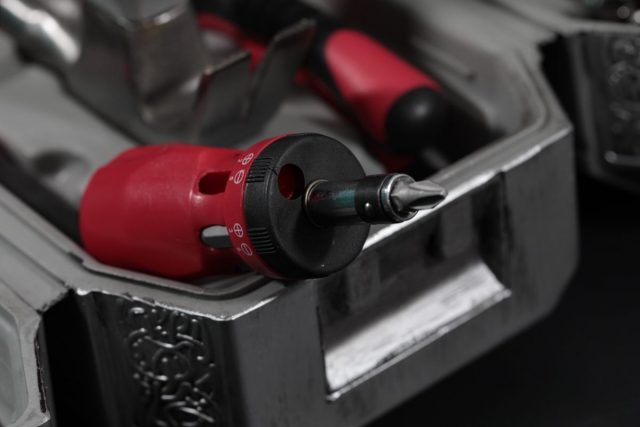 Armed with six bits of various sizes, the two-in-one screwdriver is the ultimate package of practicality and convenience. To attach or swap out one bit for the other, there's a catch release button to allow users to rotate between the six choices, thus bringing variety to the table.
In a show of versatility, the metal length of the screwdriver can be further extended with a three-and-a-quarter-inch extension bar as well.
The smallest of gripes would be that the tools are sometimes wound up too tightly in the box, which makes it difficult to remove them for use. Yet, loosening their grip will result in them falling out of place and into the centre when placed in a upright position, especially for the bolts.
Another slight issue is the metallic, rusty smell that comes with toolboxes of all kinds, but for the seasoned hands-on enthusiast, it should reek more of familiarity and comfort than unwelcome squickiness.
Retailing at US$99.99 on ThinkGeek, the Marvel Thor Hammer Tool Set is a worthy (heh) investment for both Marvel fans and the casual hardware enthusiast – and doubly so for individuals who fall into the two categories. With the Mjolnir-themed front, it would make for a good conversation starter, in addition to being a convenient carrier of handy tools.
Besides, Avengers: Infinity War is due to open in cinemas soon (very soon, in fact!), and what better way to ride the hype wave than to treat yourself to a geeky, practical tool package?
GEEK REVIEW SCORE
Summary
Quirky, practical, and affordable, this marvel-lous Thor Hammer Set Tool will be a welcome addition to one's storeroom shelves, even for individuals who aren't a fan of hardware, Marvel, or both – it's really just that cool.
Aesthetics -

8/10

Build Quality -

9/10

Value -

8.5/10

Geek Satisfaction -

9/10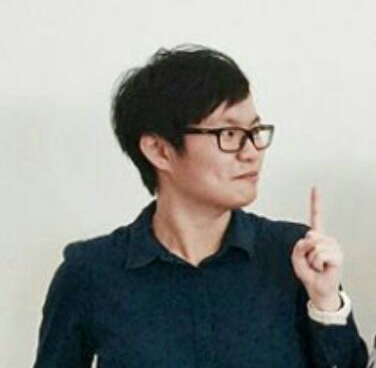 Si Jia is a casual geek at heart – or as casual as someone with Sephiroth's theme on her Spotify playlist can get. A fan of movies, games, and Japanese culture, Si Jia's greatest weakness is the Steam Summer Sale. Or any Steam sale, really.
---

Drop a Facebook comment below!