It's not something many of us think about, but finding the perfect mouse is a deeply personal affair. The free ones never cut it, and there's something about having something that fits well in your hands. Sadly, there aren't many companies out there making that perfect mouse but Logitech has been doing a lot more, crafting mice of different forms and types, for the few who crave more than something in the palm to move a cursor.
While there have been occasions where the company's products have dabbled into other ergonomic options, such as the Logitech MX Vertical, there is no denying that this is one company that offers the most variety for anyone out there.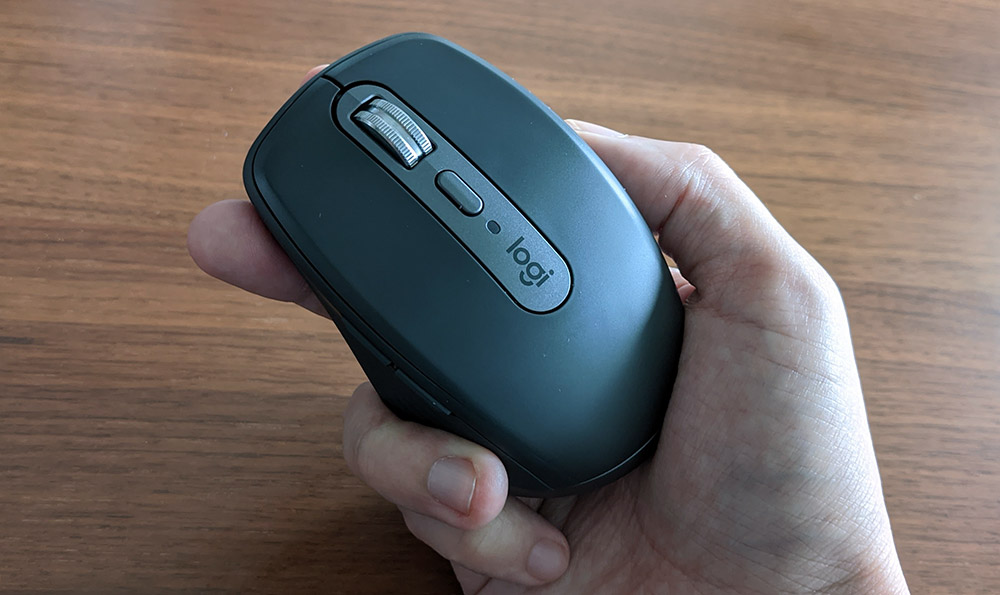 Having used the Logitech MX Anywhere 2 for the last 4 years is a testament to the quality the American-Swiss peripheral company has poured into their products, so the leap into its MX Anywhere 3 seems to be a natural progression. The new kid on the block might not see a big leap of improvements which might appeal to upgraders, but the MX Anywhere 3 is a solid pick for anyone looking for compact performance mouse perfect for road warriors, or folks who prefer simplicity without the expense of bulk.
With clean lines, solid design and the comfort it affords for anyone looking to pick up a mouse which looks professional and does not scream "gamer", the MX Anywhere 3 has all the hallmarks of Logitech's MX series.
Built out of non textured plastic for the most part, the Logitech MX Anywhere 3 adds on contoured silicone side grips which feel great as the thumb naturally finds its place on the mouse. The MX Anywhere 3 clearly prescribes to the school of "if it's not broken, don't fix it" employing the same design guardrails found on its predecessor. The most obvious change here would be the side buttons are now slimmed down which, thankfully, does not have any impact on the ease in which the thumb has to reach and click the buttons.
The left and right mouse buttons have a satisfying audible click when depressed giving users a good sense of tactile feedback in ensuring accuracy. While the MX Anywhere 3 has a uniform design, it does come across more suited for right-handers though the mouse allows for the left and right buttons to be easily swapped in the options menu.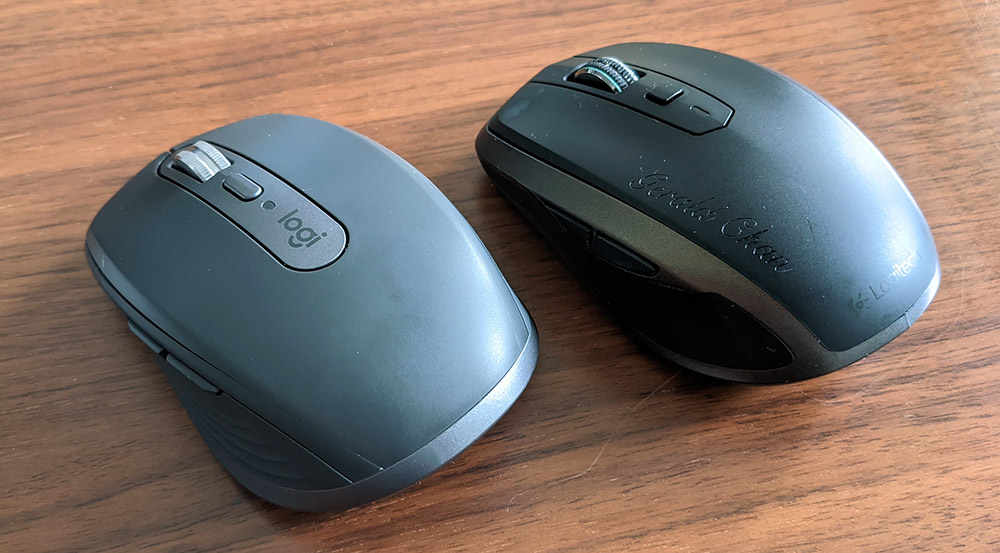 Size-wise, the Logitech MX Anywhere 3 is about the same size as its predecessor. Given its petite statue, this is a mouse which might not play well if one has bigger hands. Otherwise, you might see yourself adopting a prolonged "claw" grip for the most part. When it comes to weight, it's a few grams lighter as well though it's definitely something not noticeable. As the mouse effortlessly glides across a multitude of surfaces, this is definitely one mouse you'd be bringing literally anywhere. Looking at the feet of the aging MX Anywhere 2, it has done well in holding up over years of use (or abuse) yet it still tracks well like day one. Seeing as the MX Anywhere 3 does have the same feet as well, we should expect stellar performance to be maintained over time.
The biggest upgrade to the MX Anywhere 3 is the redesign of its scroll wheel. Now dubbed as "MagSpeed" scrolling, the MX Anywhere 3 by default has a satisfying ratchet scroll which can be toggled on and off to a free scroll with a physical button toggle or when the mouse senses that you might want to scroll really fast down a 50 page document. By giving the scroll wheel a quick flick downwards automatically allows you to scroll from line by line to multiple lines with minimal fuss. This would be a boon for productivity enthusiasts who want to get to where they want to be in a document in double quick time. It's definitely not a feature that everyone should rush to buy this mouse for but it's a design which will be missed when returning to other lesser mice in the market.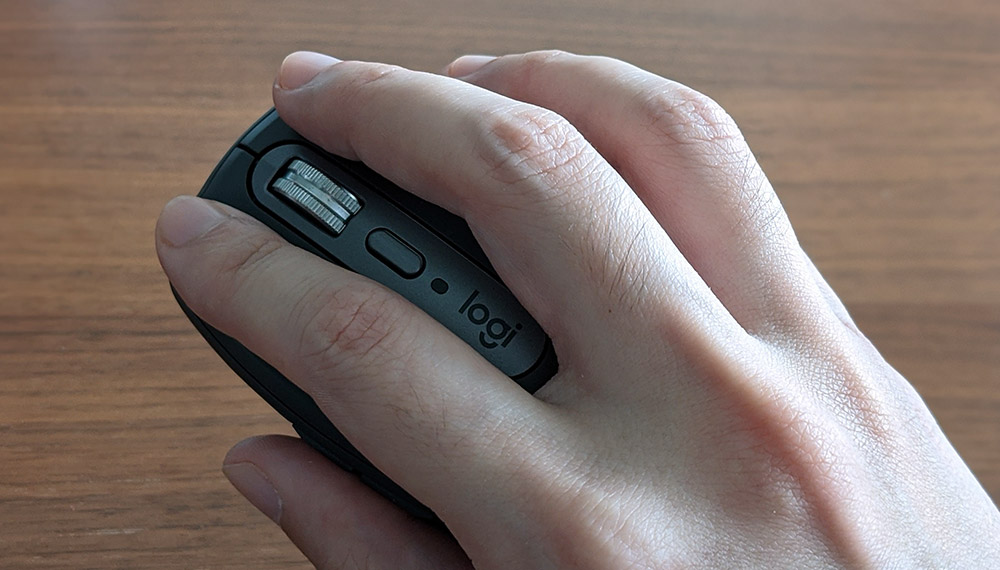 Compared to the MX Anywhere 2, the scroll wheel is now silent and made fully out of stainless steel. This does help with the wear and tear of the mouse overall and makes it easier to clean overall.
Being more of a traditionalist when it comes to mice (MMO Mice are the only exceptions so far), the MX Anywhere 3 is a handy companion great for day to day everyday use. Having used the mouse for at least 12 hours daily, the battery of the mouse still reads as "full" despite two weeks of use. This is certainly par on course for Logitech's MX range of mice. Moving on with the times, the MX Anywhere 3 now charges via USB C port as opposed to the previous micro USB option. The only thing which might bug long time users of Logitech would be the inclusion of Logitech's proprietary USB dongle.
Despite being a mouse which one would be bringing everywhere, there still is a lack of a crevice to store away the dongle on the mouse itself. Alternatively, the MX Anywhere 3 works on Bluetooth as well with some slight noticeable latency as opposed to connected via a dongle. With USB ports being a premium in most laptops these days, Logitech is trying its best to provide more value to users who make use of the dongle across multiple computers.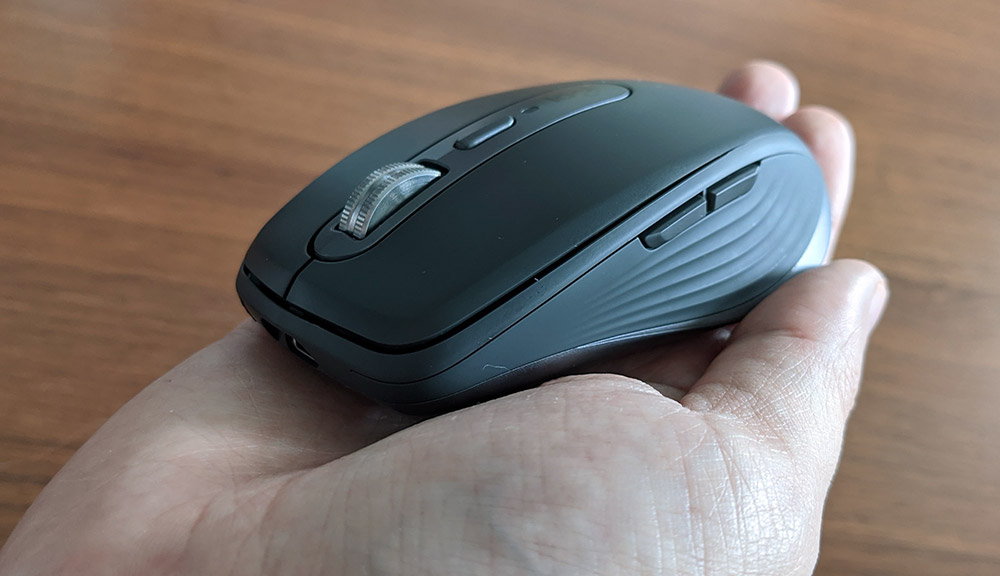 With its relatively light and non bloat software, Logitech would really want users to make full use of its Flow feature to allow users to drag files across devices. It's a nice touch but ultimately, it'll be hard for users to break out of old habits when cloud storage is second nature of most users these days.
Ultimately, the Logitech MX Anywhere 3 should be the number one mouse pick for anyone who is looking for a mouse. The only downside would be the entry price (SGD$129) when there are many more affordable options out there. What's missing from this decision process is how much utility the MX Anywhere 3 will be able to afford any eventual owner. With its predecessor having gone four years without a hitch, it would not come as any surprise that the MX Anywhere 3 should be seen as a long term investment in productivity and comfort. Simply put, this mouse is by far an easy recommendation to anyone's road warrior toolkit.
GEEK REVIEW SCORE
Summary
Wait no more, if you're looking for a mouse which will see you into the end days, the Logitech MX Anywhere 3 is the one for you. Even at its higher price point, we're confident this is the mouse for most users looking to invest into quality.
Overall
9.4/10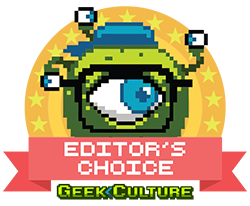 Aesthetics -

9/10

Build Quality -

10/10

Performance -

10/10

Value -

8/10

Geek Satisfaction -

10/10
Gerald currently straddles between his love of video games and board gaming. There's nothing that interests him more than trying out the newest and fanciest gadget in town as well. He dreams of publishing a board game sometime in the future!
---

Drop a Facebook comment below!