When Riot Games first announced K/DA, a virtual K-pop band comprising Ahri, Akali, Evelynn, Kai'Sa and the recent addition Seraphine from League of Legends, everyone was swept off their feet. Voiced by notable artists such as Madison Beer, Jaira Burns, and (G)I-dle members Miyeon and Soyeon, the K-pop inspired virtual group took the world by storm with their viral single Pop/Stars that garnered over 400 million views and continued to release eargasm tracks such as recent single MORE. 
It was certain that K/DA would look to release their own gaming merchandise and Logitech took that opportunity, announcing an exclusive multi-year partnership with Riot Games to produce official licensed League of Legend products. The announcement came with the first collection that includes several popular Logitech peripherals rebranded in all-new K/DA themes, including the G Pro K/DA Keyboard that's based on the G Pro Keyboard.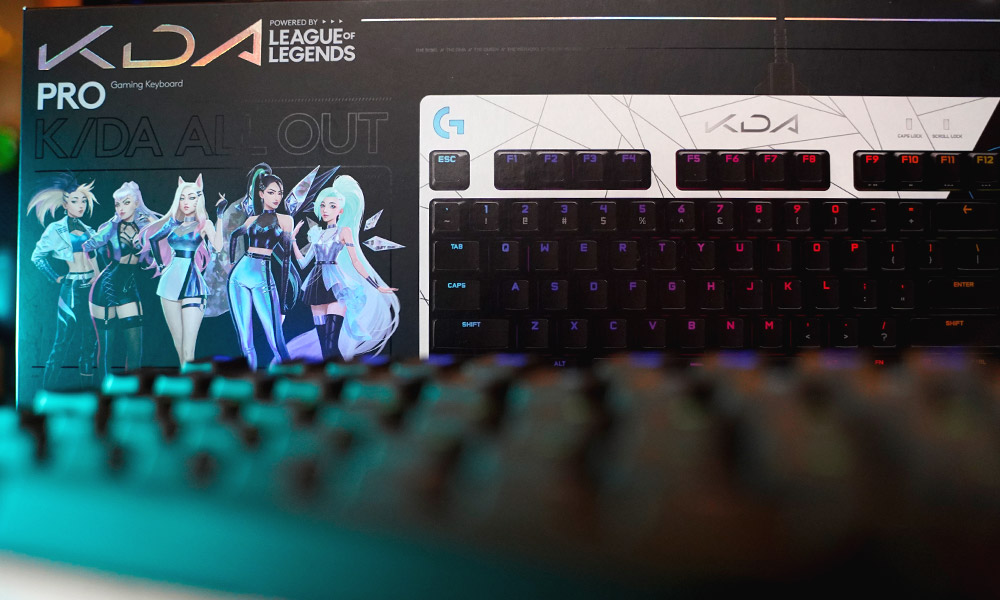 Before we get started on the G Pro K/DA Keyboard, we have to set a clear distinction between the G Pro X and G Pro Keyboard since many are often confused by their similarities. The main difference between the G Pro X Keyboard and the G Pro Keyboard is the lack of hot-swappable switches in the latter, which means you won't be able to customize and change your switches if you own a G Pro Keyboard, or if you do decide to get the new G Pro K/DA Keyboard.
The G Pro K/DA Keyboard is essentially a G Pro Keyboard reskinned with the K/DA look although that's not a bad thing at all because this new rendition offers a new keyboard switch and an entirely different look at the same affordable price.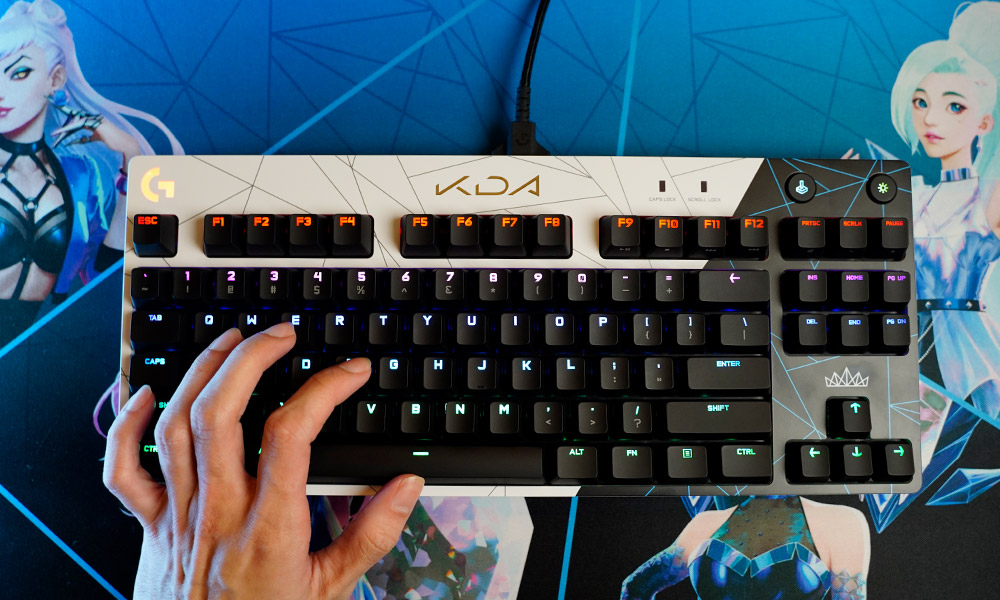 If you follow Logitech's keyboards, you might remember that the G Pro Keyboard once used Romer-G Switches, but the latest editions, including the new G Pro K/DA, has replaced them with GX Switches. For anyone who enjoys tactile and non-clicky switches, you might be delighted to hear that the G Pro K/DA comes with the GX-Brown Switches.
The GX Brown Switches are extremely versatile and offer a perfect balance between clicky and silent switches and they're a part of Logitech's mechanical switches, which are trying to rival other switches, such as the Cherry MX. The GX Brown switches provide you with enough tactile feedback at the actuation point, for you to feel your keystrokes, but without being too loud.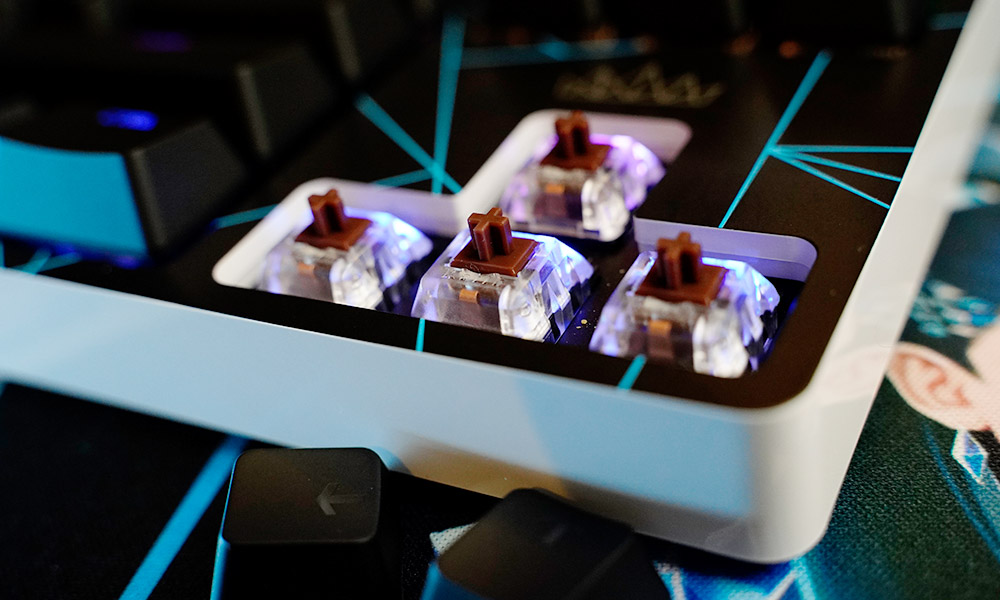 Keyboards and their switches are an accessory that depends heavily on personal preferences, but the overall performance is still essential for any type of gaming keyboard, and the G Pro K/DA delivers a great typing experience. Having used it for a month, the precision and accuracy provided are incredible and the keyboard doesn't make you feel like a victim of plastic friction. Each keystroke feels smooth to the touch and doesn't create too much noise for it to be a distraction to yourself and others. And if you'd like to hear how the GX Brown sounds, Logitech has a page illustrating all their mechanical switches.
The tenkeyless keyboard doesn't have any additional functions or utility over the G Pro model, and it sports the same light and gaming toggle button which controls lighting and disables the Windows key. Despite that, the visuals are probably the most impressive part of the keyboard and set both renditions apart by a mile because it no longer comes in a black mellow design. Instead, the G Pro K/DA goes all out and paints K/DA's attitude across the entire aesthetic of the keyboard.
Designed in a white and black colourway overlayed with silver and blue stripes, the keyboard speaks volume with its stylish futuristic look and as K/DA fans, we really can't ask for more. Along with a gleaming K/DA logo embellished in silver and their iconic crown logo above the arrow keys, the entire theme lets you rep your favourite virtual K-pop group with pride, fitting the bill of the collection's slogan, "Go All Out".
There's also a text logo of League of Legends in black over a glossy white finish off the sides of the keyboard, a wonderful contrast to the different matte finish on the front layout of the keyboard. Like most of their mechanical keyboards, G Pro K/DA comes with Lightsync RGB that can be configured with different colours and animations using their G Hub software downloadable on their website.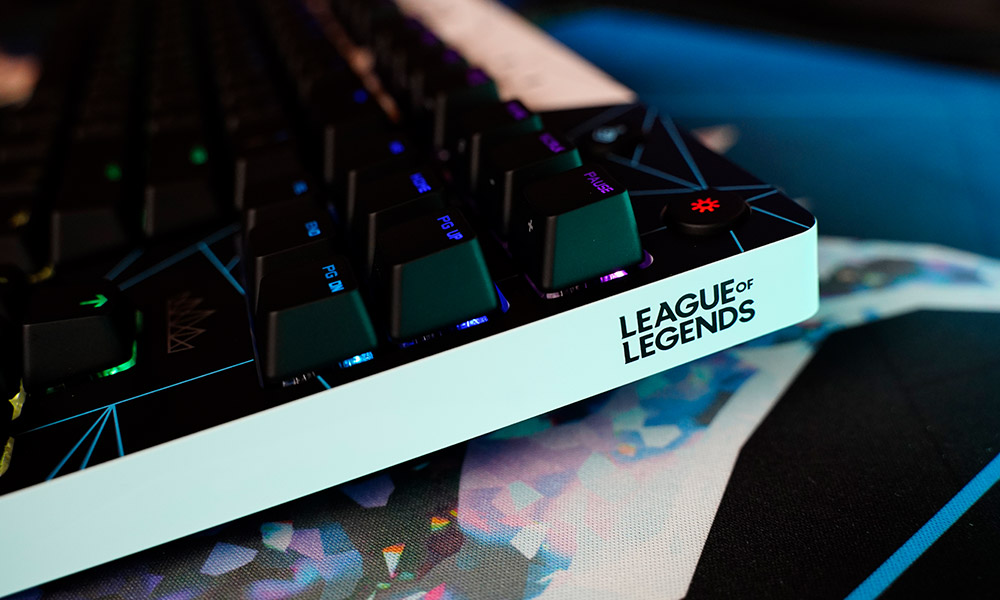 Although a little heavy at about 980g, the 6-inch x 14.2-inch tenkeyless keyboard is pretty compact and can free up a lot of desk space for more mouse movement or arm space. Say you have a wide desk space like the Omnidesk, you'll find yourself PLENTY of room for your cup of coffee, wallet, phone, microphone but even if you're on a small desk, it'll still fit right in without trouble. Like the G Pro Keyboard, it comes with a 1.8m braided detachable plug-and-play micro-USB cable which is perfect if you'd like to make full use of its compactness for portability and move your set-up around.
Looking for the right position for the keyboard is a painful task that we do daily but the compactness of this keyboard makes it a breeze. With the two pairs of adjustable legs, we were able to get long hours of comfortable use without any keyboard support nor rest pads. Once we were done moving the keyboard around for the perfect spot, the five rubber feet underneath along with its weight naturally helped to sit it down securely in the position permanently even after trying to nudge the keyboard around.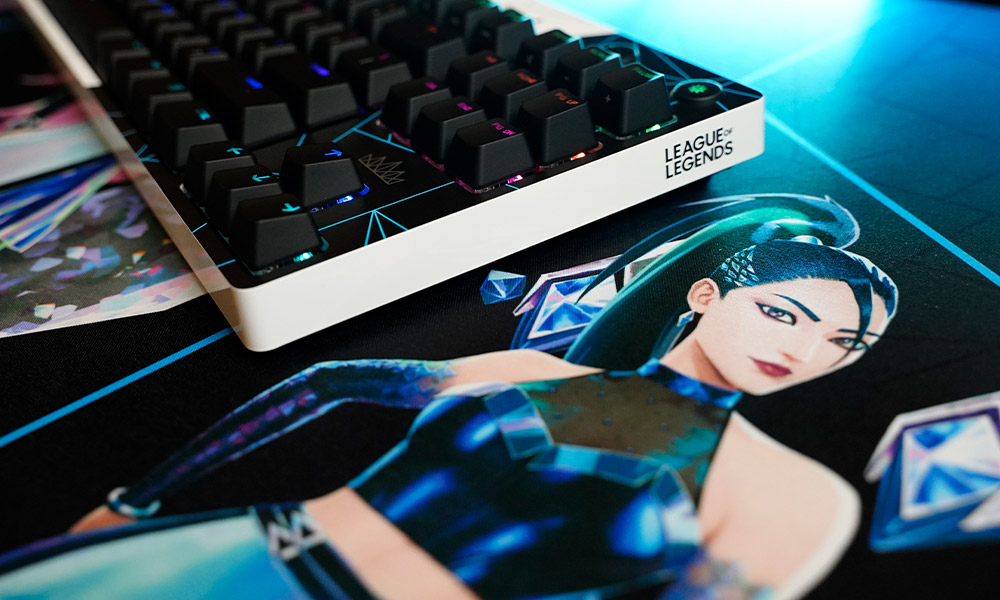 We also took the opportunity to double-up on K/DA goodness by completing the entire K/DA set up with the G840 XL K/DA mouse pad that was released along with the collection. The XL 15.75-inch x 35.43-inch mousepad that features the entire cast of K/DA, including Seraphine, provides a much larger surface area for you to play on, configure your set-up and complements the small form-factor of G Pro K/DA so that you can appreciate the beautiful artwork.
The G Pro K/DA Keyboard is a sturdy tenkeyless mechanical keyboard that's beautifully designed for fans of K/DA, but even if you're not, the performance on the keyboard is remarkable as its GX Brown keys are great to work on if you're looking to find a sweet spot between clicky and silent keys.
The G Pro K/DA Keyboard is available now on Shopee and Lazada for S$189.00.
If you'd like to spot a full K/DA set-up, take a look at the rest of the collection here.
GEEK REVIEW SCORE
Summary
Fans of K/DA can hardly say no to the G Pro K/Da keyboard. While the new keyboard doesn't necessarily add any new utility or functionality to its previous model, it gives a refreshing new look and option for a more tactile and quiet switch while retaining its affordability.  
Aesthetics -

9/10

Build Quality -

8/10

Performance -

8/10

Value -

8/10

Geek Satisfaction -

9/10