Logitech's Romer-G keyboards have undergone quite an evolution.
When the first model – the G910 Orion Spark – was released in 2014, it tried to do everything at once. It had a pull-out Arx Dock for a phone, a minefield of macro buttons, and media control keys. The back of the box was a veritable essay on the virtues of the new switch. In short, messy, like the keyboard within.
Things got a little better with last year's G810 Orion Spectrum, which lost a lot of the bloat that had plagued its predecessor. The Arx Dock and the unwieldy plastic wrist rest were given the boot, although the media keys escaped the cull.
With the Logitech G Pro, it seems that the company has finally, finally realised that less is more.
Logitech's latest Romer-G offering is a lot more confident, and a lot less desperate. It is less "Pick me! Pick me!", and more "You know you want me". On the front is a simple picture of the keyboard. Compact, tenkeyless, sleek. On the back, just five words: "One purpose. Play to win."
With the Pro, it feels like the Romer-G line has finally come of age. Logitech has done away with the histrionics, and focused on delivering the goods. The result? A damn good keyboard that is almost unrecognisably better than its predecessors.
First off, the Pro is a lot more restrained in its form factor. It has completely ditched anything extraneous. There isn't a macro or media key in sight, and its chassis has shrunk to barely half a centimetre around the bottom three edges.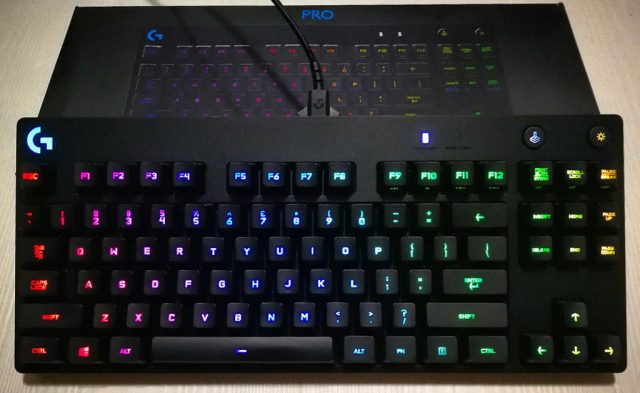 Despite its small desktop footprint, the Pro is a very solid keyboard. It weighs in at close to a kilo (980g) without the cable, with five large rubber feet making sure that it stays rooted in place. For those of you who are picky about your typing angle, there are three settings to help you get the perfect height.
This is also the first Romer-G keyboard with a detachable braided cable, which is good news for anyone who needs to carry it around in a case or bag – no more bent connectors. This also means that a busted cable will be quick fix.
While the Pro is undeniably less feature-packed than its predecessors, it has managed to retain the essence of a what makes a gaming keyboard. Short-throw actuation for faster keypresses, 26-key rollover, and snazzy RGB lighting. For gamers who need macros, the Logitech Gaming Software will let you map them to the function keys.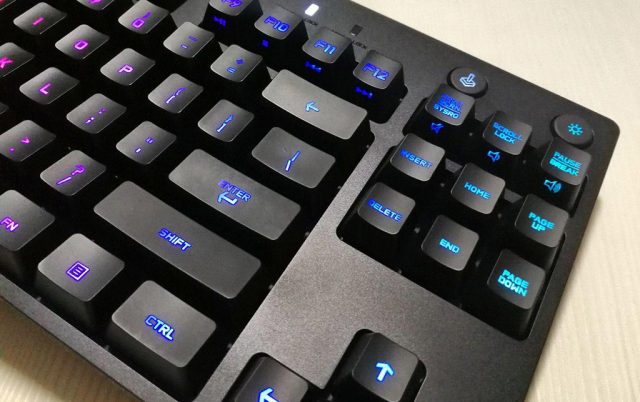 Despite the massive improvement in form factor, I have to admit that the Pro still isn't my favourite typing experience. The Romer-G switches are similar to Cherry MX Browns in the sense that there's a tactile bump at the top, and then it goes straight all the way down. But while Cherry MX Browns are largely smooth once you pass the tactile bump, the Romer-G switches aren't.
Just like keypresses on previous Romer-G keyboards, each stroke on the Pro feels like the victim of plastic-on-plastic friction. When you push a key down, you can actually hear and feel a faint grinding. While some gamers may not mind it, I find the roughness vaguely unpleasant. It also makes the keys feel heavier than their purported 45g actuation.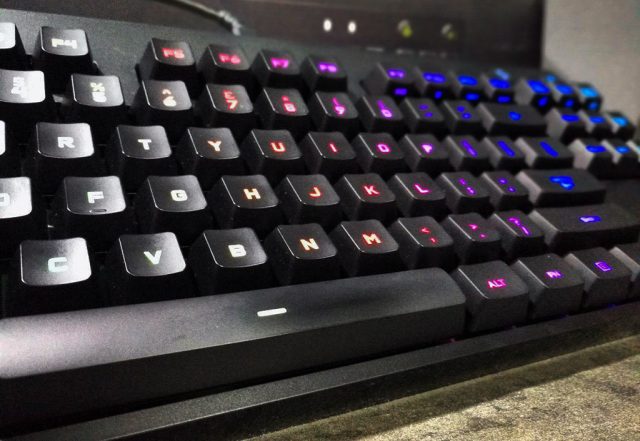 The keycaps also feel a little flimsy. They're made out of ABS and not thicker PBT, and the matte finish is worn down to a shine very quickly. Barely a week after I started using the Pro, there was a smooth, glossy patch on the space bar.
I do think that after the Pro, a smoother switch construction is the final hurdle for the Romer-G range. Once – or if – that gets fixed, I do think it's likely that Logitech's Romer-G keyboards will find themselves near the top of any serious gamer's wishlist.
The Logitech G Pro Mechanical Keyboard retails at S$199 and is available now at your favourite local store.
GEEK REVIEW SCORE
Summary
The Logitech Pro is a big step up from its Romer-G predecessors in form factor and build quality. Once Logitech irons out some niggling key construction issues, the Pro is set to be one of the top gaming keyboards around.
Aesthetics -

9/10

Build Quality -

8/10

Performance -

7/10

Value -

7/10

Geek Satisfaction -

8/10
Lisabel is a former tech journalist who loves mechanical keyboards, sneakers, capoeira and cheesy puns. She has dreams of being the next Masterchef, but so far all she has produced is a bunch of Play-Doh pasta.
---

Drop a Facebook comment below!
---