[UPDATE 10 July 2016: Winner Announcement! Congratulations to Tiong Jia Yi and Jody Ong! Please check your email for prize redemption details. ]
There's a certain sense of mystery when it comes to assembling Lego's range of Nexo Knights sets.
Unlike its City, Architecture, Star Wars or even its Disney Princess line, there is little in terms of knowing what to expect. With the City range, you probably bought it because you wanted to build a truck, speedboat or airplane. I know Star Wars fans who got the X-Wing and Slave 1, because that was what they wanted. It's the same when buying any of the Lego-fied landmarks in the Architecture series.
You know what you are building.
Sure, the artwork on the box helps, but unless you are a fan of the Nexo Knights cartoon, or play the mobile game, Lego's latest IP does not have the same level of recognition of even its Ninjago line, and that's where the fun begins.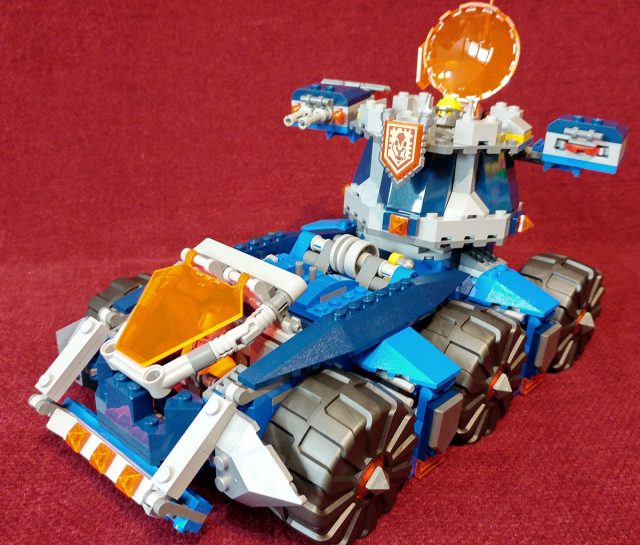 Axl's Tower Carrier was nothing like I expected, but it is named exactly as the product itself. Think aircraft carrier – a large moving vehicle that carries aircraft. This carrier belongs to Axl, and it carries his tower.
His tower in this case, is a smaller mobile battle tower that rotates. On the left of the tower is a disc shooter, while the rights holds two spring loaded projectiles. A knob at the rear allows you to rotate the tower in any direction, while wheels at the base allow it to roll along.
At the rear of the tower, where Axl stands, are clamps that hold his weapon, as well as a slot for a removable chest box. The box is pretty small, so it only holds several tools, but the design is such that the staff of Axl's axe can be positioned, such that it holds the box in place, to prevent it from sliding out.
And slide out it did, when I pulled the quick release, to disengage the Tower from the main Carrier.
The Carrier itself can be seen as a giant tank, with three huge wheels on each side. There is a pilot's cockpit in the front, for one of two provided Axlbots. The other Axlbot controls the catapult in the rear. When the Tower is away, a gate opens to reveal a pull-back catapult that fires on of two provided pieces of trans neon orange 2×2 round bricks. The catapult can be placed in any position along its arc of movement and as a standalone vehicle, works very well. The large wheels give it a lot of maneuverability.
The best thing about this set is that once I established what I was building, I had a flashback of playing with my G.I. Joe toys. The set reminds me of a tank and moving turret, and I only wish my Joes had such impressive firepower in those days.
The instructions detail the retraction of the catapult, but there is actually a space for an Axlbot in there as well. Make it lie down, retract the catapult and close the bay doors. The space in the rear is where the Tower fits, and slides into to form one massive tank with a rotating turret.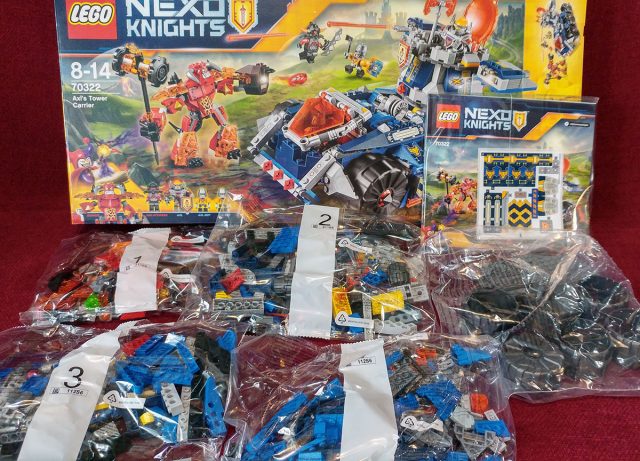 The set comes with 5 bags, four which are numbered. The built is relatively simple and aside from both vehicles, Axl and 2 Axlbots, there is also Burnzie and Ash Attacker. The Ash Attacker is available in several Nexo Knight sets, including The Fortrex, which we reviewed previously.
Burnzie is a massive fire monster who wields a giant flaming hammer (though they look more like wheels attached to a handle) and his other hand is actually a disc launcher.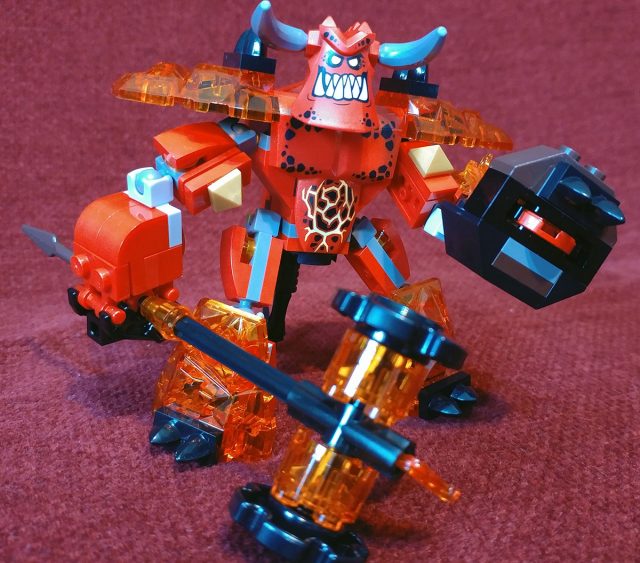 Axl's Tower Carrier kicks off the second wave of Nexo Knights toys, and the combination of easy to assemble bits, together with a varied use of the final builds, make for a Lego series that does not come with any baggage of how it should be played.
---
LEGO NEXO KNIGHTS GIVEAWAY!
Lego Singapore has provided us with 10 LEGO Nexo Knights sets as a giveaway. Which means two lucky winners in Singapore will walk away with 5 sets (worth S$99.50) each comprising of Axl, Lance, Flama, General Magma and the Clob Lobber!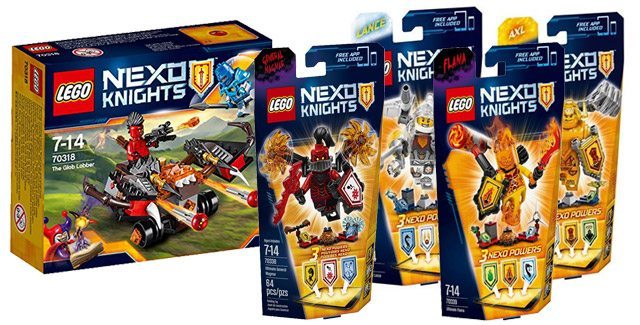 Here's how to stand a chance to win:
Tell us via the form below, which was your first-ever LEGO set.
SHARE THIS POST and TAG a friend (or more) you would like to share your prize with ->
We will pick 2 entries at random!
Give us a LIKE below if you haven't done so yet, so you won't miss out of future similar giveaways!
[GIVEAWAY HAS CLOSED]
The contest is open to all who are currently residing in Singapore, and closes on 9 July 2016 @ 23:59hrs. The two winners will be picked at random and announced right here on 10 July 2016 and contacted via email.