Coming in at S$179.90, the LEGO City Airport Passenger Terminal 60104 set is not what your average kid would buy off the shelf themself without first scoring a now AL1 band score at the PSLE, first class awards at their 2 CCAs and at least an ABRSM Grade 3 at piano.
Lucky for me, I'm a grown man and can afford this myself, and if you were that weeping primary 5 kid over in the corner – read more little buddy, English is important although I can't explain why the majority of your elders cannot string a proper sentence together hashtag LEL.
The box set weighs a little over 2kg and has about 694 pieces in total, including 6 minifigures: a pilot, 3 airport workers, a male and a female passenger. The whole build would get you almost an entire airport facade with a pretty big passenger plane, an airport/control tower build, and an airport service car that tows with it a luggage, fuel and and mobile stairway.
Well then, it was a bright and sunny day. Xiao Hua and I started building this LEGO set and then we lost track of what it was we were doing and then we had 600 photos…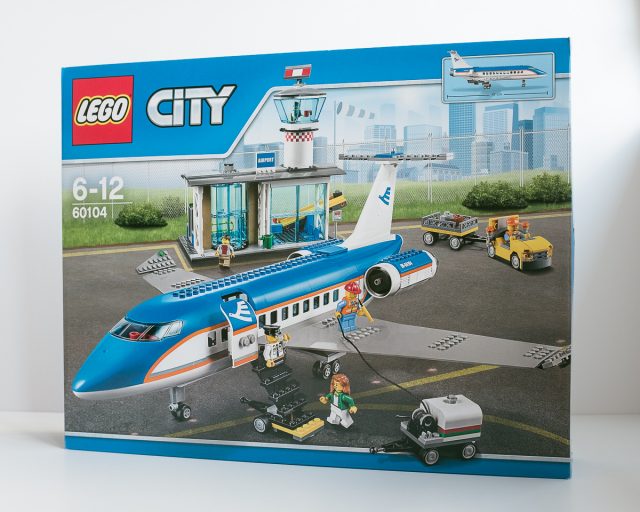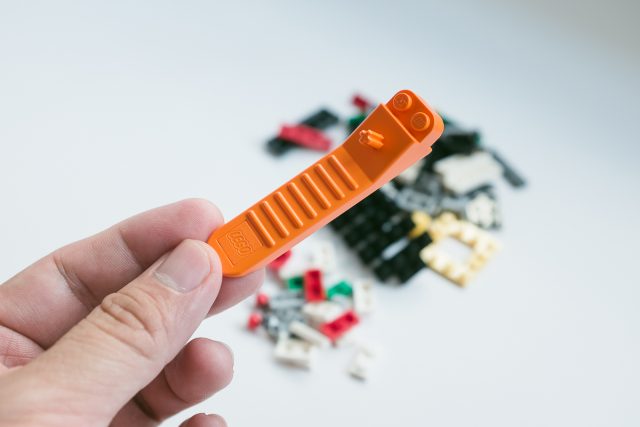 Honestly I have asked many of my friends and only a number even know about LEGO's removal tool piece, and this is already an updated one from their previous grey piece. Friends, family, strangers – this is a lifesaver. It wouldn't save you from stepping on a LEGO piece but it helps a tonne in getting pieces off of each other without damaging your nails. Or teeth. Don't ask.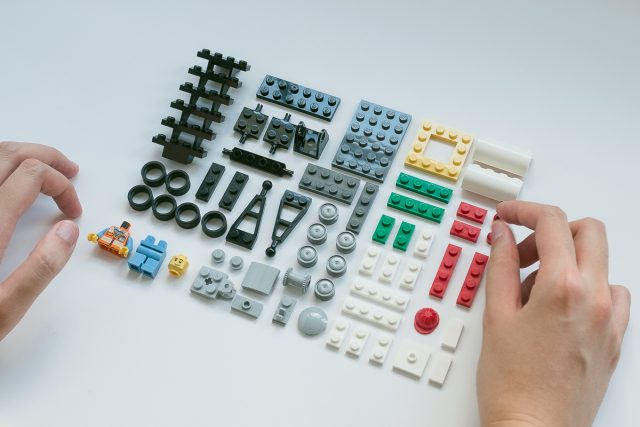 Disclaimer: You don't have to do this. We're just crazy.
I really love these tiny little models of vehicles meant purely for professional work. The detail that go into these things are usually more than meets the eye and I really appreciate that.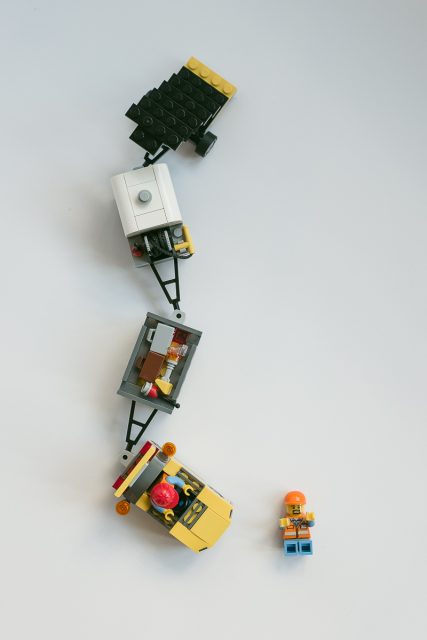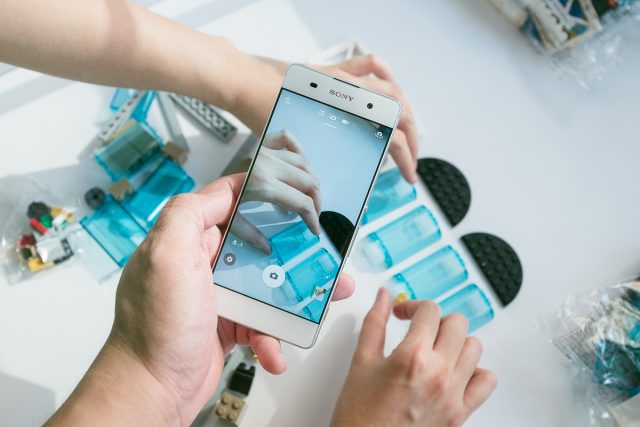 Did I mention sometimes we're mad?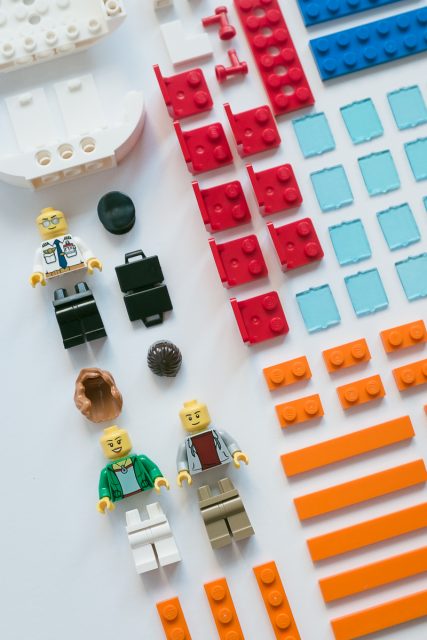 Are you still with us? We've only just begun.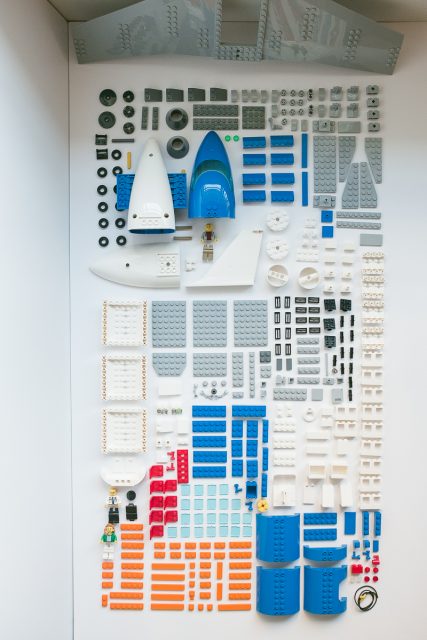 This is how you know we're stark raving mad. Please do not try this at home. Unless you want to. Then we can be buddies!
Structurally, the plane model is sound and very well-built. A little too well-built in some areas you would say, but they are necessary measures like the awkward humps in the interior of the plane you will discover. Space is very wisely used in this model as they've managed to fit a proper looking cockpit for 2 pilots and even managed to squeeze in a sink, a mini-bar with the one drink, seats for 6 more passengers and even a tight little space of a washroom. That door hinge though, is a work of art.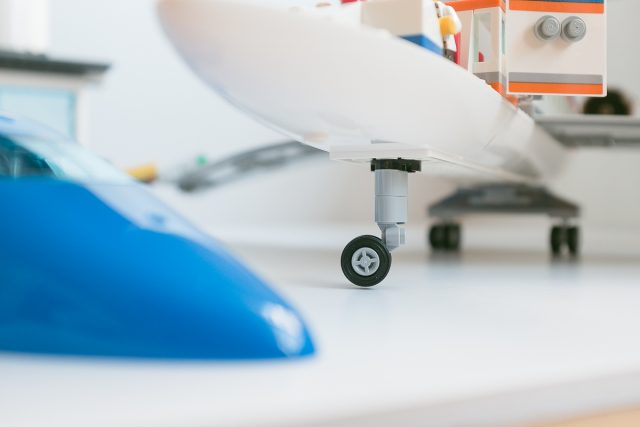 Odd thing this. As soon as I detached the frontal cockpit hull piece, the plane lifted just a tad off the surface. If LEGO had intended this to be absolutely balanced when put together, well those builders are masters for a pretty damn good reason.
Nope. Don't know what those doors at the end of the plane right beside the engines are for.
The airport/control tower facade though. It's really, really sparse, but where it lacks in gravitas, it makes up in little details like a movable conveyor belt for luggage, spinning revolving glass doors and a decent control tower outpost.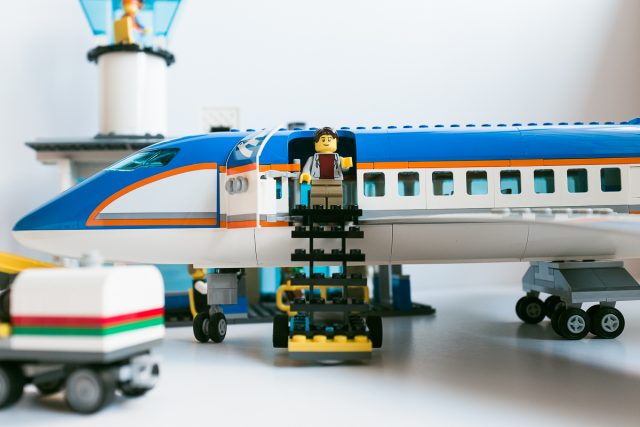 Well.
Sometimes you get a LEGO set that's small but provides endless fun; sometimes you get a really big set with a gorgeous plane that's built almost to perfection and an airport facade that's just pretty disappointing in its overall starkness to be honest, but you do appreciate LEGO for trying with their details, which is what they're best at.
If you're in the market for a really nice LEGO plane, I have no doubts that you should get this set immediately. Just don't hold out too much for that control tower to be anything more than as a decent accompanying background. That little LEGO tow service car though is tonnes of fun.
This was easy to build, we had no issues with the instructions, and in fact we got a little lost in putting all the parts together that we had more fun than remembering we had this review to write.
That might just be the point.
The above LEGO set can be found at all LEGO Certified Stores, Toys "R" Us, plus other leading departmental and select toy stores.
Join the conversation! Visit fellow friends at the LEGO Facebook Page!
One day Hiro have bottle of nice rum. Then Hiro smashed. Hiro never had chance to find rum name. Tell someone you love them before it too late. Hiro also harsh critic of people who walk dogs only one day a week.
---

Drop a Facebook comment below!