The entertainment industry's obsession with racing knows no limits. From Forza to Gran Turismo, to Fast and Furious and F1, the racing genre has always always been a stalwart entertainer, and when it comes to video games, the current expectation is skewed towards photorealism though there remains plenty of interest in more outlandish takes. The success of Nintendo's Mario Kart series speaks for itself, and now, LEGO 2K Drive from 2K and Visual Concepts can easily make the case for a podium finish as well.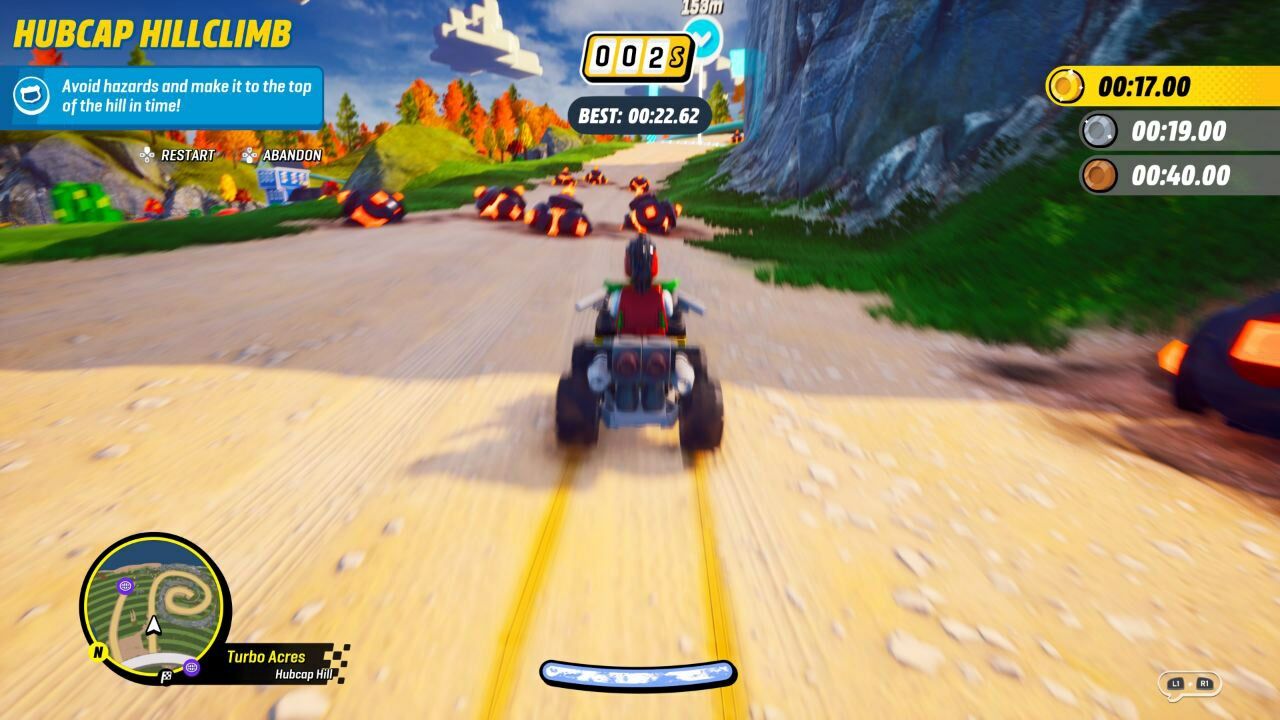 Bringing together a gorgeous-looking open world with various activities for players to indulge in, a solid driving model that underpins all the high-octane action, and a vehicle creation system that allows for all sorts of crazy ideas to come to life steers LEGO 2K Drive out of the gates like a top race contender.
Players are eased into proceedings through a competent story mode, with the world gradually opening up to showcase both awesome and not-so-awesome endeavours that can be enjoyed at your own leisure. It should take about 10 hours or so to breeze through the main story content of winning races, levelling up, and overcoming rivals of all shapes and sizes.
Of course, that's not all there is to do. Outside of races, exploration of the open world also often yields opportunities for all sorts of entertainment. Side quests might involve picking up items within a time limit, while there are many collectibles for completionists to invest their time in. Other times, you might be tasked to move a giant egg to a nearby restaurant just because, and LEGO 2K Drive is only getting started.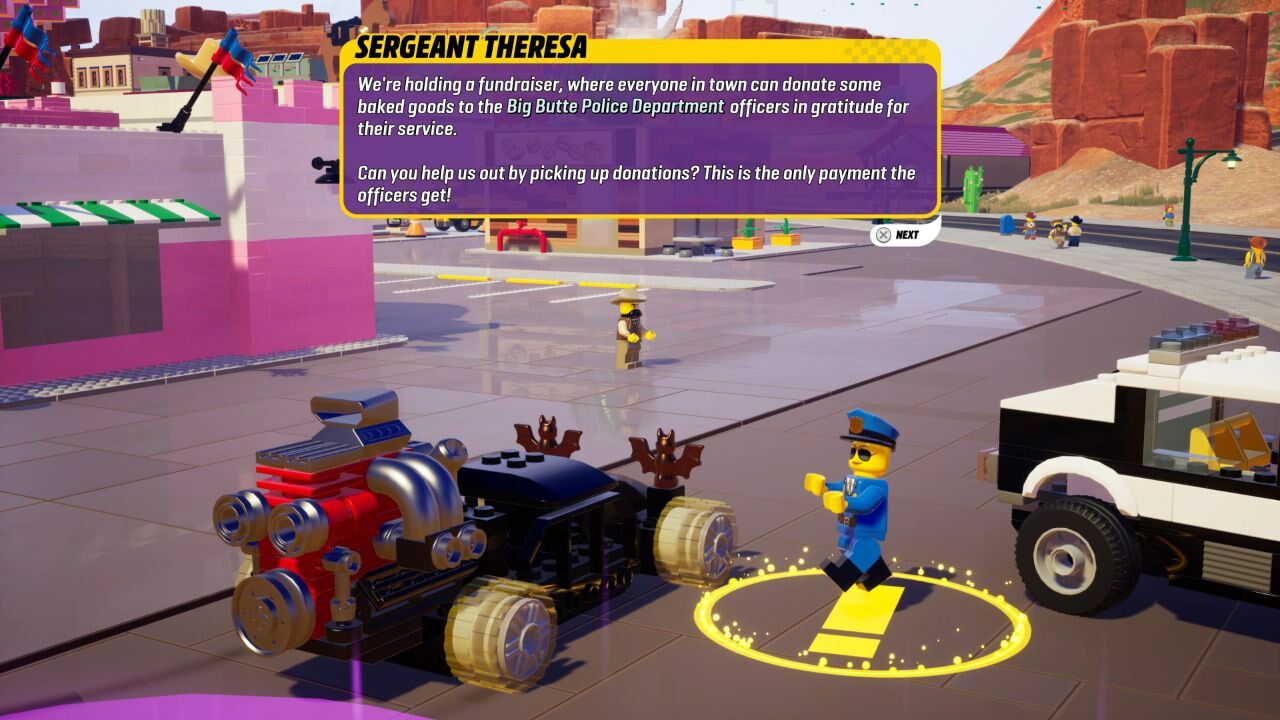 Rather than ask the question of what makes sense, Visual Concepts appear keener to ask what's more engaging for the players. That's not to say that everything available for players to do is a home run, but there is enough variety to keep things moving along while rewarding players for their efforts through XP and in-game currency.
With the heavy emphasis on signature LEGO humour, the fun barely ever stops, especially as players race on asphalt, water, and on off-road terrain and marvel at the instantaneous transformation of their vehicles of choice.
The driving itself is quite tremendous, with races being all sorts of exciting at breakneck speeds. Add in power-ups that can blow things up in spectacular fashion, and it is a wonder just how everything remains almost buttery smooth from start to finish and looks so good. While LEGO 2K Drive is certainly aimed at a younger audience, there is also plenty of depth here for veterans of the genre to flex their musicals with the drifting and sharp turning mechanics in play.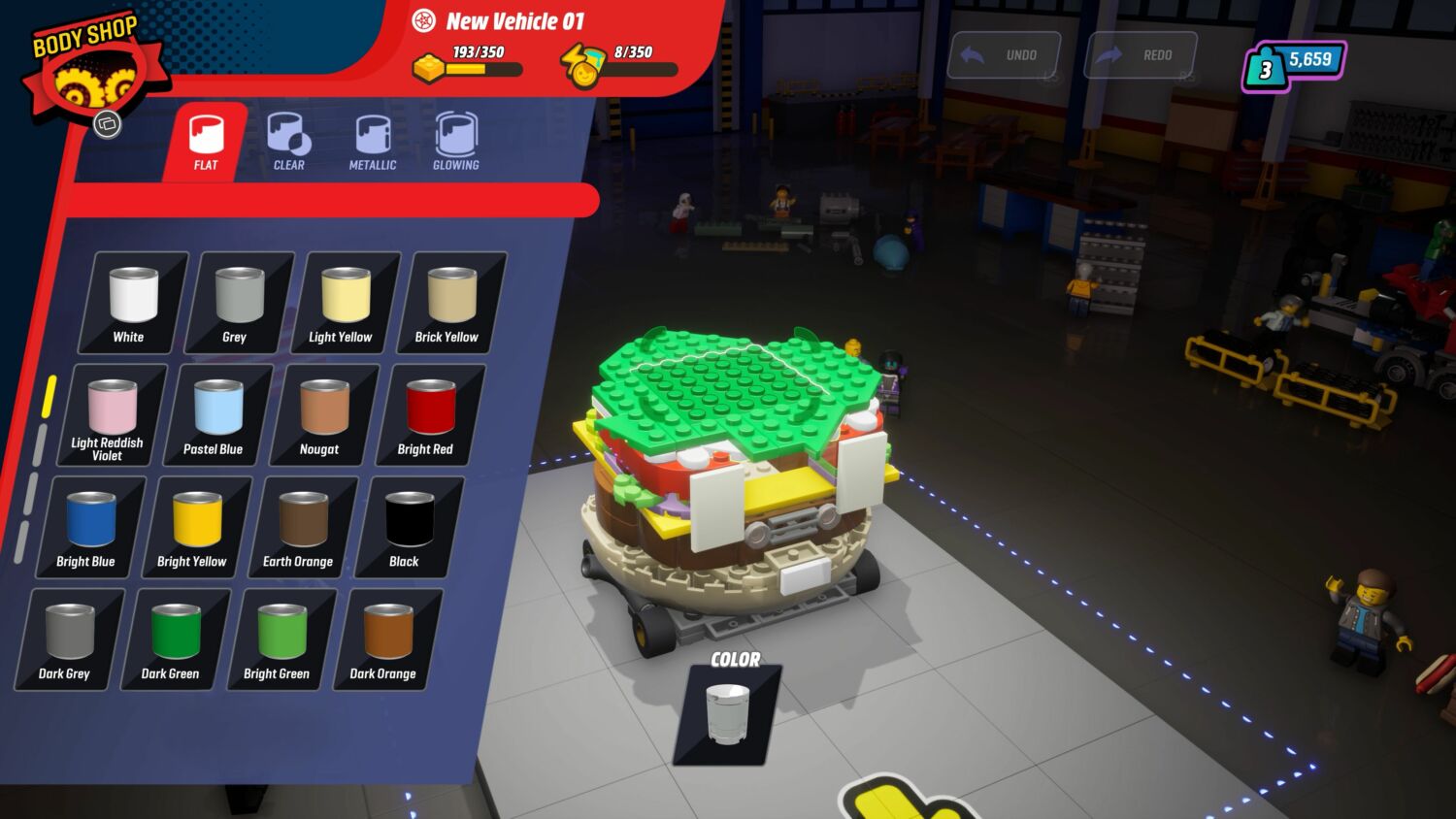 Speaking of rewarding, LEGO 2K Drive's garage system has always been intriguing, and after getting to grips with it, there is little doubt that builders will have a field day putting things together and taking them out for a spin. Starting with just a base and four wheels, players are free to experiment with bricks of all kinds, creating vehicles with unique properties that can be useful in the open world and remain competitive during races.
Want an extremely tall car that has a narrow base? Make it happen and tower over the opposition. Prefer strength and durability? Build an actual tank and watch the competition be helpless against a solid block of bricks. The sky's the limits, and mixing in a degree of puzzle-solving during creation is just the cherry on top.
If you much rather not spend too much time in the garage, that is entirely possible as well. The freedom to engage or disengage is just another great way LEGO 2K Drive remains as accessible and as complex as the player wishes it to be.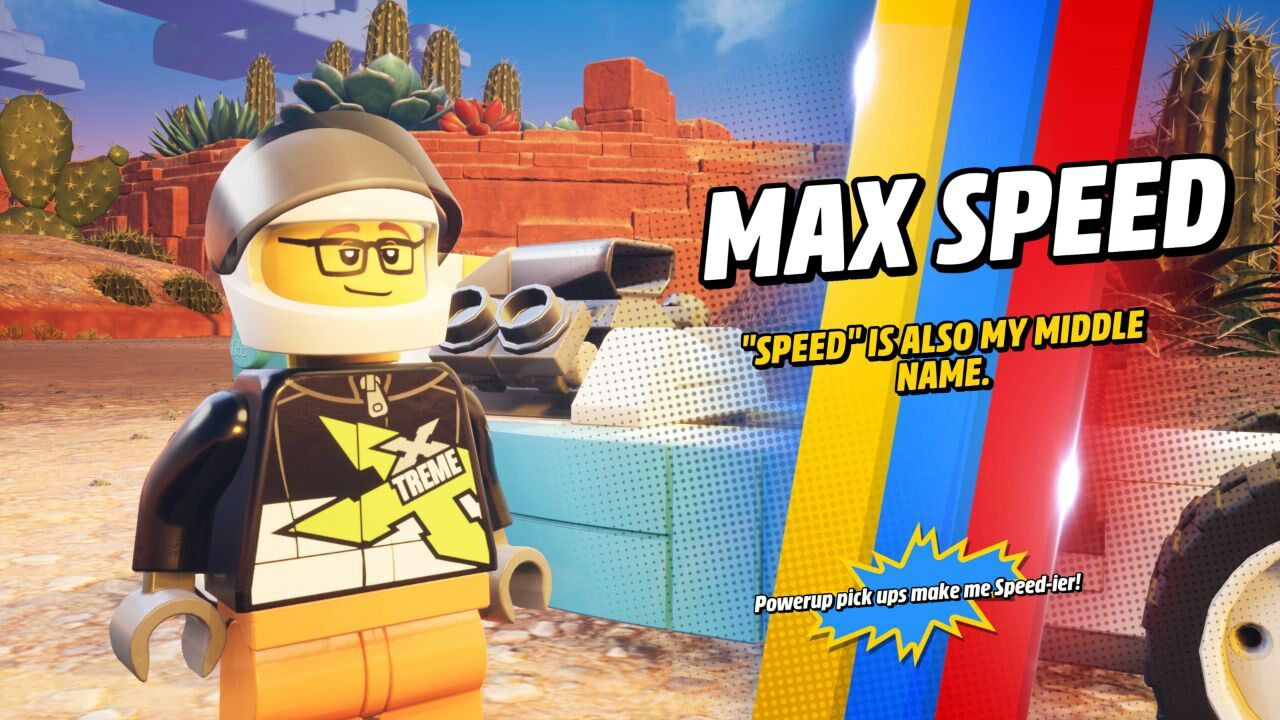 And when you are done with solo play, there is always the option of split-screen co-op or online play to spice things up further. Building upon the foundations first laid down in Lego Star Wars: The Skywalker Saga, local players are free to go wherever they want within the same region, getting up to different things, and only brought together when a race is started or a change of scenery is needed.
That said, there are some niggling issues that could be roadblocks, but it depends on how players feel about them ultimately. For one, emerging victorious in races can oftentimes boil down to the performance in the last lap rather than a consistent performance, with the AI seemingly able to catch up at the very last moment or suddenly lose gas just to make things interesting.
With the game having to straddle between appealing to kids and adults, the humour and wittiness are also not going to land with everyone, but it is certainly no dealbreaker. What could be is the game's less-than-speedy progression when it comes to unlocking premium items through the in-game store, Unkie's Emporium.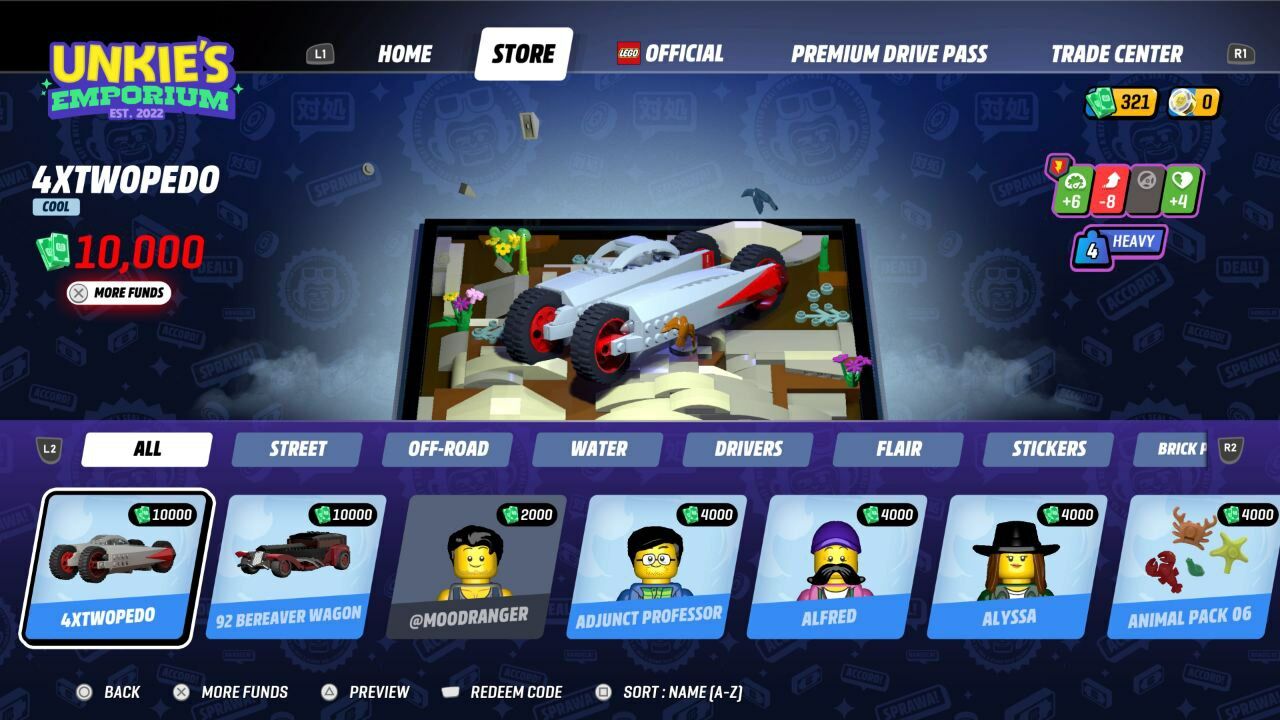 The catalogue is huge when it comes to drivers, LEGO parts, and cosmetics that can help one vehicle stand out from the rest. However, the steep costs involved and the sheer amount of work required just to earn enough in-game currency to buy one or two of them is extremely unbalanced.
Even going through all the main and side content barely sets you up for a shopping trip to Unkie's Emporium, which can make spending real money on microtransactions a more viable solution than grinding. That decision is up to the players, but LEGO 2K Drive is clear in how it wants players to spend their money beyond the paid season pass model.
All in all, whether it is driving through the plains of Big Butte County, the grand nature of Prospecto Valley, or dodging spirits in Hauntsborough, LEGO 2K Drive is not afraid to embrace the colourful aspects of fun with bricks, and as an arcade racer, it just feels right when everything comes together this way. Monetisation woes aside, this is an impressive driving game enhanced by LEGO bricks, and one that should have everyone revving to have a go at the wheel.
LEGO 2K Drive will launch on 19 May, and is available for pre-order on the PSN Store for $95.90.
GEEK REVIEW SCORE
Summary
Racing magic gets even better with the help of colourful bricks, LEGO 2K Drive is one entertaining joyride right from the off, even with some bumps in the road along the way.
Gameplay -

8/10

Story -

8/10

Presentation -

9/10

Value -

7/10