On the one hand, 2020 zipped right by everyone in the blink of an eye, making many of us skip an entire year of pandemic nonsense. On the other hand, though, it has most certainly felt like the world has come to a standstill, where things may have changed, but by and large, some core things, including sporting events, have taken a hiatus and stayed the same. That is the reality being faced by the racing world of F1 in 2021.
This year was supposed to be one of monumental change, with new regulations and cars coming into play but not everything has played out accordingly, even if it has been a championship season that has surprised on occasion.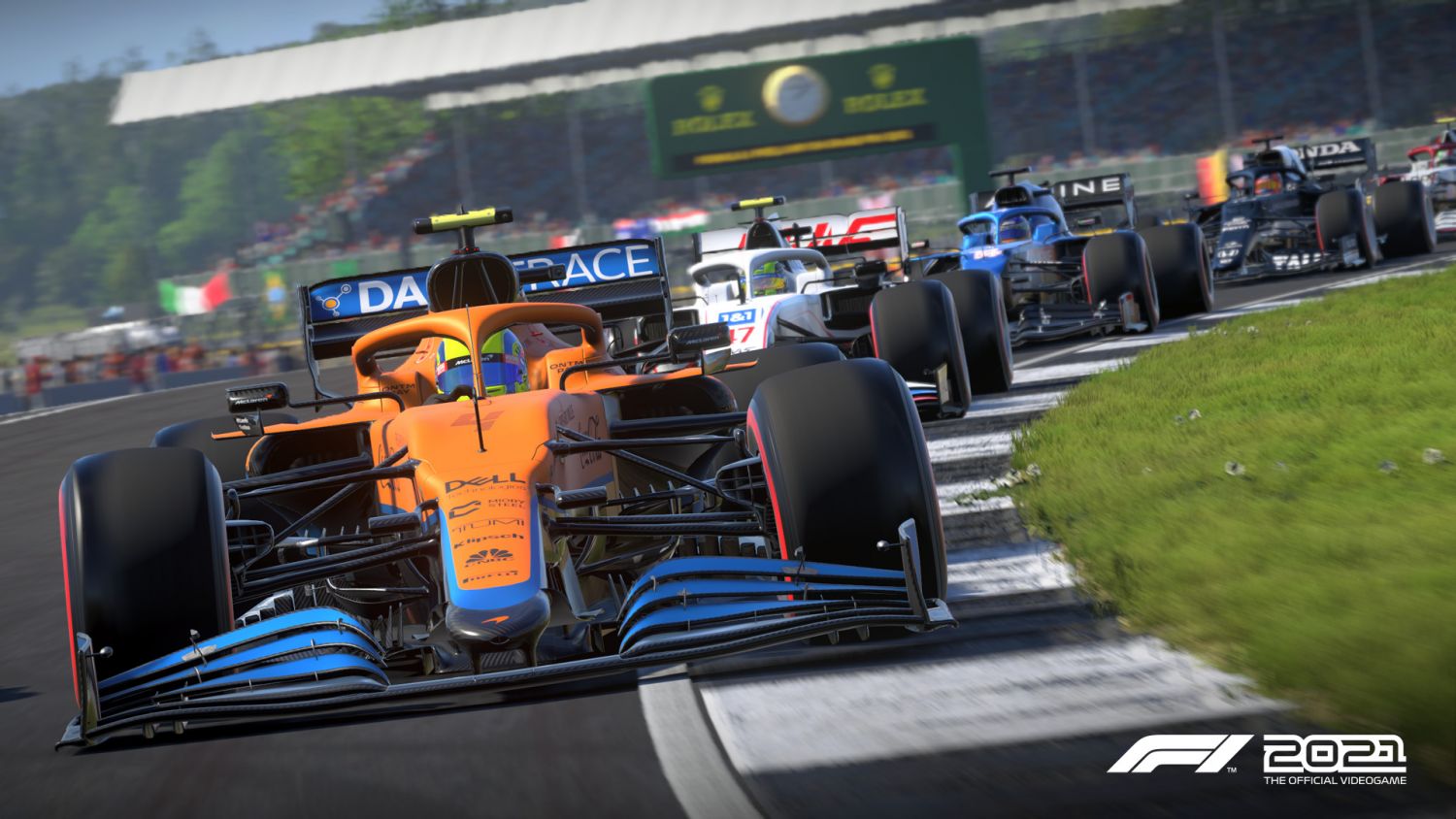 Perhaps that is why Codemasters have done what they did with F1 2021, by introducing a fully-featured story mode for the first time in the game's history, serving as the dramatic foil to the other various modes, while also adding to the already solid racing experiences on hand. 
Take The Wheel
Although the stakes are never as high as the real thing, there is still much to love when it comes to the story mode called Braking Point, which sees players live the lives of rookies Aiden Jackson and Casper Akkerman. The former is a talented British rookie with much to learn, while the latter is a Dutch driver whose best years are likely in the rearview.
Once you have selected one of the five teams to race for – Williams, Haas, Alfa Romeo, Alpha Tauri, and Racing Point/Aston Martin – the pair will replace the actual drivers for those teams, while the rest of the competition is made up of the actual F1 drivers.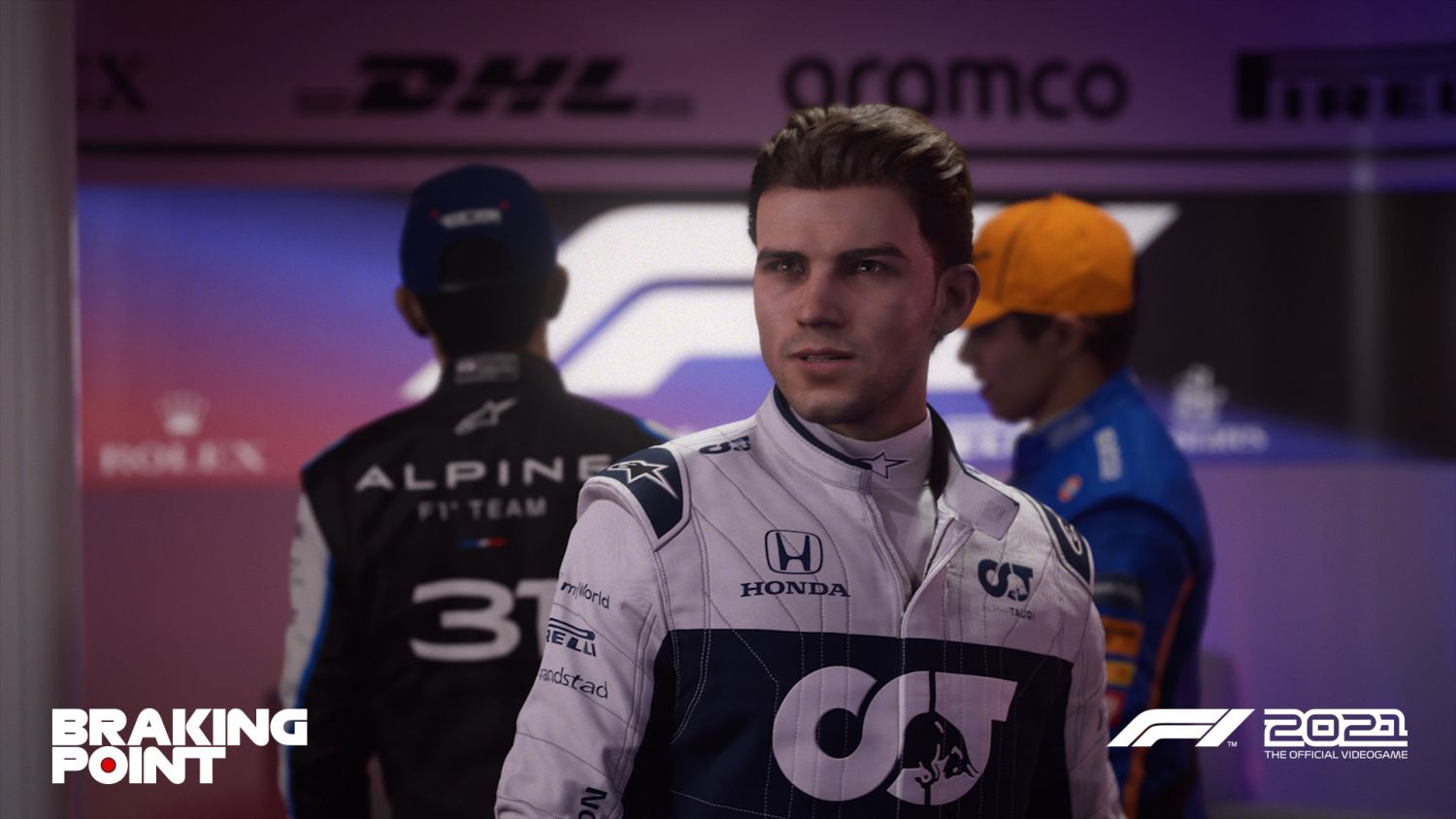 All except for the villainous Devon Butler, who will replace one of the drivers from the other four teams that players have not chosen. If you are not familiar, Butler debuted back in F1 2019 and immediately established himself as a bit of an ass. Suffice to say, he ups the ante in F1 2021 and provides both off-track and on-track tension as an arch-rival.
In between cutscenes and phone calls, players have to actually take to the track, with Braking Point offering a variety of situations that will require some skill to navigate. You could be tasked to catch a rival within a certain number of laps, finishing ahead of others, or trying to salvage a positive position following an early setback. It is as though an entire season of professional F1 driving has been distilled into a highlight reel that is playable as well.
Even so, Braking Point can feel like a missed opportunity, especially when it takes a while to get a head of steam before ending quite swiftly. Players who feel an affinity to Jackson might be gutted to learn so little about the young upstart, but this should serve as a great foundation for future story modes after F1 2021. 
The decision to largely ignore the COVID-19 crisis could also be a downer for some, since the game does include races that never took place, while retaining the team, car, and driver combination from 2020. 
In Pristine Condition
On the other hand, one of the standouts for F1 2021 is undoubtedly the work Codemasters has put into the cutscenes. For a studio that has its roots in driving simulation, the quality on show is pleasantly surprising and brings an added layer of immersion to the proceedings. The occasional cameos of real F1 drivers also help complete the illusion even as you move ahead with Jackson and Akkerman.
Outside of Braking Point, it is a more familiar fare that will greet players who are returning yet again. Career mode itself has seen some much-needed quality of life improvements, allowing you to focus more on the actual driving enjoyment. Codemasters has given players the option of running quick and automated practice programmes, reducing the grind seen in previous iterations. At least this way, you are not losing out on the usefulness of resource points. 
The same goes for the research and development department and the facility building portion. If you are not that bothered about how things are shaping up outside of the racing, the AI can take care of it for you. Just make sure you have enough cash to do what you want in terms of your team structure. 
Customising Your F1 2021 Experience
For drivers looking for the full package, there is also the new Expert setting in F1 2021 that deserves your attention. The array of options to fine-tune your career experience are quite substantial, letting you set the pace at how you want to play.
Without going too in-depth, players are able to make things easier or more difficult depending on your whim, and that is a plus point for the tinkerers out there.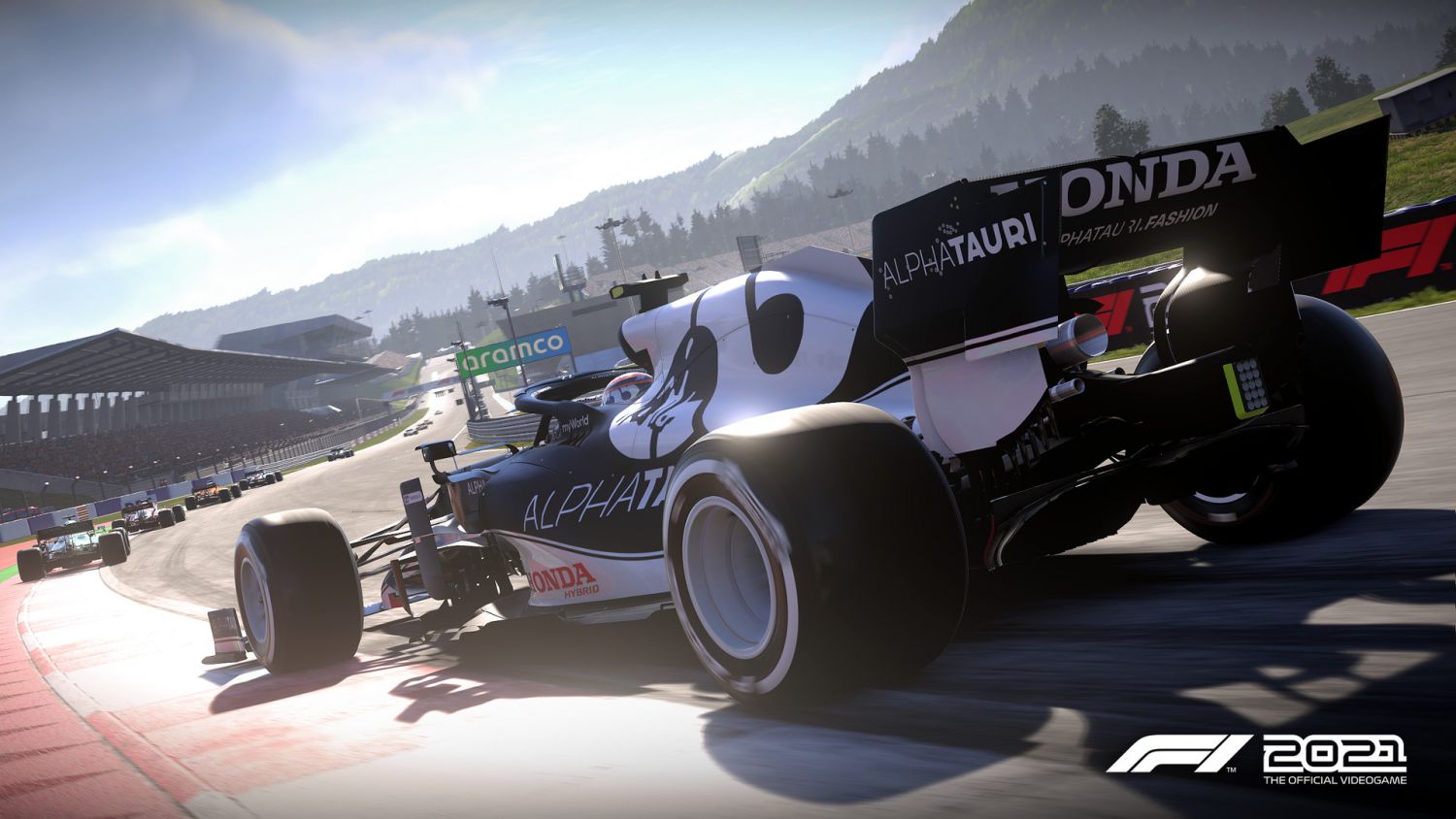 As if that was not enough career mode additions, Codemasters has introduced two more career modes that are meant for two players. Contracts mode essentially allows you and a friend to compete together or against each other in teams of your choice, while Co-op mode will keep you guys together no matter what.
While players can get their split-screen fix offline, these new career modes are purely online and can be an extension of what you already love.
Moving away from the Career modes, My Team is still there for those harbouring dreams of running a successful franchise, and retains its formula of fun and enjoyment. Other than the limited livery editor and annoying disappearing decals due to contract expiry, you still get the keys to the kingdom when running the team.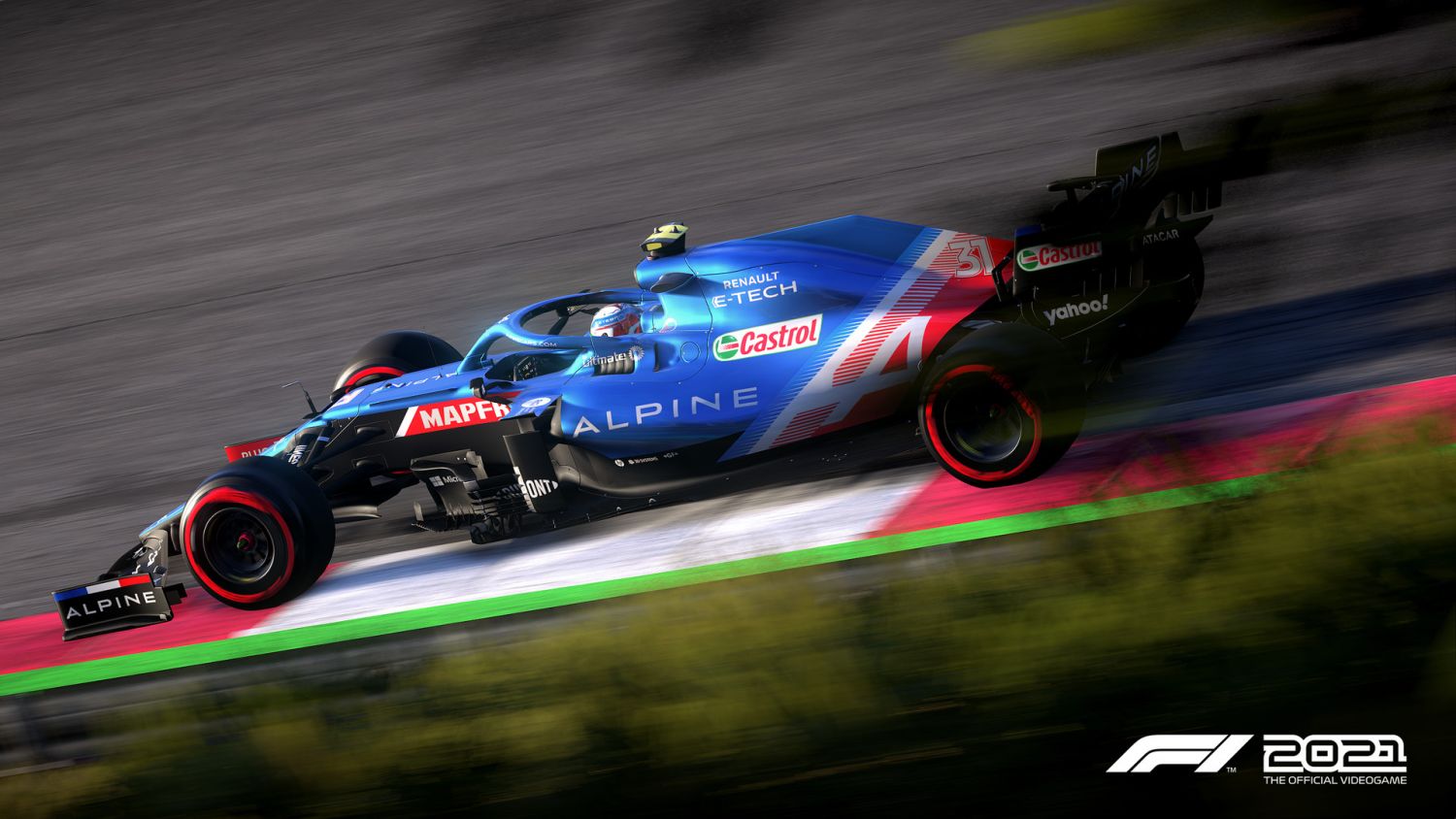 Listen To That Engine Purr
Underneath the hood, the driving experience in F1 2021 has certainly improved this year, albeit lightly. Handling still feels similar to the previous entry, but the responsiveness of the handling has been increased. You will still need to drive with caution and technique, and the game will reflect more accurately your skill behind the wheel.
Should you mess up, the damage model in the game is also a big highlight, offering a more nuanced representation of what these machines go through during every race. Sometimes, it is still fun to witness crashes and see what happens next.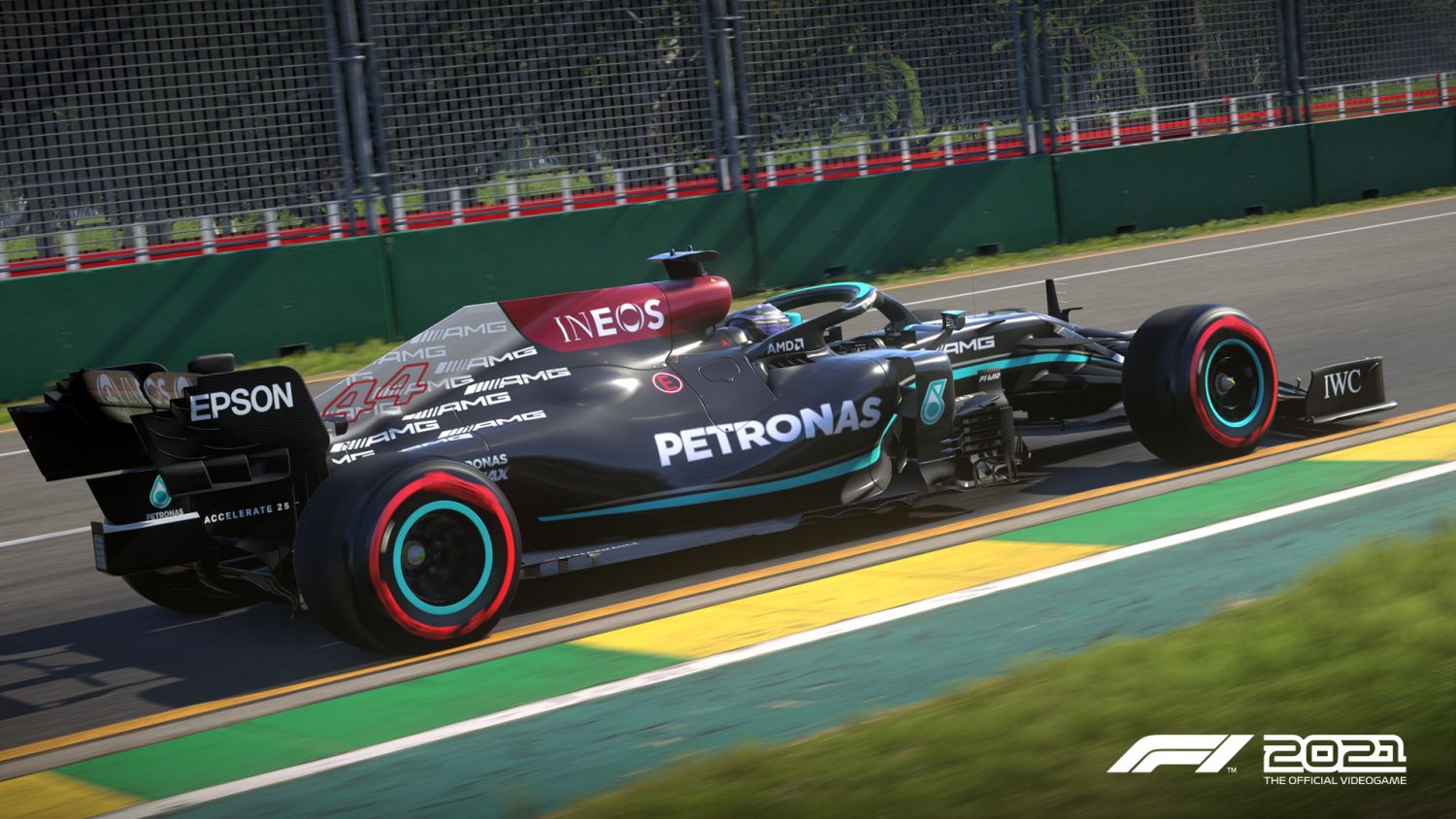 It helps that F1 2021 has never looked better, be it the vehicles themselves or the drivers. Trackside details and the surfaces are also big pluses in the area of aesthetics. At least, that is the high standard the game sets with the tracks it has. The game is still missing several tracks from the latest season, and if Codemasters are able to fill the gaps with DLC down the line, then it will be an almost-perfect simulation of the real deal.
For a long-running series, F1 2021 is undoubtedly the frontrunner when it comes to Formula 1 racing. With the various customisation options at your disposal, and delivering excellent value with Braking Point and the other Career mode additions, this represents a bold new step for Codemasters. While there are still areas of improvement to be made, this has been a risk that has paid off, and the chequered flag is definitely waving in the near horizon.
F1 2021 is available via the PSN Store for $79.90.
GEEK REVIEW SCORE
Summary
The best-looking game to date, F1 2021 sets itself up firmly as a top prospect to look out for in years to come.
Gameplay -

9/10

Story -

8/10

Presentation -

9/10

Value -

8/10
---

Drop a Facebook comment below!