It's certainly been a colourful time. Apple released a PRODUCT (RED) iPhone 7 and 7 Plus in a wonderful shade of crimson that got this reviewer finally putting down cash for one to replace his Samsung Galaxy S7 Edge. Samsung's had their Galaxy S8 leaked in multiple angles and shades of colour for a month prior to their recent official launch. Heck, even the limited edition OnePlus 3T in Midnight Black is worthy of a mention. Might I also bring to attention Sony Mobile's understated and classy selection of pastel tones in their Xperia XZs and XA1?
So where does the HTC U Ultra fit into all this? The first time I laid eyes on my review unit I was literally speechless. I cannot overstate this more – I was taken by utter surprise. Thoughts raced through my mind, "Is this gaudy? Is that the word? Is it shiny – yes? God that blue is strikingly beautiful. OMG WAO this thing is gorgeous."
If you were clued in, you'd probably know HTC made the Google Pixel, the recent Android runaway success. Remember their liveries interestingly named Quite Black, Very Silver, and Really Blue? The HTC U Ultra could've been named Stupendously Bold Ultra Shiny Blue and you'd be all, "well they're not wrong".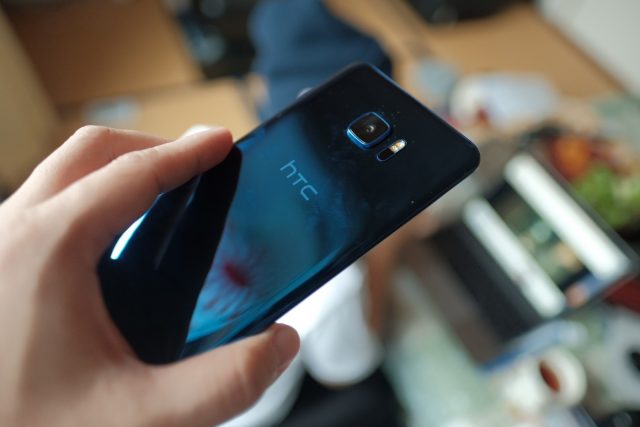 But beauty hardly lasts nowadays. With the U Ultra, I had fingerprints all over it the second I clumsily removed it from the box. HTC knows this and thoughtfully provided a clear plastic case that's more than a little well-made. It doesn't exactly go well with the phone's glass and aluminium construction but at least you get a more substantial grip. A large phone (it's larger than the iPhone 7 Plus) with a slippery body only spells slips and spills more readily than others, especially if you have small hands like mine.
With HTC's venture into a shiny glass back, at least on a portion of the Google Pixel, and now a full-on effort with the U Ultra, we could be seeing the start of a new design language set to stay for a couple more iterations.
So I mentioned earlier how large the U Ultra was. Since we've gotten that out of the way, let's talk about how they've used that space. Ever seen a LG V10 or V20? Yeah. HTC went and did a Dual Display ticker screen up top in addition to the 5.7-inch main quad HD LCD display. Similar to LG's V20, HTC's implementation also sees it used for on-demand and frequently accessed information such as the current time, message notifications, shortcuts for your defined apps and contacts, the latest calendar events and even local weather updates.
There are some other bits to it that I haven't gotten myself fully in sync with yet but I guess it's useful to those who fancy this nifty execution over an always-on display. Pick up the phone and it's lit to show information. It works very well, I'll say that much, but does it make more time for me to fulfill my life's ambitions outside of work? Mmmmmm. Does it make the phone unnecessarily large for me – or even anyone – to wield now? HMMMMM.
A screen is probably the main thing we see and interact with 99% of the time on a mobile device. Fortunately, HTC got it really right with the U Ultra's display. Colours look almost 100% accurate and pleasing without being overbearing. You don't see individual pixels and it's just a joy to view media on it.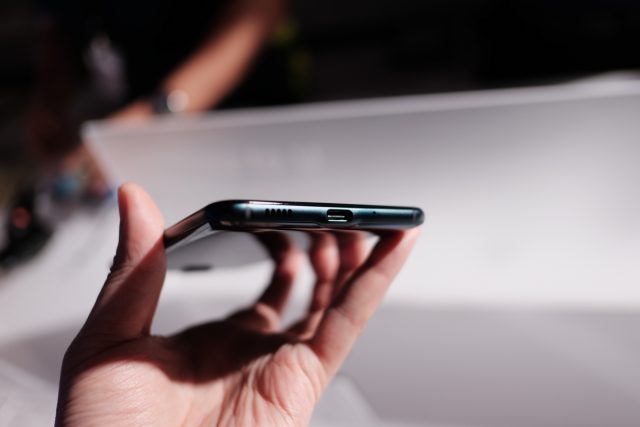 Got a 3.5mm headphone? Tough luck, there's no 3.5mm audio port on the U Ultra. You would think the phone's USB-C port will work with any USB-C headphone bought off-the-shelf. Unfortunately, no. For reasons I cannot get, the U Ultra works only with its own USB-C earphones but you can't really get comfortable with that option. To me, aural pleasure is highly personal and this just isn't going to fly.
To confound matters, HTC didn't provide adapters for me to use my own headphones (both 3.5mm and USB-C), and the HTC ones don't work on another USB-C device I own. It works with my Bluetooth headphones but the lack of AptX and the negation of system audio tuning that works with its own headphones really made this experience a bit of a downer for me. Sure, I still get to experience music but it seems a little 1984 that I only get to do that on HTC's odd terms. To put things into perspective, no other manufacturer I know of does this.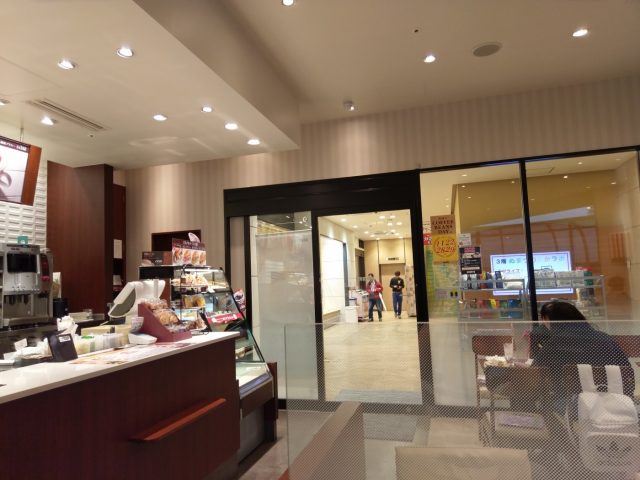 So we know HTC made a killer camera on the Google Pixel but that was with Google's own camera app. On the U Ultra we see their own simple and commendable software powering their 12-megapixel camera throughput and the pictures are jolly good. There's plenty of clarity and sharpness with images shot outdoors, with little highlights getting blown and moderately punchy colours. For those who cannot be arsed to put their images through any bit of work like VSCO filters and Snapseed, you'll be pleased to know straight-out-of-camera shots will do just fine.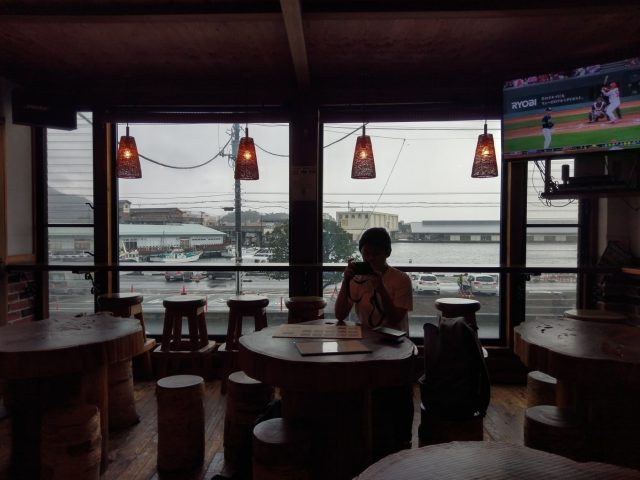 Night and low-light shots do suffer a bit but you'll get decent images as long as you don't try to capture any sort of motion, intentional or not. The front camera features a 16-megapixel sensor that is surprisingly (to me) still pushing their UltraPixel technology. UltraPixel tech basically collates data from various multiple instantaneous shots and strives to create a sharper image, especially for low-light shots, albeit in much lesser megapixels. Selfies are decent, just don't zoom in.
The U Ultra sports 2016's Qualcomm Snapdragon 821 processor, 4GB RAM and 64GB storage space. Oh, and a microSD card slot, that's a big deal for a lot of us who devour storage like a ravenous beast. We're looking at a 3000mAh battery for a device this huge but in the three weeks I've had with it, I've found no obvious detriment. I've only had to charge midway only a couple days and the Qualcomm QuickCharge 3.0 takes care of juicing up really quickly.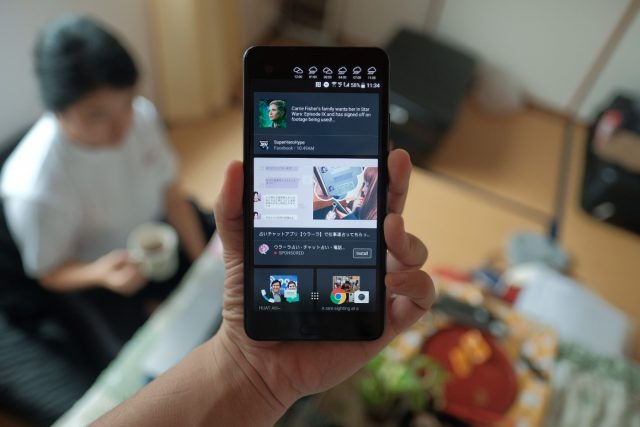 Right out of the box we see the latest Android 7.0 Nougat OS running with HTC Sense. Of all the OEM interfaces from different manufacturers, I've always fancied HTC's due to their minimally-invasive implementation. BlinkFeed, which showcases news highlights and updates from your social apps, only appears if you swipe right from the main screen. It's clean, fast, fluid, and just really nice to have. While we're generally always looking at slower Android OS updates from OEM firms, HTC seems to be putting in some effort at least. I've gotten one software update recently and we can only hope for more of such considering the already minimal HTC Sense.
HTC included a brand new Sense Companion virtual assistant system app with the U Ultra, most probably because it's the most aptly named device to learn and execute custom suggestions based on your habits. They range from telling you when you should move to your next scheduled appointment, to packing wet weather wear for a dreary day. It even suggest software and hardware optimisations based on your usage, like being a little lenient with power-saving on Sundays that are spent away from your phone. Likewise, it knows it'll have to put in that extra effort in battery and speed performance on Tuesdays, which is basically hell on earth. That said, it's again, very minimal and I don't even notice it for days on end so I guess that's great.
There are many things I like about the HTC U Ultra, but I cannot for the life of me figure out why the engineers or designers couldn't align the on-screen buttons to be centred and feature larger touch surface areas on the chin. Look HTC, it's already too large to reach anywhere even with accessibility features. At least make it easier to go back a page or access the recent apps without needing to be ninja-conscious that your non-tactile capacitive buttons are really far down the phone.
All in all, I'm not necessarily disappointed with the HTC U Ultra, but neither am I impressed. It's got a strikingly beautiful finish and build. App loading speed and general performance is, for the lack of a better word, snappy. Battery life is more than decent for my Ultra usage, and there's the fast charging that helps a tonne. The camera is wonderful in good light and selfies are dependable as well.
On the flip side, we're looking at a mobile device that's too large for no good reason, especially with the LG G6 and the Samsung Galaxy S8 and S8+ already stealing the show with their sleek yet generous screen size. We're looking at zero weather resistance and a headphone system that's just depressing.
Is the HTC U Ultra the phone for me and you, the discerning geek? Not at all. Could this be a phone for our parents and folk who spend most of their days watching Netflix and YouTube at home, and taking the occasional family photos? That's where I think HTC has got it with the U Ultra. At least my Mom loves this phone, but I can't say the same for the fashionable youth they thought to market this to.
GEEK REVIEW SCORE
Summary
The HTC U Ultra hits it out of the park with design and performance, but falters in the headphone situation and uncomfortable form factor.
Aesthetics -

9/10

Build Quality -

8/10

Performance -

8.5/10

Value -

7/10

Geek Satisfaction -

7.5/10
One day Hiro have bottle of nice rum. Then Hiro smashed. Hiro never had chance to find rum name. Tell someone you love them before it too late. Hiro also harsh critic of people who walk dogs only one day a week.
---

Drop a Facebook comment below!