[UPDATE 6 October 2016: Winner Announcement! Congratulations to Liew Wai Wai, Mark, Ng Leng Kiat, Lim Choon Yaw, Cleon Wong, Chan Wei Kang, Tam Kian Wee, Cesandra, Nur Al-Muhaimin and Thomas Ting Tze Hoe! Please check your emails for prize collection details. ]
Just a year ago, I would have laughed if you told me that Microsoft can make a great modern PC game.
The last time they did so was way back in 2006, with Rise of Nations: Rise of Legends. That was a decade ago.
If you are wondering what was so special about 2006, that's also the year they launched Windows Vista, which became infamous for its bugs and terrible user interface. That's also the year Xbox 360 was launched, and Microsoft put all its gaming muscle behind the console and promptly gave up on the PC platform.
Over the next few years, we would see Microsoft flail wildly with silly PC projects like Games For Windows Live (an attempt to dethrone Steam) or come up with app-like games (eg. the failed Age of Empires Online), to bolster the dismal Windows 8 app store.
Xbox 360 won that generation's console war, but as we all know by now, Xbox One flopped upon its 2013 launch, with its focus on TV entertainment and Kinect, instead of the enthusiast games. I was thinking then that there could be hope in PC gaming for MS, since the Xbox One is built on the same X86 platform as computers, so the games could be easily ported across to PC with higher quality visuals.
Perhaps, Microsoft could even win back the Windows  gaming crowd it originally spawned in the 1990s. Remember those awesome Mechwarrior days? (Or maybe I'm showing my age)
It took them three years, but Forza Horizon 3 is the one great PC game that will make you forgive all the mistakes Microsoft has committed.
Why should you play FH3 on the PC?
Incredible graphics.
Incredible cars.
Incredible driving experience.
That's it.
Really, just go and get it now. Don't even bother reading the rest of this article since I've already entertained you with the Microsoft-bashing in the paragraphs above.
But if you insist, please read on.
I have always respected the Forza development team – Turn 10 – for their absolute commitment to creating the best driving game. From the first Forza Motorsport (FM) game in 2005, their goal was to take down the reigning champion from PlayStation – Polyphony Digital's Gran Turismo. The FM series was all seriousness, and pioneered innovations like the virtual "braking lines", to show you the best path to take around corners and when to brake.
To cater to a more casual crowd, the Forza Horizon series was born with more of an open-world concept and less focus on simulation, more on action. I thought the Horizon series was pretty "meh" for the first two instalments, but this third version is a whole new beast.
Set in Australia's sunny Gold Coast, it uses the theme of a music-automobile-lifestyle Horizon Festival series, to get you to travel around and try out a multitude of racing activities, or just drive around to enjoy the beautiful scenery. Think of it as a sanitized GTA mashed up with the multiple racing modes in an EA Need For Speed game, and the Ah Beng nature of Initial D with all the endless customizations possible to over 350 vehicles.
From the Audi TT Coupe 3.2 quattro to the Chevrolet Camaro 35th Anniversary SS, to the Honda Mugen Civic Type-R, it is impossible not to find a car you already fantasize about here. Personally I love the Batmobile-like Lamborghini Reventon, and it is available too. Now throw in the wild off-road nature of the much-missed GRID series, to provide some crazy random predicaments across sand, salt water or just some serious air-time with carefully-timed jumps.
If you are the boring sort who wants to get into a standard Ferrari and race around the track, you can do that. If you want to smash things up or speed past a traffic camera, you'll actually get rewarded for them. Or maybe you want to race other drivers in multiplayer races, just go ahead (but pardon the skippy ghost vehicles)
Early in the game, you even get to race a buggy strapped to a helicopter along some of the roughest Aussie outback terrain. It's a rollicking experience and one of those magical moments that keeps you playing through some of the more mundane races.
Sadly, this GTA fan didn't find any humans to mow down during vehicular modes.
As you play through the game, more modes and festivals get unlocked, and the game gently nudges you to discover its customization modes (ie. Adding fancy spoilers, bumpers, decals) as well as allowing you to download paint jobs from other gamers.
If you are a Forza veteran, all this will be familiar to you, but the presentation style and graphics elevate this game to a whole new level of amazeballs.
A Great Reason To Build (or Buy) A New PC
It is a golden age of PC gaming for DIY enthusiasts. The NVIDIA 10 series is a huge jump in graphics power from the 9 series, and Forza is one of those games that justify paying over S$700 for a GeForce 1070 mid-range card.
The Forza fleet of cars looked eye-poppingly beautiful, glistened like jewels in the sun or rain, and have all been replicated in 3D down to the smallest details like carbon fibre textures. Even the boring BMW X5 SUV looks like a work of art in this game. The game already looks great on the Xbox One, and on the PC, it is the new benchmark to beat for racing graphics.
You need good hardware not older than two years though – Microsoft recommends a GTX 970 card or 1060 card, and that means most PC gamers probably need to upgrade their desktops. I played this on a GeForce 1070 card and it ran at full Ultra settings at 30FPS (2560 x 1440) with no issues. At 60FPS setting, it still ran well with some dips to 40 or 50FPS during complex scenes. The game does make me wish I shelled out $300 more for a 1080 card!
When you are not racing, you can take beautiful screenshots with the Photo Mode. The photo quality is pretty good, but not as good as PS4's Driveclub game. Take note too, Microsoft makes it a stupid process to extract your carefully crafted screenshots – you have to "share" your photos to servers, and then access them on the separate Forza App. (Aside: Seriously, MS, stop with all this corporate nonsense to get people to use a secondary app to meet the KPI for Windows Store downloads.)
And of course, the game works best with an Xbox One controller plugged into the PC. A keyboard and mouse combo just doesn't give you the delicious rumbles simulating a Lambo or your favorite Audi sedan on the controller.
If you ask me, there is only one major downside, and that is the game may be too difficult for people just getting into driving games. Early in the game I took some time to tame a Ford Shelby as it slipped and slided through corners and I was surprised at how tough it was even for a long-time driving fan like me. I dug into the menus to ensure every driving aid like traction control was flipped on before I had an easier time driving through rough undulating terrain. Yes, Forza gamers tend to be pretty hardcore driving fans, but Microsoft, you have to make people feel like they are great drivers with an easier learning curve.
Forza Horizon 3 is already a winner on so many fronts, it wouldn't hurt to let the human driver feel the same more often.
---
Win 1 of 10 FH3 Lamborghini Centenario Diecast Cars!
Thanks to Xbox Singapore, we have 10 of these awesome BBurago 1/43 scale Forza Horizon 3 Lamborghini Centenario diecast cars to give away to 10 lucky Forza fans! Winners will collect their prizes at this year's GameStart 2016 game con held at Suntec Convention Centre, Hall 405 & 406 from 7 – 9 October.
To stand a chance to win, simply complete these 2 simple steps:
SHARE THIS POST and TAG a friend you would like to go to GameStart 2016 with. ->
Fill in the form below and answer one simple question.
Give us a LIKE below if you haven't done so yet, so you won't miss out on future similar giveaways!
[GIVEAWAY HAS CLOSED]
The giveaway is open to all residents of Singapore, and closes on  5 October 2016 @23:59hrs (GMT+8). 10 lucky winners will be picked at random. The winners will be announced here and be notified via email by 6 October 2016. Remember, winners will be collecting their prizes at GameStart 2016 from 7 – 9 October 2016. Good luck!
Wondering what to expect at this year's GameStart? We've got you covered here.
GEEK REVIEW SCORE
Summary
Microsoft has gloriously returned to the PC gaming scene with the beautiful and immersive Forza Horizon 3. Bleeding-edge graphics and gameplay make this a must-buy regardless of whether you know the difference between a Honda or Bugatti.
Overall
9.4/10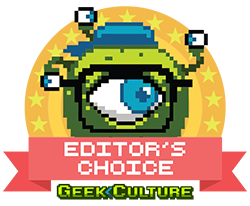 Gameplay -

9/10

Graphics (with the right hardware) -

10/10

Presentation -

9/10

Value -

9/10

Automobile Porn Level -

10/10