It always looks to be the same tale every single year, Konami's flagship football title going head-to-head with the giant that is EA's FIFA. However, just like how its name has been changed to eFootball PES 2020, the goalposts have shifted, and the competition has never been fiercer thanks to PES' excellence in recreating the beautiful game.
From the moment you step onto the lush pitches in many of eFootball PES 2020's stadiums, the gameplay instantly feels different. The speed has been reduced, bringing it closer to reality as teams pass the ball around, poking for holes in the defence or a mistake borne out of eagerness.
The team without possession adjusts and shifts their defence accordingly, either through aggressive pressing or parking the bus, and springing on the counter.
Unlike the more arcadey nature of its competitor, there is heft to both the ball and every player. The tangible difference between a speedster and a colossus at the back is distinct, and the added physicality added this year makes the world of difference when it comes to jostling for the ball or aerial duels.
Players are no longer afraid to put their bodies on the line, flinging themselves at crosses and shots. If you are a fan of the goalmouth scramble and the odd deflected goal, this would be heaven for you.
The more methodical nature of eFootball PES 2020 may be too slow for some, but the game alleviates that by having some of the best animations in a football game to date.
Subtle movement and the players' body shape flow seamlessly around the pitch, whether you are playing or watching, it feels right at home amongst the weekend matches on television. A new default camera angle echoes how one would watch football, with an elevated view that gives a bird's eye view of the pitch.
That unique perspective is almost essential to doing well in eFootball PES 2020, allowing you to spot any free space or defensive lapses to exploit. Clever use of space and positioning, just like the real deal, are the key to creating chances. It also allows your speedier players to shine, as long as there is an open field for their acceleration and speed to give them the edge.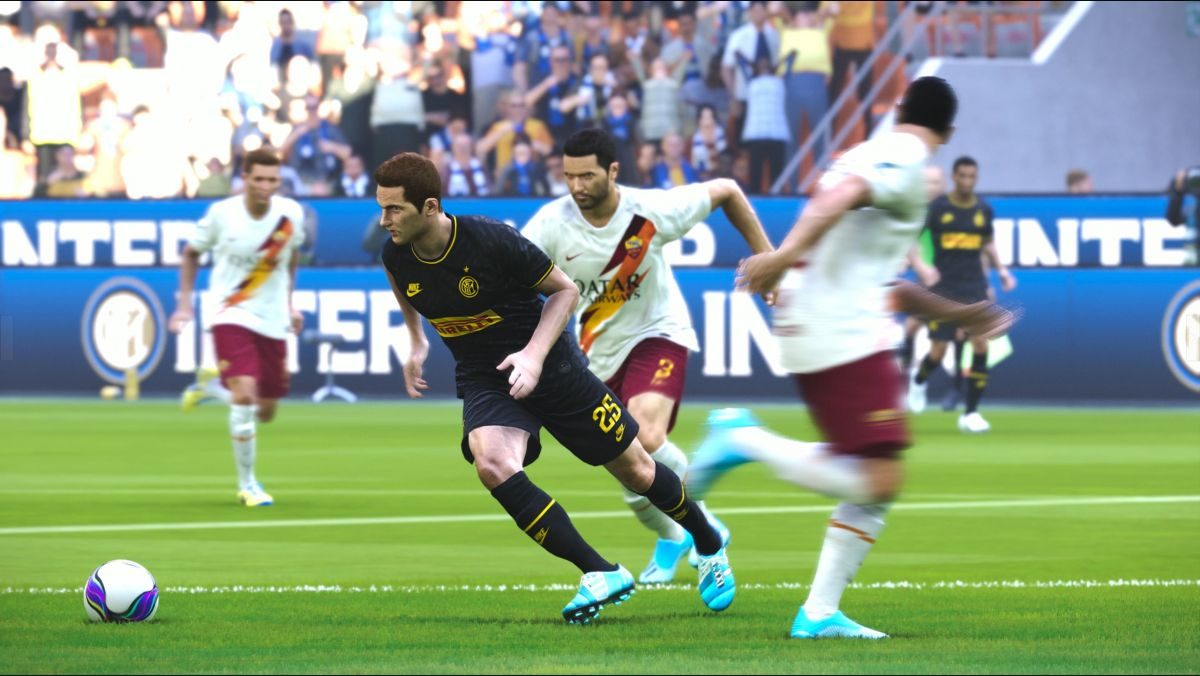 eFootball PES 2020 matches are often tight, tactical affairs that can easily open up once a goal or two has been scored. A team chasing for an equaliser will naturally leave plenty of space behind, and there is no better stage for speed merchants to shine than on the counter.
Unlike FIFA, pace is not a tool for every occasion, and when the opportunity arrives for you to take advantage of it, the results can be devastating.
Of course, that is more the exception to the rule. Most teams play more conservatively, especially against the big boys, and that requires good positioning to keep possession and play your game. The AI in eFootball PES 2020 is smart enough to make supporting runs, take up pockets of space, or attempt to break the offside trap by darting behind.
The runs are one thing, but trying to thread the needle by making the killer pass is another. Not to say it does not work, but you require the perfect blend of timing, space, and the proper playmaker to pull it off. Think Messi or De Bruyne versus a Mark Noble.
It is this difficulty that forces players to mix it up more in eFootball PES 2020. Attempting one-touch football, trying one-twos, getting early crosses in, or a hopeful shot from distance, the variety of goals are certainly more pleasing to the eye. Of course, the setup of your team and the players will determine which formula yields the best results, so play accordingly.
Your opponents will do the same, and the tactical tweaks you will need to make, especially against stronger opponents, will only increase your appreciation for the real-life tacticians in the game.
Player personality is also hugely apparent, with the stars playing like you would expect them to. Inverted wingers like Mahrez and Sterling coming in on their stronger foot, Messi dropping deeper to influence the play, Firmino doing his thing as a false nine, or Ronaldo having the play dictated through him.
The crowd rises in anticipation, teammates will open up space, and the degree of control you have when such players are in possession are akin to the real thing.
The sense of personality and individualism lends an even more realistic shade to the proceedings, and it is enhanced by how these players act with and without the ball. The first touch, trapping of the ball, techniques, and their playstyle are all realised wonderfully with PES' great animations. The stars, when used right, often deliver wondrous results.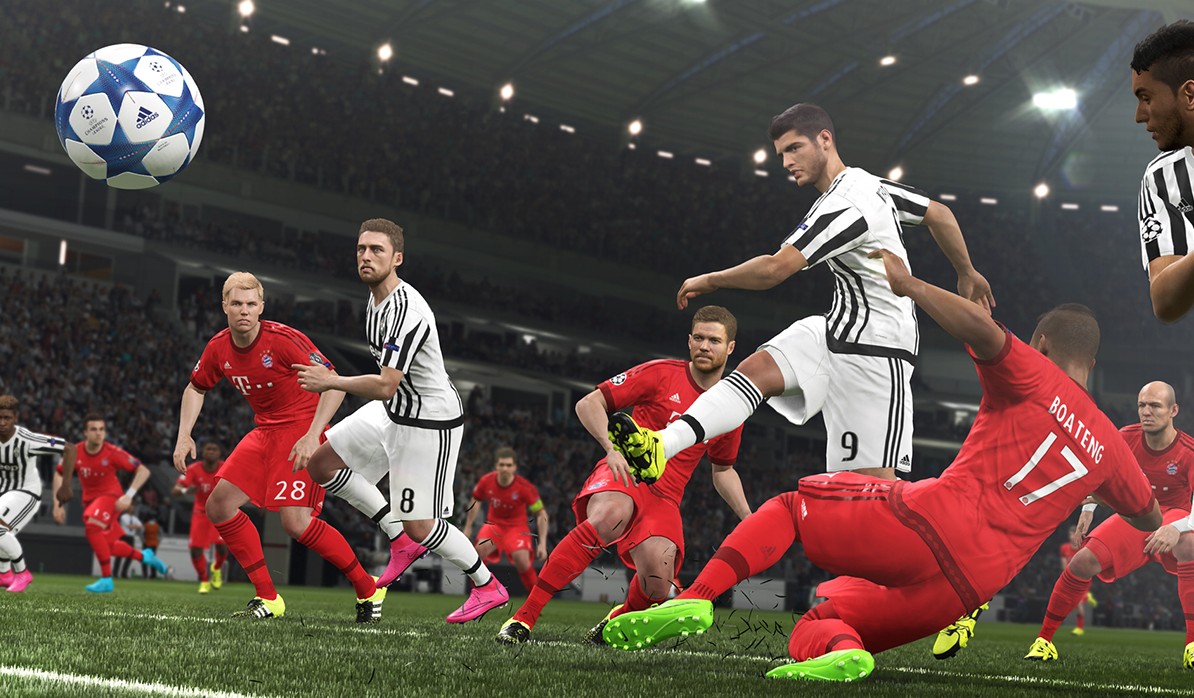 eFootball PES 2020 has also made the ball feel as authentic as possible, taking into consideration the context at which it is being manipulated. A player's positioning, posture, speed, and even the defensive presence around him will affect the accuracy, speed, and power of your shots and passes.
Even if your defender is not matching the attacker stride for stride, his presence alone will make the finishing harder. Likewise, a skilful player can carve out a yard of space that can make a world of difference between scoring or missing a chance. The margins of error are tiny, and it emphasises just how important space and positioning are in eFootball PES 2020.
The defensive side of things has also gotten an upgrade, with the aforementioned increased physicality playing a huge part in that. Shoulder barges reflect accurately what happens when a player is obviously stronger than another, and the litany of defensive tackles and clearing animations give players more options to retrieve the ball.
Sliding tackles remain a form of art, allowing you to nip the ball at the crucial moment or leave your opponent in a bone-crunching heap. Defending has never been more enjoyable in the series, and that is saying something.
Unfortunately, the men in black still remain frustratingly inconsistent. Bookings for innocuous fouls are still common, blatant penalties are not given, and are generally too eager to reach for the whistle in a contact sport.
The meat of the eFootball PES 2020 experience remains the Master League mode, and the formula largely remains unchanged. Taking the actual team or a group of amateurs up the ranks and winning championships still gets the competitive blood pumping, especially with the improved AI.
A visual change to Master League has you choose a preset manager rather than creating your own, with a few generic choices to the likes of legends like Johan Cruyff and Diego Maradona. It has zero impact on the gameplay, but dynamic cutscenes during the season will have your manager in the spotlight while you choose dialogue options.
Transfers are a vital part of the Master League experience, and thankfully, they are less ridiculous than what we have come to expect. Fees are much more in line with modern-day football, and teams are more likely to snap up talented youngsters than those barrelling towards retirement. However, do expect a ludicrous transfer every season or two, it is all part of the experience.
Outside of that, Master League remains a familiar experience in a slightly altered shell, for better or for worse.
eFootball PES 2020's other headline mode, MyClub, will probably be the most enjoyable in the long run. Being able to cobble together a team of both legends and current players is always a fun fantasy scenario, and bringing them into matches against the AI, other players, and even in co-op gives you plenty of ways to enjoy your superteam.
Yes, there are still microtransactions that can speed things up, but patience will save you money and grant even more satisfaction every step of the way.
Player ratings are now different as well, with every player acquired starting off at a minimum default rating. Upgrades and exclusive Team-of-the-Week players will help increase their ratings, and you no longer have to worry about a superstar that plays like a dud.
eFootball PES 2020's blend of authentic gameplay coupled with smooth animations and added tweaks have made it probably the best experience of football you can have in video games. The lack of licenses remains a sticking point for most, but is easily remedied with option files readily available, all you need is a thumb drive, a PC, and you are all set.
Once you are on the pitch and enjoying the beautiful game the way it is meant to be, nothing else really matters.

GEEK REVIEW SCORE
Summary
eFootball PES 2020 is the beautiful game redefined in video games, just look past the lack of licenses and you are gold.
Gameplay -

9/10

Performance -

8.5/10

Presentation -

9/10

Value -

9/10
---

Drop a Facebook comment below!