Samsung and LG introduced curved televisions to homes last year, so it was only a matter of time before companies started offering smaller screens, in the form of monitors, to study rooms. A new player in the field of curved monitors is Dell, who recently introduced Dell U3415W, touted as the first 34-inch Curved IPS monitor in the market.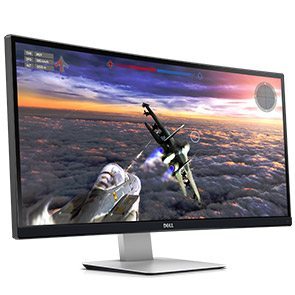 It sports a 3440 by 1440 pixel resolution, which provides for greater pixel density but before you dismiss that figure, you must realise that this is not a 4:3 or 16:9 display. Instead, this uses the wider 21:9 aspect ratio, so users are getting a longer display that easily provides a larger than normal screen real estate. The screen is also calibrated for sRGB 99%, for better color vibrancy and reproduction.
Out of the box, you get the monitor, the clip-on height and tilt adjustable stand, a HDMI cable, a Full Display port to Mini Display port cable, a 3-pin power cord and one USB 3.0 upstream cable for the screen's built-in USB hub. The included cables are great for those who plan to connect this monitor to more than one computer, such as linking it to a laptop, for use as a second monitor.
Connectivity wise, the Dell U3415W supports Mobile High-resolution Link (MHL) and HDMI, and comes with a Display port, a mini display port and a display port out. It also comes with two built-in 9W speakers.
Initial Impressions
As with all of Dell's U series monitors, the build quality here is pretty good. Colours look fantastic on this monitor, and the curved display provides a very immersive feel when it comes to gaming or watching movies.
Here is where the screen really shines. Most games these days have a 360 degree view, which means players can move around the open environment. But what viewers really see, is limited by the boundaries of the screen. In this case however, the 21:9 aspect ratio really adds to what is shown in screen. Mix it in with the slight curve that subtly draws viewers in, and suddenly, curved monitors start to make more sense than curved TVs, simply because the single user here is closer to the screen, and able to fully appreciate the immersion.
The 99% sRGB calibration is great for those using Photoshop or any other content creation software. That's not to say that the average home user or gamer wouldn't appreciate the larger resolution or the awesome color reproduction, because games and movies look vibrant on the screen, with a balance of great color as well as deep blacks.
The built-in navigation menu to adjust contrast, brightness and to monitor energy usage is easy to navigate via the touch buttons on the bottom right side of the monitor. The menu also allows users to adjust response times between normal, at 8ms, or fast, which brings down the response time to 5ms.
There is also a Picture-by-Picture Mode (PbP) which allows the monitor to be "split" into essentially two screens, to cater to multiple inputs, such as a PC and another laptop for example. As stated earlier, the larger real estate is great for increase productivity, as well as maximizing desk space.
The one unnecessary thing here are the speakers. They are not spectacular in anyway, and do not live up to the premium screen beside it. They also take focus away from the screen, which is best paired with a better sounding system.
After Thoughts
Having used this monitor for over a month. I have come to love and hate this new curved beast. I love how this monitor provides me with so much real estate that when I work on my Macbook, the pitiful display on my Macbook feels painfully. I can't have all my documents spread out in front of me, and I cannot compare them at one glance without squinting my eyes.
I also love how it really provides an immersive experience when gaming, fitting nicely into my peripheral vision providing an Eyefinity (if you're an AMD User) or Nvidia Surround (if you're an Nvidia User) type experience. This is done without actually having to buy multiple monitors.
Unfortunately, Dell has not been able to fix the issue backlight bleed, which has become a common issue with modern displays. This is where light "leaks" out of the sides of the monitor. While it is not noticeable most of the time, it becomes painfully  obvious when the screen is black. And this usually happens when viewing a movie or playing a video game.
This can get especially annoying, since most movies are released in the 16:9 aspect ratio on blu-ray or DVD. This means that there will be black bars at the top and bottom, which makes backlight bleed very obvious.
Thankfully the backlight bleed on my unit isn't that bad and it is an issue that I can live with.

Final Thoughts
Overall, this is a great monitor for those who prefer a single large monitor, as opposed to owning multiple monitors. The provided Dell Display Manager (DDM) software allows users to divide the screen, thereby emulating a dual or triple monitor setup.
The SGD$1,479 price tag, available on the Dell Singapore Store, means that this monitor is not for everyone, but for those looking at building a multi-1440p setup, such as having two or three Dell U2515H screens, this solution saves you the trouble of finding a desk big enough to fit multiple monitors.
---

Drop a Facebook comment below!