With Active Noise Canceling technology (ANC) taking precedence in the audio space, more players are entering the foray to lay their claim to the ANC throne – or at least, are attempting to do so. Singapore-based audio veteran Creative definitely has the audio know-how down to a T, especially with consumers in mind, and its new Zen Hybrid ANC Headphones continues this practice.
As it stands, the device offers affordable ANC with crisp audio to boot that would entice users who are planning on shifting from the low- to mid-tier ranks. Sporting a clean white look, the Zen Hybrid would be perfect for any wardrobe choice with its minimalist design. However, the loud brand logo and "SXFI READY" markings that outline the cans are distracting and take away some of its aesthetic appeal. It's currently only available in white, but we would love to see a black variant for an even stealthier look.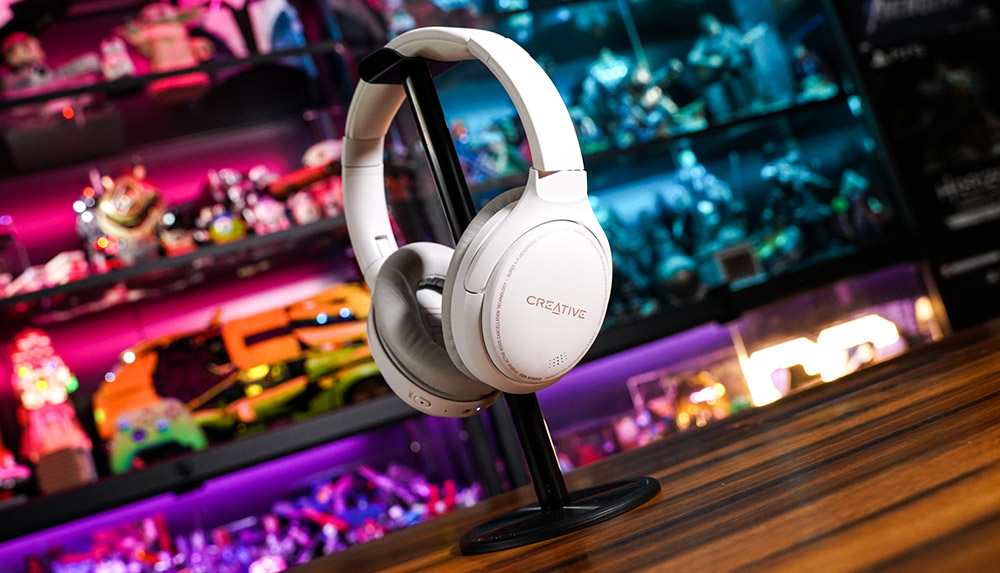 The right ear cup holds analogue control and inputs, including the ANC button, which toggles between ANC and Ambient modes, a 3.5mm audio jack, power button, and a volume rocker. A USB-C charging port sits on the left side, granting up to five hours worth of playback with a quick five-minute charge. The total runtime clocks up to 27 hours of playback with ANC on and about 37 hours with ANC off, which leaves you a couple of days in between charging sessions.
The controls are generally easy to reach, but may take some getting used to. A little bump has now been added to the power button, and with the ANC button positioned further up front, users will have a smooth experience navigating the different controls without accidentally hitting the wrong buttons.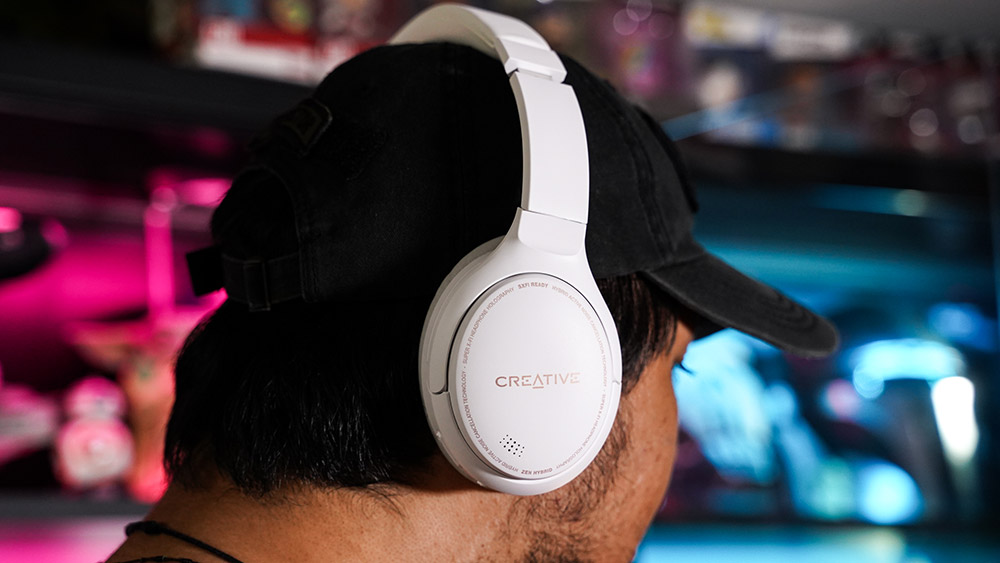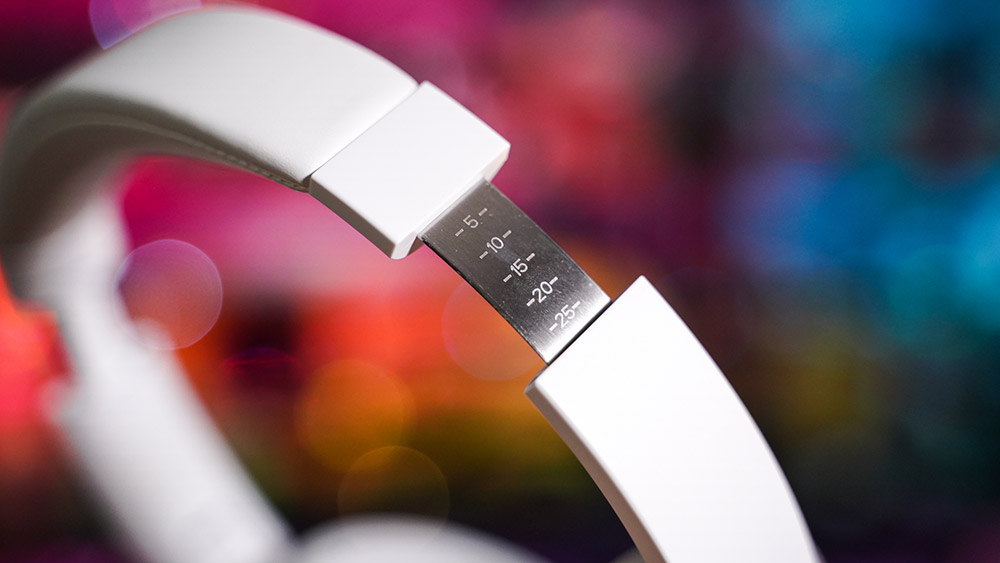 The steel headbands are rigid and stay at the length you set them at. To offset its firmness, they are padded with a plush synthetic leather cushion for prolonged comfort, especially with their barely-noticeable clamping force, soft memory ear cushions covered with plush synthetic leather, and a lightweight 217g body. All of these add on to the overall level of comfort and portability, though visible wrinkles might strike the leathered-covered top of the headband in the future.
Speaking of portability, it folds similar to the Sony WH-1000XM4, and can be placed into a soft carrying bag for added scratch protection, so expect it to fit in most bags without any issues. Its ear cups are versatile, decently-sized, and capable of a 90-degree swivel, making them a good fit for most head and ear shapes.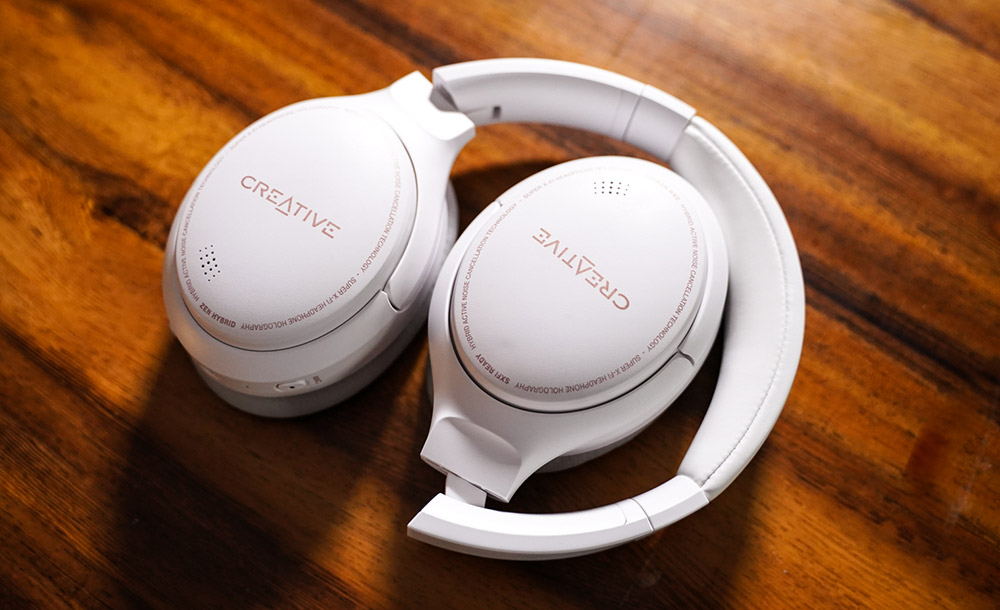 The Zen Hybrid's 40mm Neodymium drivers deliver decent room in terms of soundstaging, with instruments having enough space to play around. Listening to Toe's "Goodbye" off their New Sentimentality-EP, the opening guitar plucking was warm, punchy and clearly separated when the phaser kicked in. As the rest of the band came together with the vocals, the audio was nicely layered with a clear distinction between the instrumentals – the acoustic guitar wasn't overshadowed, making it a joy listening to such a tight band play with well-tuned drivers and no noticeable distortion.
The headset stumbles a little with bass-centric tracks like "NGAP" by SHAO, however. Since the Zen Hybrid isn't a set of bassy headphones, it misses out on having impactful bass even though the lows are still rumbly. Fortunately, it doesn't disappoint with the mid to high samples on the track, which play out clearly.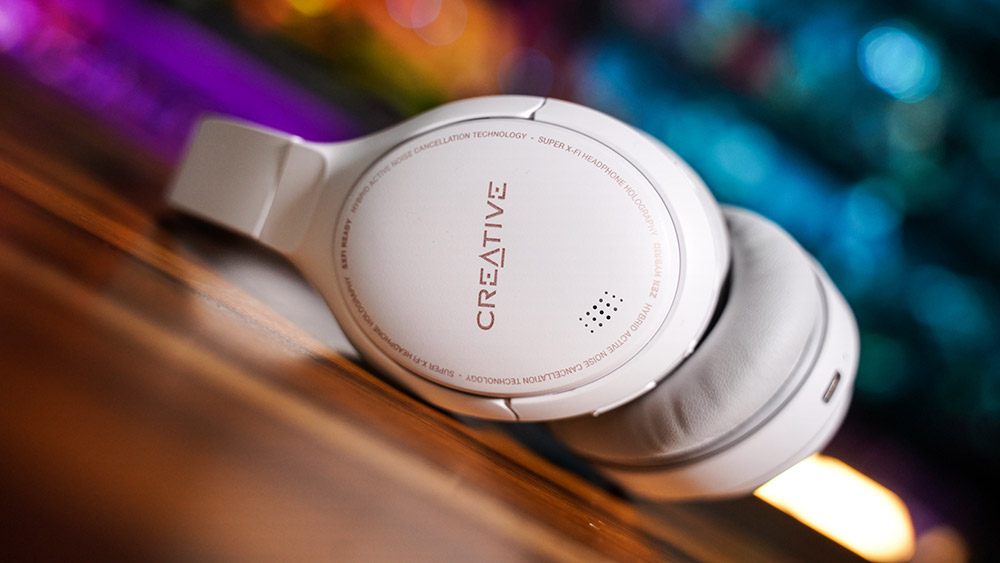 The usual workaround would be to tweak the EQ via the Creative app, but it doesn't support the headphones just yet, so there's no viable way to play around with the levels. The SXFI App is impressive, though still extremely limited to audio files stored on your device; the way forward, as such, would be for Creative to integrate it for streaming services such as Spotify and Tidal.
ANC-wise, the Zen Hybrid works well in quiet office spaces and malls. Do expect louder noises like traffic and idle banter to leak through when commuting on trains and busy walkways, especially at lower volumes, so you may want to crank it up more to cancel out more ambient noise in conjunction with the ANC.
With Bluetooth 5.0 connectivity and support for the SBC and AAC codecs, the headphones were free of latency issues during music-listening sessions and gaming sessions with Apex Legends Mobile.
Priced at S$149, the Creative Zen Hybrid headphones are certainly more than a decent pair of headphones that are superb for general use. Creative has always been at the forefront of producing great sound hardware at affordable prices and their venture into the competitive ANC market with this device shows that they are adapting well and getting the job done – barring some drawbacks.
GEEK REVIEW SCORE
Summary
The Zen Hybrid is a great-sounding mid-tier set of cans that proves to be versatile and portable, supported by an affordable ANC option. However, it can only do so much with limited EQ customisation options and loud graphics that dull its clean aesthetic.
Aesthetics -

6/10

Build Quality -

8/10

Performance -

7/10

Value -

9/10

Geek Satisfaction -

7/10
Abandon Reason Know Only War! Zinho is a shooter fanatic still waiting for direct sequels to Black (2006) and Star Wars: Republic Commandos. He also truly believes that the Warhammer 40K universe can take on any franchise and destroy them. To think any different is heresy and punishable by Exterminatus.