As gaming and esports take up more prominent roles in today's entertainment realm, there the need to develop superb peripherals to match the state-of-the-art technology that games today employ, be it controllers, keyboards, mice and other accessories that can make or break the gaming experience. And when it comes to audio, who else can chart a new path than Creative, who set the gold standard of audio gaming on the PC decades ago?
The Singapore-based tech brand certainly has the technical nous to match the needs of pro and casual gamers alike, which is why it has produced the Creative SXFI GAMER headphones, which provides gamers with cinematic sound that not only enhances their gaming experience, but brings players into the realm of the game itself.
From the onset, the SXFI GAMER sports a clean, understated design that lets it blend into just about any modern gaming setup, or even a professional one, at that. However, this changes when plugging it into a computer, phone or console, as a pair of RGB light rings light up and pulse with vibrant light by the sides of the ear cups.
Located on the left ear cup are the analogue controls and inputs. There is an SXFI button, which controls Creative's patented Super X-Fi audio system (more on that later), a volume wheel, mic mute and RGB light ring buttons, USB-C and 3.5mm ports, and a microphone jack.
If you're a fan of RGB and have a setup that has it, then the SXFI GAMER will certainly add more verve to your rig… though you can't exactly see the pulsing lights, given that it's located way out of your peripheral vision. It's more of a way of showing others just how flashy (literally) your gaming setup is, and if that's your thing, more power to you. We just find it a little unnecessary since you can't actually appreciate it yourself since you can't see it.
For gaming headsets, it's always great to have analogue controls on a headset, as it lets them switch things up on the fly. However, it feels as though Creative is a little confused about its design philosophy of whether to go a more understated route or a loud one, as it essentially shoehorned in a ton of ancillary features onto this headset. While it's good that they are all located on the left side to allow gamers to quickly adjust settings while still being able to focus on their game at hand and click on things with their mouse, it feels a little too unwieldy to navigate through the various controls, as one would have to fiddle through each of them to figure out which button they need to press.
Additionally, the volume wheel lacks a stopper, which means there is no way to tell whether one has hit the maximum or minimum volume when plugging in the headset. This could potentially be harmful as the user might be greeted with a rude cacophony of max-volume sounds when putting the headset on when starting their session. Perhaps including one might reduce this potential risk, or even evade it completely.
That said, the SXFI GAMER shines in its versatility, as it can connect to virtually any device thanks to its USB-C, USB-A and 3.5mm jacks. That means it can potentially be your one headset for virtually all your devices, including mobile, desktop, tablet, PlayStation 4, Xbox One, or even Nintendo Switch. Just maybe don't bring it for a run or a gym session, as it lacks any water resistance to be able to withstand that kind of punishment.
The SXFI GAMER generally feels great when worn. The leatherette cushioning on the headband and ear cups certainly have that plush and premium feel, and hold up quite well for a few hours. However, past the third or fourth hour, the comfort that these headphones could potentially offer is significantly marred by the metal frame holding the headband in place. Somehow, it seems to press into your skull after prolonged use, and from experience, left quite a bit of a headache after a few hours.
Additionally, adjusting the height of the headphones while worn isn't recommended, as the ridges in the metal frame ring with an irritating metallic sound with each movement, making it counterintuitive for adjusting on the fly. To avoid this ringing in your ears, you'd have to physically remove them from your head, adjust them to your preferred height, and then set them back onto your head. It makes the SXFI GAMER feel a little unwieldy, and could be a potential time-waster with all the adjustments one needs to make during a game.
In terms of audio, the Creative SXFI GAMER does a fairly decent job, if not a good one. 50mm drivers are essentially the norm for gaming headsets in today's market, and the ones on the SXFI GAMER possess quite a respectable dynamic range. It, however, leans more toward the bassy side of the aural spectrum, which makes sense, given how many games, especially those shooty, explodey ones that are filled to the brim with low-frequency sound effects. It's still great for listening to music, especially electronic and pop, which are generally bass-forward in nature.
Its mids and highs are commendable, but generally feel a little muddled, even after tweaking the equalizer in the SXFI app. But what makes its mid-range quality show is when the volume is cranked up to a maximum, where the sound generally turns muddy and slightly distorted. Actually, this can already be noticed at about 90% volume for most devices, which does show the limit of what the drivers can deliver. Admittedly, most folks don't actually go to that level, but from what we've experienced, sounds that are generally louder tend to get distorted, even below maximum volume. Thankfully, this distortion cannot really be noticed most of the time, but it's there regardless.
Despite its flashy name, the CommanderMic microphone on the SXFI GAMER is ultimately a rather underwhelming one. Although the SXFI technology does enable users to communicate with others without much impedance to their gaming audio thanks to passive noise cancelling, it doesn't really sound that great in general. From our time using it, those on the receiving end have reported that, while we were generally audible, the voice ended up sounding a little as if we were talking through a wet cloth. This might be due to the fact that the microphone is detachable, which essentially limits the driver one could install into the microphone head itself, compared to headsets with a fixed mic.
Like the SXFI TRIO and SXFI AIR that came before it, the Creative SXFI GAMER comes with the company's patented Super X-Fi holographic audio system, which is what sets this apart from others in the market. This technology utilises a series of complex algorithms and machine learning to customise audio to suit the different ear shapes and sizes. This is done by simply taking pictures of your ears using the SXFI app on your phone in order to do so.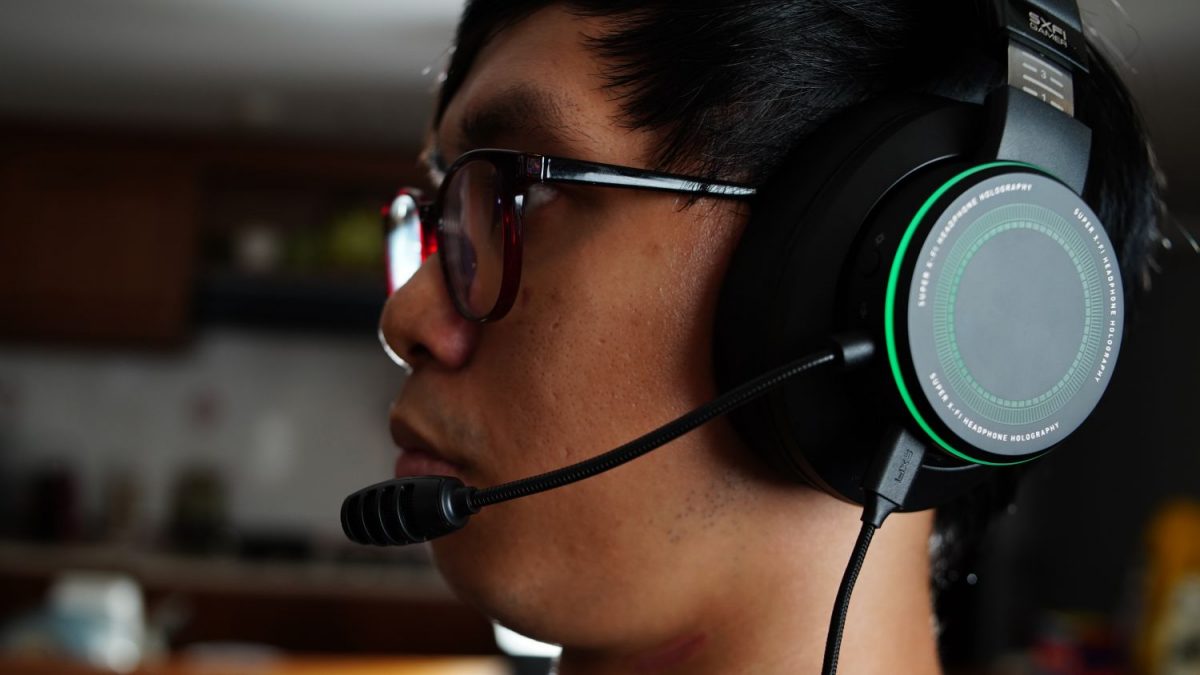 It's a fairly interesting, if not gimmicky, feature that might've been a pass for many on the aforementioned TRIO and AIR models, but surprisingly works quite well on the GAMER. This is thanks to the Battle Mode feature exclusive to it, which can be toggled on the headset's controls, or on the SXFI app on the computer or phone. With SXFI adjusting its audio to the user's ears, switching to Battle Mode makes gaming that little bit more immersive.
Similar to Dolby 7.1, sounds from near or far can be differentiated, as are those coming from in front, behind, or to the player's side. This especially for folks who play games that require quite a bit of tactical and positional awareness, such as FPS titles in Overwatch, Valorant and Rainbow Six: Siege. Surprisingly, it works even in MMORPGs such as Final Fantasy XIV and World of Warcraft, where tons of communication and hair's-breadth positioning are required to take part in the most hardcore of raids. This feature doesn't muddle voices, which allows for players to communicate with other folks easily.
The Creative SXFI GAMER is certainly no slouch when it comes to general use. One certainly can't discount the decades of experience Creative has to offer when it comes to producing quality audio at affordable prices. But perhaps therein lies the main issue with this headset: price. At S$179, the SXFI GAMER can only do so much as a mid-tier headset, but with what it has on hand, it still manages to get the job done both in and out of gaming. Ultimately, if one is looking for a more affordable option, or is making the slow transition from low to high tier gaming audio, the SXFI GAMER does offer a decent in-between of sorts.
GEEK REVIEW SCORE
Summary
Creative's attempt at making a competitive gaming headset fares decently, and we actually commend it for its versatility and affordability. However, it clearly gets instantly outshone by the big boys in terms of doing what gaming headsets ought to do best: provide quality audio and comfort.
Aesthetics -

8/10

Build Quality -

7/10

Performance -

8/10

Value -

8/10

Geek Satisfaction -

7/10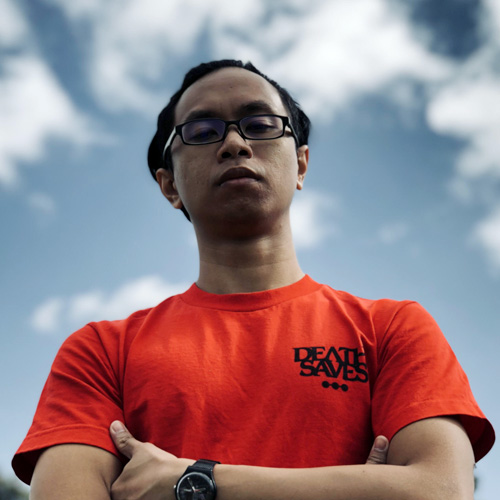 Marion has a serious RPG addiction. Sometimes it bleeds into real life; he forgets to sleep because he thinks he has a Witcher's body clock. Forgive him in advance if he suddenly blurts out terms such as "Mind Flayer" and "Magic Missile", because never once does he stop thinking about his next Dungeons & Dragons game.