I drove the G20 330i two years ago at a BMW event in Australia and returned to Singapore with a lot of renewed optimism for the sports sedan segment's future. They then launched the 3 Series in Singapore the same year, led by the 330i, which was subsequently joined by the 320i and 318i.
Before I began taking an interest in cars, so-called car enthusiasts lurking behind the relative anonymity of online forums had long derided entry-level derivatives of popular German sedans (and their owners). These lower-priced variants often took a haircut on their driving performance, were bereft of fancy features and options that adorned their more expensive siblings, and God forbid, had relatively plain exterior trims that were instant identifiers of their more modest assets.
In BMW's case, owning a 318i could invite unkind remarks about being a badge whore instead of someone who genuinely appreciates the pleasure of driving. It might explain why even today, some owners prefer to remove the model badge from their cars while others take to the opposite extreme, choosing to up-badge their basic rides and fit cosmetic enhancements so they resemble their blue-blooded relatives. Putting Usain Bolt's spikes under the feet of an average Joe will not make him a medal-winning sprinter, though.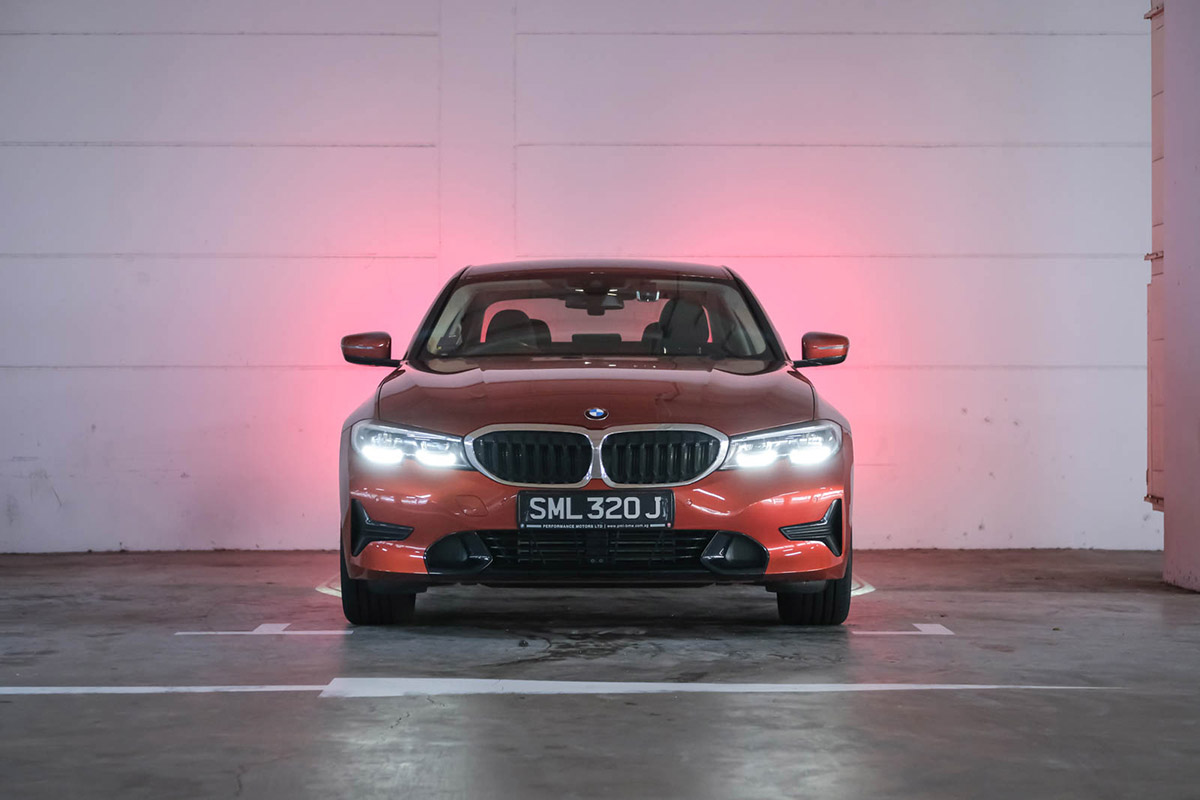 I hadn't driven an entry-level derivative of the 3 Series before, so it was with a similar scepticism that I plonked myself in the driver's seat of this BMW 318i Sport. How much of a difference did it make in the real world and more importantly, in Singapore? Would I judge it just as harshly as the keyboard warriors?
To put things in perspective, the 318i Sport is the most affordable Bavarian sedan sold in Singapore currently by the authorised dealer—at the time of writing, it will set you back an eye-widening S$215,888. The 320i Luxury, which is the next step up, will cost a further S$40,000 (S$15,000 of this is due to the government's VES surcharge). However adept you are at massaging numbers, it's still a lot of money. Assuming a quarter of a million dollars is too much dough for a BMW 3er (even in Singapore), you're looking at just the 318i Sport.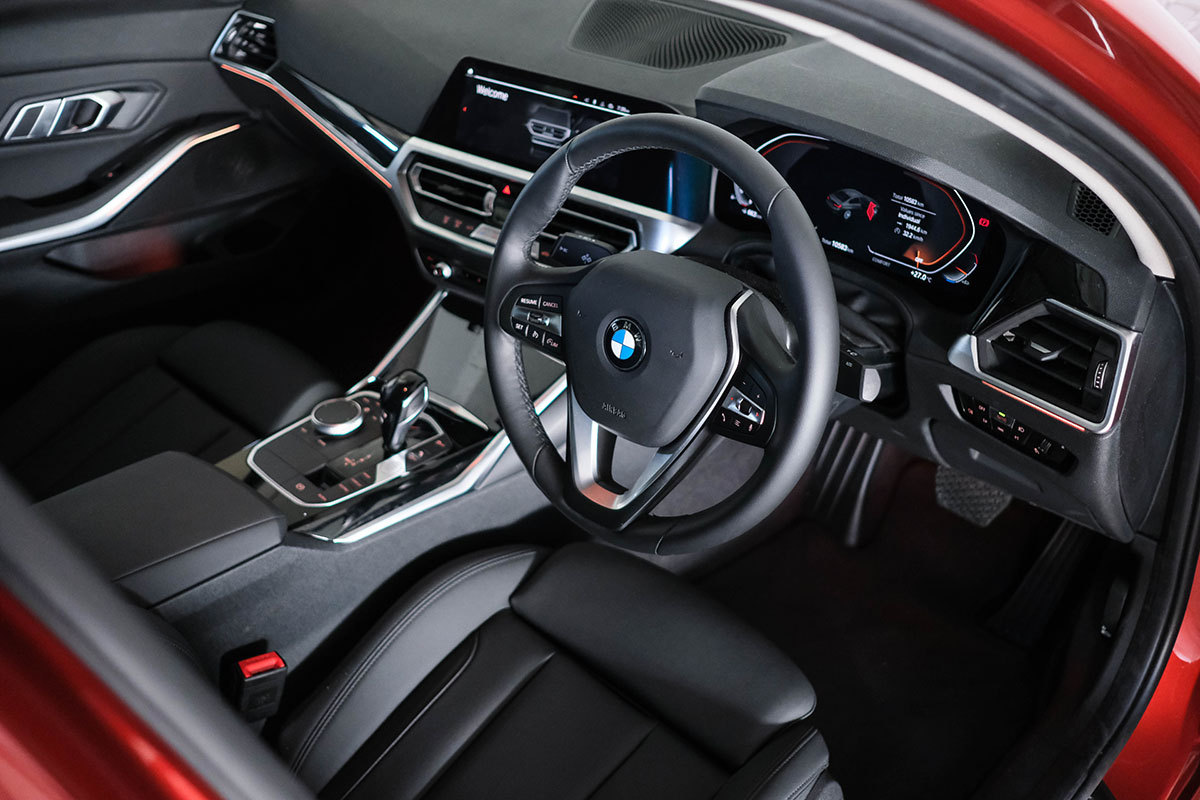 The sport seats in the front of the BMW 318i Sport are electrically adjustable.
For starters, the sport seats in front are electrically adjustable. The driver can save two seating positions too, which is nice. The side bolstering did a reasonable job keeping me in place on a jaunt along South Buona Vista Road, but otherwise offered plush comfort on continuous drives around our island. The leather steering wheel was comfortable to hold, physical buttons were nicely damped, and cabin space was more than adequate for a car in this segment.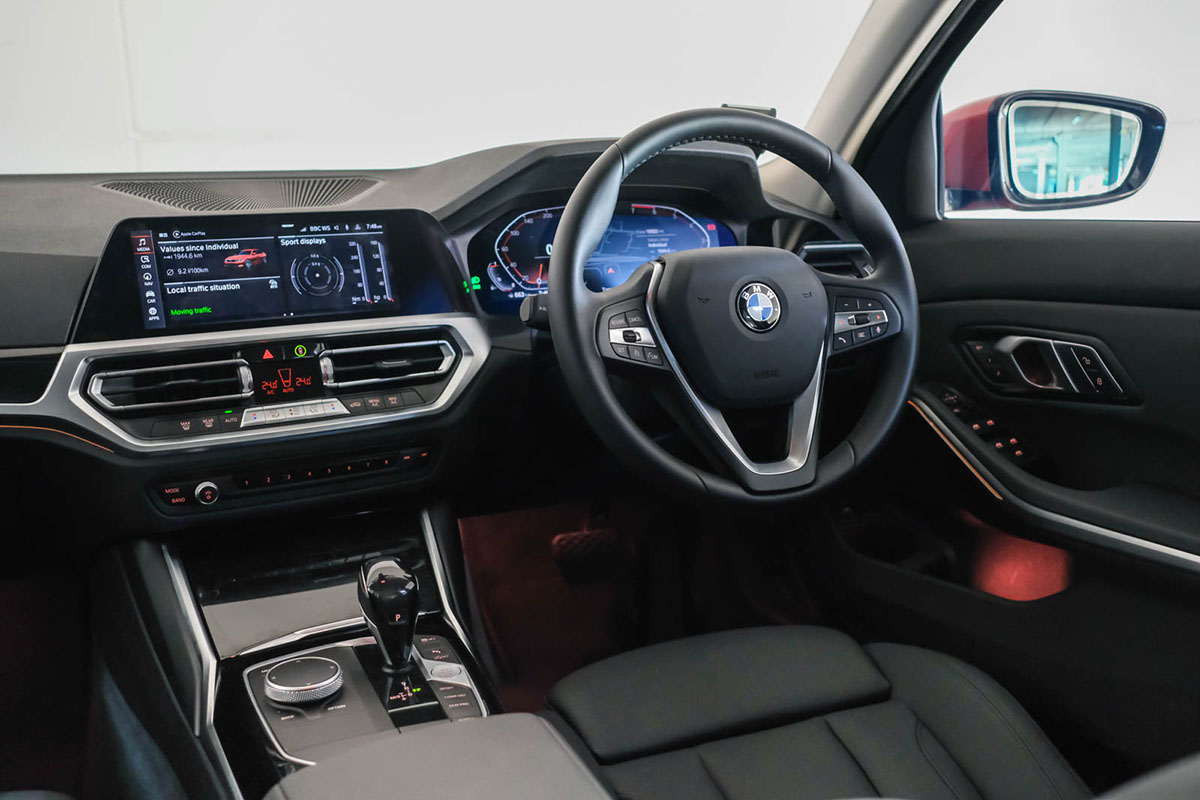 Information is accessed from both the 10.25-inch centre touchscreen or the fully digital 12.3-inch instrument display. The navigation system comes standard in the car and is available on either or both screens as desired. I'm personally still not used to the digital tachometer needle rising in a counter-clockwise direction, but it's probably not the detail drivers in a regular sedan would pay the most attention to. Other useful niceties are wireless charging and Apple CarPlay, which is compatible both with a Lightning cable or wirelessly. Doing a good job of further justifying the 318i Sport's price tag are the safety features like lane departure warning, lane change warning and blind spot warning systems, among others.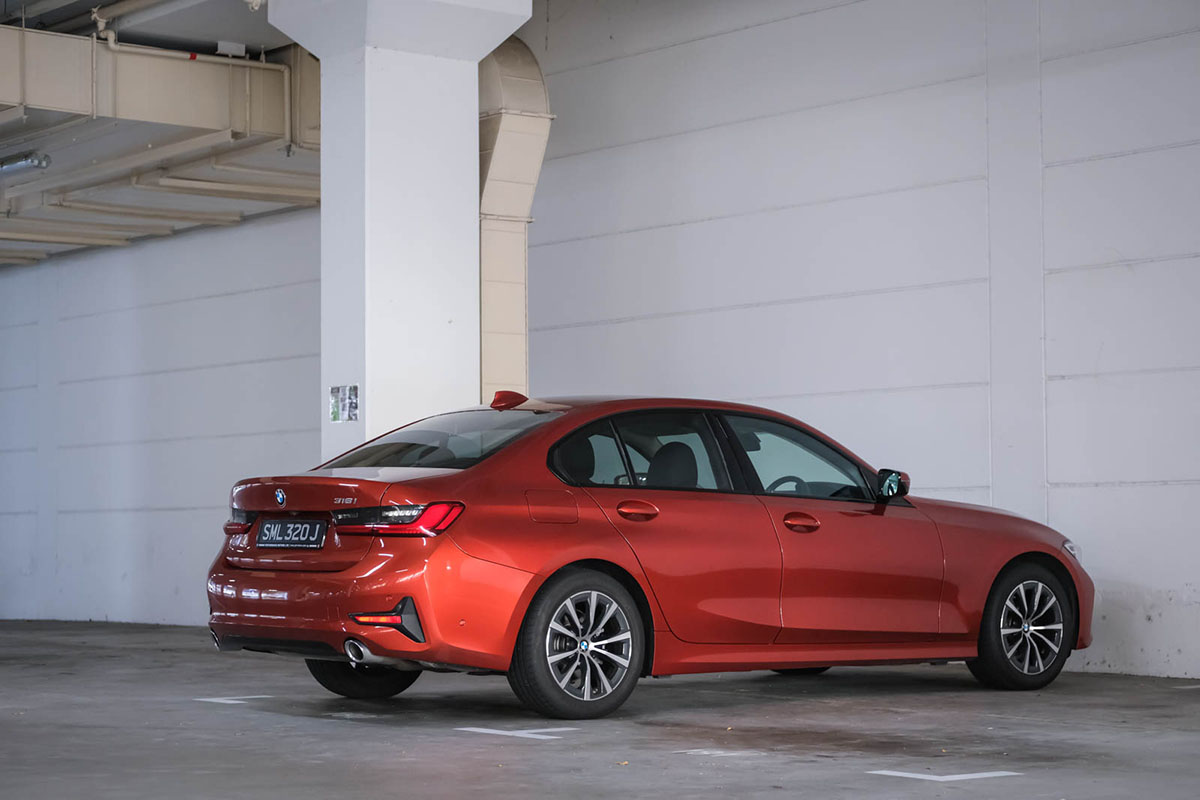 Passengers in the rear get decent room and their own climate control feature from the central vents, controlled separately from the dual-zone one for the front occupants. There are also two USB-C ports beneath the rear air vents for charging on the go. Another convenience is the electrically-operated tailgate, which can be activated by a toe-poke at the space between the rear bumper and the ground, as well as the conventional squeeze of the concealed button just above the licence plate.
Once I was ready to go, I started the 2.0-litre turbocharged engine to little fanfare. As I eased out of the dealership's basement and joined the Friday evening traffic, I remembered how refined the new 3 Series' ride was since our first acquaintance two years before. Thanks in part to the higher-profile 225/50R17 Goodyear Asymmetric 3 tyres (which kept me out of trouble when hurtling into several deep puddles during a sudden tropical downpour on Sunday night), the drivetrain's setup insulated the cabin from much of the rough road surfaces around Singapore, even if there was an expected amount of tyre roar on expressways.
Detuned to produce only 154 hp and 250 Nm of torque, the 318i's 8.4-second dash to 100 km/h isn't quick, but its acceleration was linear under most driving situations and the 8-speed Steptronic made light work of whatever was thrown at it. The engine was impressively quiet at highway speed limits; 1,200 rpm at 90 km/h means owners who do a fair amount of highway driving can look forward to pretty reasonable fuel efficiency from this car. The 318i remained composed when changing directions at speed, responding adeptly to my steering input while ensuring its rotation didn't cause any unwanted dramas—as expected of a BMW 3 Series. Not even the conservatively-sized tyres could dull the driving dynamics.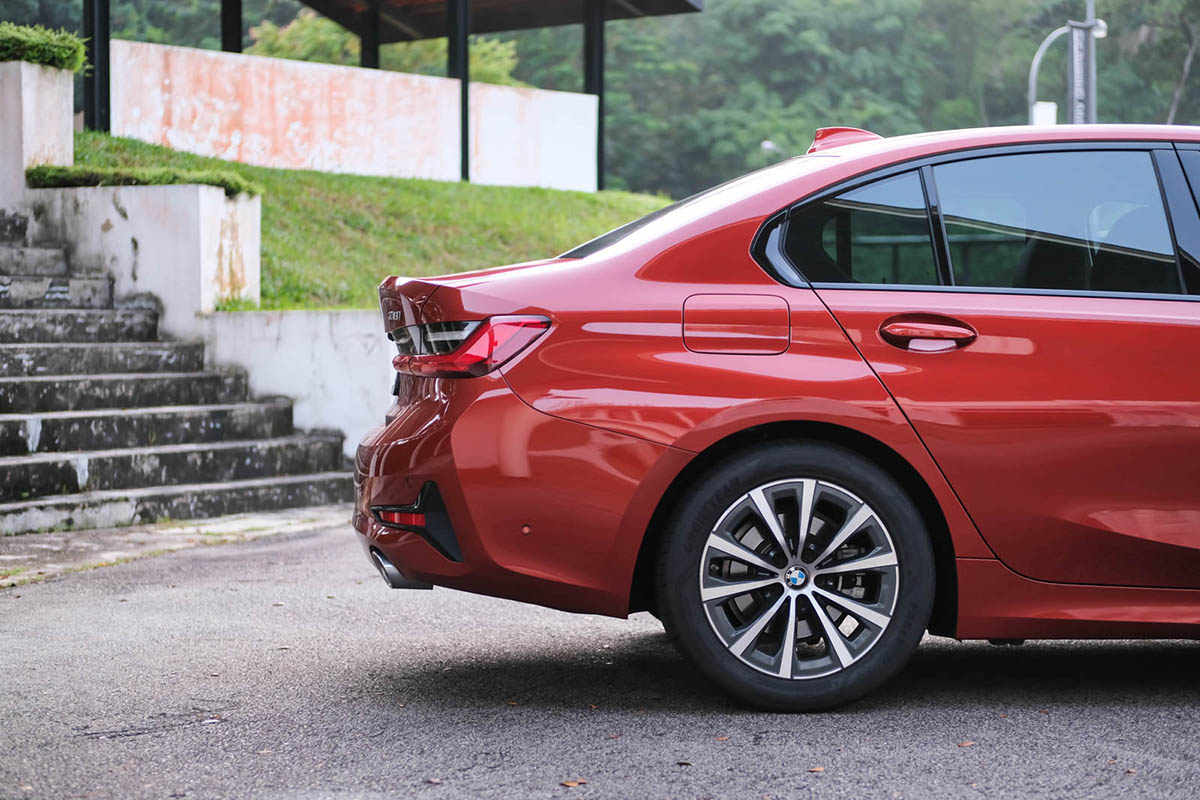 Some might lament the absence of paddle shifters on the 318i Sport's steering wheel—a slight irony given the derivative's name—although I have seldom felt the inclination to take over the job of an automatic gearbox while driving on public roads. Curiously, I detected an odd wobble at times from my seat when the engine was idling—perhaps the silent protestations against my deactivation of the Auto Start/Stop feature, which seemed too eager to be part of my journeys.
After a weekend with the car, I found the driver-side A-pillar and side mirror consistently obstructed my view when looking out for kerbs as I turned right. When driving directly under a mid-day sun, the metallic finish on the centre console, particularly the horizontal strip right beneath the touchscreen, reflected an uncomfortable glare at my eyes. These might have been due to my height and driving position, though.
If these aren't issues that might turn you away from considering the BMW 3 Series, the final decision to make would be whether the 318i Sport is worth the potential derision and accusations of badge snobbery. Remember this, however: just like how people of a certain demographic still judge the potential of a car solely by the size of its engine's displacement, there will inevitably be those who will continue to stigmatise a 318i.
But to do so is evidence that they've not driven this latest generation of the car. The truth is it's more than good enough for daily driving in Singapore. Is that good enough for you?
Special thanks to Performance Motors and BMW Asia for this opportunity.
---
The original version of this article first appeared on Eat.Fly.Drive.
GEEK REVIEW SCORE
Summary
BMW's 318i Sport might just give badge snobs something to think about.
Handling -

8/10

Performance -

7/10

Design -

9/10

Comfort -

8/10

Practicality -

9/10

Value -

7/10