I don't think I've ever reviewed a car with an appearance that drew such unflattering reactions from my friends. To be fair, calling its green exterior paintwork an acquired taste would be generous. It gets people's attention, at least. When I dropped a colleague off after our meeting, the security at her condominium told me they liked the car's colour. They even came out of their air-conditioned booth that muggy evening to get a closer look—smiles, grins and all.
And grins are what the RS Q3 Sportback excelled at providing during my time with it. The driving force of all this is Audi's multi-award-winning five-cylinder 2.5-litre engine—in 2020, this TFSI unit won the "International Engine of the Year Award" for the ninth time in a row. Gaining a 17 percent power bump over its predecessor with the same engine displacement—while shedding 26 kg in the process—the unit produces 400 hp and 480 Nm of torque that's available between 1,950 and 5,850 rpm, making its sporty potential easily accessible in daily driving.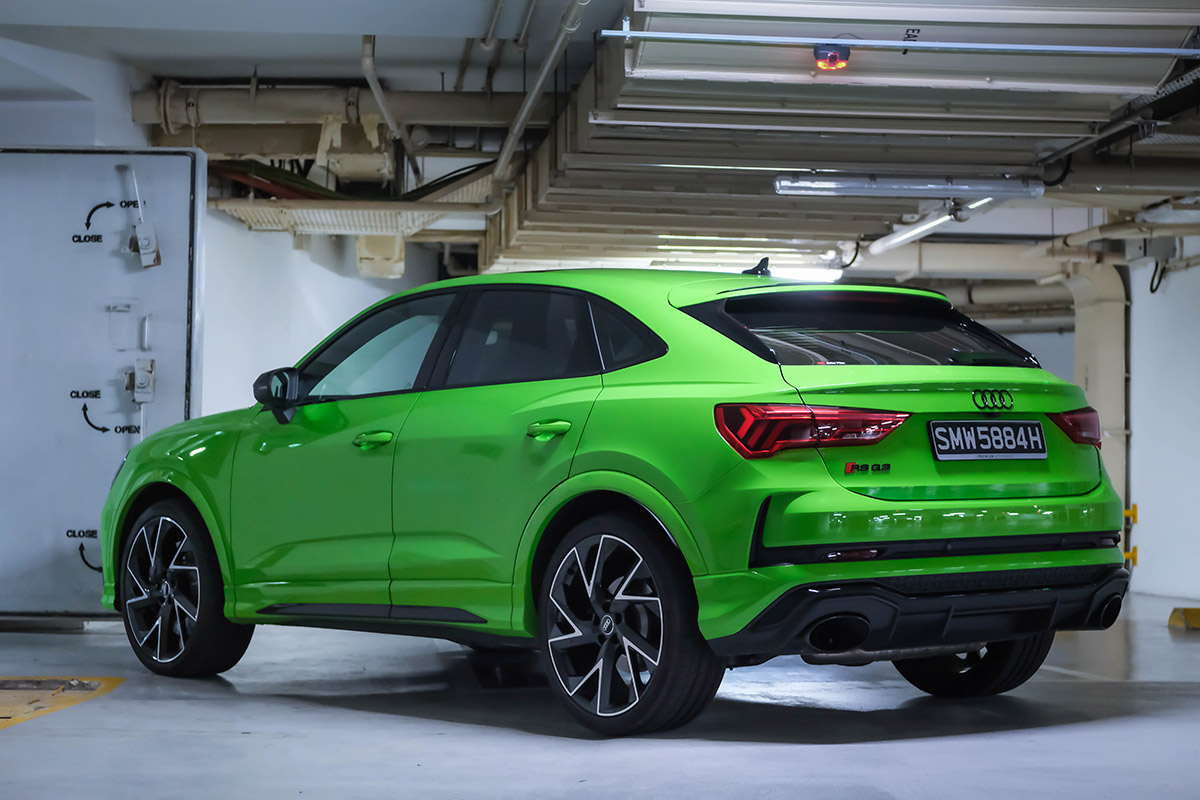 Because of its inline five-cylinder configuration, firing alternates between adjacent cylinders in a 1-2-4-5-3 sequence that results in what sounds like a constant burbling at low engine speeds. It's not as tuneful and refined as the RS 5 Sportback's 2.9-litre V6 that I reviewed earlier this year, but what a sound nonetheless. As the loud pedal gets pressed, the volume and resonance of the mechanical acoustics rise obligingly through the optional dual-branch RS sport exhaust system. To my untrained ear, it's like the sound lacks symmetry due to the odd number of engine cylinders, but this uniqueness should be treasured.
Despite its SUV coupé stature, the RS Q3 Sportback puts many performance hatchbacks to shame. Needing just 4.5 seconds to sprint from zero to 100 km/h, it launches off the line effortlessly. The seven-speed S tronic needs no introduction as it does the job of delivering all the available power to the quattro permanent all-wheel drive, which cleverly distributes it between the axles through a multi-plate clutch.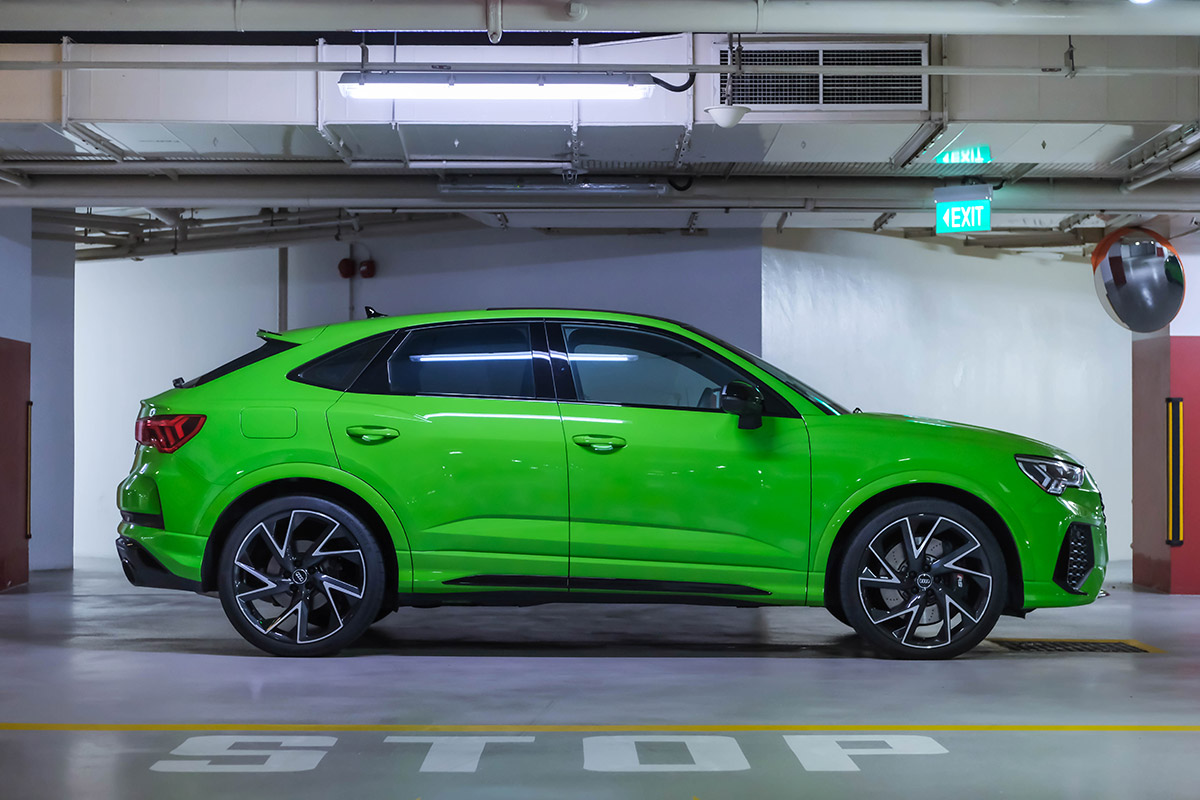 It does more than go quick in a straight line, of course. Through fast sweeping turns, the car stayed relatively flat and well balanced; it responded with almost telepathic immediacy whenever I dabbed the throttle while holding it in second gear. Quick and sharp changes in direction couldn't faze it, and neither could poor road surfaces despite its suspension being tuned to provide the sportiest and sharpest handling in the Q3 family.
For a car that picks up speed so easily and tracks through turns with such dexterity, I would have liked the brakes to provide more stopping power early on in their application. The car's ABS had to kick in as I barely avoided bottoming out because of an obscure speed hump.
I also wished the RS Q3 Sportback's exhaust would have similar pops and bangs like the RS 5 did on the engine overruns, which would have been a nice way to punctuate some cheeky acceleration in our urban environment—why risk the ridicule of onlookers by covering the car in Kyalami green only to stop short of letting it put out some acoustic popcorn?
Despite the lack of puerile exhaust antics, the RS Q3 Sportback benefits from being able to switch 'driving personalities' with its Audi drive select dynamic handling system, which influences the quattro drive and other components like steering, suspension, transmission, engine characteristics and sound. There are six modes to choose from (Efficiency, Comfort, Auto, Dynamic, and RS1 and RS2) and the latter two are customisable to the driver's specific preferences. The customisable modes can be quickly accessed via a button on the steering wheel, making it much easier than reaching for the toggle switch beneath the volume control dial on the centre column.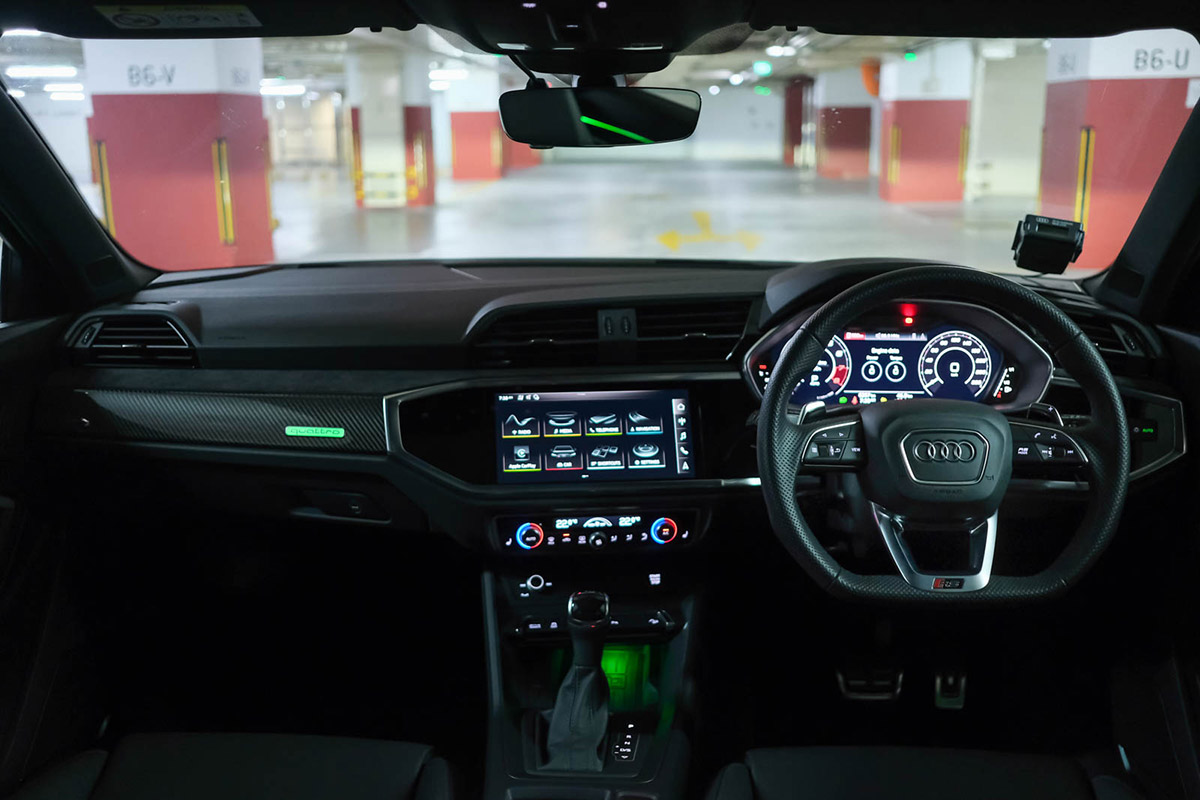 The cabin is standard Audi fare—it's well built, the controls are in familiar places if you've been in an Audi before, and contains plenty of soft-touch surfaces. The driver-centric cockpit hints at the RS Q3 Sportback's focus; the air-conditioning unit, centre console and MMI touch display are all tilted towards the driver by ten degrees. A larger Audi virtual cockpit plus with shift light displays prompting the driver to upshift at the maximum engine speed comes as a standard feature for Singapore. Also a standard feature is the RS sport seats in fine Nappa leather with RS-specific honeycomb patterns and integrated head restraints. I felt a little disappointed with the gear selector though, as it seemed to be the same one that's fitted on the standard Q3 Sportback and A1 Sportback.
It's comfortable in the back too with enough room for three adults, and no one will be cross at getting the middle seat. The rear seats can be adjusted forward and back by 130 mm and the three-way split backrests can be tilted in seven stages. I can't imagine there'll be many complaints about the 530 litres of luggage space, which can be expanded to 1,400 litres for any flat-packed furniture if you knock the backrests down and tell the rest of the gang to find their own way back.
That would give them a few more seconds to look unkindly at the Kyalami green exterior again, which arguably distracts from the RS Q3 Sportback's styling tweaks, such as the boomerang-shaped blades in the bumper and outer edges of the enormous side air inlets, which are exclusive to the RS Q3. The gloss black treatment on the four rings masks the Audi logo, as if a silent concession that this imitation of Lamborghini's Verde Mantis was a bit contrived. But at a price of S$255,040 before COE, why can't a sensible German car brand have a bit of Italian flamboyance?
Special thanks to Audi Singapore for this opportunity.
---
The original version of this article first appeared on Eat.Fly.Drive.
GEEK REVIEW SCORE
Summary
Painted in Kyalami green, you'd have to be blind and deaf to not notice Audi's RS Q3 Sportback.
Handling -

9/10

Performance -

9/10

Design -

8/10

Comfort -

9/10

Practicality -

8/10

Value -

6/10