Towards the end of this sex comedy, Geraldine Viswanathan (who plays WWE professional wrestler John Cena's daughter) asks her father: "Why is sex bad?"
Hold your horses – is this raunchy movie attempting to inject philosophy and have viewers walking out of the theatre pondering over the deeper meaning of sex?
Fortunately for most of us, a large part of this film is outrageously fun, and an aptly allocated amount of screen time is devoted to fuzzy and heartwarming messages. The best part is how the result brings across the theme without being contrived. So nope, you aren't going to be cheesed by a preachy storyline about practising safe sex and embracing family love.
Known for penning the Pitch Perfect movies, filmmaker Kay Cannon helms this comedy about a trio of parents who, upon accidentally discovering their daughters' group chat messages (take note, kids!), try to waylay them from each losing their virginity on prom night. It is noteworthy how a female directs this movie about sex, a topic which most people perceive men to be in a better position (punny!) to manage.
We love the actors cast for the parents' roles. Leslie Mann (How To Be Single) plays a single mother who tends to be overprotective of her gorgeous daughter. The actress, who is also known for her funny roles, is in good form here as she delivers punchy one-liners and pulls off physical comedy. Watch out for the scene where she desperately tries to hide from her daughter and boyfriend who are having sex.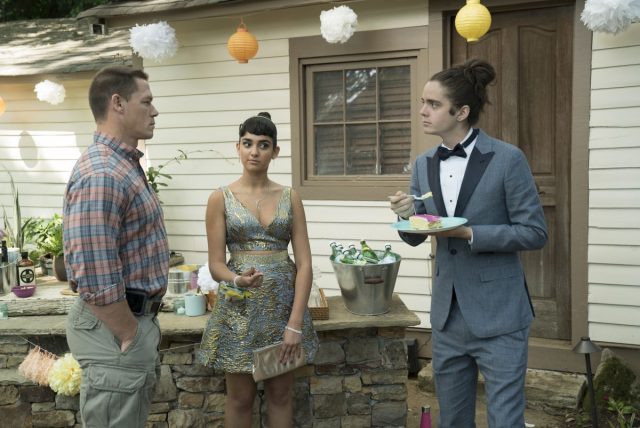 Talking about physical comedy, the two male leads are responsible for some of the best sequences in the movie. Ike Barinholtz, who is well known in the industry for his side-splitting performances on TV series MADtv (2002-2007) and Eastbound & Down (2012), pair up with Cena to deliver the goods. It is inevitable that you compare Cena (who had great cameos in Trainwreck, Sisters and Daddy's Home) with Dwayne 'The Rock' Johnson (Rampage). Without putting down either of these wrestler-actors, Cena is pleasantly amiable in this leading role.
There is a hilarious scene where Cena chugs beer in his butt with Barinholtz's assistance. As you'd expect, things go wrong and ahem, liquid is sprayed all over. In another highlight, these two burly men have an uproarious task of making it past a senior couple who are in the midst of having blindfolded sex. Their mission? To steal an address slip. Without giving too much away, let's just say this will go down movie history as one of the best comedic scenes ever.
The younger actors do not fare too badly either. Viswanathan, together with Kathryn Newton and Gideon Adlon, are the three girls who want a fun night out with their prom dates. It may be formulaic, but how each of these young characters has closure with their parents is truly heartfelt. This is quite an achievement for a teen sex comedy, a genre that often falls into the trap of simply focusing on the more sensational aspects of the topic.
There are plenty of laughs during this 102-minute movie and it is a breath of fresh air from the CGI-heavy blockbusters flooding the cineplexes. To further affirm that this is a no holds barred comedy that is highly entertaining to sit through, we are glad to report that you will see Cena's character bares his butt – more than once.
GEEK REVIEW SCORE
Summary
F-bombs! Butt chugging! Blindfolded sex! John Cena's butt! You don't need any more reasons to enjoy this outrageous teen sex comedy.
Story -

8.5/10

Direction -

9/10

Characterisation -

7.5/10

Geek Satisfaction -

9/10