The last car I reviewed was the Audi TT, a fun two-door sports coupe that preached 'less is more' on four wheels. Then the world as we knew it went pear-shaped, Zoom became a household name and there was a huge outcry over a survey about which jobs were regarded to be non-essential.
These are interesting times, and I'm not referring to the pandemic. I've been lucky enough to get behind the wheel of some impressive cars, but the A1 Sportback is the first time I've drive Audi's supermini. Having had a slate of car reviews cancelled due to the coronavirus-enforced Circuit Breaker, the A1 Sportback seemed like a good way to restart the car review programme and work my way up the range.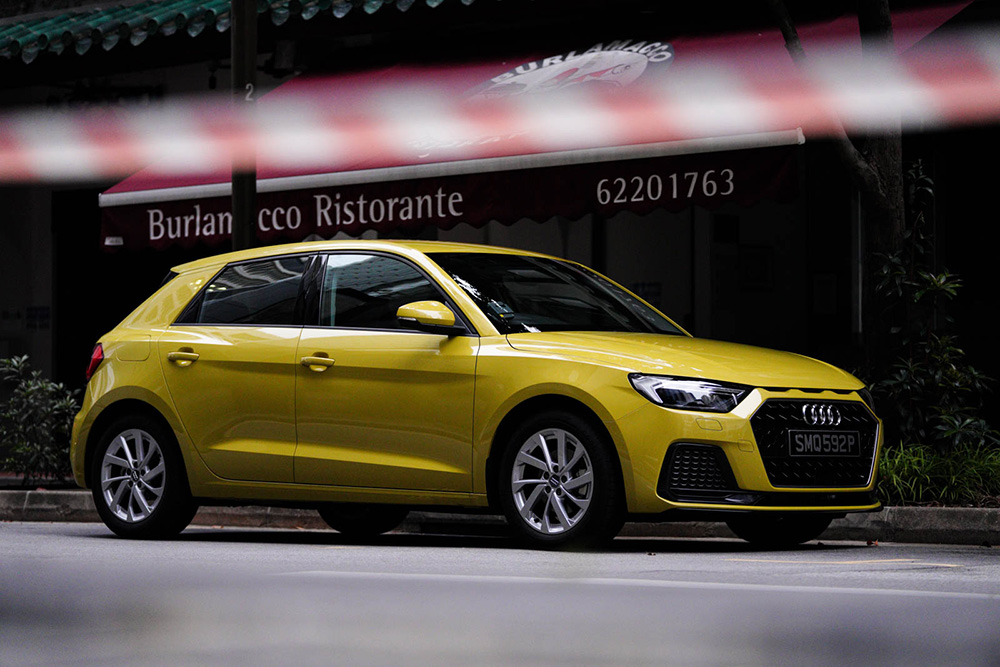 Where the previous A1 looked a bit bulbous, this latest generation's sharper lines create a more masculine and defined appearance, consistent with Audi's current design language. The longer wheelbase and increased length give the A1 Sportback greater on-road presence. The car looks sporty: three flat slits sit atop the wide and low Singleframe grille; implied (read: cosmetic) side air inlets adorn the front apron; and on the flanks, character lines running between the front and rear fenders make the hatchback look like it sits lower to the ground.
Inside the A1 Sportback, I put my foot on the brake pedal and looked for the engine start button, but it wasn't on the centre console. Where was it? After searching for what felt like an eternity, I eventually remembered this car doesn't have keyless entry or an engine start button.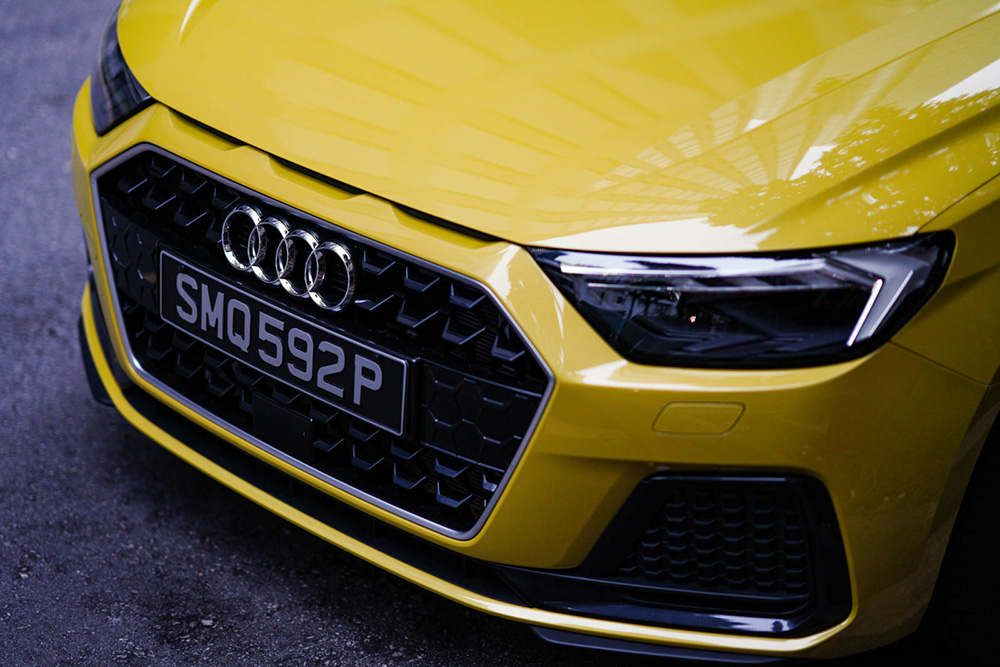 There's one thing to make clear before you close this tab on your browser. This press car is the Audi A1 Sportback Advanced, which is no longer for sale in Singapore. That's a non-issue, because its slightly more expensive S Line sibling is the one you want to consider instead. For an extra $2,166 (or 60 cents a day, assuming you keep the car for 10 years), you get the sporty S Line treatment like larger air inlets, a larger rear wing, and dark-tinted LED lights. The Audi rings on the Singleframe grille and model designation on the back come in black for a stealthy look. More importantly, your car will come with keyless entry (comfortkey, in Audi speak) and an engine start/stop button. This is 2020 – it's a chore and almost embarrassing to fish out your key fob when you want to lock or unlock the doors, or have to insert and turn the key behind the steering wheel to start the car. Even without any of the S Line cosmetic upgrades, that 60 cents a day is money well spent, if you asked me.
Mechanically, the Advanced and S Line variants' drivetrains are identical. The A1 Sportback's perky drive is powered by the same 1.0-litre turbocharged TFSI engine found in the Volkswagen Polo and the larger A3 – those familiar with the tiny three-cylinder power plant under the bonnet will know it's a plucky little thing. It delivers a modest 116 hp and 200 Nm of torque to the front wheels through a seven-speed S tronic dual-clutch gearbox.
Once it got going, the A1 Sportback's 1,125 kg kerb weight helped the car stay light on its feet. Its 9.4-second century sprint is half a second quicker than the larger and heavier A3 Sportback (albeit the outgoing model). On the comfort-biased 195/55/16 Goodyear EfficientGrip Performance tyres, the car was admirably responsive, although tyre roar was noticeable at highway speeds. The suspension was nicely balanced to handle both city driving and cross-country jaunts, and the damping tackled uneven road surfaces with impressive aplomb to keep affairs in the cabin very pleasant.
The round multi-function leather steering wheel was a pleasure to use. What came as a delightful surprise was the communicative feedback the steering wheel relayed from the front wheels, a departure from the ultra-light steering in most of Audi's other mainstream models that I've driven. Keen drivers seeking more engaging feedback, but feel a MINI's steering is too heavy, will probably like the A1's setup.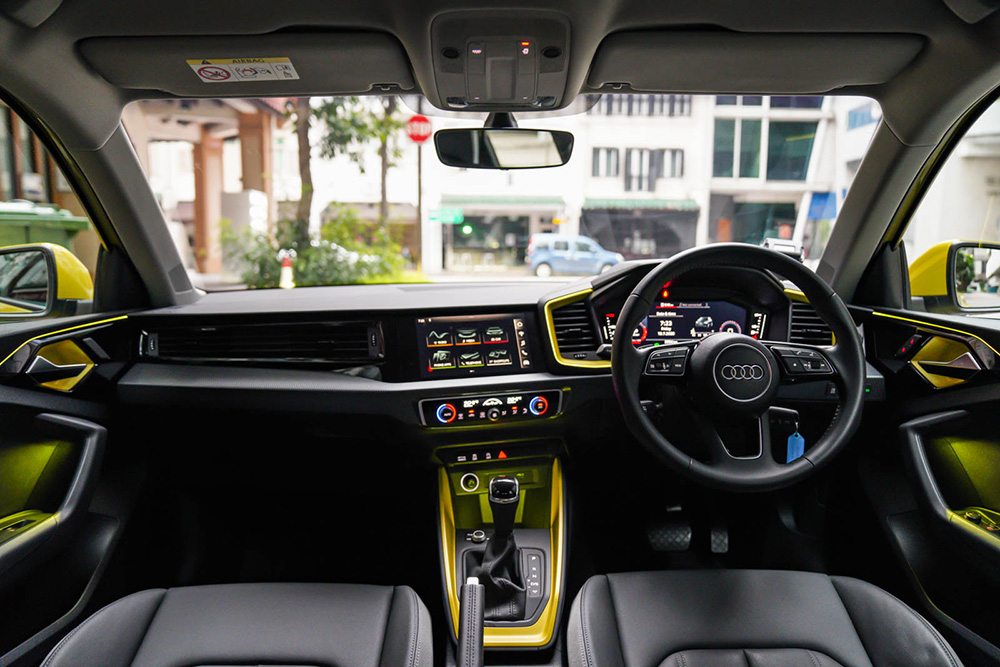 It would be remiss to say nothing of the interior styling. The A1 Sportback's angular lines and yellow satin accents (a zero-cost option) wouldn't be out of place on a Lamborghini Urus. It's not for everyone, but owners who don't fancy a bumblebee-like cabin will be relieved to know there's a more understated black-and-grey combination.
The cabin is quite well-appointed for a supermini – its design and functionality made it easy to forgive Audi's liberal use of hard plastics across many of the panel surfaces. Unlike the options in the A6 and A8 L that require a firm press with haptic feedback as confirmation of the touch input, the A1's is just a regular touchscreen (a rather high-resolution one at that), which reduces the amount of fingerprints and smudges left on the glossy surface. Apple CarPlay and Android Auto are both supported in the A1's MMI radio infotainment system. The Audi virtual cockpit is equipped as standard in the local configuration, alongside two USB interfaces (A and C). Together, they provide the digital connectivity options for the customer segment this car is intended for.
The A1 Sportback's practicality has also improved on its predecessor's. With an extended wheelbase and an increase in the hatchback's overall length, the rear seats are now more tolerable for adults on longer drives. Luggage capacity has also increased from the previous generation's, expanding from 270 litres to 335 litres, making it far more practical for a weekend north of our border (after travel restrictions have eased, of course).
No car is without its faults. In Sport mode, the gearbox had a tendency to lurch from first to second gear with a light throttle application, but worked seamlessly with a more assertive right foot. The droning tyre roar isn't a deal breaker as long as you remember where the A1 sits in Audi's model range. All-round visibility was good from the driver's seat, but the wing mirrors seemed limited in their field of view. And… that's about it, actually.
There are alternatives in the market, of course. The Volkswagen Polo Beats offers the same drivetrain for almost $30,000 less, although it doesn't handle or make a statement like the Audi. The A3 Sportback can be had for about $1,000 more and that affords more interior space, although this is the outgoing model waiting to be replaced by its successor. The entry-level variants of the BMW 118i and Mercedes-Benz A180 also become considerations if you're prepared to stretch your budget a little.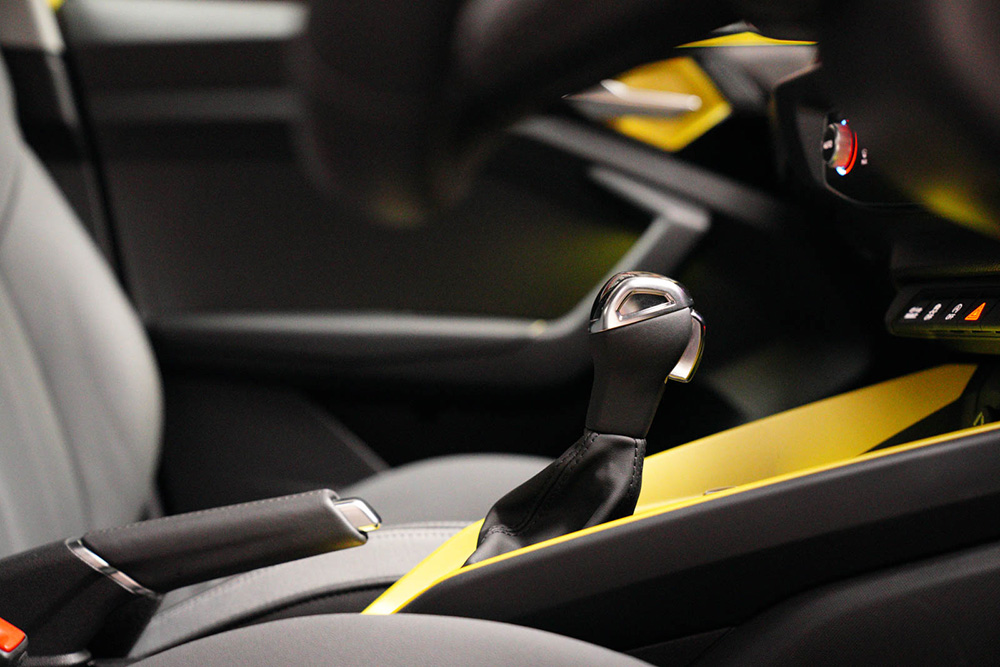 But back to the baby Audi. The more I drove the A1 Sportback, the more I took to it even if its Python Yellow paintwork wasn't my cup of tea. At its core is a car that's fun to drive, with modern technology features that will keep it relevant for years to come. Just ensure your car comes with keyless entry and an engine start button.
Special thanks to Audi Singapore for this opportunity.
The photos in this review were shot with the Sony a7R IV 35mm full-frame camera and 24-70mm f/2.8, 85mm f/1.4, and 70-200mm f/2.8 lenses. These were part of a two-week loan programme by Sony.
---
The original version of this article first appeared on Eat.Fly.Drive.
GEEK REVIEW SCORE
Summary
The A1 Sportback looks bold and is a fun car to drive, but are these enough for it to overcome some stiff competition?
Handling -

8/10

Performance -

7/10

Design -

8/10

Comfort -

8/10

Practicality -

8/10

Value -

7/10
---

Drop a Facebook comment below!