So just a couple of weeks ago, ASUS asked if I would be keen to try out the ASUS ZenWatch 3, the third iteration of its popular ZenWatch line-up.
I mentioned that I was an iPhone user, and the ZenWatch is meant to complement Android users, but I was told to still give it a try, based on an Apple user's perspective.
First Impressions
Our watch came in a dark blue watch box, with the ASUS ZenWatch3 words written in gold. Opening the box, we are greeted with just the watch itself, as well as the documents hidden under a false panel, giving users the impression of a watch that is ready to go right out of the box.
Turning on the watch was pretty straightforward – just hold down the middle button for about three seconds or so. On the first boot, the watch will prompt the user for their preferred language, after which there would be a pairing code, which would need to be confirmed from the Android Wear app. Users would then need to download the Android Wear app, sign in with a Google account, turn on their Bluetooth, search for the watch and then just pair with it. This process, which sounds tedious, is actually very fast. I got my watch out of the box and paired in about 5 minutes or so, with no frustrations or problems at all.
A Beauty Out of the Box?
Our review set is the black case version with copper accents. In terms of design, the ZenWatch 3 adopts a classic chronograph shape, instead of the Tonneau-shape that the ZenWatch 2 used. This is a much better design, as a chronograph shape tends to fit closer to the wrist, looks more slick and would generally fit better under shirt chuffs. At 9.95mm, it's extremely thin. In fact, it's even thinner than the Apple Watch Series 2, which is 11.4mm. This is perfect for people like me, who have small wrist, as this also makes the watch look less chunky as compared some of the other smartwatches out in the market.
The ZenWatch 3 is covered with Gorilla Glass, which should stand up again everyday usage, and should provide moderate scratch resistance. Alas, it is not encassed in the sturdier sapphire glass used in the higher end models of the Apple Watch 2.
Using the ZenWatch 3 for about 3 weeks, I was actually quite impressed. Firstly, I have gotten tons of compliments from friends, and even random strangers, about how gorgeous this watch looks.
The watch comes a genuine leather strap and ours was the chocolate colored one. However, it does not feel as premium as the one found on the Apple Watch, which is quite a missed opportunity on ASUS's part, to have a premium strap compliment the watch.
The straps are held in place using a latch system, instead of the usual spring bar system found on most watches. While this does it make it easier to remove, it also means that users are restricted to buying the straps from ASUS, as there are lack of third party options. Users would also have to take note of the watch lugs, which extends quite a bit.
In terms of functionality, Android Wear devices devices are not as user friendly as Apple watches. For example, users are not able to reply messages through the watch here. However, other smartwatch functions, such as app notifications, incoming call notifications, Google Assistant, and fitness tracking are built into the device. Sadly, there is no Android Pay though.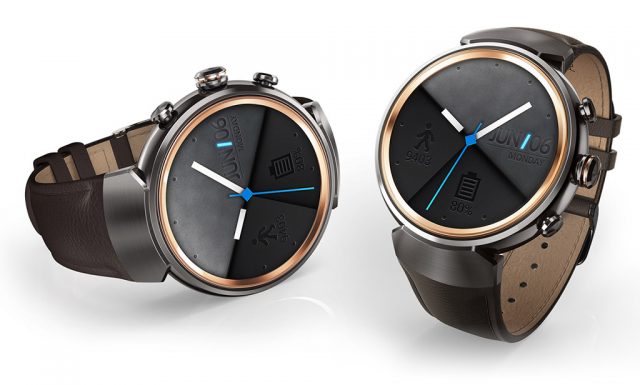 Notifications on the ZenWatch 3 are displayed as small notification cards, with white text on a dark background that provide better contrast for easy reading. It also saves battery and makes it less annoying when the watch lights up. The AMOLED display works extremely well even in outdoor conditions, as colors and text did not appear to be drowned out by the ambient light. One slight hiccup – the auto brightness feature actually favors dimming the watch too much, and I had to manually adjust it.
In terms of the watch's ring volume, it's actually quite loud on the highest setting. The vibration mode is also quite strong, for those of you that prefer their watches to be on silent mode.
Using the Android Wear app allows the wearer to change the watch face, to suit his or her mood. While this was extremely easy to use, there are only a handful of designs available and it would be nice if users were allowed to upload their own watch faces. The Zenfit App is also quite straightforward to use, and launching it simply requires the press of the top button. Aside from tracking your workouts, the watch also serves as pedometer, to track the number of daily steps you take. If you are into that sort of thing. I did however wish there was a built in heart rate monitor, to complete the whole Zenfit package, but that is probably reserved for flagship devices.
ASUS has also included a magnetic charging dock for charging this watch, and orientating the watch's charging port to the 4 charging pins would cause both items to snap into place. ASUS has also implemented a quick charge feature into the watch, for those who are always in a hurry, and this allows the watch to be charged from 0% to 60%, in just 15 minutes. If you're a heavy user, you will find that the watch runs out of juice after about 10 to 12 hours of use.
Conclusion
Has the ASUS ZenWatch 3 convinced a non-believer like me to believe in smartwatches? The answer is a yes, as it did help me stay on schedule most of the time, through calendar notifications. It also helped to direct my smartphone addiction, by making me addicted to reading my social media notifications on the watch instead. Retailing at S$369, this is probably one of the cheaper major branded smart watches out there, while also offering a bit of bang for your buck, though some features, such as a lack of a GPS, can get infuriating if you really need it.
The ZenWatch 3 is actually quite a great smartwatch for its price and features. I definitely convinced a non-believer like me to seriously give it some thought on purchasing it.
The ZenWatch 3 is now available at all authorized ASUS retailers.
---

Drop a Facebook comment below!