ASUS Republic Of Gamers (ROG) was founded in 2006 with the goal to create the best gaming experiences for PC gamers, and while most consumers would be familiar with their laptops and desktops, ROG's line of products extends to peripherals as well. What started out as a line-up of the popular ROG Crosshair motherboards, has now grown to include gaming routers.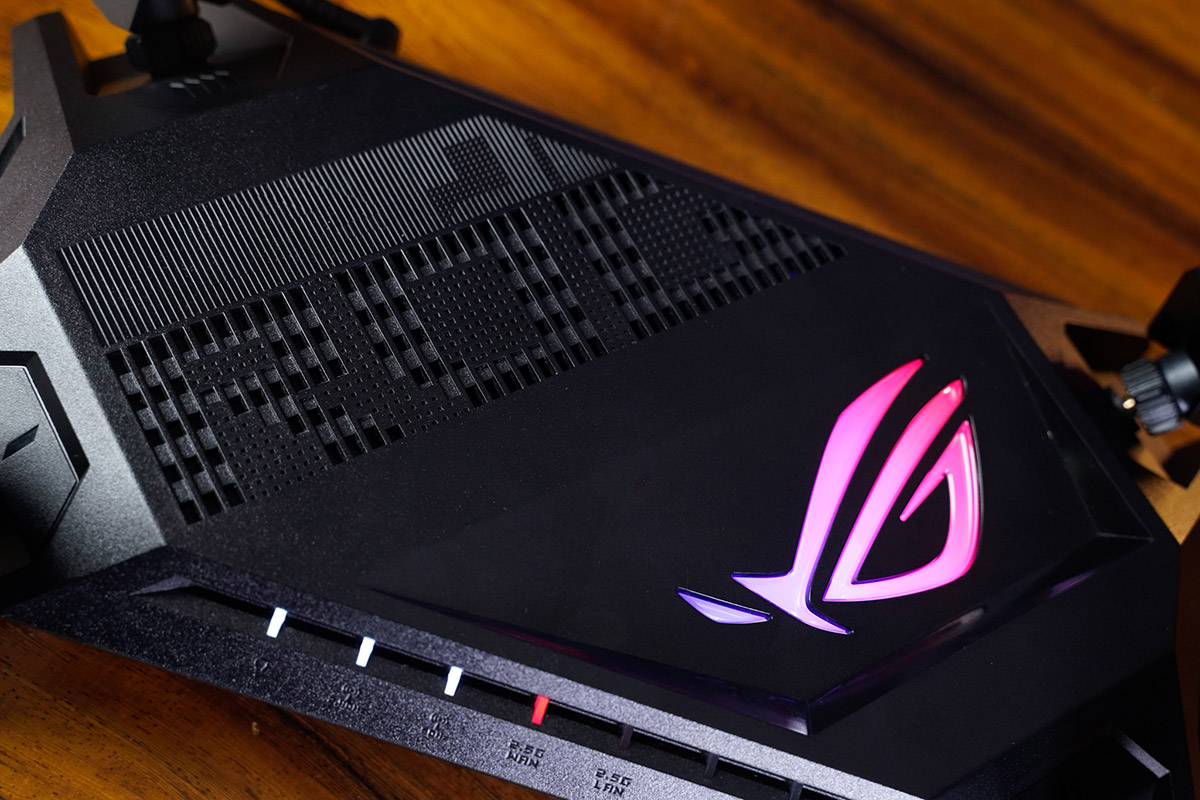 The ROG gaming routers are designed with features, tools and optimized network routing for low latency gaming experience, even in a crowded multi-device environment. And the latest, announced in November last year, is the ASUS ROG Rapture GT-AX6000, which boasts Wi-Fi 6 performance that delivers wireless speeds of up to 6000 Mbps with ASUS RangeBoost Plus for enhanced range.
Wi-Fi 6, also known as IEEE 802.11ax, is the next update to the wireless networking protocol that can offer faster throughput speeds, improved security with WPA3, less bandwidth congestion and allows routers to communicate with up to eight devices via MU-MIMO (multi-user, multiple input, multiple output).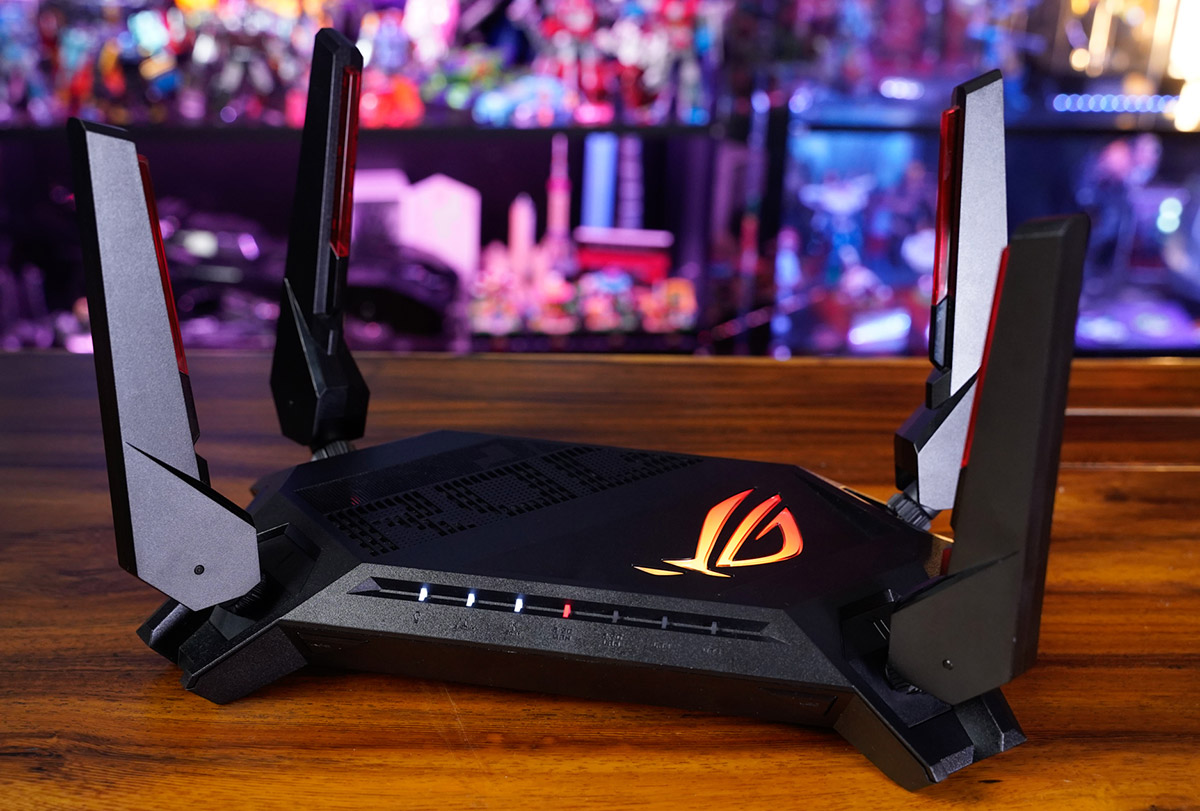 Measuring 33 x 19 x 6cm, the GT-AX6000 is massive when compared to most wireless routers on the market. It weighs 1.1kg and sports the ROG logo on its top. Our review unit comes with the power adapter, RJ-45 ethernet cable, quick start guide and four external antennas. You will need to screw in the antennas at each corner, for maximum coverage of signal transmission and stable Wi-Fi performance. The ROG logo lights up to a breathing bright red glow when powered on, though you can choose to change the color through the software configuration. Sadly, the four antennas do not light up like the router's body, though it would be pretty cool if they did.
The rear of the GT-AX6000 holds dual 2.5Gbps WAN and LAN ports that support link aggregation and load balancing, and provides massive bandwidth to connected devices as well as maximizing ultra high-speed Internet connections. There are also four Gigabit Ethernet ports to connect to your other devices, a USB2.0 and a USB 3.2 connectors.

For a more effective set-up, users are required to download the ASUS Router app on their mobile phones, and run through the setup process from there. Using the mobile app is straightforward – simply turn on your GPS location, select the router, create your wireless network SSID and password, and finally set up the wireless router's administrator username and password. Do note that the administrator password has to be alphanumeric with a special character. But what if you do not want to download another app in your app-bloated mobile phone or do not have one on hand?
Well, you can still do it the "old school" way, by simply connecting a PC or laptop to the GT-AX6000 via an Ethernet cable connection. Open the web browser and point the URL address to 192.168.50.1 and users will be directed to the router's configuration page. As a dual channel router, the GT-AX6000 transmits and receives data on 2.4GHz and 5GHz frequency bands. The 5GHz frequency band is ideal for connection as it provides higher data rate over a smaller coverage area, while the 2.4GHz offers lower data rate, but across a much larger coverage area. You may want to note that the GT-AX6000 does not support the latest Wi-Fi 6E standard that can utilize the 6GHz frequency band.
The GT-AX6000 incorporates various unique features such as Mobile Game Mode, ASUS AiMesh and ASUS AiProtection Pro. When you turn on the Mobile Game Mode, the router will give priority to your mobile device, reducing ping time while you game away. The ASUS AiMesh lets you create a home-based mesh Wi-Fi system using two or more compatible ASUS routers. This means you can mix different AiMesh-compatible routers, or add new ones to improve coverage seamlessly and conveniently in your apartment, or multi-storey home.
With the growing number of cyberattacks, it is crucial to protect your private data as well as young family members from the dangers of the Internet, and that's where the ASUS AiProtection Pro comes in, providing the latest WPA3 security protocol and advanced Parental Controls that the company developed to provide security for everyone at home. It has automatic and regular updated security signatures to protect all devices and personal data from Internet threats, as AiProtection is synced with Trend Micro's cloud database on the latest signatures for intrusion prevention, malicious site blocking, as well as content filter features. Surprisingly, this feature comes bundled with the device as there's no indication of a separate fee needed to use it.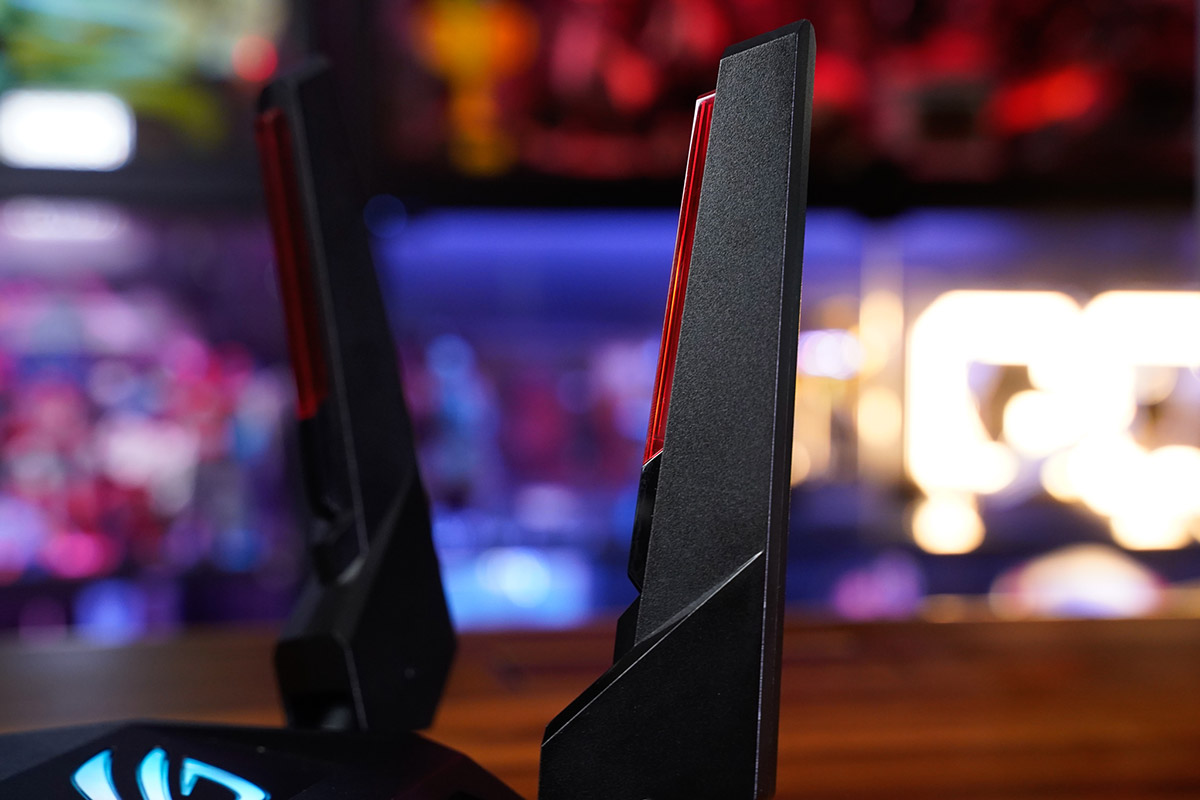 The ASUS router is powered by a 2GHz 64-bit quad-core Broadcom CPU which touts superior performance, accelerated data transfers and optimized gaming experience. Many factors determine the speed received in your home, including your service provider and type of equipment, and even the cement walls you have situated between the router and the connected device, so to gauge its wireless performance, we connected a Windows desktop PC via Ethernet to the GT-AX6000, and used a laptop connected wirelessly to the router, to download a 4.3GB file from the desktop across the apartment.
A laptop wirelessly connected to the ASUS ROG router in a room 5 meters away, separated by one wall, was able to download the 4.3GB video file in 2 minutes and 8 seconds at 33.5MB/sec. The same test, conducted in another room 9 meters away, and separated by two walls did the same task in 6 minutes 7 seconds, at 11.7MB/sec. It's a healthy performance, though if you do live in a bigger place, picking up several units to mesh up the whole house might be more expensive than investing in a purpose-built mesh system, such as those from Asus or Linksys.
On the whole, the GT-AX6000 performs well and would serve your networking requirements. If you don't mind the lack of Wi-Fi 6E support, the ASUS ROG Rapture GT-AX6000 is available now at S$699.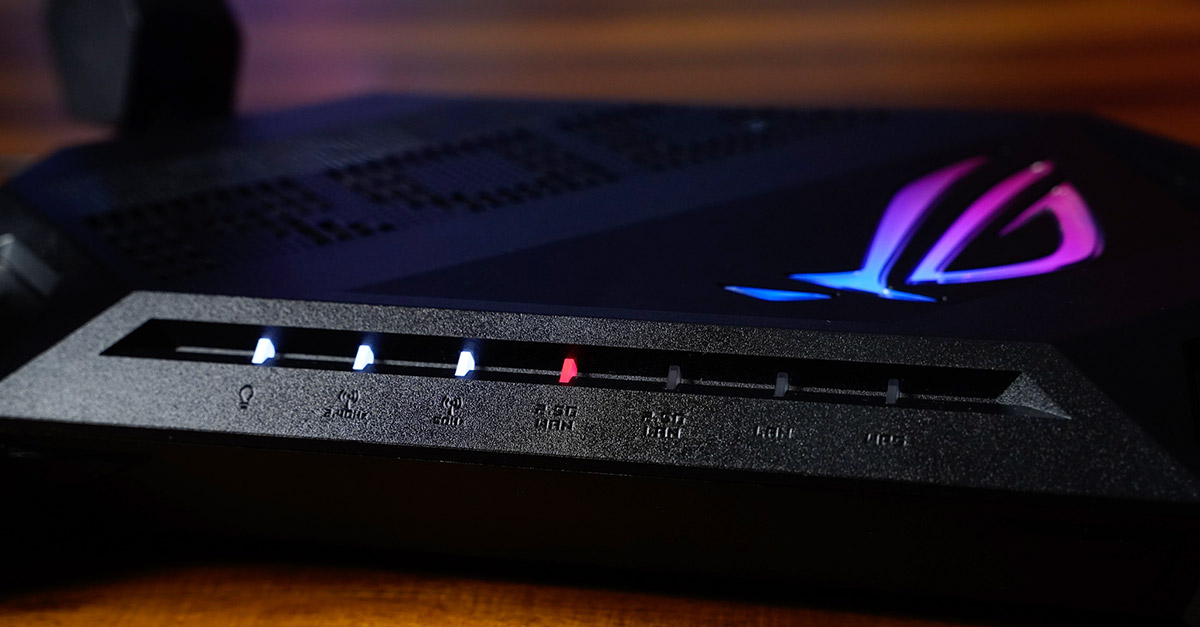 GEEK REVIEW SCORE
Summary
The ASUS ROG Rapture GT-AX6000 is a stylish Wi-Fi 6 router packed with various features that would appeal to most gamers.
Aesthetics -

9/10

Build Quality -

9/10

Performance -

8.5/10

Value -

7.5/10

Geek Satisfaction -

8/10
---

Drop a Facebook comment below!