A screen is a display is a monitor. In the world of PC displays, the innovation has been pretty much stagnant, with monitors only getting larger, and having higher resolution.
Then recently, hardware companies started to shift their interest to the gaming monitor segment, and that's where things started getting interesting. Aside from the usual higher resolutions and larger screen size, the third factor determining a screen's value is its high refresh rates. Gone were the days of 60 Hz refresh rates, and consumers could pick from 100 Hz, 144 Hz and even 200 Hz.
The curved screens entered the picture (pun intended) and the age of immersive gameplay, designed to provide the user with a panoramic effect got gamers to take notice, whether they were slaying the Burning Legion in World of WarCraft (WoW), or planning the next big heist in Grand Theft Auto V (GTA V).
Introduced as a concept product during last year's Computex in Taiwan last year, the ASUS PG348Q has now become a reality. What started as a concept by ASUS to enter the curved ultra-wide gaming market has become a finished product, and as it sits on our desk, we cannot help but admire it wistfully. We are lost in its beautiful curved 34-inch 1440p resolution screen, supported by a gorgeous looking stand that some might hate, due to its massive size.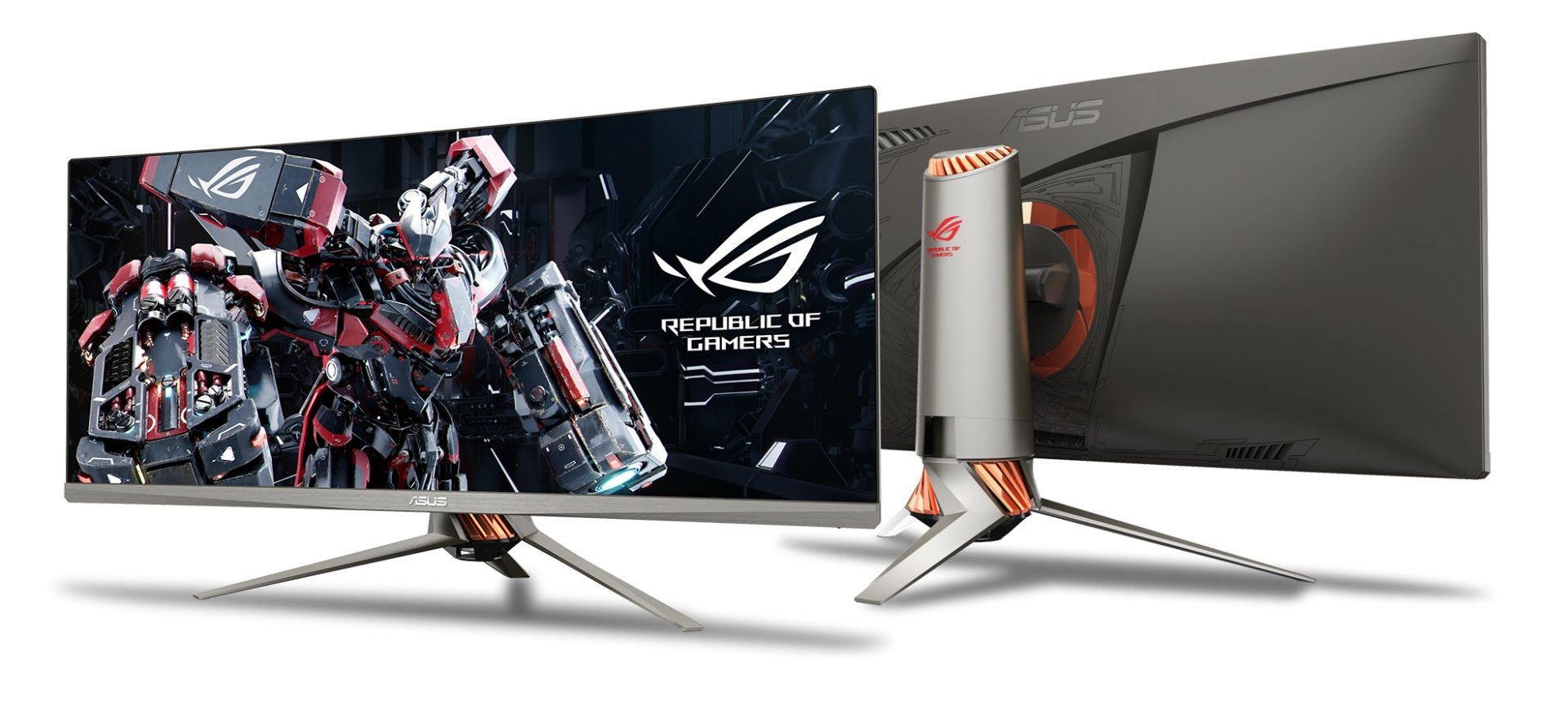 The PG348Q sports a curved ultra-wide 1440P IPS screen, with an almost frameless side edge, along with top bezels complemented with a brushed aluminum plastic lip, and a small silver ASUS logo in the middle. At the rear, there are 4 vents used to dissipate heat from the panel, which sits by the connector for the stand, 4 OSD (on-screen display) buttons, a joystick for the OSD, as well as the rear IO (input and output).
The rear IO comes with 1 x DisplayPort 1.2a port, 1 x HDMI 1.4 port, 1 x power connector using an ASUS power brick, 1 x USB3.0 upstream connector, and 4 x USB 3.0 ports. The PG348Q supports the standard VESA mounting options of 100mm by 100mm, and the included stand supports height adjustments from 0 to 115mm, as well as a swivelling angle of +50 degrees to -50 degrees, and a tilt of +20 degrees to -5 degrees.
The height adjustment and tilt for the PG348Q is very smooth and fluid, with little indication of how heavy the panel actually is. Right below the stand, there is a light that projects the ROG logo onto your desk, which looks extremely cool and totally badass. The light's intensity can be adjusted up to 4 levels, with 1 having no light, and 4 being the brightest. For connectivity, you get 1 x DisplayPort, 1 x HDMI, 1 x USB 3.0 Upstream, 4 x USB 3.0 Ports, and 1 x 3.5mm headphone jack.
Real Life Testing
As usual, we swapped out our daily driver monitor, the Dell U3415W, with the PG348Q. Both are 34-inch ultra-wide curved monitors, with the minor differences being that the ASUS PG348Q supports G-Sync, has a higher refresh rate, and a cooler looking monitor stand. Users who first use this monitor, or any other G-Sync compatible monitor, would realize that G-Sync only works with DisplayPort connections on a compatible Nvidia graphics card, and not via HDMI at the moment, due to the hardware limitations.
Once we connected the monitor, enabling the G-Sync was as simple as opening the "NVIDIA Control Panel", going under "Display", and selecting "Set up G-Sync". Check the "Enable G-Sync" box, and select "Enable G-Sync for windowed and full screen mode."
Adjusting the refresh rates on this monitor is very simple, thanks to ASUS's implementation of the "Turbo Key", which allows users to seamlessly switch from the stock 60Hz, to 100Hz with a single push of the button found at the back of the monitor, right above the power button.
Alternatively, users can also press the joystick, which would bring up the OSD, which has the overclocking function. This allows users to fine tune the refresh rates between 60Hz, all the way to 100Hz. Users would also be happy to know that ASUS has also included GameVisual Technology in the OSD, which comes with 6 display mode presets, and calibrated for different settings such as RTS, FPS, sRGB, Cinema, Scenery and Racing. This feature allows the user to easily select which mode suits their current usage.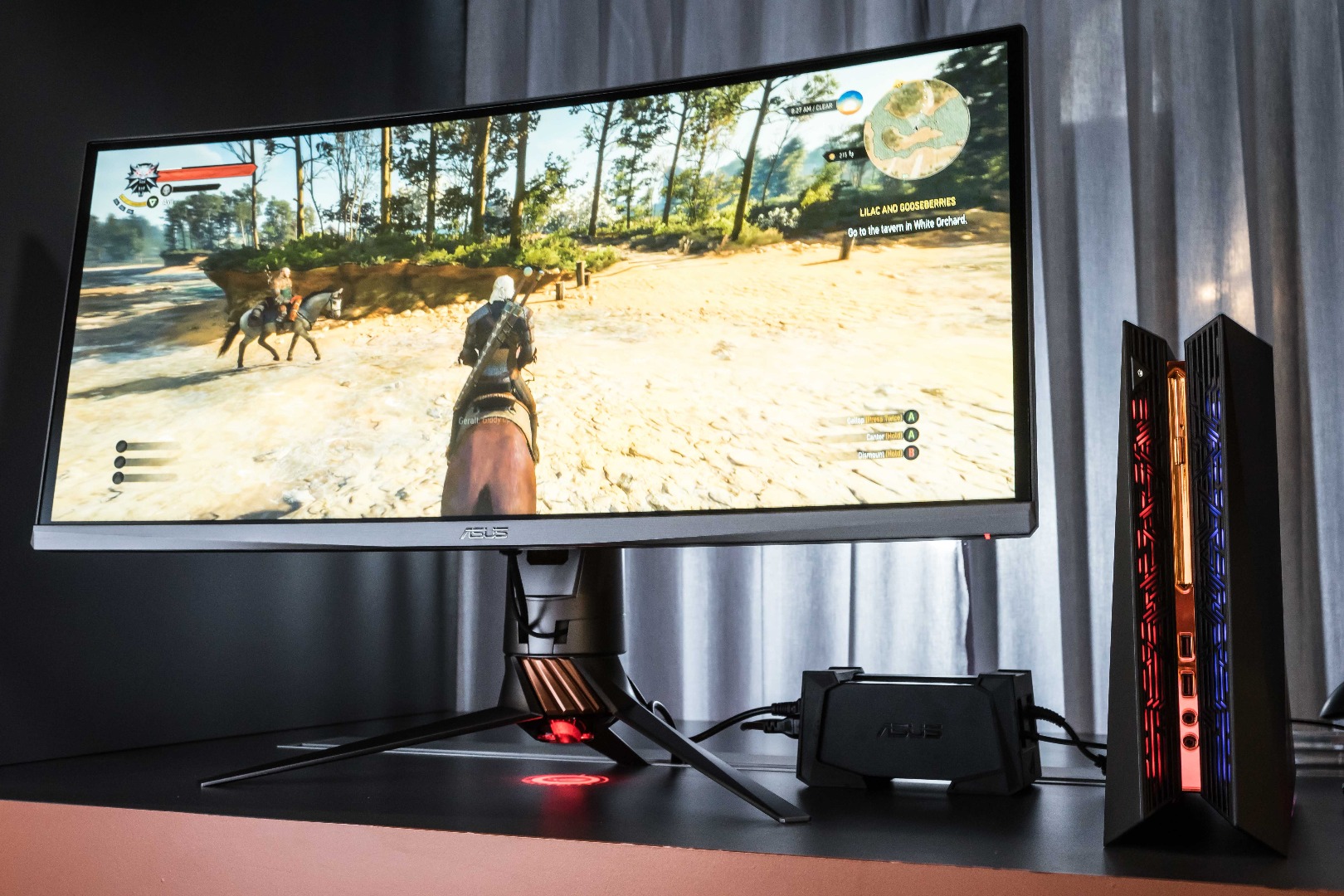 Using the monitor was an extremely enjoyable experience, all thanks to its buttery smooth graphics. This is done using the G-Sync module, which synchronizes the frames being output by the graphics card, to the refresh of the monitor itself. This eliminates screen-tearing, allowing for super smooth frame rates. This was especially apparent in first person shooters like Overwatch and GTA V.
I found myself hooked on GTA V, running down the street Los Santos and racing down the countryside. The immersion of being lost in the game, simply because of how beautiful and realistic the game looks, is an incredible one, but not all games are able to take advantage of G-sync. This includes multiplayer online battle arena (MOBAs) titles such as DOTA 2 and League of Legends, and real time strategy (RTS) such as StarCraft and WarCraft.
As with many monitors with built-in speakers, the ones here are unimpressive and forgettable. Lacking in both bass and treble, game audio and music sound flat, and lack any sense of depth. Something, I feel that monitor manufacturers should really consider scrapping the whole built-in speakers offering, as it is quite impossible to fit decent sounding speakers onto a slim panel, without adding to the thickness of the monitor itself.
At S$2,099, this is not the cheapest 34-inch 100Hz ultra-wide curved monitor in the market, and one can easily find other cheaper brands out there. The extra premium is more for aesthetics, as users get a monitor that aesthetically pleasing, with its extreme gorgeous looking stand and cool looking under-glow. Then, users get that all so easy to use On-screen display function, which comes with a one-button turbo key that instantly overclocks the refresh rate to 100Hz.
We would have loved to see more connectivity options, such as maybe having one more DisplayPort, and maybe one mini-DisplayPort, so that users can have other choices of connection. Also, the placement of the USB 3.0 ports can be better, as it is quite hard to reach at the back. At S$2,099, this towers above the competition though and ASUS might want to compare this with models from their competitors, and maybe make some price adjustments.
This is a very nice monitor, with all the specs that most gamers would desire, and it would be an ideal monitor for a dream setup. If potential buyers can get past the price tag, there is another point to note. NVIDIA recommends a minimum of a GTX 980Ti for the graphics card to power this monitor.
---

Drop a Facebook comment below!