Sometimes, size does matter, and there's a reason why desktop rigs are the preferred gaming choice over laptops, as the added power and speed in a larger chassis brings seamless, robust performance to the PC experience. This age-old reasoning however, has been dispelled in recent years, as more companies shift their focus to building compact models that boast the same, or near-identical, facets of functionality.
Singapore-based hardware and PC maker Aftershock PC is no stranger to the craft. Known for its top-of-the-line purpose-built rigs, the team takes on the quest to pack extreme performance into leaner chassis builds, while continuing its development of powerful systems at an affordable base price.
Aftershock Horizon is the name to look out for, stepping in to demonstrate how small form factor (SFF) PCs are moving out of the niche market, and becoming an increasingly popular choice for the mainstream crowd. The journey of reduced footprint begins with its stealthy, elegantly modest look, which drenches the entire steel chassis in black.
Where loud and vibrant are key traits of gaming-centric devices, the battle station ditches all of that colourful excitement for a minimalist-looking front labelled with nothing but the 'Aftershock' lettering. The low-profile design also bleeds to the sides, taking the form of a mesh panel in the ITX setup that drowns out some of the bling from its internals, and doubles up as ventilation. Those who prefer a see-through aesthetic, however, may opt for the tempered glass alternative with the MATX setup, showcasing the components and lighting in greater detail.
One of the greatest appeals of the Horizon, just like the other SFF models on the market, is its diminutive stature. Measuring just 391 x 185 x 303mm, it doesn't require as big of a space that standard-sized rigs need, which means users can place it on their desk for convenient access to the ports, instead of having to reach low and locate them. These include two USB-A ports, a mic inlet, and a 3.5mm jack on the front-top ledge, as well as HDMI connection, a DisplayPort, and additional USB-A ports and audio inlets on the rear.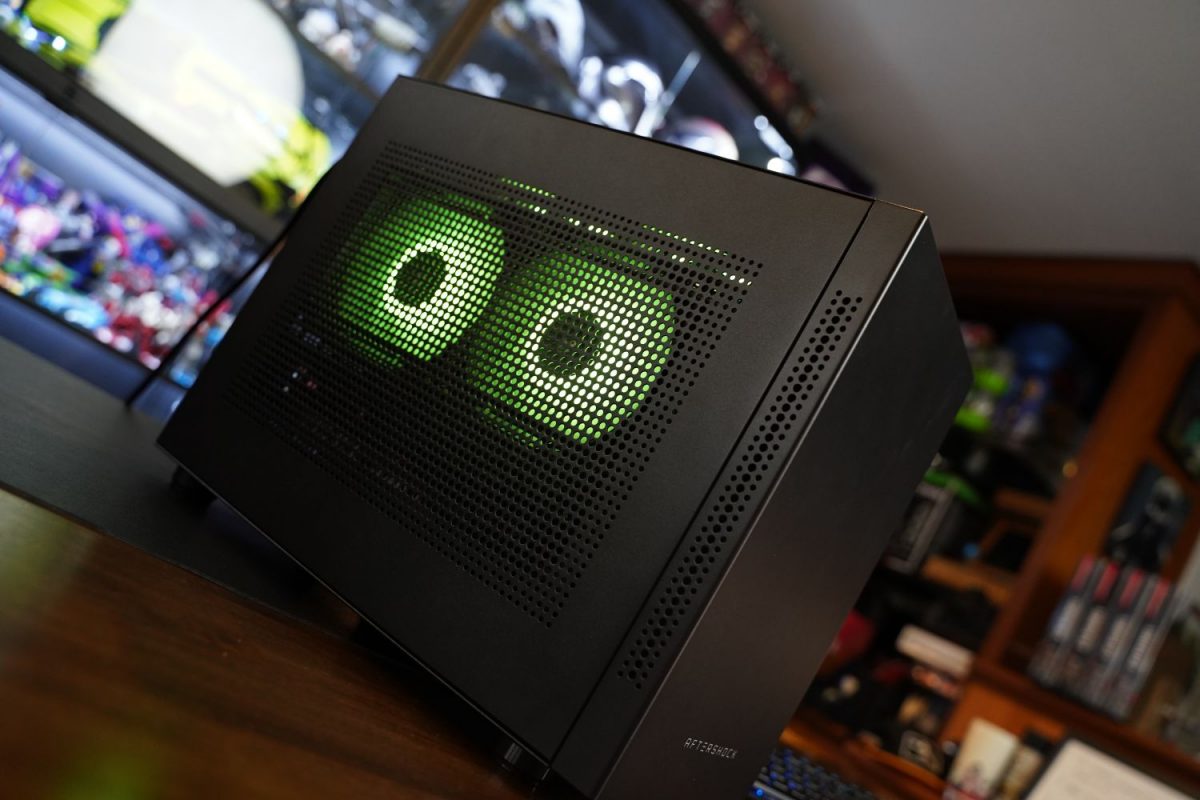 A potential issue over time, though, would be the gathering and trapping of dust, especially so for the mesh panel. While the neat, perforated design introduces variety to an otherwise flat expanse, the lack of a dust filter lends an easy outlet for particles to infiltrate and accumulate on the inside, causing possible overheating, internal damage, and increased failure of critical components. Regular maintenance and cleaning are, as such, highly recommended.
Putting the Horizon through its paces with a series of real-world tests yielded impressive showings. The top-end combination of an NVIDIA GeForce RTX 3070Ti GPU and AMD Ryzen 5 5600X six-core processor delivered great graphical performance in Horizon Zero Dawn, Apex Legends, and Red Dead Redemption 2, with little to no sign of stutter, crashes, or freezes.
Frame rates, meanwhile, were largely consistent, despite dropping slightly during CPU-intensive moments, such as when fighting multiple machines at the same time as Aloy, or hot-dropping into Fragment East and engaging in a five-way squad battle. With Horizon Zero Dawn, the frame rate hovered around an 80 to 85 FPS average on maximum settings, while Respawn Entertainment's battle royale shooter clocked an estimated average count of 135 FPS. Red Dead Redemption 2, notoriously known for its sub-60 FPS performance, capped at a respectable 55 FPS on Ultra settings.

These figures seem to line up rather well across three benchmark tests. On PCMark 10, the Horizon bagged an overall score of 7,531, with the Essentials, Productivity, and Digital Content Creation categories clocking 10,108, 10,060, and 11,399 respectively. In comparison, the average score reads 7,408, which puts its performance slightly ahead of others.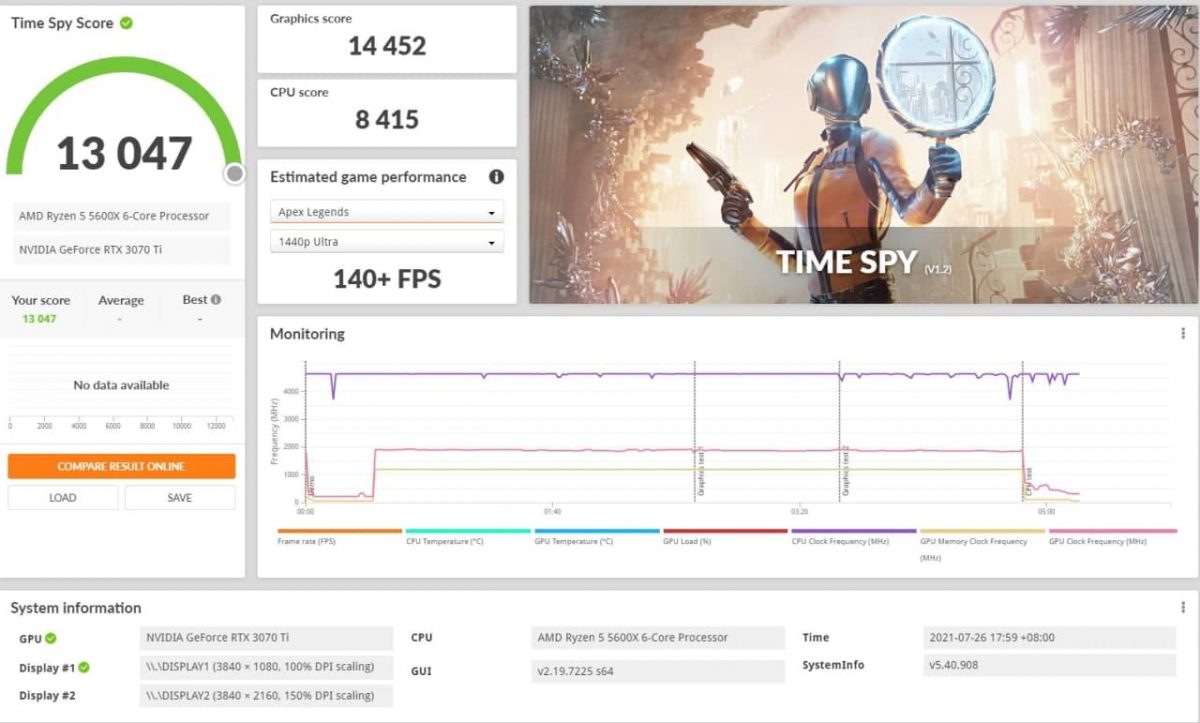 Cinebench R23 also showcased similar findings, with the Horizon scoring 10,818 – just above the average of 10,422. In 3DMark Time Spy, however, its score misses the average by a hair's breadth, clocking 13,047 (14, 452 for Graphics and 8,415 for CPU) to narrowly fall shy of the 13,102 mean reading. The general statistical results, along with the negligible difference, have established Aftershock's SFF PC as a competent, solid machine for gaming that pushes out satisfactory and smooth performance in the area of content creation as well.
A telling sign of its struggle-free handling is the lack of fan noise and overheating, a dreaded combination present in some rigs and most gaming laptops on the market. In place of loud, grating whirrs, the Horizon gives off silent purrs instead, offering both good thermal management and a lowered noise profile that carry content creators through their day-to-day tasks on Premiere Pro, After Effects, and other software of similar nature.
For better work or entertainment management under heavy-duty duress, users can add up to seven fans or more AIO cooler options for enhanced airflow, the latter of which is only exclusive to the ITX edition. An increase in CPU temperature will always be recorded when running demanding applications and gaming titles – especially after prolonged periods of use – but the difference here is kept to a small jump at worst, and remains sufficiently optimal such that the surrounding area doesn't feel aggressively warm.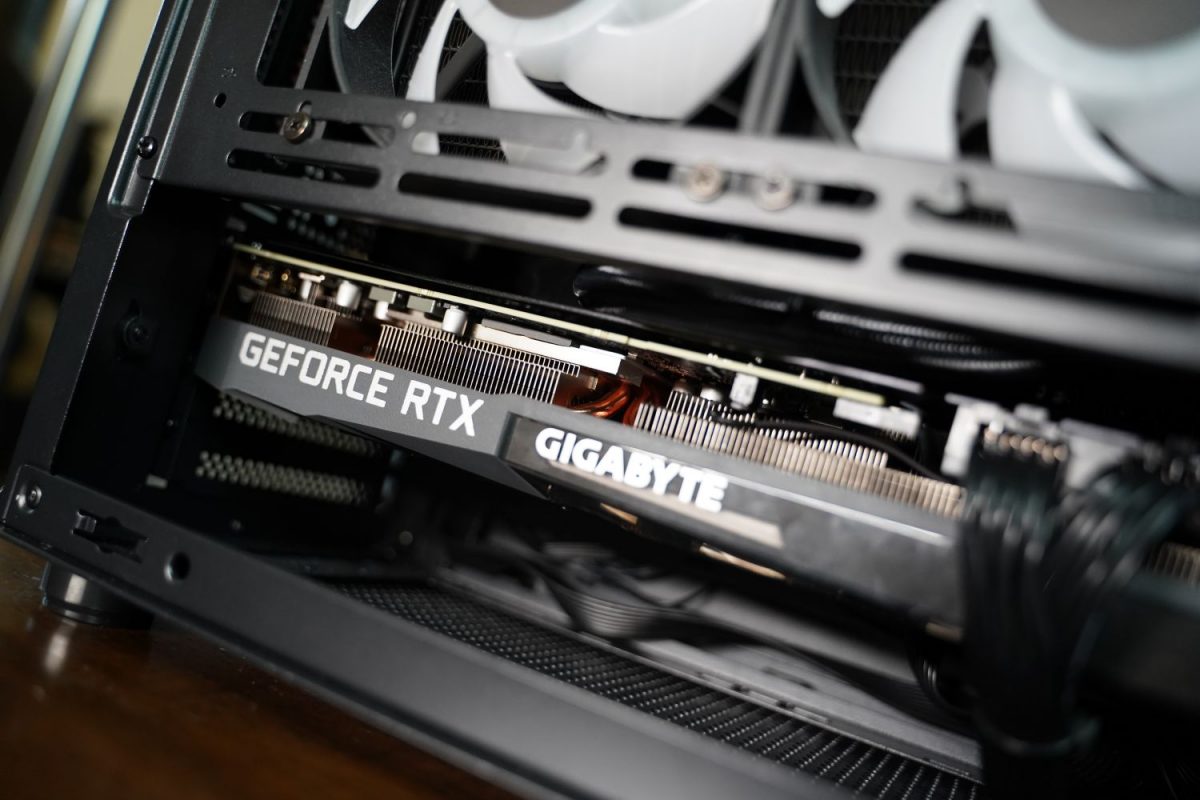 The Horizon, as part of the Aftershock line-up, naturally ships with the company's signature element of customisability. Enthusiasts are, as such, able to choose from a wide range of different performance options for their rigs, bringing increased versatility to the table. Depending on the chosen chassis, various CPU options belonging to the AMD or Intel variant will be available for mix-and-match, with the high-end options set aside for multi-core gaming prowess, and the mid-range ones for a more casual setup.
All of that can be a pre-built arrangement, but those who enjoy the do-it-yourself excitement of building and customising rigs with their own hands will find themselves breezing through the process. To facilitate the removal or addition of components, Aftershock has equipped the SFF PC with an easily-detachable side panel that users can take off to access the internals. The result is a smooth, effortless slide-in-and-out experience that will also come in handy for cleaning and maintenance.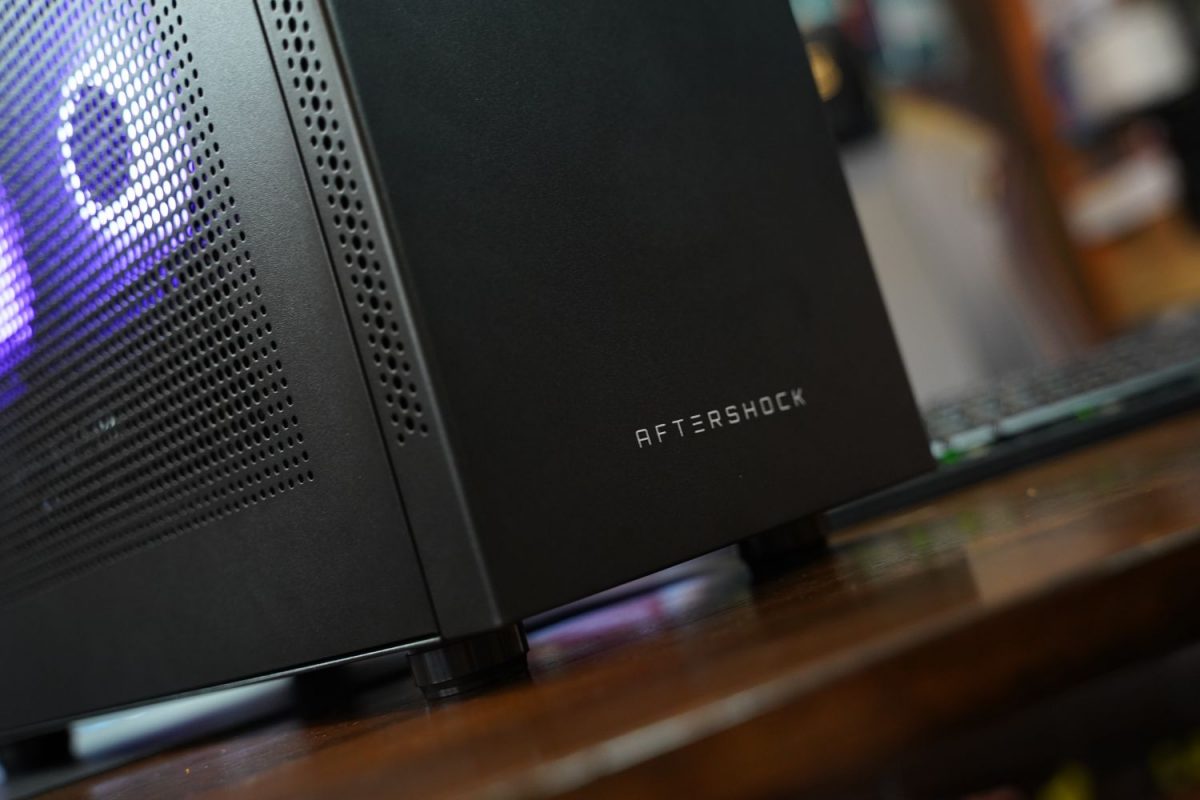 A lean and mean workhorse, the Aftershock Horizon SFF Gaming PC offers a taste of great gaming proficiency from an affordable S$1,255 base price. There's plenty to like about it, from its smaller stature and low-profile design to smooth-running performance, with the absence of major caveats only cementing its position as a solid, competent alternative to bulky battlestations. Power comes with size, you say? This humble-sized Herculean proves otherwise.
GEEK REVIEW SCORE
Summary
The Aftershock Horizon has shown that size doesn't always matter, as it combines top-of-the-line performance with versatility, optimised cooling, and compact convenience with impressive ease.
Aesthetics -

8.5/10

Build Quality -

8.5/10

Performance -

9/10

Value -

8.5/10

Geek Satisfaction -

9/10