When it comes to gaming desktops, performance and power are often anchored to size, but this idea that bulk equals power is already a thing of the past. Aftershock PC, known for its top-of-the-line purpose-built PCs and laptops, has long ditched this stereotype, packing powerful, award-winning hardware into the sleekest gaming rigs that one can only imagine. It comes as no surprise then, that this nine-year-old Singapore brand continues to develop incredible systems at every price point.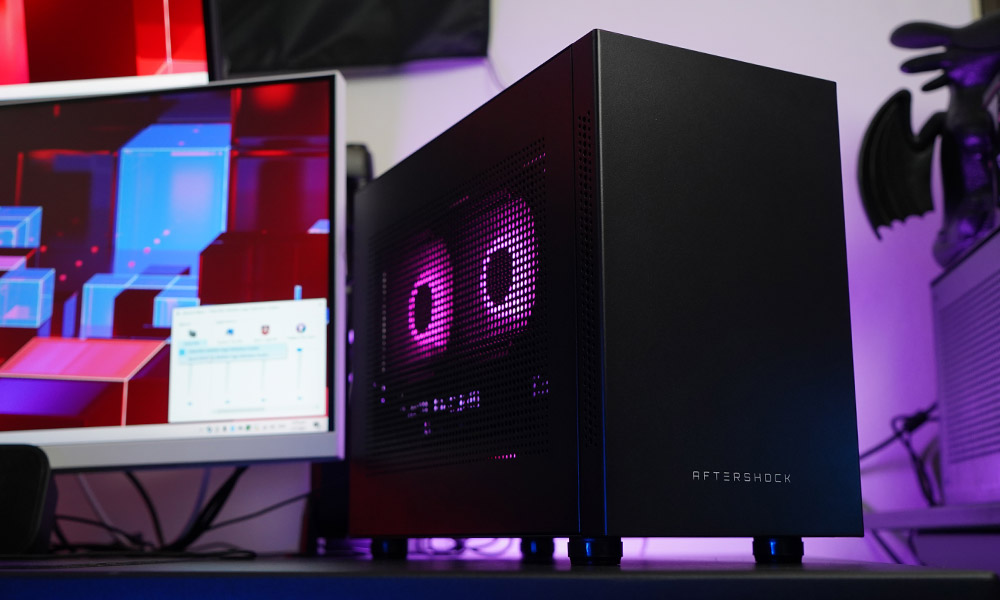 Enter the Aftershock Horizon, a powerful, small form factor (SFF) PC that defies the natural pecking order of PC battlestations, allowing users to pack extreme performance in a compact system.
Compact PCs used to be considered a niche amongst the PC community, but not anymore. Gone are the days where users needed a bigger PC to fit high-end components, advancements in technology have allowed users to fit the same parts in their tinier counterparts. Not only do you get more room on your desk with its smaller footprint with an SFF PC, but the sleek aesthetic speaks to content creators and users who use their machines for more than just gaming.
Silent Fans For Maximum Productivity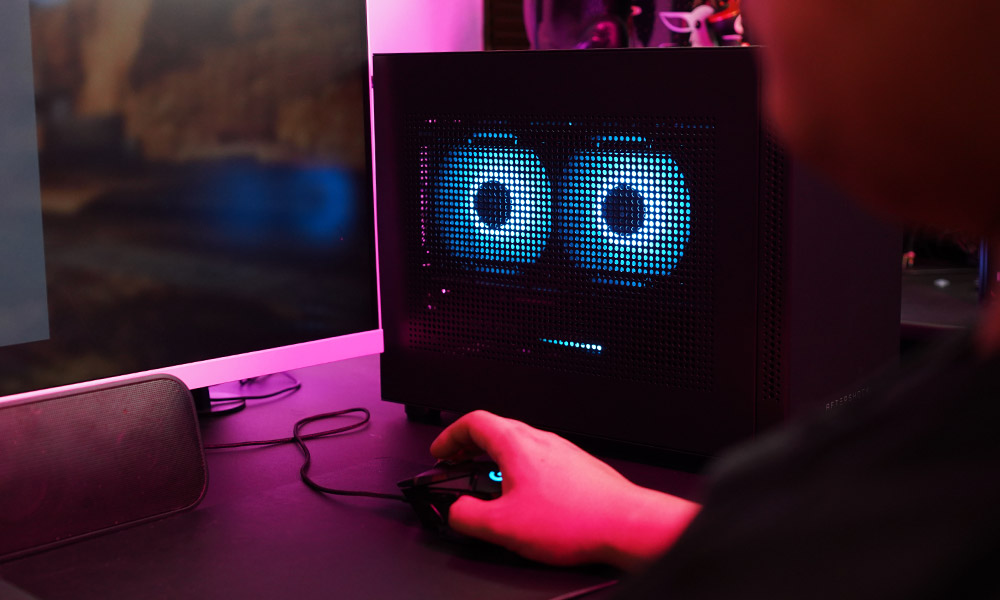 For starters, an SFF PC like the Aftershock Horizon is optimised for silent productivity through good thermal management and a lowered noise profile. What this means is that content creators will no longer find companies in the obnoxious whir of fans, as they piece together their creative projects in CPU-intensive software, such as Blender, Premiere Pro, Unity, After Effects, and the like – or worse, a combination of these running simultaneously in the background.
In lieu of a stream of grating whirring distraction, this sound suppression technology instead generates barely-present purrs which are not only gentler on the ears, but also allows users to better concentrate on their day-to-day tasks. The Horizon serves to enhance the experience, offering up to seven fans for superb airflow and even options for AIO coolers if you decide to opt for the ITX edition. With an RTX 3090 and several demanding games such as Cyberpunk 2077 or Apex Legends later, the system manages to keep its temperature optimal and fans silent.
It's an edge that isn't often found in conventional builds, especially with gaming laptops, which are notorious for their poor thermal management. The Aftershock Horizon, as an SFF PC, can provide this versatile balance of portability and cooling performance, thus establishing itself as an all-rounder on this front.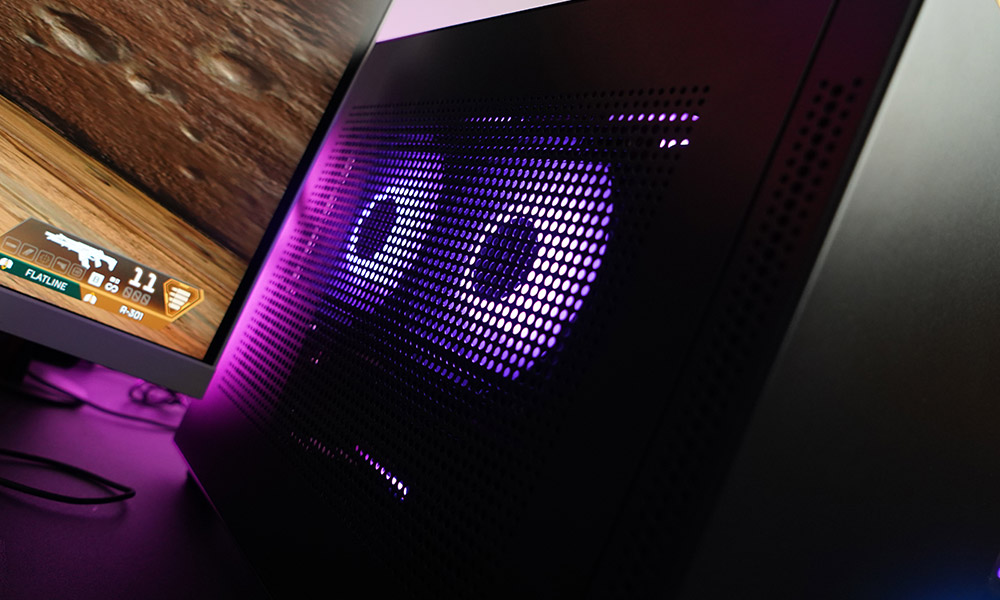 Aftershock Horizon – A Lean And Mean Gaming Powerhouse
For those who want performance at a fraction of the space, an SFF PC is the ideal solution that offers a wide variety of set-up options, whether it's visual prowess, performance or speed. The Horizon can easily become your next casual office set-up, or the ultimate gaming rig you've been dreaming of, and all it starts from its steel black chassis.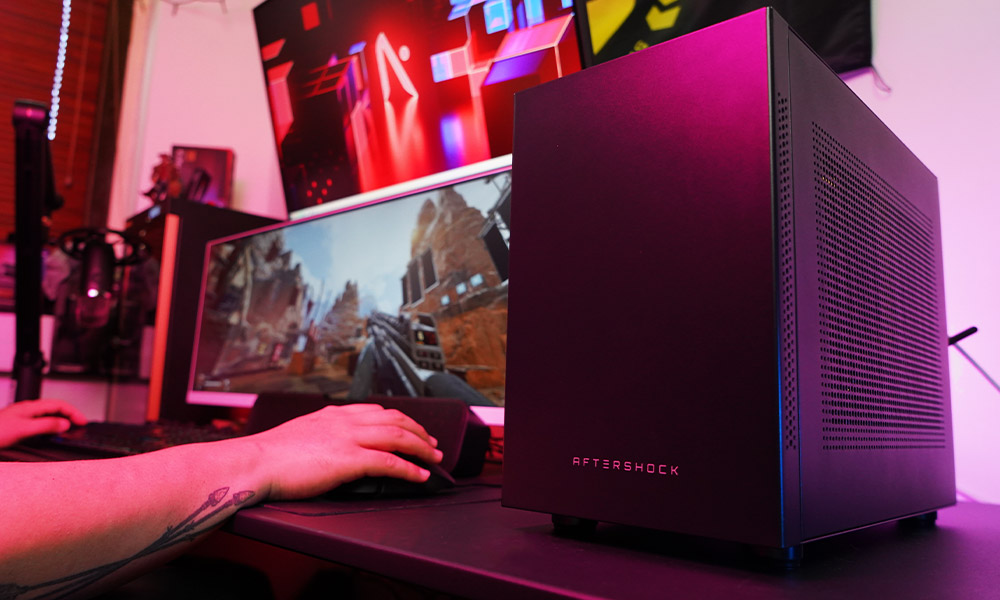 Measuring just 391 x 185 x 303mm, the Horizon comes in two different options for gamers to choose from: a tempered glass edition for a MATX set up, or an ITX edition with a mesh panel that doubles up as ventilation. In both cases, the sleek PC would be the perfect minimalist set-up for those who don't want too much attention, as it sits on top of your desks without looking like a massive battle station.
Don't be fooled by its compact look, however. The advancement of technology has allowed the inclusion of high-end gaming components in an SFF, and even some RGB lighting for those who want a little gaming undertone while keeping the minimalist vibe. The Horizon features both elements to pair style with the latest, most powerful hardware on the market.
Customisation Is King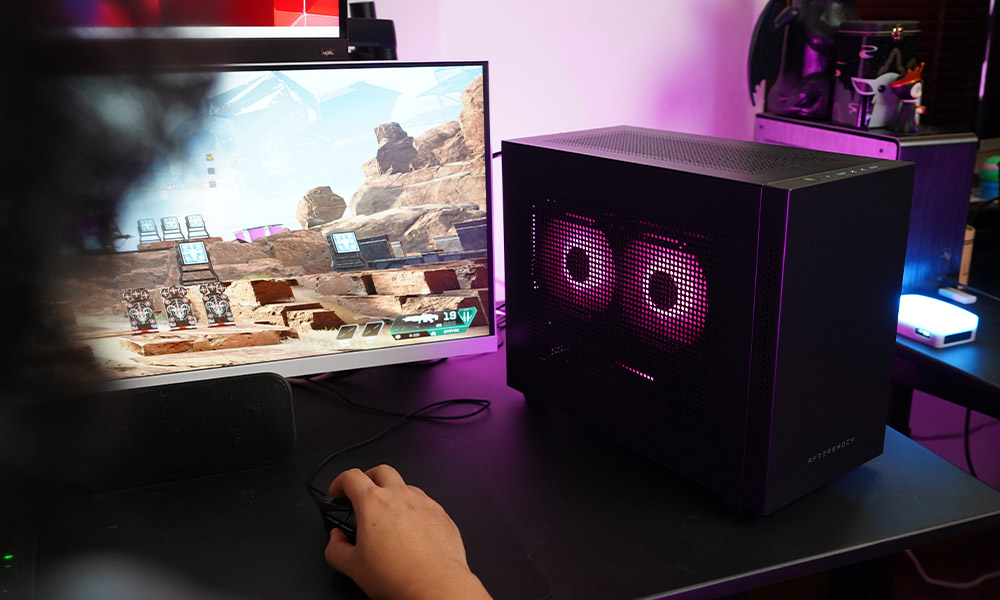 Aftershock PC is renowned for its ability to cater its set-ups to every gamer and despite its diminutive stature, the Horizon offers some of the most versatile customisation options in the market for its value, presenting a wide variety of different performance options to build your preferred rig.
Depending on which chassis you choose, gamers can choose between a range of CPU options belonging to the AMD or Intel variant, from the highly sought after AMD Ryzen 9 5950X or Intel Core i9-11900KF CPU for unmatched multithreading and multi-core gaming experience, or the AMD Ryzen 5 3500x or Intel Core i3-10105F for a more casual set-up.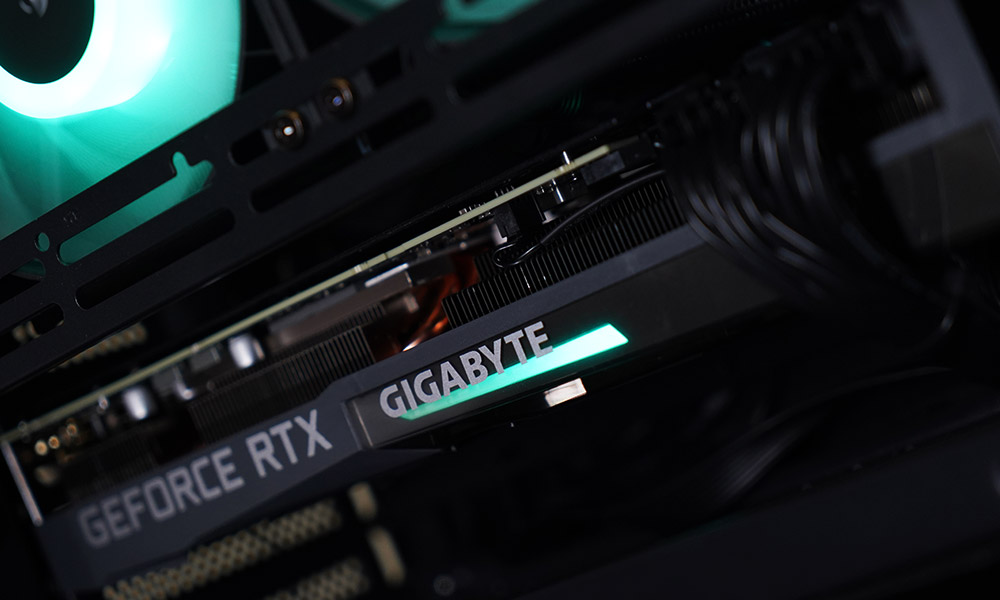 Graphic-wise, the Horizon can even pack in NVIDIA's greatest powerhouse, the GeForce RTX 3090 GPU. Yes, you read that right, the compact chassis can fit even the most powerful GPU in the market right now. However, if you're looking for something more casual, the GTX 1650 will be more than enough for games such as Valorant, DOTA 2, or League of Legends.
The Aftershock Horizon also offers options for your RAM from 8GB 3200 Mhz up to 64GB 3600 Mhz, and a single M.2 SSD slot from 512GB up to 1TB.
In essence, the Aftershock Horizon is arguably the sleekest and most compact versatile rig in the gaming market. The value and customisation you get out of the desktop are unlike any other SFF PCs in the market, whether you're just in for a casual work-from-home set-up or a performance-driven PC – the Horizon's got you covered on all fronts.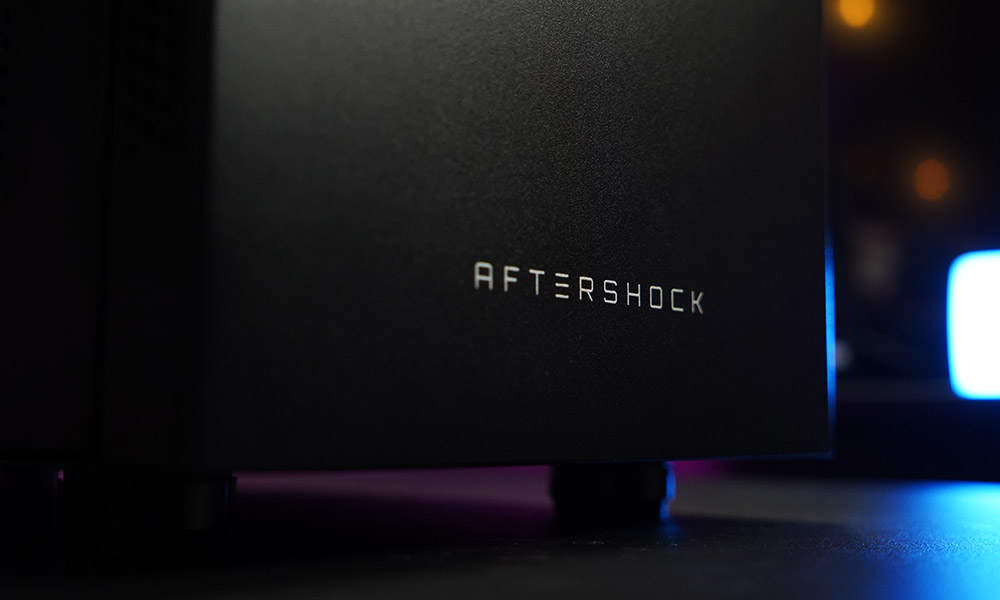 And best of all, the price premium that used to come with SFF machines is no longer in play, as the Aftershock Horizon is available from just S$1,140, with a three-year warranty in tow.