Gaming laptops don't usually come cheap, seeing as they're portable devices made to ape the graphical and processing capabilities of conventional desktops. But with the likes of Singapore's boutique DIY PC maker, Aftershock PC, the dichotomy of high-end specs and affordable prices seems to have been blurred time and again, much to our benefit.
Enter the Aftershock Forge 15 Pro, the latest in a series of premium yet highly affordable gaming devices from the Singapore company.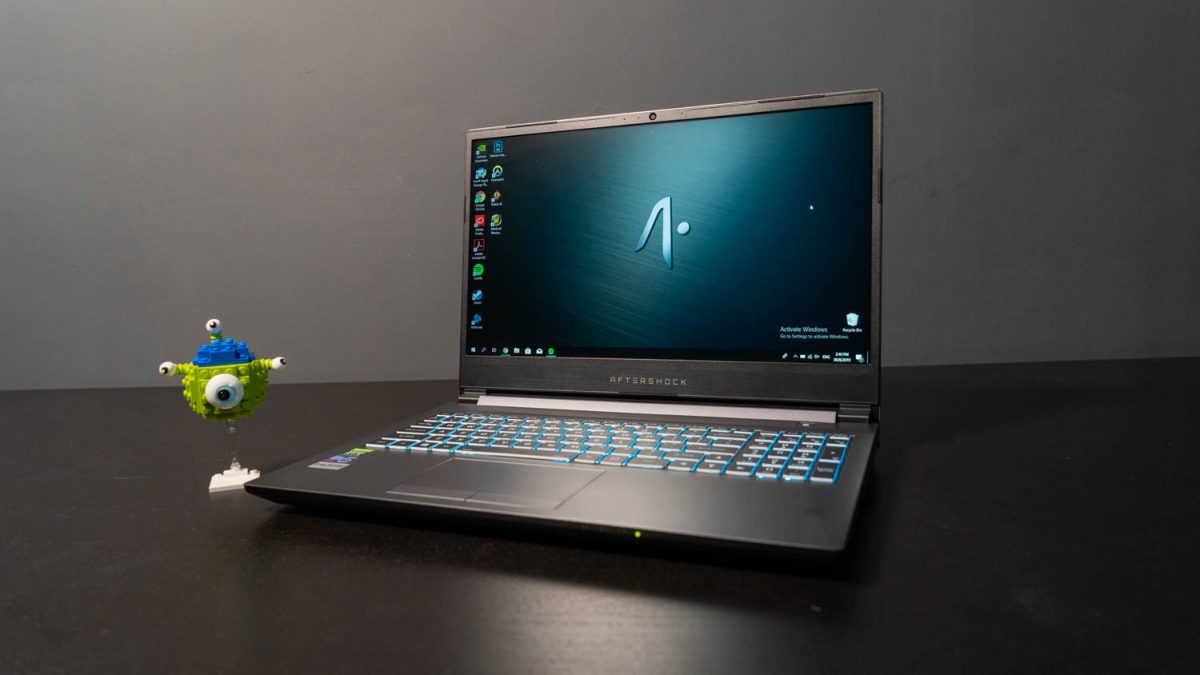 An exquisite blend of affordability and aptitude, the Forge 15 Pro is the result of endless hours of R&D put to good use. This is the "Pro" version of the Forge series, so it is the most powerful of the lot.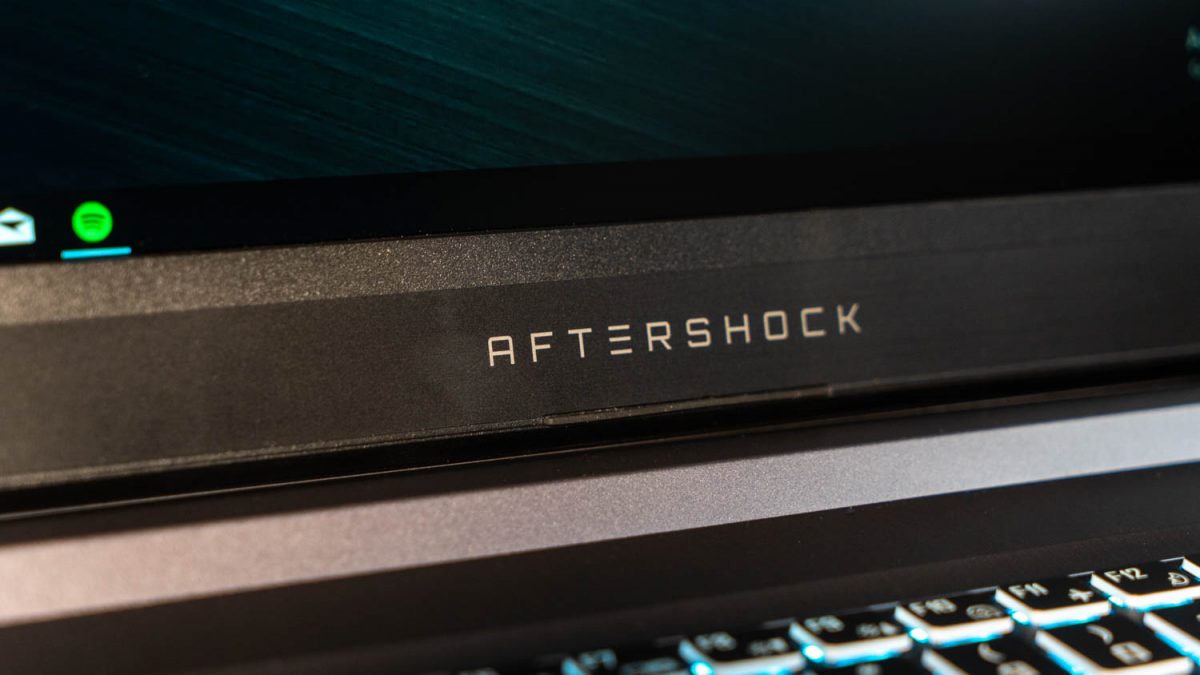 As its name suggests, the Forge 15 Pro sports a sleek alloy A-cover chassis, which looks like it was made straight out of a forge. Its stealthy exterior allows you to use it without attracting any unwanted attention in the office or in the classroom (provided you game responsibly, of course).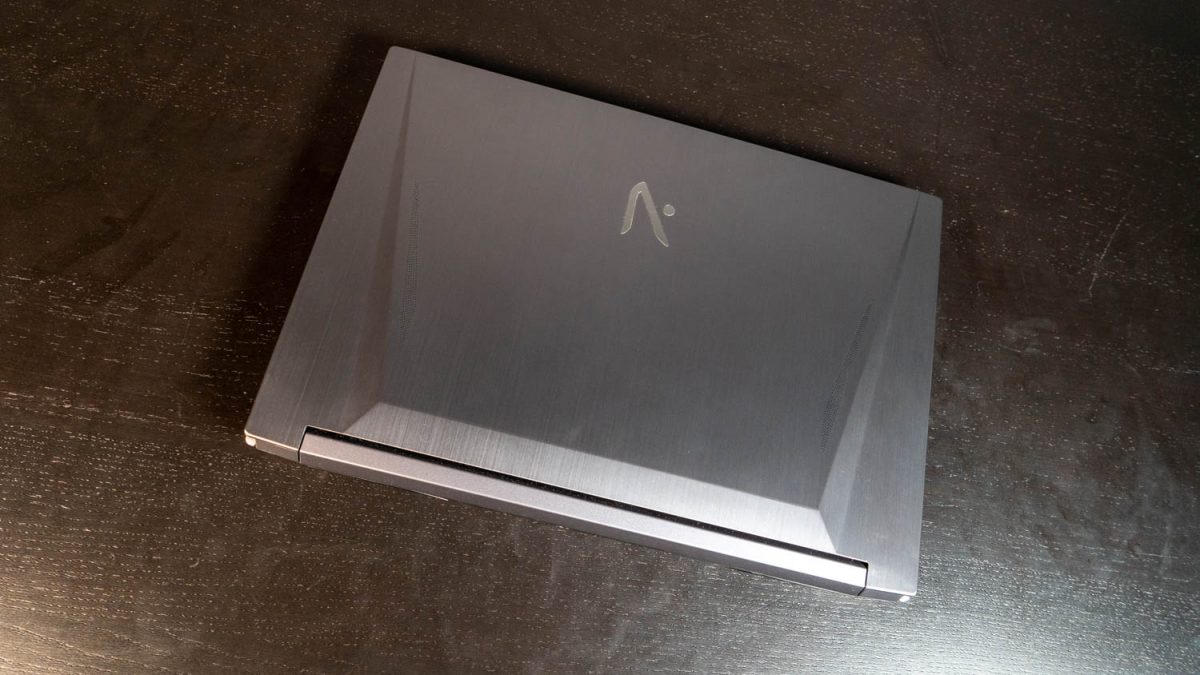 When closed, it measures 24.9mm thick and it weighs 2.2kg, which puts it on the bulkier end of 15-inch gaming laptops, so beware your back if you plan to lug it around. The hood on the Forge 15 is supported by a pair of hinges on either side. They hold well even when a good bit of force is applied, and surprisingly doesn't feel cheap at all.
For ports, it's got quite a hefty bit of utility, which is great for streamers, content creators, gamers, and even professionals in the office. Here's what you get on this machine:
1 x USB 2.0
1 x USB 3.1 (Gen 1) Type-A
1 x USB 3.1 (Gen 2) Type-A
1 x USB 3.1 (Gen 2) Type-C with DisplayPort output
1 x Mini DisplayPort 1.2
1 x HDMI 2.0 output
Under the hood, you'll be treated to a tactile but also silent keyboard, complete with a numpad to the side, the feel of which fits rather aptly with its understated look. Typing on the velvety keys feels smooth, which is great if you would like to work on it. However, the fact that the keys are all crammed into a rectangular cutout might make it a bit unwieldy for users with larger hands.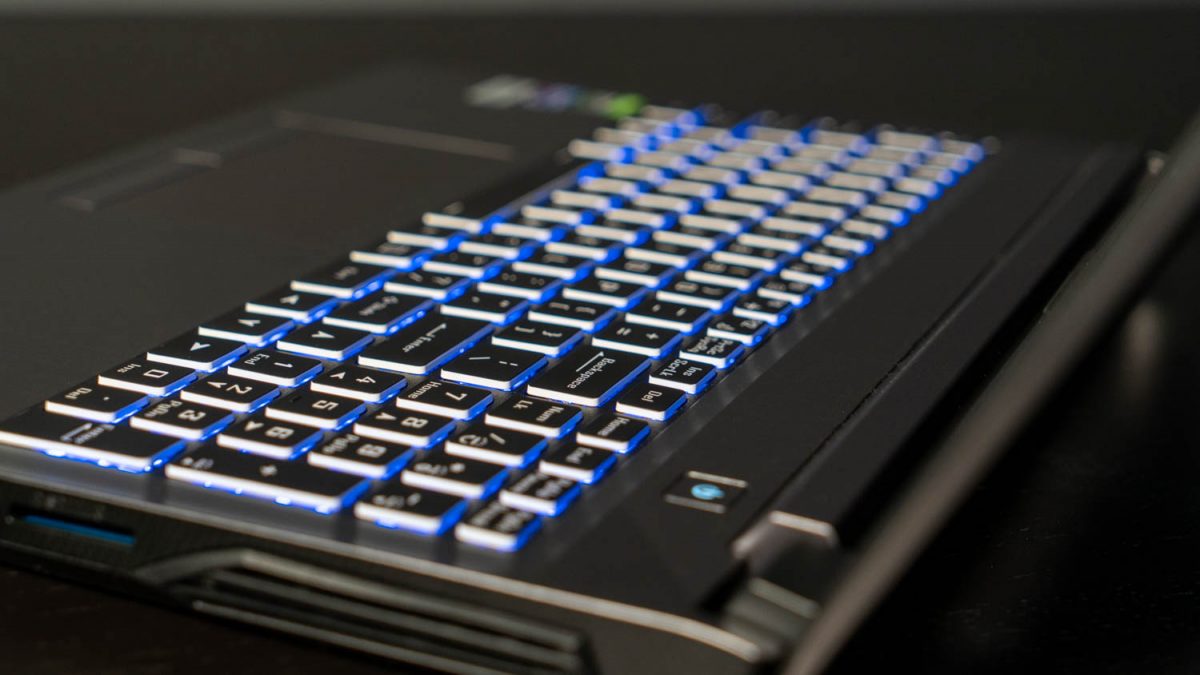 And while it is nice that Aftershock PC managed to fit quite a lot of utility function keys, such as brightness, volume, and trackpad enabling, scattered across the keyboard, it ultimately feels a little messy, as your eyes will be darting all over the place just to search for that specific function. Some of you may even want to opt for an external keyboard to alleviate these woes.
The display on the Forge 15 Pro is simply stunning, as it comes with a 100% SRGB wide colour gamut, which, when paired with that juicy 120Hz refresh rate (you can opt for the 144Hz one as well), makes it great for both watching movies and playing some high-octane FPS games like Overwatch, or even vibrant, whimsical games like WoW Classic.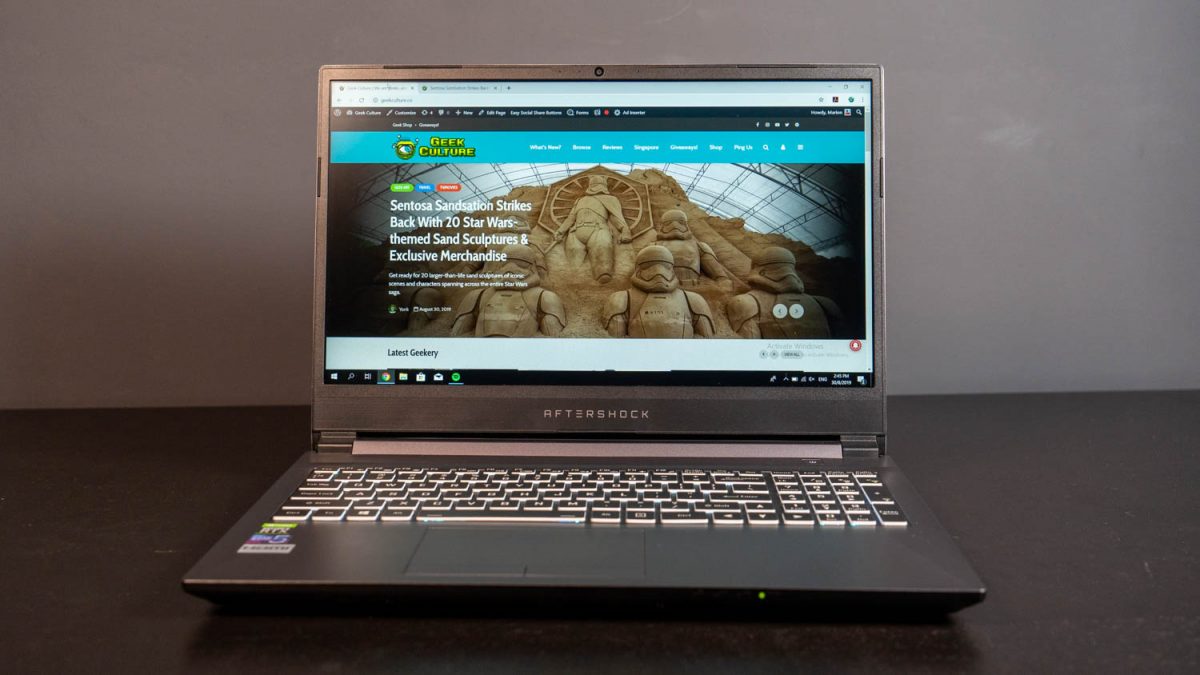 The Forge 15 may be a budget gaming laptop, but it doesn't shy away from bringing some power to the fore. Here are the specs for the review unit we received:
Processor: Intel Core i7-9750H Processor (6 cores, up to 4.5GHz)
Graphics: NVIDIA GeForce RTX 2060
Memory: 16GB GDDR4 RAM, 2,666MHz (Dual Channel)
Storage: 512GB NVMe SSD
Price: S$1,845
For starters, here are a couple of benchmark tests we did for it:
PC Mark 10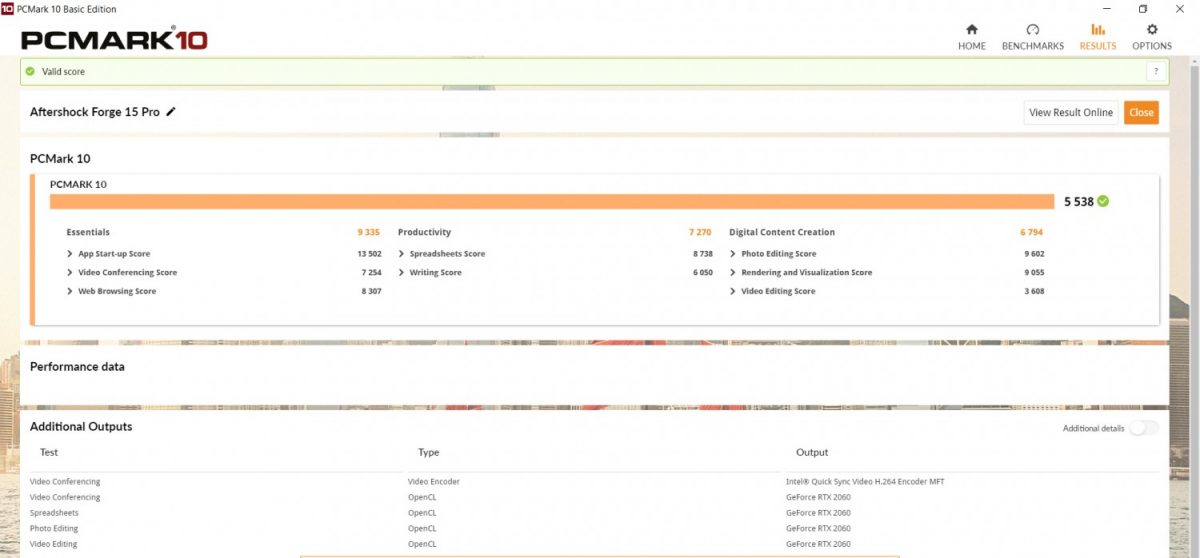 Cinebench R15
OpenGL: 125.04 fps
CPU: 1233 cb
Unigine Heaven 4.0 (Extreme settings)
FPS:96.1
Score: 2420
Min FPS: 28.29
Max FPS: 198.1
Across the board, the Forge 15 Pro performs rather admirably, thanks to its 9th-gen Intel Core i7 processor. You can even run most AAA games,such as Shadow of the Tomb Raider or Borderlands 3 on Ultra settings pretty smoothly, with its 16GB RAM and RTX 2060 GPU. As for less graphically-demanding games such as Apex Legends, Fortnite or the aforementioned WoW Classic, you're more than assured of a constant 60fps.
Performing other demanding tasks such as video editing on Premiere Pro also eats up quite a good bit of RAM on the Forge 15 Pro, but it doesn't seem to slow down as much as expected, which is good news for any content creators and streamers on a budget.
In terms of cooling, the Aftershock Forge 15 Pro is pretty cool (literally). While overclocking it on our benchmark tests, it didn't seem to break past 70 degrees Celsius. It's the same when playing the aforementioned AAA games, as well as editing video. The heat is concentrated on the edges of the keyboard, but thanks to the superb cooling system, paired with the vents on the sides and back, you're more than assured of comfort when you're playing for long hours.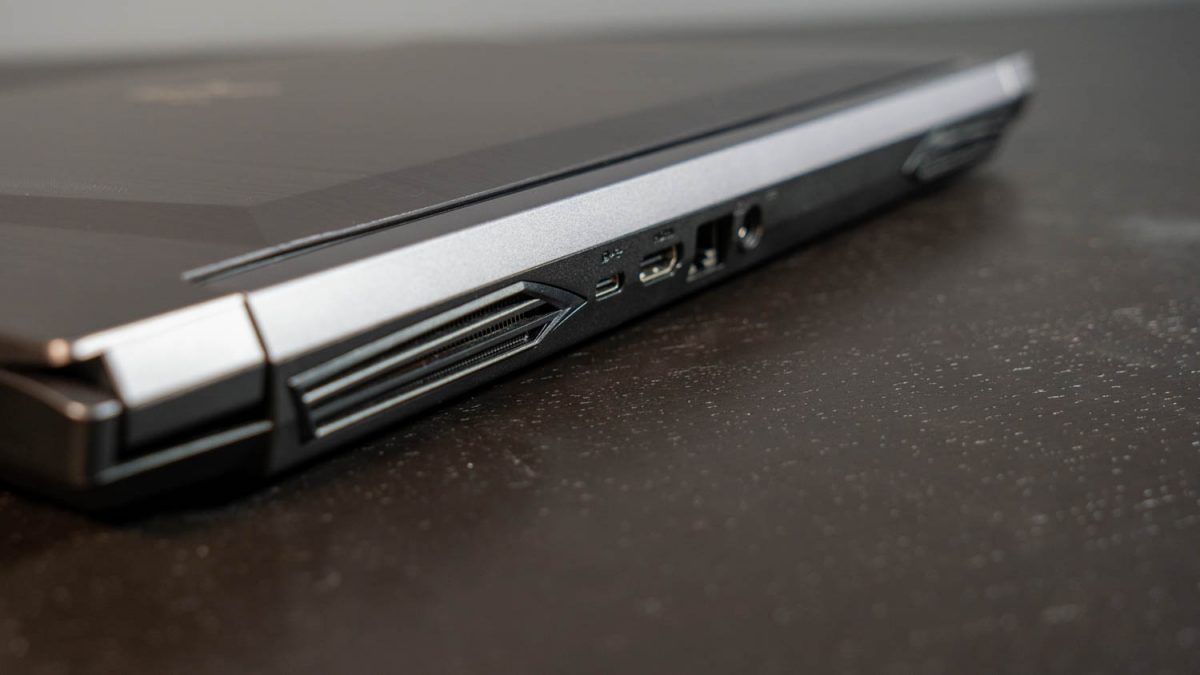 However, when you're packing all this into a limited-budget laptop, some things have to give. One of which is the Forge 15 Pro's notoriously short battery life. The small 48W battery isn't going to last you any longer than 1 or 2 hours if you're playing games on it (up to 4 if you're just surfing the net on it). As such, you'd need to hook it up to its 120W AC adapter, which, fortunately, is rather slim, so it doesn't take up too much space on your desk and backpack.
Additionally, if you're the sort that likes to fiddle around with their keyboard, the Forge 15 Pro, unfortunately, doesn't allow for much customisation on keyboard macros, as well as keyboard colours (you're only able to change the colour of the entire keyboard, not parts of it). But this is an entirely subjective matter, and shouldn't bother you if you're not hung up on RGB, as is the case with most competitive gaming laptops these days.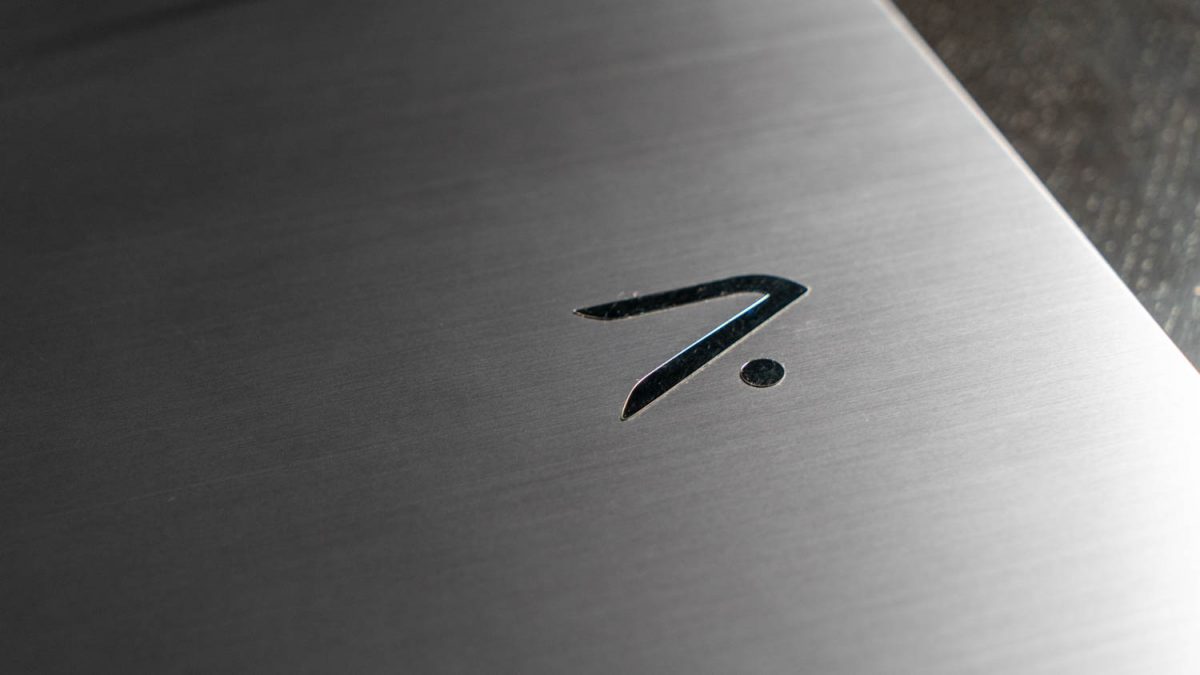 All things considered, the Aftershock Forge 15 Pro is arguably one of the best value-for-money gaming laptops out there. It comes with all you need to perform menial tasks, but most importantly it comes with all you need to play games at an optimal level. Sure, it's not exactly the most visually-attractive, nor is it the most powerful, it certainly packs enough punch to get the job done.
And at S$1,845 onwards, the Aftershock Forge 15 is a really attractive prospect that puts its generally pricier competitors to shame. As a comparison, similar models by Dell (G515 w/ 1660ti GPU: S$1926), ASUS (TUF Gaming Laptop w/ 2060 GPI: S$2748), and Lenovo (Legion Y740 w/ 2060 GPU: S$2706), are priced above a certain threshold.
GEEK REVIEW SCORE
Summary
The Forge 15 Pro is a fine piece of work by Aftershock. All that power packed into such an affordable price point makes this a truly irresistible budget gaming option. When you use it, you instantly forget that you're using a sub-S$2,000 laptop, which speaks a great deal about its superb quality.
Overall
9.1/10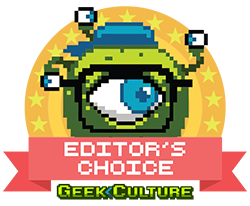 Aesthetics -

8.5/10

Build Quality -

9/10

Performance -

9.5/10

Value -

9/10

Geek Satisfaction -

9.5/10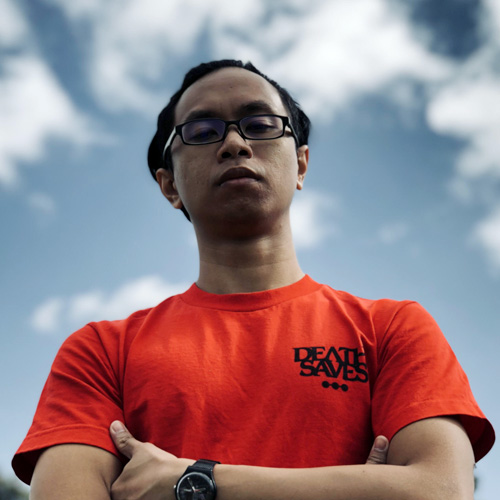 Marion has a serious RPG addiction. Sometimes it bleeds into real life; he forgets to sleep because he thinks he has a Witcher's body clock. Forgive him in advance if he suddenly blurts out terms such as "Mind Flayer" and "Magic Missile", because never once does he stop thinking about his next Dungeons & Dragons game.