After years of causing mayhem around the streets, cities, and even the world, one might wonder where Volition's Saints Row series is going next. A whole new timeline is the answer, with a reboot set to launch later this year on 23 August. However, before all that, we need to get some juicy gameplay details about this Saints Row reboot, and our prayers were answered thanks to a hands-off preview.
Following the Ultimate Customization blowout last month, this preview focused entirely on gameplay that will await players, and true to the preamble of the event, what we saw is a Saints Row that is set to be "the biggest, the boldest, the brassiest, the ballsiest" game in the history of the franchise.
Santo Ileso – A City of Opportunities
Players should be familiar with the general setup of an open-world adventure like Saints Row, but this reboot is upping the ante for gameplay by adopting a more organic way of involving you. See an armoured truck lying around? Blow it up for extra cash. Enemies bringing the big guns to take care of you? Flip the script and wield the power for yourself. There is always trouble to be found in Santo Ileso, and it is up to you where to begin.
If you much prefer to get into the action repeatedly, then the Side Hustles will be where you should head next. Cash, XP, and rewards will always be up for grabs, so seek them out on the map for some truly mad action.
An example is the Riding Shotgun Side Hustle, leaving the driving to the AI while you keep them safe using firearms, you can even leap out of the car and shoot from the roof if you want to. This is a great way to check out new gameplay mechanics that are being introduced in Saints Row, and once you have all those cash, you need a place to spend it all.
Flashing That Cash
Clothes, vehicles, weapons, however you want to play and look, this city has all the options available if you can stump up the cash. It is clear the developers want you to have the freedom to tweak the Saints Row experience to your liking, and provide some gameplay benefits at the same time.
Vehicles can be enhanced to drive and handle better, go faster, or even pack an ejector seat for much-needed elevation before you deploy a wingsuit. The choice is yours to make, even for the weapons. Upgrade your choice of weapons, refill your ammo, or fine-tune them to become true instruments of death, and with signature abilities to further expand your arsenal, your enemies will not see their deaths coming.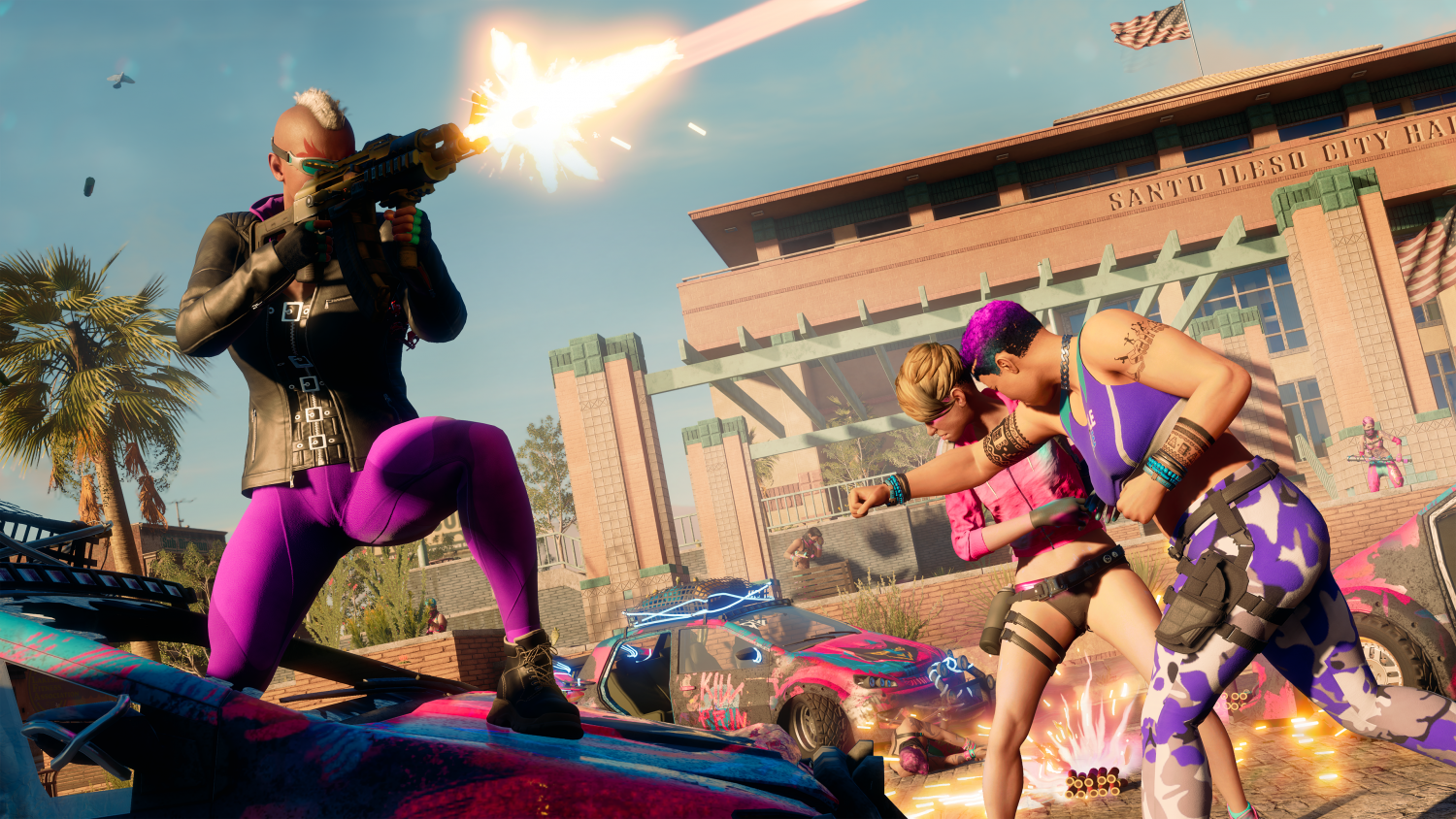 Of course, the Saints wouldn't be a gang without a proper HQ, and home is definitely sweet in the reboot. As the heart of your empire, it grows with mission progress and investment, while being the place to spend some time with friends and catch up on the latest happenings. Customisation is well and alive here, alongside any adjustments you might want to make to the crew.
Another area to keep an eye on is Criminal Ventures, which put a new spin on open-world activities in Saints Row. Functioning as fronts for your illegal businesses, purchasing any of these 14 vacant lots opens up new gameplay options in Saints Row, making it possible for district takeovers. Either way, you are always progressing with even more benefits when you make a move.
Mixing Things Up
When we kick things off, the gang is not even a thing yet, with the crew made up of friends from different factions. Attempting a robbery to make rent, things predictably go off the rails, and the first taste of what is new in Saints Row reveals itself.
Driving is more than means to travel around the city, with vehicular combat now enhanced with the ability to sideswipe. Running foes off the road is now possible, and will probably work its way into more missions. The addition of off-road vehicles also ensures that no matter where you find yourself, the driving is always going to be engaging and full of insane stunts.
As for taking care of people on foot, there are also more gameplay options in Saints Row. Players will have access to a variety of weapons like before, as well as skills to help mix things up. Using an enemy as a makeshift explosive delivery device is a great way to upset the balance, while Finisher Moves will figure even more heavily for the most involved combat ever in the series, while passive perks transform your boss into an even more menacing force to be reckoned with.
To add further life to the proceedings, players can use over 100 different kinds of emotes to interact with each other or the NPCs and switch up their looks on-the-fly for a truly unique experience. And if you want a friend to join in the fun, the drop-in drop-out nature of the game makes it a simple process that has fun as the main goal.
---
As crazy as things have been in the franchise thus far, everything we have seen when it comes to gameplay for the new Saints Row reboot has been nothing but interesting. While you may not have superpowers, the rest of the additions and improvements more than make up for it. An impressive criminal tale awaiting your precious input, we cannot wait to jump into the driving seat and make a name for the Saints.
The Saints Row reboot will launch this coming 23 August on PS4, PS5, Xbox One, Xbox Series X|S, and PC.