Clean, breezy-fresh air is always welcome, but its importance often goes overlooked during house-cleaning sessions, where tasks like mopping the floor and wiping down furniture take precedence. For the most part, air quality is revisited when the occasional haze strikes, a period which sees members of a household putting their air purifiers to use. Yet, the appliance is more than just a haze deterrent – it also eases breathing by removing dust, allergens, and other fine particles in the air, allowing for fresh circulation in indoor environments.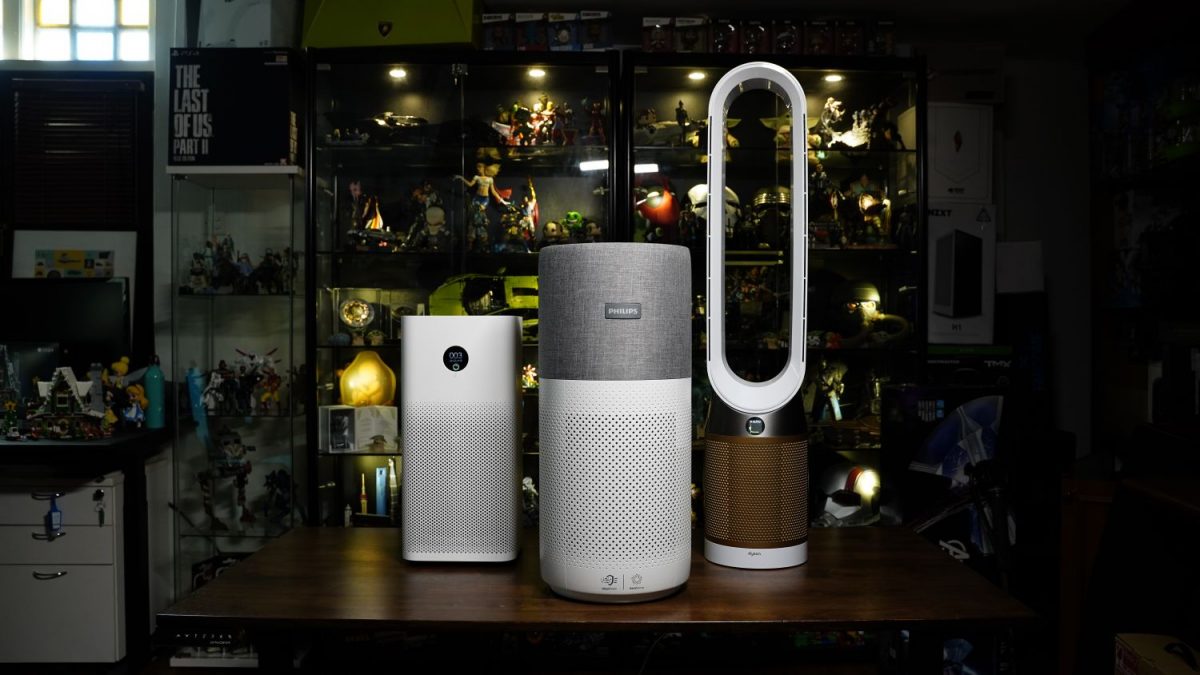 Air purifiers are, thus, a welcome addition to one's home, especially for individuals with sinus, a sensitive nose, or dust allergies. Like all things, however, not all of them are built equal, with each one bringing a different set of features, design elements, and user elements. Throw price into the equation, and there's a whole lot of options laying around the market.
To kick off the decision-making process, three models have been put to the test, each at different price points. We have the Dyson Pure Cool Cryptomic Air Purifier Fan, Philips Air Purifier 3000i Series, and the Xiaomi Air Purifier Gen 3.
Priced at S$999, S$689, and S$199 respectively, the trio caters to varying tiers of affordability, covering the lower end of the spectrum to the more premium tip. This price gap, in turn, sparks different expectations in quality, practicality, user-friendliness, and the like, all of which are important factors that affect buying decisions. There's the issue of specs and figures as well – sometimes the numbers translate well to real life; other times, they work better in theory, so determining the best fit for homes or office spaces may prove to be a difficult task.
The natural course of action, then, is to take the three air purifiers for a spin in an indoor setting. A timed test was used to record their efficiency in removing PM2.5 particulate from a fog machine, with the process detailed in a later segment. But first, let's establish some ground rules.
---
Cutting to the Chase
While each of the three picks features different offerings, the Philips Air Purifier 3000i Series stands out as a well-performing all-rounder that satisfies the list of purchase requirements: functionality, quality, user-friendliness, and ease of use and maintenance.
It's not the most affordable of the trio (that honour goes to Xiaomi), but its balanced blend of user elements more than justifies the price tag. For those who are looking for an upgrade and don't mind forking over some extra cash, the Dyson model serves as an upgrade, ushering in high-end premium features and increased versatility.
---
Testing Fundamentals
Before diving into the specifics, it should be noted that the results are, by no means, fully indicative of the appliances' performance, and are meant more as a guide than a definite option. The test was carried out in a controlled environment measuring 900 square metres, which meant the presence of some lingering foggy spots during the time window.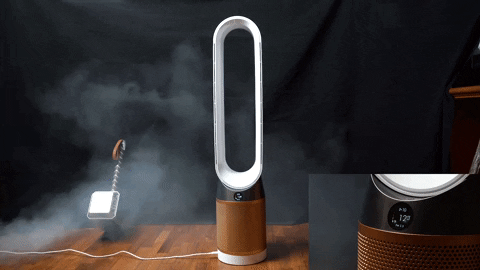 The air purifiers had their results recorded at max fan speed and auto mode, with the first testing for efficiency, and the second for ease of use. One charge of fog liquid (lasting around 12 seconds before running out) was used for each model; the efficiency rate was judged based on the time taken to completely clear the fog. For every round, the timer started at the same time the fog machine was put to work (inclusive of the 15 seconds), and then stopped when the percentage of PM2.5 particles hit normal reading, which hovered between 15 to 20 percent across the three models.
Now, enter the test results.
---
Dyson Pure Cool Cryptomic Air Purifier Fan TP06 (S$999)
In true Dyson fashion, the Pure Cool Cryptomic Air Purifier Fan is the most premium of the lot, coming in just shy of the thousand-dollar mark. It performed admirably well, clocking 5 minutes and 1 second from the start to the end of the test, putting it in second place for the max-speed category. At full power, its suction proves to be rather strong, though the cooling system can get a little noisy.
Switching over to auto mode yielded an expected cut to efficiency levels. At reduced power settings, the appliance registered more data spikes on the screen and took around 6 minutes and 45 seconds to clear the air. The extra time isn't very noticeable, however, which is a plus – this mode would actually be the recommended default, because its quieter hums allow for less distraction and better focus in a working environment.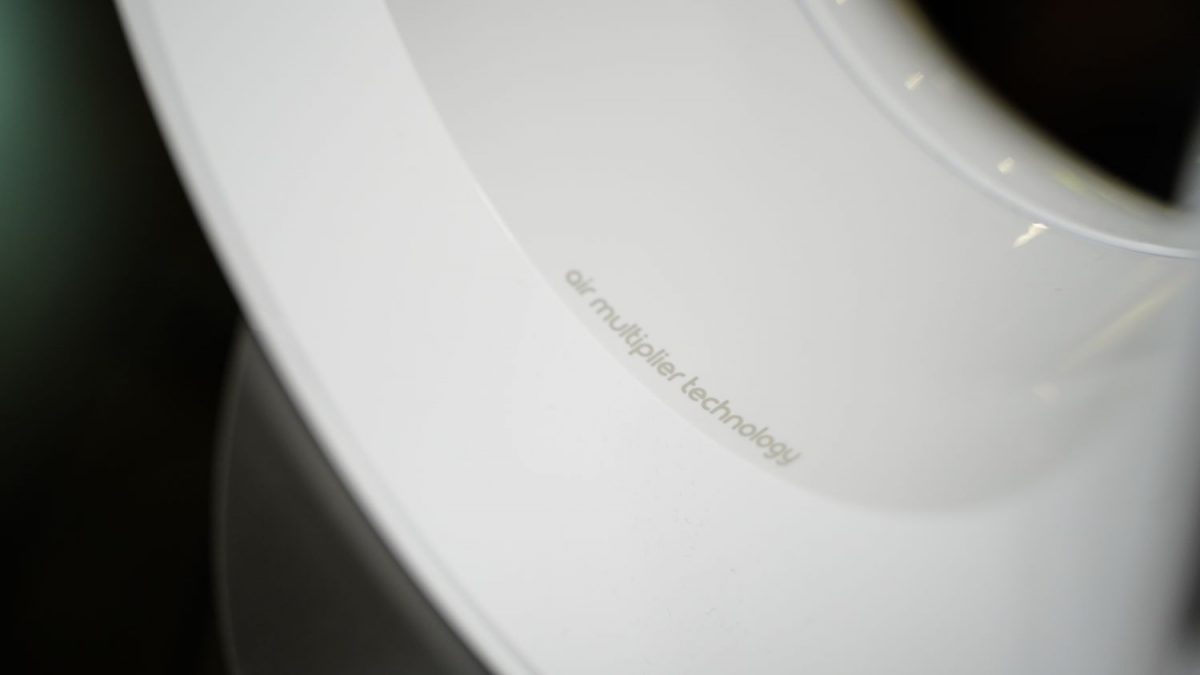 A respectable performance isn't all that the Pure Cool Cryptomic has to offer, however. One of the more notable, handier features included in its arsenal is the option to change the direction of airflow, such that smoke, haze, pollen, and the like can be re-directed away from the user, while the room remains purified and cooled.
One feature that Dyson seems to be advocating with purpose would be its ability to remove formaldehyde from the air at home. Being a much smaller pollutant compared to the prime suspects, this might be an edge for you if the formaldehyde is your kryptonite.
The implementation of smart technology also sees the sleep timer option, where the device can be programmed to turn off preset intervals for anytime between 30 minutes and eight hours.
It isn't difficult to use, either. Armed with user-friendly features, the air purifier calls for relatively straightforward navigation via clear, simple labels on the accompanying remote control. The latter's magnetic design makes it less likely to be misplaced since individuals can easily attach it to the top surface of the air purifier, so losing it won't be as much of a concern. For the tech-savvy, Dyson offers control through the Dyson Link app as well.
The Pure Cool Cryptomic Air Purifier Fan, as a whole, comes highly-recommended for folks who are willing to pay extra for more premium, useful features. Just a heads-up: this tall, 4.85-kilogram tower will require a fair bit of space, and can be a tad cumbersome to lug around. It'd also be good if an exact percentage at higher volume and density could be registered instead of a vague '999' reading, which is an odd distinction from both its Philips and Xiaomi counterparts.
The filter replacement process here requires the most steps among the three, but it's still a relatively efficient one. Lifting the hatch on both the left and right side reveals a purple button on the top, which will detach the filter system when pushed in. From there, it's just a matter of replacing the used purple mesh filter with a brand-new one, and then clasping it back in position. Without regular cleaning, however, the air purifier won't be able to perform at its best.
Without regular cleaning, however, the air purifier won't be able to perform at its best. The deep-cleaning procedure involves a total of nine steps, which Dyson has demonstrated in detail in the above video. It may sound like a hassle, but that's because they are very comprehensively broken down – the whole affair in actuality shouldn't take up much time. Oh, and don't turn off or unplug the appliance in the process, for instructions will appear on the LCD screen.
---
Philips Series 3000i Air Purifier (S$689)
The middle child of the list, the Philips Series 3000i Air Purifier is priced a little under S$700, and has decent test results to show for it. At max speed, it fell slightly behind Dyson's pick, clearing out the fog in 5 minutes and 18 seconds. The fog was observed to gather together while flowing upwards, with no option to alter airflow direction. Suction proved to be powerful, though the noise generated was slightly louder than that of Dyson's.
In auto mode, the appliance took a little longer to work its magic. The purifying process lasted approximately 7 minutes and 2 seconds, thus putting it behind the other two. Occasional spikes in the readings were detected, and the time difference was, likewise, not felt.
Where it lacks in speed, the air purifier turns to consistency and user-friendliness as compensation. It shows the rise and fall of readings at a consistent pacing, and boasts simple controls that are easily picked up and activated. In contrast to Dyson's '999' percentage reading at high air volume and density, the data here appears to be more accurate with a projection of changing, specific figures. The ease of access, meanwhile, is made even more intuitive with a responsive touchscreen showing and monitoring real-time indoor air quality levels, alongside an additional control option via the Clean Home+ app.
The 3000i Series is also built smaller than its peer from Dyson, which makes it a more optimal and viable fit in medium-sized rooms. That's not to say that it's lightweight per se – it still carries some heft, but the cylindrical shape does allow for easier handling. A welcome implementation to the air purifier is the intelligent sensor that lets it automatically scan the indoor air 1000 times per second to remove and detect pollutants, such that cleanliness remains a lifestyle.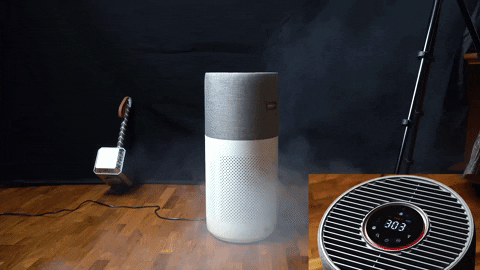 While the Philips Air Purifier 3000i Series isn't the fastest at clearing out PM2.5 particulate, it still puts up a respectable performance with a thorough, feature-packed cleaning and purification process. Unlike the Pure Cool Cryptomic, it lacks the option to alter or change airflow direction, so expect a little less flexibility in this regard. In general, this is for the folks who value feature-packed use and thoroughness over speed.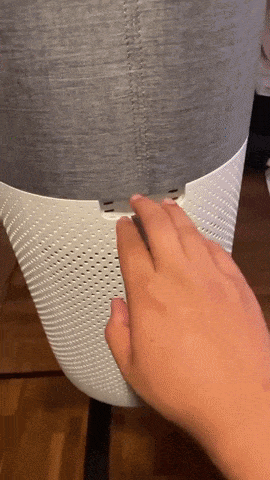 Where filter replacement is concerned, the 3000i Series proves fairly easy to handle. An indent at the rear allows users to smoothly remove the cover, and pull out the filter system nestled inside. Swap it out for a new one, with the latter stripped out all packaging materials, then turn the device back on (remember to switch it off and unplug from the power socket beforehand). Touch and hold either the filter status check or reset button for three seconds, and it's all good to go.
Maintenance and cleaning, fortunately, remains a simple affair – for both the particle sensor and filter surface. The former involves only wiping the sensor down and drying with a damp cotton swab, while the second requires owners to pull out the filter cover, and then cleaning it with a vacuum cleaner. Easy.
---
Xiaomi Air Purifier Gen 3 (S$199)
At under S$200, the Xiaomi Air Purifier Gen 3 is an affordable alternative for those with a leaner wallet, and it's no slouch – despite what the price tag may suggest. For both timed tests, the air purifier emerged as the top performer, clocking 3 minutes and 24 seconds at max speed, and 5 minutes and 23 seconds in auto mode. This speed is largely attributed to its dual-fan system, which sees two fans taking in and expelling air through four independent air ducts. Where readings were concerned, it was also the fastest to register data changes of any sort.
At the highest setting, the appliance is quieter than both the Dyson and Philips models, though not by a large margin. With a reduced bulk, it's the most portable of the trio as well, allowing for greater ease and convenience in setting up.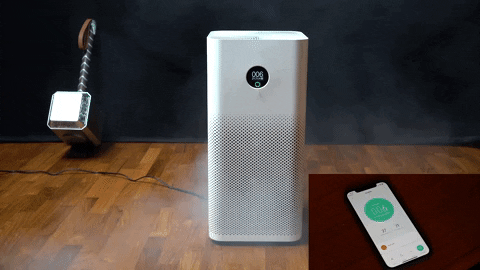 Unlike the other two, the air purifier doesn't come with a default remote control. Rather, the Mi Home app serves as the only means of control, so first-timers and newcomers will have to download it prior to use. It can be a little inconvenient, but the app works great as a one-stop centre to adjust and control every feature.
The lowered price tag means users will have to make do with certain compromises, however. For one, the Xiaomi Air Purifier Gen 3 doesn't offer as many features as its Dyson and Philips counterparts, satisfying the minimum expectations for functionality with a Sleep Mode, Auto Mode, and Favourite Mode. While its expertise lies in speed, the cleaning and purification process seems to be more of a quick sweep than an extensive follow-through – during the test session, the smell of fog still lingered in the air despite the air purifier having reached normal readings.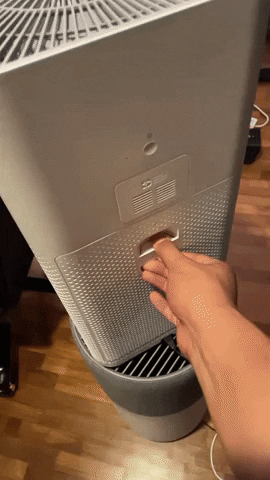 Like Philips, Xiaomi has made the cleaning and filter replacement process rather friendly. A vacuum cleaner or a soft cloth is sufficient to get the job done after ejecting the filter, which is done by opening the rear compartment and pulling out the lid. Instructions for filter replacement are included there, and it involves three simple steps: first, removing the filter from the appliance; second, taking out the packaging bag; and third, inserting a new filter and cleaning the insides. A quick, efficient job.
The Xiaomi Air Purifier Gen 3 is worth considering for individuals seeking both quality and affordability – just be sure to lower expectations.
---
To sum up, the three air purifiers excel and specialise in different areas. Where the Dyson Pure Cool Cryptomic Air Purifier fan offers premium features at a cost, the Philips 3000i Series Air Purifier focuses on detailed cleaning over speed, with the Xiaomi Mi Air Purifier Gen 3 bundling functionality and affordability. An overview of their respective pros and cons has been gathered in the table below for easy reference:
Dyson Pure Cool Cryptomic Air Purifier Fan TP06 (S$999)
Fog machine test result: 5 minute and 1 second (max speed), 6 minutes and 45 seconds (auto mode)
PROS:
– Offers very premium features
– Powerful and efficient suction
– Most versatile of the trio as it allows control over airflow direction
– Caters to both tech-savvy and traditional audience with the option for control via a physical remote control or app
– Gold-tinted design is classy and pleasant to look at
– Can double up as a fan

CONS:
– Premium features, premium price
– Hefty bulk makes it difficult to move the appliance around
– Cleaning and filter replacement process is more tedious compared to the other two
– Vague reading at high air volume and density
Philips Series 3000i Air Purifier (S$689)
Fog machine test result: 5 minute and 18 seconds (max speed), 7 minutes and 2 seconds (auto mode)
PROS:
– Offers more-than-enough features for the average user
– Does a thorough job in cleaning PM2.5 particulate
– Caters to both tech-savvy and traditional audience with the option for control via a physical remote control or app
– Registers readings accurately User-friendly touchscreen navigation Relatively compact and portable
– Does not require much effort to clean, or to replace the filter

CONS:
– Is slightly slower in clearing out unwanted air matter
– No option to change airflow direction
– Slightly more rigid in terms of customised functionality
Xiaomi Air Purifier Gen 3 (S$199)
Fog machine test result: 3 minute 24 seconds (max speed), 5 minutes and 23 seconds (auto mode)
PROS:
– Clears out air matter quickly; clocked the fastest times among the three
– Registers readings fairly quickly
– Very compact and portable
– Fuss-free cleaning and filter replacement process
– Affordable, best value for money

CONS:
– Does a less thorough job at cleaning air matter, resulting in lingering smells
– Minimal features and versatility
– Can only be controlled via Mi Home app, with no physical remote alternative
– Design is rather plain and seemingly flimsy

For most users, the Philips 3000i Series Air Purifier comes the most recommended among the list. It strikes a good balance between feature-packed functionality, quality, and user-friendliness at a fairly reasonable price, and the ease of cleaning, maintenance, and filter replacement is but a bonus. Both the Dyson Pure Cool Cryptomic Air Purifier Fan and the Xiaomi Mi Air Purifier Gen 3 are still good picks, however, except that the former's offering of premium features is a little costly for the average user – who doesn't really need all the frills – while the latter could do with a bit more attention to detail.