UK-based electronica band Gunship has just released a new track is called 'Dark All Day' and is a tribute to the 1987 cult classic movie The Lost Boys.
The video even features the sexy sax man himself, Tim Cappello, who reprises his role from The Lost Boys some 30 years later. That's not all, it also pays homages to notable vampire slayers from across popular fiction, including Buffy, Blade and Seth Gecko, and a tonne of fun references to games, movies and anime.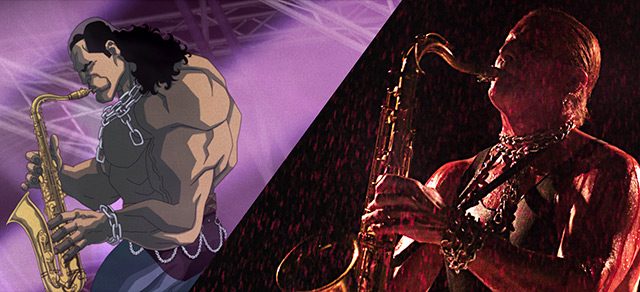 "Gunship's track 'Dark All Day' is one of the funkiest tracks I've ever played on. The groove is brooding and dark but there's so much passion & power to it, it moves so well, I couldn't stop dancing while I was playing on it. And going doubletime during the choruses, pure genius. The guest singer, Indiana, has so much personality, her voice is so perfect for this, I think she's AMAZING! It was so much fun to reprise my role in The Lost Boys, 30 years later, I kinda felt like a kid again, the hips are holding up :D." – Tim Cappello
Also included in the album is a single called "Art3mis & Parzival", which is a tribute to Ernest Cline's novel Ready Player One. Apparently, there are 80 geek references in the video. How many can you spot?
Can't get enough of Gunship's synthwave works? Here's another brilliant music video from 3 years ago that tells the story of two pilots engaged in an intense dogfight:
'Dark All Day' is available for pre-order now, but what caught our eye was this "Special Edition 16-bit Box Set" which comes with the album containing 13 tracks, in a deluxe 180g double-gatefold 45 rpm vinyl set with special lenticular cover, signed CD, NES hip flask, and a plethora of Gunship goodies.