We've had "slip-ups", we've had the Samsung Unpacked 2018, and so the tech world is abuzz with all there is to know about the new Samsung Galaxy Note 9. Samsung's Galaxy Note series has always taken pride in being among the high-end of smartphones, and this time they're stepping up their game with the Galaxy Note 9, delivering on a device that's quite the well-rounded powerhouse.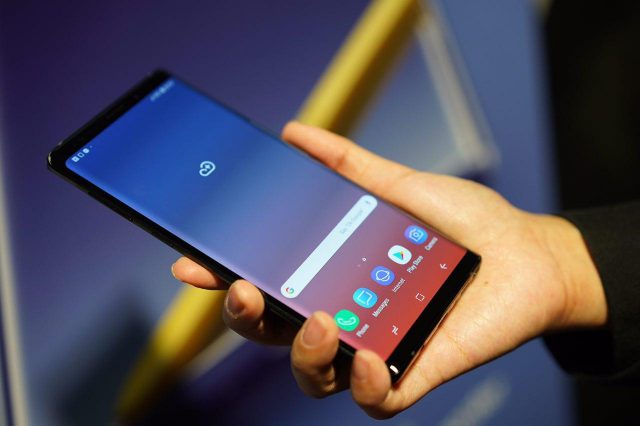 At first glance, the Galaxy Note 9 does look and feel fairly similar to its Note 8 predecessor, and that's because there are only slight differences to their builds. The Note 9 has a display that is a smidge larger than the Note 8 at 6.4 inches, with the same vibrant Quad HD+ resolution and best of all – no pesky notch. Will the casing for the Note 8 fit on the Note 9? Probably not.
While the larger-than-average phone fits comfortably in the hand, that height coupled with the fingerprint sensor being located below the rear camera means that it can feel a little awkward and unnatural reaching your index finger to unlock your phone. This is especially so for people with smaller hands, although there is already an improvement considering the Note 8's scanner was even higher up next to the camera unit.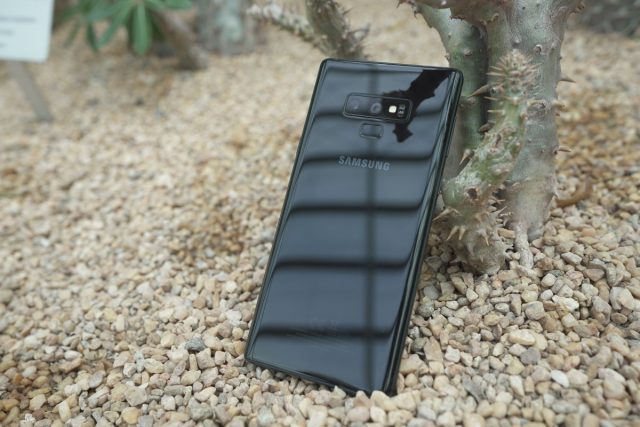 It runs on Android 8.1, powered by Samsung's own Exynos 8910 processor in most parts of the world, and the powerful Qualcomm Snapdragon 845 processor in the United States. In terms of storage, you get the choice of either the 128GB with 6GB RAM, or 512GB with 8GB RAM. That's a whopping amount of space, and it's even expandable with a microSD card up to 512GB, so you'd never have to worry about running out of space for all your media and applications.
Battery capacity sits at a meaty 4,000 mAh, the largest battery in a Galaxy device thus far. Samsung assures that it will be able to last you for an entire day, and while 4,000 is a lot, that big screen and CPU are going to need a lot of juice, so further testing will probably be needed to see if their claim checks out.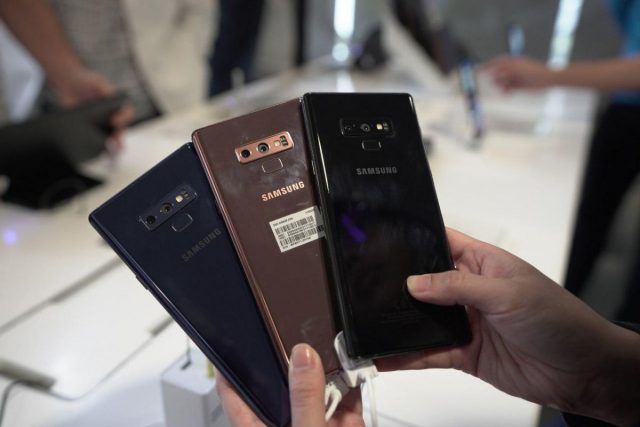 The Note 9 sports USB-C charging and retains the 3.5mm headphone jack. On the right is the home button, and to the left is the volume rocker and Bixby button to launch the virtual voice assistant.
The all-glass exterior and curved screen edges give the device a sleek look, further enhanced by the three colour options of Midnight Black, Ocean Blue, and Metallic Copper. Black and Copper come with colour-matching S Pens, but the Blue has got a unique bright yellow-coloured S Pen instead.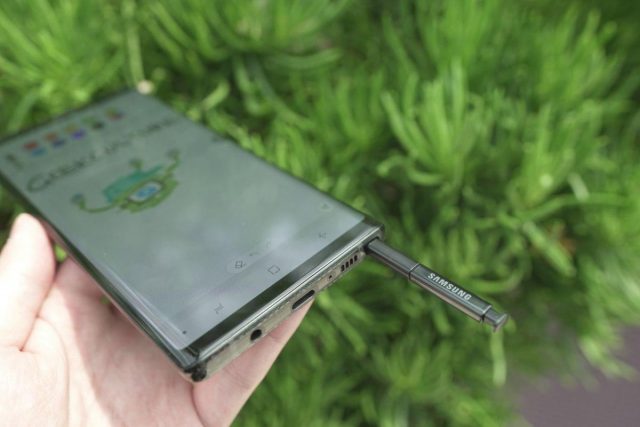 The S Pen is a staple of the Galaxy Note devices, but the Note 9's stylus has a whole new range of nifty features. Sure, you can still do your usual drawing and note-taking, but the S Pen is now connected to your phone via Bluetooth to provide remote control-esque functionality. Long-press the button on the S Pen to open the camera app, and double tap to switch between front and rear cameras.
Taking a big group selfie? Prop up your phone on a table, step back, and just press the S Pen button to snap a photo. It can also be used as a handy clicker to present slides and pause and play videos, otherwise, you can reprogram the button's functions to work with various apps of your choosing. No longer just a simple stylus, the S Pen's new functions make it all the more useful and productive.
Not one to neglect their camera either, Samsung Galaxy Note 9 sports dual rear cameras, one of which being a dual aperture lens as seen in the Galaxy S9+. These rear cameras consist of a wide angle 12MP lens with the dual f/1.5, f/2.4 apertures, and a telephoto 12MP lens, while the front camera is a single 8MP lens.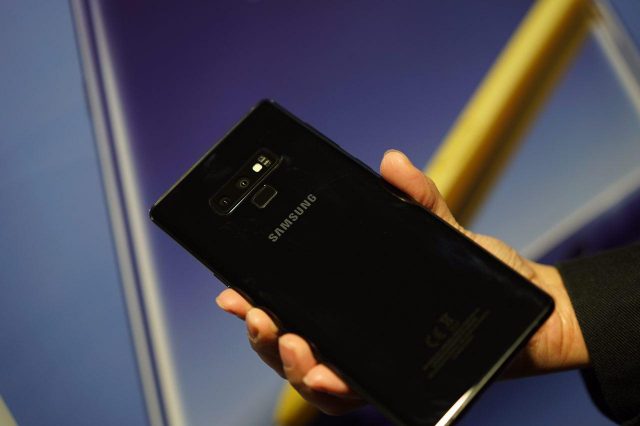 Keeping in line with the AI trends in the mobile market, the Note 9's Intelligent Camera is equipped with smart AI capabilities. It is able to detect and classify the subject of a photo into one of 20 categories and automatically optimizes the photo.
A more interesting feature is the flaw detection, where a notification actually pops up on the bottom of the screen when the Note 9 detects that the image you just took was blurry, contains a lens smudge, poor backlighting, or if the subject was blinking. This heads-up immediately gives you a second chance at capturing the perfect shot, without scrolling through your gallery later and feeling disappointed.
With great power comes great responsibility, and in this case, a great hole in your wallet. If you're not feeling nervous about the price, then you should very well be, as the Note 9 has claimed the title of being the most expensive Samsung Galaxy phone yet. Retail prices for the Galaxy Note 9 are S$1,398 for the 128GB model, and S$1,728 for the 512GB model.
The phone will be launching in Singapore on August 25, 2018 and available at local telcos, major electronic stores and mobile retailers, Samsung Experience Stores, and Lazada Singapore.
Pre-orders for the Galaxy Note 9 can now be made at all those channels, and here's a hot tip that'll help alleviate some of that pressure on your bank account: All pre-orders for the Galaxy Note 9 are entitled to a free upgrade to the 512GB version, worth S$330. That means you can get a 512GB Galaxy Note 9 at the price of a 128GB model, and that's a pretty amazing deal.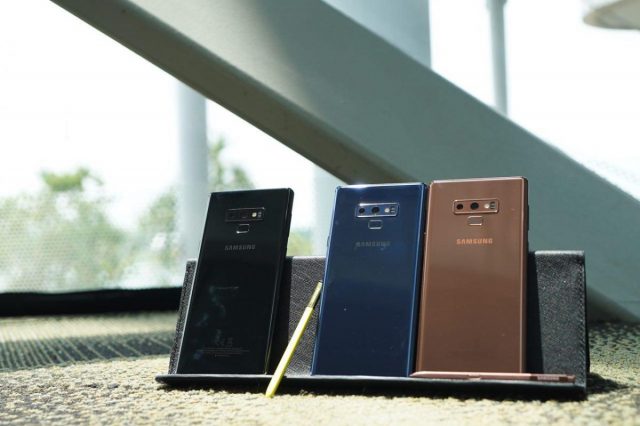 Packing powerful and productivity-enhancing functions into a sleek smartphone, the Samsung Galaxy Note 9 has taken all the features Note users know and love and improved upon them, the only question is whether that justifies the hefty price tag.
Series
Samsung Galaxy Note 9
Operating System
Android 8.1 (Oreo)
CPU
E

xynos 8910 OR

Qualcomm Snapdragon 845 (US)
Display
6.4″ / 516ppi / 2960 x 1440
Memory
128GB Storage + 6GB RAM
512GB Storage + 8GB RAM
SIM Card Interface
SIM 1: nano SIM card
SIM 2: nano SIM card / microSD (up to 512GB)
Size
76.4 mm (width) / 161.9 mm (height) / 8.8 mm (depth)
Weight
201g
Camera
Front: 8MP (f/1.7)
Back: Wide angle 12MP (f/1.5, f/2.4) + Telephoto 12MP (f/2.4)
Battery
4,000mAh
Colour
Midnight Black, Ocean Blue, Metallic Copper
Retail Price
128GB: S$1,398
512GB: S$1,728
---

Drop a Facebook comment below!