The ZenBook Pro 15 was met with positive reception when first released, sporting a lean, mean cut that pits it against the likes of Apple's MacBook series, which is widely considered as one of the thinnest and lightest laptop on the market. Weighing in at a meagre 1.86kg, the sleek veneer of this 15.6-inch ultrabook isn't only for show. Its NVIDIA GTX 1050Ti graphics card and Intel's eighth-generation core certainly means serious business for both work and play.
Building upon the success of the ZenBook Pro, ASUS has unveiled a new refresh for the laptop, this time under the UX580 name mantle.
While the series has always been designed for creative professionals in mind, the newest iteration is perhaps the best suited by far.
In place of the trackpad is a unique feature termed the ScreenPad, touted as the world's intelligent touchpad. It can pull up various apps and adaptive features through a simple touch, such as the calendar or calculator, as well as display app notifications. True to the "intelligent" part of its name, it's also able to detect and change the screen interface with each software, meaning users can easily edit the text while Microsoft Word is in use. Hop over to PowerPoint, and the interface will adapt accordingly. Neat.
The real strength of the new innovation, however, lies in its versatility to act as a second screen, which is especially handy for those in the creative fields, who often have to toggle between displays. When put to the test, the idea takes off well, although the screen may be too small for some, resulting in the inevitable loss of specific details. Entertainment wise, the Screen Extender mode works like a charm, and can be hooked up to Youtube and act as a means of control – check it out in action above.
The feature is pretty cool, but unfortunately doesn't quite translate well to reality. There's evident lag time between the pulling of the window and slotting it in the ScreenPad, and dragging it around seems to be more jerky than smooth. At times, the device will freeze in the midst of the process as well, and the best way to work around these problems would be to activate the shortcut (Windows key + shift + left/right), or through the F5 and F6 buttons, which allows for toggling.
As a first attempt at introducing an intelligent touchpad, however, the implementation certainly is well-meaning, and users can look forward to a software development kit in the near future. At Computex 2018, ASUS will be showcasing this nifty feature in all its full glory, with a huge demonstration screen at its booth during the event.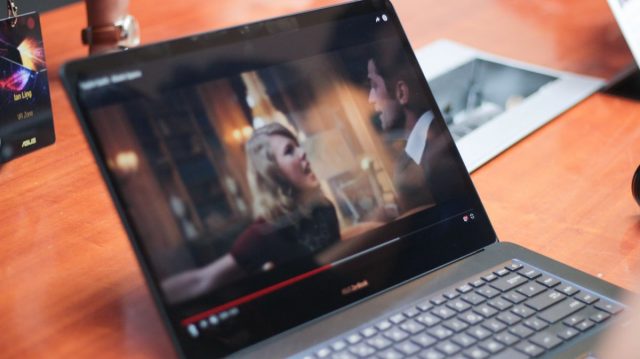 Despite its classification as an ultrabook, the UX580's capabilities far extend beyond that, with specs that are comparable to its gaming-based counterparts. It's the first on the laptop market to run on the newest Intel Core i9 processor, and comes armed with the GTX1050Ti graphics card, 1TB SSD, and 16GB RAM – ideal for not just the gaming enthusiasts, but for creative professionals working in the field of 3D animation as well. Boasting a 4K UHD display also sees the laptop granting support for up to three 4K monitor screens, which grants a wider viewing field for greater work efficiency.
Accompanying the UX580 is the ZenBook Pro 14 that sports similar specs to its sibling, with the main differences coming in the form of a 14-inch screen, Intel Core i7 processor, and GTX 1050 graphics card. Despite being smaller in frame, the ScreenPad takes up the same amount of space on the touchpad area, and is equipped with the Ergolift feature, in which the keyboard is slightly raised at an angle for easier typing (supposedly). Depending on personal preference, this can be a hit or miss, and certainly would need some time getting used to.
One of the strengths of both ZenBook siblings is their audio system, which has been improved upon from past iterations. Located at the side of the base, the speaker on each is loud – much louder than you'd expect, anyway – with sound quality remaining crisp, if a little jarring at times.
Built with both a lightweight body and more-than-impressive specs, the ZenBook Pro UX580 seems to be a viable option for both the creative professionals and the resident gamer – upon first impressions, at least. The ScreenPad has quite some room for improvement, but should the ASUS team be able to pull this off, the laptop industry seems set to introduce a new form of content creation. Local details and pricing to follow soon.
Series
Asus ZenBook Pro 15 (UX580)
Asus ZenBook Pro 14 
CPU
8th Gen Core i9, hexa-core
8th Gen Core i7, hexa-core
Graphics
Nvidia GeForce 1050 Ti
Nvidia GeForce 1050 Max-Q
Display
Touch screen 15.6″ / 3840 x 2160 pixels (4K)
100% Adobe RGB/ Delta E 2.0
Touch screen 14″ / 1920 x 1080 pixels (FHD)
Storage
16GB DDR4 RAM / 1TB PCIe x4 SSD
16GB DDR4 RAM / 1TB PCIe x4 SSD
Connectivity
USB 3.1 Gen 2 Type C with Thunderbolt 3 support
USB 3.1 Gen 2 Type C with Thunderbolt 3 support
Size
365mm (width) / 251mm (height) / 18.9 mm (depth)
322mm (width) / 255mm (height) / 17.9mm (depth)
Weight
1.8kg
1.6kg
Colour
Deep Dive Blue, Rose Gold
 Deep Dive Blue, Rose Gold
Retail Price
 S$3,988
TBC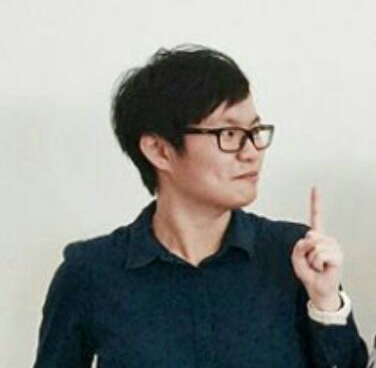 Si Jia is a casual geek at heart – or as casual as someone with Sephiroth's theme on her Spotify playlist can get. A fan of movies, games, and Japanese culture, Si Jia's greatest weakness is the Steam Summer Sale. Or any Steam sale, really.
---

Drop a Facebook comment below!