If you're not big into sports watches, you'll probably recognise Garmin as the brand that made the navigation system in cars. With their roots in producing GPS technology for the aviation and marine industry, Garmin is a company with the know-how on creating tech that's built to last.
Ever since they moved into the realm of wearable technology with their first running watch in 2003, they've been on the up and up, establishing themselves as one of the premier brands for GPS multisport watches.
Last year saw the release of the fēnix 5 series, and now Garmin is launching the all-new fēnix 5 Plus series consisting of three watches – the fēnix 5S Plus, 5 Plus, and 5X Plus. Oddly iPhone-esque naming conventions aside, the watches feature an array of useful functions fitted into a rugged yet classy style, built with sporting enthusiasts and outdoor adventurers in mind.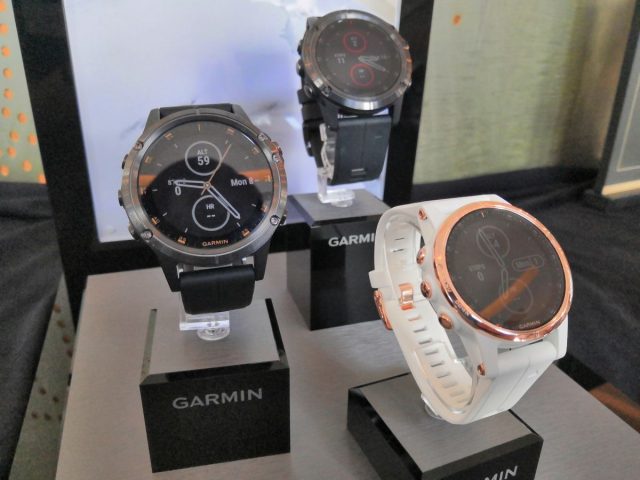 All three models come equipped with 16GB of storage for maps and music. Yes, you heard that right, your smartwatch can now become your map and mp3 player. They come pre-loaded with colour topographical maps for Southeast Asia which take up about 500MB, and maps for other regions are purchasable online.
These maps have built-in sensors including a three-axis compass, gyroscope, barometric altimeter and multi-satellite tracking systems (GPS, GLONASS, Galileo) for precise location identification even in challenging environments.
Using data from the Garmin Connect database, the Trendline popularity routing feature helps runners and cyclists find and devise the best routes for them to choose from, giving the risk-averse some peace of mind that they are following a safe path.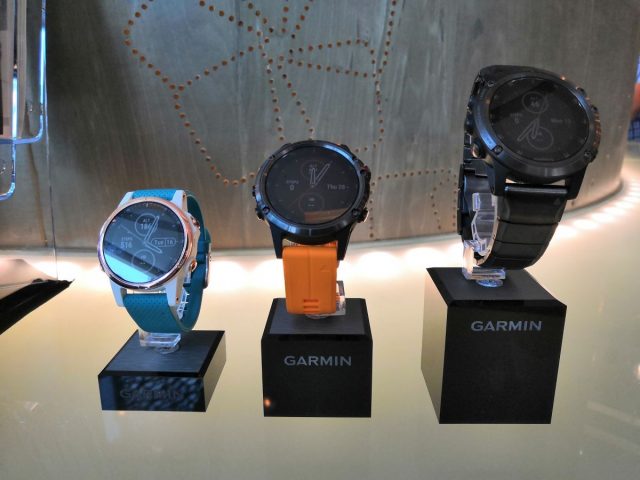 For use in harsh sunlight or swimming, all three models have a full-colour display with LED backlighting and are waterproof up to 100 metres. The display screens for all measure in at 1.2″, with a 240 x 240-pixel resolution, and a lens made of hardy Sapphire crystal that is resistant to scratches and cracks
If you haven't completely sold your soul to Spotify and still have mp3 files lying around, then the on-device music storage lets you load up to 500 songs for your workout playlist. While most smartwatches simply give you control over your phone's music via Bluetooth, the fēnix 5 Plus series music storage means taking your music offline for you to listen with Bluetooth enabled headphones or speakers.
Music files can be transferred into the watch by connecting it to a computer with the provided charging wire, same as how you'd sync music to an mp3 player.
As NFC contactless payment gets more and more common, Garmin is also on board, with all three models featuring Garmin Pay functionality. The downside? Only cards exclusively from OCBC Bank are compatible with the device, although the company is in talks with other banks to include more cards in the future.
For monitoring performance, the watch has the quintessential heart-rate monitor, as well as physiological metrics, running dynamics, and workout statistics for users to evaluate their progress and tweak their form, all trackable either through the watch itself or the companion Garmin Connect mobile app.
With so many functionalities being the same across the board, why are there three different models? There aren't too many differences really, mostly in size, material, battery, and as expected, price.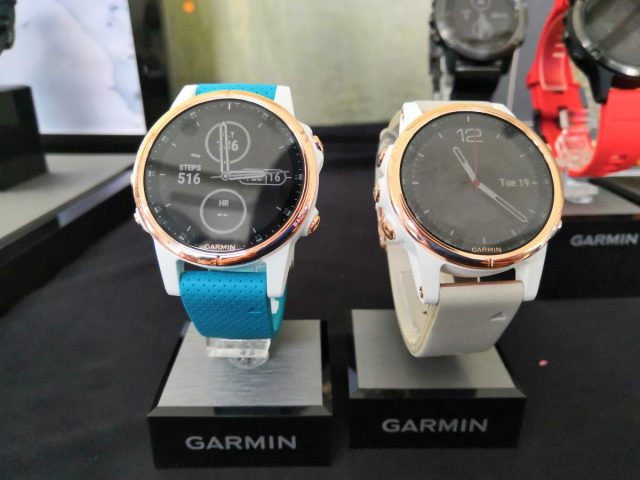 The fēnix 5S Plus has the smallest watch size of 42mm diameter, and a battery life of up to 6 days on smartwatch, 10 hours in GPS mode, and 4 hours using GPS and music. The smaller size coupled with the stylish Rose Gold (or Black) colour options make this watch more suitable for ladies. This model felt the most comfortable on my smaller wrist, not too heavy at 65g.
The series is made for QuickFit watch bands that are easily interchangeable and come in an array of colours and materials (silicon, leather, steel) for you to get and switch around, although upon purchase of the 5S Plus there is only a choice between black silicon or beige leather bands.
The fēnix 5S Plus retails for S$1,199.
The fēnix 5 Plus is a tad bigger at 47mm, with batteries lasting for 10 days in smartwatch mode, 18 hours in GPS, and 7 hours in GPS and Music modes. It only comes in Carbon Grey colour, but there are two different watch versions – a choice between the material of the bezel and rear case. It's either the standard stainless steel, or a lighter diamond-like carbon (DLC) titanium coating which comes at a cost.
The watch weighs 86g for stainless steel and 10g lighter for DLC, and there's also an option for a DLC titanium band to go with the titanium bezel.
The fēnix 5 Plus Sapphire Carbon Gray with black silicon band is S$1,229, while the Sapphire Carbon Grey, DLC titanium with DLC titanium band is S$1,599.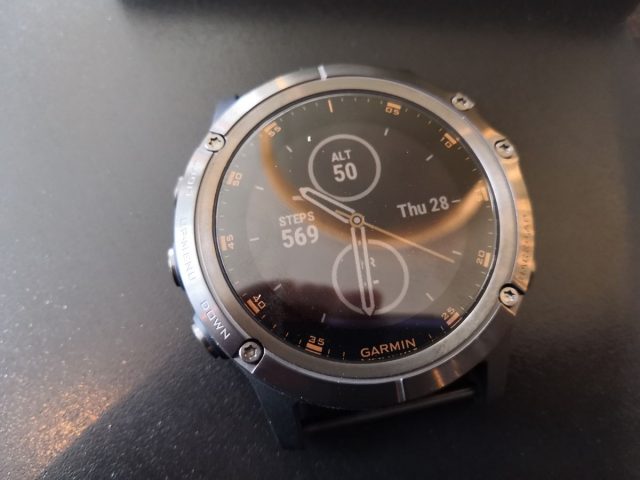 The largest of the lot, the fēnix 5X Plus is 51mm across, and definitely suited for bigger wrists as it looks awfully chunky on mine. It boasts the longest-lasting battery of the three – 18 days on smartwatch mode, 30 hours on GPS, and 11 hours on GPS and music mode.
One distinguishing feature that the 5X Plus has and the others lack is the Pulse Ox sensor that detects blood oxygen saturation levels. It's most useful on strenuous climbs for hikers to ensure they are adjusting to thinner air at higher altitudes, but it's probably a pretty obsolete feature for users restricted to Singapore. What are you going to climb, Bukit Timah Hill? But if you're the type that makes hiking trips overseas, this is the one to keep an eye on.
The 5x Plus also has the option for stainless steel or titanium, weighing 96g for the former and 87g for the latter. The fēnix 5X Plus Sapphire Carbon Grey with black silicon band costs S$1,299, and the fēnix 5X Plus with Sapphire Carbon Grey DLC titanium with DLC titanium band is S$1,699.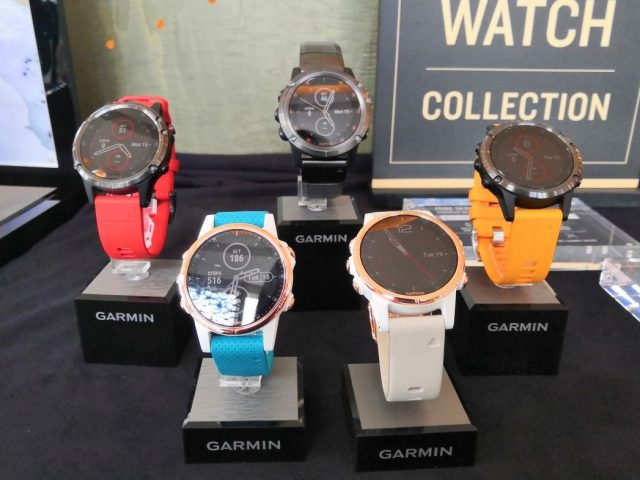 Watches the price of laptops sound quite ridiculous, but it may be well worth the money for the premium build quality and array of functionalities that enhance the sporting experience of athletes, hikers, and outdoor adventurers.
For something a bit more affordable, Garmin is also releasing the vivoactive 3 Music, featuring the same music storage and Garmin Pay capabilities in a simpler smartwatch preloaded with over 15 sports apps to monitor your fitness level. The vivoactive 3 Music retails at S$459.
Both the fēnix 5 Plus series and vivoactive 3 Music will be available in Singapore on 1 July 2018 at authorised retailers which include Harvey Norman, Best Denki, Challenger, and Courts.
---

Drop a Facebook comment below!