Fortnite is currently one of the biggest games in the world, while the Nintendo Switch remains the hottest talk of the town. Merge the two together, and hype is inevitable – even as confirmation of the news continue to linger.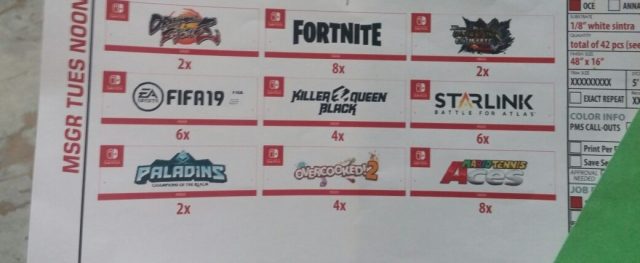 A recent post on 4chan has unveiled a leak of the Nintendo E3 2018 showcase, listing Epic Games' hugely popular battle royale title alongside other notable games, such as Dragonball FighterZ, Paladins, Monster Hunter Generations, and FIFA, as well as hitherto unannounced projects Killer Queen Black and Overcooked 2. The line-up, which appears to be an order of a print shop, does bring up some doubts and scepticism due to the lack of credentials, so it'd be wise to take the news with a pinch of salt.
Having said that, there's reason to suggest that the rumour may be true. Already available on PS4, Xbox One, PC, and iOS (with an impending port for Android devices), Fortnite has supposedly undergone the rating process by the Korean Game Rating and Administration Committee (GRAC), and the eventual result is now out in the air.
While rating board listings are hardly indicative of an official status, they have proven to be a reliable source of information about new, unconfirmed titles. Other information, such as the inclusion of Battle Royale, Save the World, or both modes, will probably be kept under wraps and saved for Nintendo's press conference on June 13, 2018 at 12am (GMT +8).