In celebration of Singapore's 50th Birthday, Bandai Namco Asia has collaborated with acclaimed mechanic designer Kunio Okawara to create Singapore's very own SG50 Gundam Model Kit. The HG RX-78-2 GUNDAM Ver. SG50 will be available for sale at Takashimaya Square.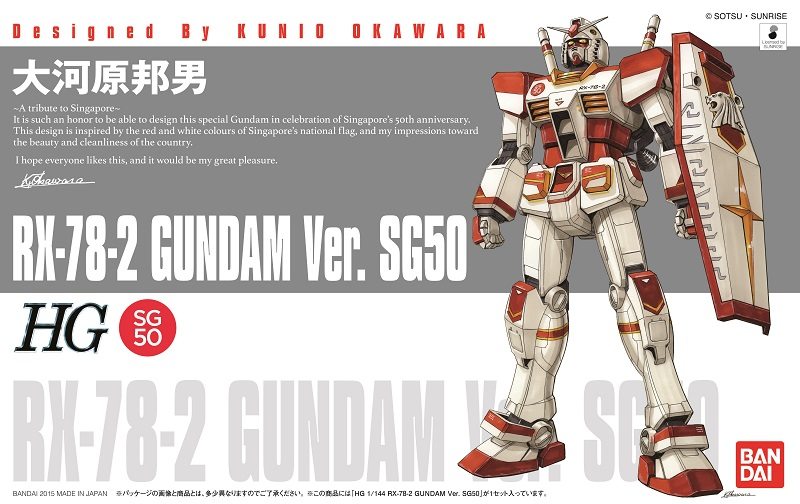 Get Your SG50 Gundam Model Kit Autographed
Fans who purchase the SG50 GUNDAM Model Kit will stand a chance to get an autograph from Kunio Okawara himself at an autograph session on 6 June, 3pm at Takashimaya.
"It is such an honour to be able to design this special Gundam in celebration of Singapore's 50th anniversary. This design is inspired by the red and white colours of Singapore's national flag, and my impressions towards the beauty and cleanliness of the country. I hope everyone likes this, and it would be my great pleasure" – Kunio Okawara
Gundam Docks at Ngee Ann City Singapore
Bandai Namco Asia, one of the leading toy maker and arcade, mobile and home video game publishers in Japan, and Takashimaya Department Store, presents an iconic exhibition in celebration of 35th anniversary of GUNDAM model kit  and in conjunction with Singapore's Golden Jubilee – the "Gundam Docks at Singapore". One of the largest such exhibition outside Japan, the approximately 4,000sqm showcase will include over 200 models of the phenomenal Gundam series – the first anime based on space war and machines that sparked off the genre of robotic anime. From 4 to 28 June, the exhibition will be held at Takashimaya Square, B2 and Ngee Ann City Civic Plaza.
The experience begins as two 6m tall (1:3 scale) gigantic robots looms above you at the Ngee Ann City Civic Plaza. Witness the fight between Earth Federation vs Principality of Zeon as the RX-78-2 Gundam, the largest Gundam to be showcased outside Japan, come face to face with Char's Zaku.
For collectors, shoppers and anyone who wants to learn more about Gundam or bring home a piece of this extraordinary exhibition, they can head down to Takashimaya Square, B2. With over 10 booths selling Gundam merchandise and exclusive editions.
"Gundam Docks in Singapore will be Asia's largest Gundam exhibition and showcase. Singapore was selected to host the show as it is a strategic market for us and a gateway for South-east Asia. In partnership with one of Asia's best shopping malls, we look forward to delivering a spectacular experience for fans, families, and friends in Singapore, as well as from the region." – Mr. Takayoshi Oyama, Bandai Namco Singapore
Admission for the exhibition is FREE, and the exhibition will open from 10am to 9.30pm daily.
For more details and updates, head over to GundamDocks.sg.
More Exclusive Limited Edition Merchandise
In addition to over 200 models of the Gundam series brought in for the exhibition, fans and collectors can check out a series of limited edition merchandise, some of which are exclusively available only at this exhibition:
---

Drop a Facebook comment below!