Interested in catching all the E3 2019 action? Check out our handy guide, and all of our E3 2019 coverage!
---
When you own the publishing rights to the video games of one of the most iconic Japanese anime and manga series, you know you're in for some serious games that will come out of it. Such seems to be the case with Bandai Namco's and CyberConnect2's latest game in the Dragon Ball Z franchise — Dragon Ball Z: Kakarot.
Dragon Ball Z: Kakarot takes place during the events of the titular anime and manga series, focusing mainly on the earlier part of the plot, which most DBZ fans should be familiar with. For the uninitiated, this would serve as a good jumping-on point for the DBZ franchise, as it the main protagonist Goku — real name Kakarot, hence the title — learns to fully harness his powers as a Saiyan, as well as using that power to defeat Frieza, one of the most iconic villains to ever exist.
First and foremost, Dragon Ball Z: Kakarot is an action RPG — a deviation from its typical fighting game roots such as Dragon Ball FighterZ or Dragon Ball Xenoverse. "This is by design", explains game director Ryosuke Hara. "One that would fit the narrative that drew many fans to the franchise in the first place."
Okay, so there are a ton of DBZ games out there. What makes Kakarot so intriguing is that it will only be playable in single player. The omission of online multiplayer is a conscious choice, and is in keeping with Hara-san and his team's vision in recreating a true-to-form DBZ experience. This is, he feels, is ideal for developing a game that will "stay true to the Dragon Ball Z story."
"So, our big focus for us was to create the Dragon Ball Z experience for the player," says Hara-san. "One of the main questions we asked was: 'what exactly does the Dragon Ball Z experience mean to Goku's perspective?' As such, there will be battles between big titan-like fighters and a lot of very famous scenes that people will remember very well from Dragon Ball Z."
The emphasis on singleplayer undoubtedly allows Hara-san and his dev team to hone in on crafting a more focused experience that will put you in the shoes of Goku/Kakarot like never before.
Despite its narrative-heavy approach, Dragon Ball Z: Kakarot is still a true blue DBZ game at its very core. You'll still blitz through areas either in the air or on the ground, enter Super Saiyan mode as you punch, smash and Spirit Bomb your way through enemy Saiyan and other baddies, and all the other amazing things you can do as a Saiyan with a power level over 9,000.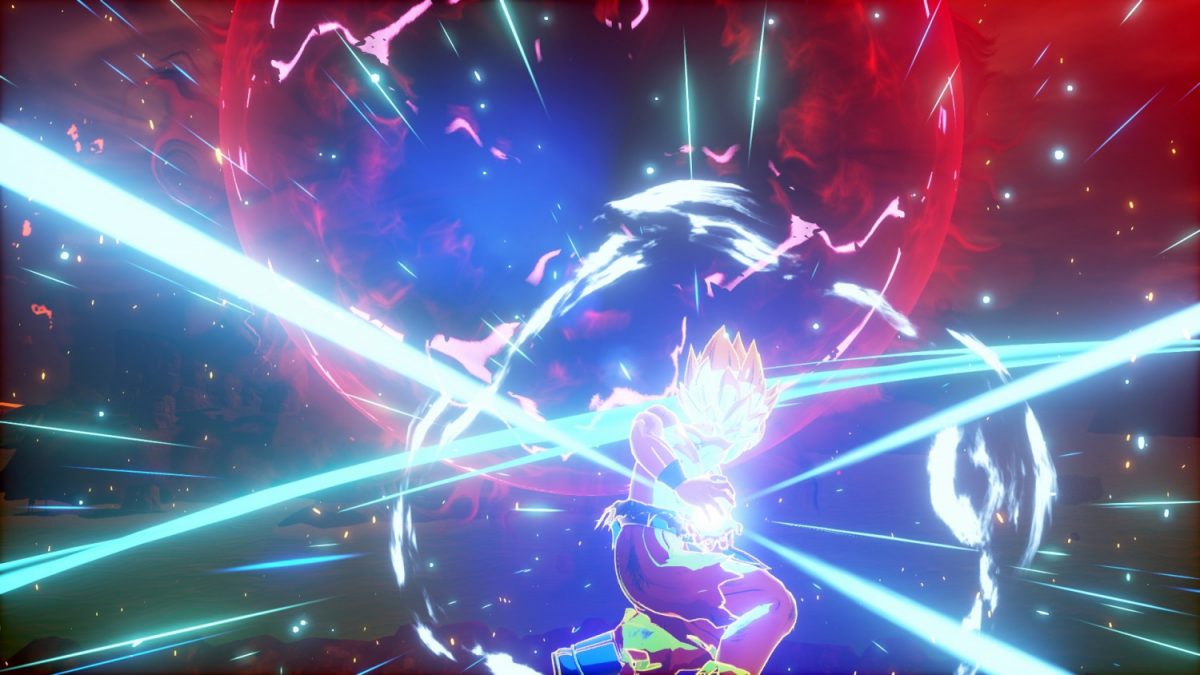 However, Kakarot breaks up that power fantasy mould by introducing an exploration, interaction and crafting/gathering-based gameplay loop outside of those big battles.
In the various large-scale sandbox-style zones, Goku can fly around and gather ingredients for meals that he will cook. These meals are not just to fill up his tummy in game, but they also confer a variety of buffs and stat boosts that will aid him in his next battle.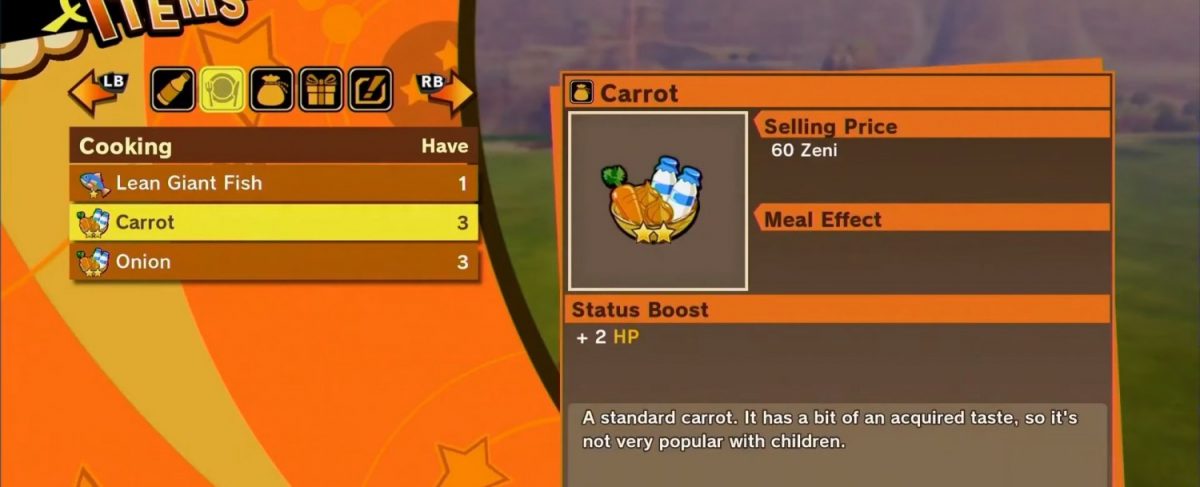 Furthermore, he will be engaging the various NPCs of the DBZ canon, who will at times give him side quests that will yield helpful rewards or simply increase his power level. Another interesting feature is that some of these NPCs are characters from the original Dragon Ball series, such Android 8 and Enma, so this factor, Hara claims, is sure to appeal to the most diehard of DBZ fans.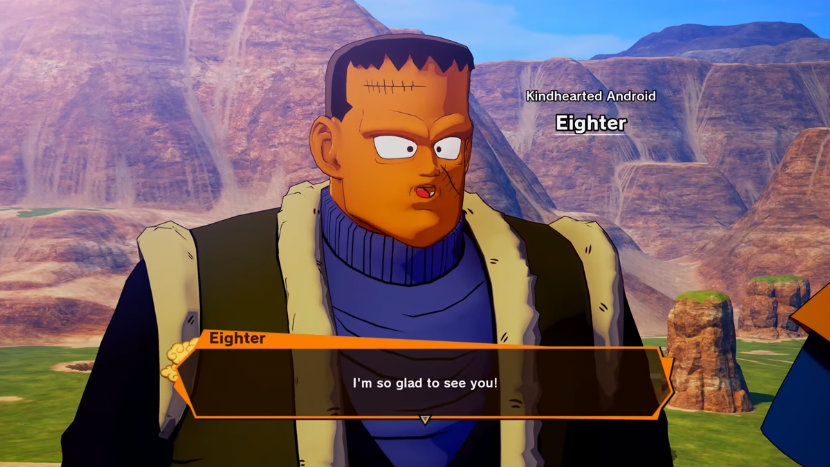 Similarly, the game will not be a fully open-world game, so as to facilitate the team's faithful adaptation of the Dragon Ball Z narrative.
"I think we've come to understand what open world means with full freedom," Hara-san describes. "And a lot of that comes down to the way we need to depict this story. And if we turn it into a fully open world game, we would effectively kind of be lying about kind of the timeline of the story. So we didn't; we wanted to stay true to the Dragonball Z story."
Of course, while the addition of characters from the older Dragon Ball stories technically isn't canon, these side quests and interactions merely provide some light-hearted comic moments and opportunities for Goku to gain more unique materials and power levels, without detracting from the main narrative.
Despite having a multitude of Dragon Ball stories and arcs to choose from, CyberConnect2 made the conscious decision to pick this defining story arc to base Kakarot on. Hara-san believes Goku's status as a pop culture icon and anime "hero" is the main pull factor for many.
"We feel that Goku is a character that many fans look up to, and we want to create the best Dragon Ball experience by not just letting you fight as Goku, but to go through his ups and downs as well."
Whether or not Dragon Ball Z: Kakarot will go beyond the Frieza arc remains to be seen, but Hara-san has confirmed that the game will have endgame and post-launch content. The details of which are pretty hazy at the moment. Expect Bandai Namco to announce more of these features as the months go by.
In any case, Dragon Ball Z: Kakarot is certainly one to look out for when it drops sometime in 2020, especially if you're a DBZ fan.
---
Interested in catching all the E3 2019 action? Check out our handy guide, and all of our E3 2019 coverage!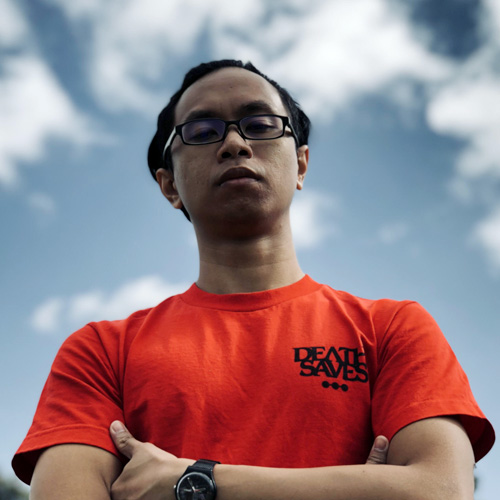 Marion has a serious RPG addiction. Sometimes it bleeds into real life; he forgets to sleep because he thinks he has a Witcher's body clock. Forgive him in advance if he suddenly blurts out terms such as "Mind Flayer" and "Magic Missile", because never once does he stop thinking about his next Dungeons & Dragons game.