Rhythm games aren't for everyone, but there's always a place for them in the gaming scene, both at home and in arcades. While some can't quite get into the groove, fans live for the sheer delight and thrill of hitting all the right notes at the right time, and a few continue to do so decades later. Samba de Amigo originally delivered on it in arcades back in 1999, and on the Sega Dreamcast in 2000, and it's looking to liven up the party yet again with its sequel Samba de Amigo: Party Central.
Slated for launch on 29 August for the Nintendo Switch, this sequel might have come more than two decades after its debut but it's a long-awaited dream come true for fans who have been clamouring for a new addition to the franchise and, a Nintendo Wii port aside, they finally got their wish answered during an unexpected reveal in February 2023.
"When the Nintendo Switch got announced, [it was revealed that] the Switch has two Joy-Cons and we were thinking, 'Wouldn't the Joy-Cons be perfect for a Samba de Amigo title?'" shared Shun Nakamura, who is the director of the original Samba de Amigo, and also the current director and producer of Samba de Amigo: Party Central. As years passed, the gaming industry increasingly saw publishers reviving older IPs (such as Streets of Rage 4 and God of War) and delivering rich nostalgia to fans, thus signalling an opportune time to bring back the Samba franchise.
In his significant 25-year career at Sega, Nakamura has been integral to some classic games — including Billy Hatcher and the Giant Egg (2003), Sonic the Hedgehog (2006), and Mario & Sonic at the Olympic Games (2007), which explains how the veteran game designer was able to call on a couple of other members from the original team for this sequel. Meanwhile, the rest of the crew on Party Central is made up of both experienced fans of the franchise, as well as newcomers who had to learn and get used to the property from scratch. It wasn't necessarily an easy endeavour, but the team had the support of members from other Sega rhythm titles including Hatsune Miku: Project DIVA (2009) and MaiMai (2012), who shared their expertise to help modernise the gameplay of Party Central. This mix of perspectives helped craft a rhythm game that's a lot more fun and approachable than its predecessor and its contemporaries.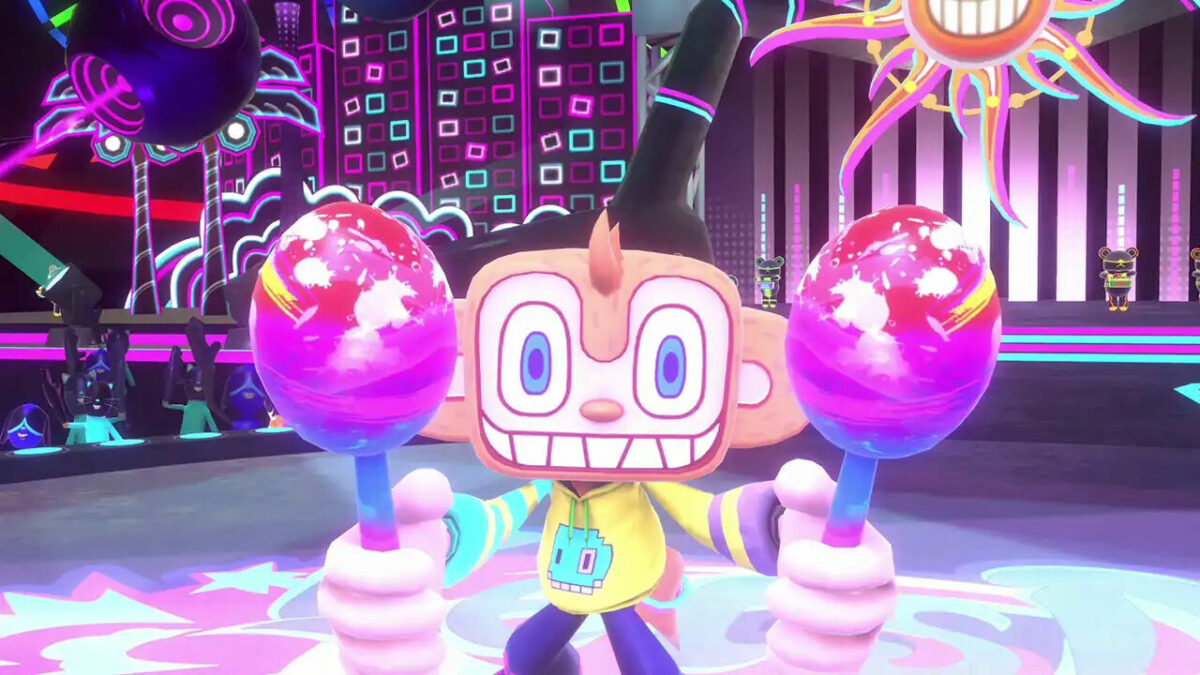 In fact, Samba de Amigo: Party Central bridges the past and present by tapping into the infectious energy of TikTok, seamlessly blending it with the game's signature samba flair.
"Party Central was based on the original concept of baka tanoshii, which means the silly fun that you can have within the game," explained Nakamura. "In order to push that aspect of baka tanoshii, we noticed that TikTok was having a real surge within modern gaming and rhythm users on social media. So, we wanted to combine those two elements and create a fun atmosphere.
"With the way TikTok works, it reflected how we wanted to give players the opportunity to focus more on the audio and songs available within the game as opposed to getting it 100% right as you do with a regular rhythm-based game."
Like TikTok, the background music in Party Central is more than just a score — it's the heartbeat of a global community coming together to have a blast and offer their unique take on popular trends. But it doesn't stop at the music. Nakamura took a page out of the live performer's handbook, infusing the game with those spontaneous moments that make concerts and viral videos genuinely unforgettable.
"We wanted to add a lot of randomness within Samba de Amigo: Party Central, so that when players are playing the game, they can do a funny pose midway and have a laugh around that," he added. "Minigames like the roulette give an opportunity to have a different experience at every turn and use that as kind of like a TikTok challenge within the gameplay."
From shaking Joy-Cons with the fervour of a true samba dancer to nailing tricky sequences, players become part of the performance. Just like a live artist who surprises the audience with impromptu moments, Nakamura injects that same spirit into the game, ensuring that every beat is not just heard but felt.
There are many other out-there features that help Samba de Amigo: Party Central push boundaries and reach an audience beyond its Japanese shores. For example, the StreamiGo! challenges transform Amigo into a professional streamer a la Twitch — tasking the player with completing specific tasks within songs, such as achieving a particular score, while fictional chat comments scroll past the screen.
Elsewhere, World Party mode gives score-chasers the thrill of attaining a perfect grade, similar to other rhythm games. However, Nakamura and his team decided to throw a twist into the multiplayer component of World Party mode — a multi-round elimination similar to a battle royale. The battle royale genre has permeated gaming culture across the globe, and this addition proves that Samba de Amigo: Party Central is in tune with the ever-evolving gaming landscape.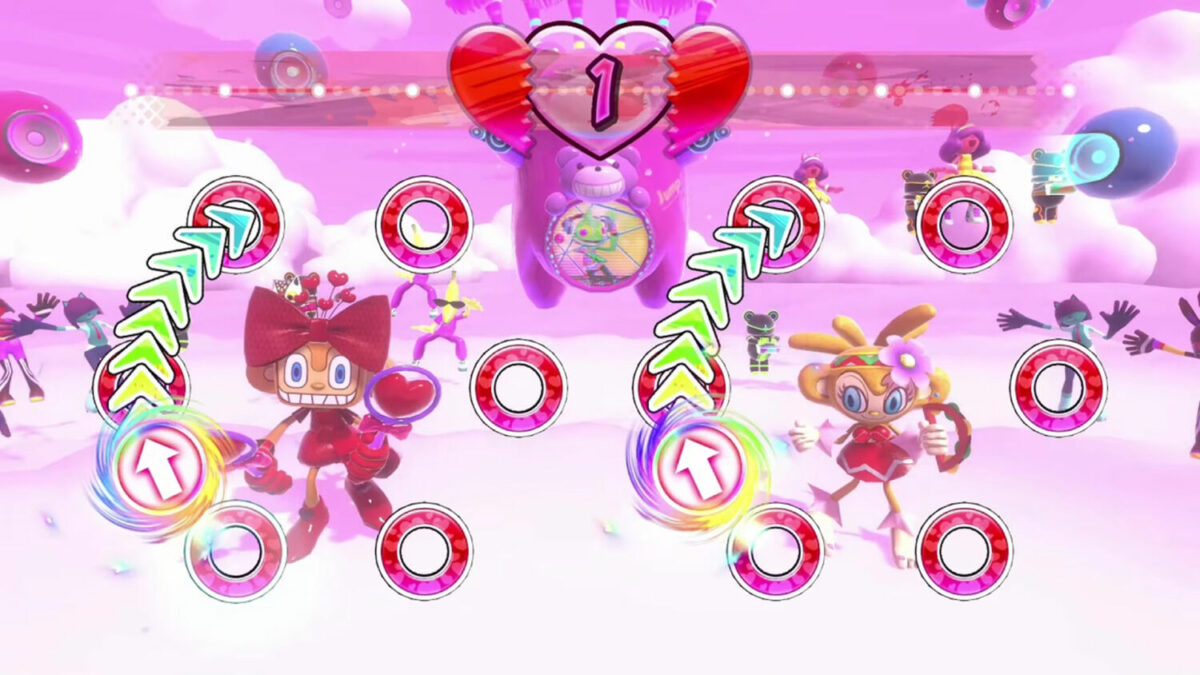 But perhaps the wildest feature in the game is Love Checker, the successor to the original's Couples game mode. In this multiplayer mode, players have to keep to the beat with their partner to build up a heart metre while occasionally performing couple poses. At the end of a session, players will be treated to a compatibility percentage and even some light-hearted advice. Nakamura remarked, "You can potentially use it as a means of getting closer to the people around you or the person that you want to spend more time with."
This mode was such a hit that Nakamura demonstrated it during a meeting to determine the compatibility between the company's directors and managers, leading to many fun moments that players can replicate in the comfort of their own homes.
To reach a wider audience, a version of the game is being developed for the Meta Quest 2 and Meta Quest Pro, representing Sega's first virtual reality title. Players will be able to experience the rhythmic explosion in VR when it releases in Fall 2023. Meanwhile, an Apple Arcade version is set to be released simultaneously alongside the Switch version.
"With Samba de Amigo, we hope to make communication and socialising a lot more fun and interactive, both in real life and within the game. And we hope that you will be using Samba de Amigo: Party Central as a means of enjoying time with your family, loved ones, and friends," said Nakamura, who also hopes that players will share their time with the game on TikTok and other social media platforms to truly deliver the complete experience.
Samba de Amigo: Party Central releases 29 August on the Nintendo Switch.