The two-day digital event BlizzCon 2021 has given Diablo fans plenty of new things to rejoice over like the announcement of Diablo II: Resurrected and the new Rogue class in the upcoming Diablo IV. 
One other prominent update was on the controversial mobile game Diablo Immortal. During its first announcement back in 2018, it was met with fierce lash back from the fans as many felt they needed the sequel to Diablo III instead of a mobile entry. Players were skeptical as to why Blizzard decided to take Diablo into a mobile platform especially when they were largely anticipating the PC sequel.
The announcement was a major disappointment to most fans and was infamous for one attendee asking the developers if it was an "out of season's April Fools joke". However, during BlizzCon 2021, developers of the new mobile title had much to show during the game's Technical Alpha and have given us plenty to look forward to with their first entry into mobile gaming.
The lore behind Diablo is a compelling narrative that has been built throughout many years from books, comics, and of course, the games. Especially notable for the first two games of the franchise, Diablo was often renown for its horror grandeur and the dark setting of its universe. It is crucial to fans that Diablo Immortal had a story to tell, a soul gripping one.
With Diablo Immortal shaping up to become a complete Massive Multiplayer Online Action Role Playing Game (MMOARPG), the game is committed to telling a brand new story and feature many new things while retaining the predecessor's formula.
In an interview with Lead Producer, Caleb Arseneaux and Senior System Designer, Kris Zierhut, both mentioned that they had to separate themselves from Diablo III with everything new from the story, to design choices and the end game.
The narrative of Diablo Immortal will take off right after the end of Diablo II after The Worldstone was shattered. "Your character at the beginning of the story is seeking out these Worldstones to stop them from falling into the hands of demons." Players will meet familiar characters like Cain and slowly run into things from Diablo III as the game progresses.
For them, there was an unexplored place between Diablo II and Diablo III that allows them to have their own sandbox to create new characters and tell a completely different story without disrupting or overlapping the narrative in Diablo III and its sequel. They wanted to work on the untold story since it was a shrouded mystery after players complete Diablo II. They assured fans that it will not be a replication of the PC experience onto the mobile platform.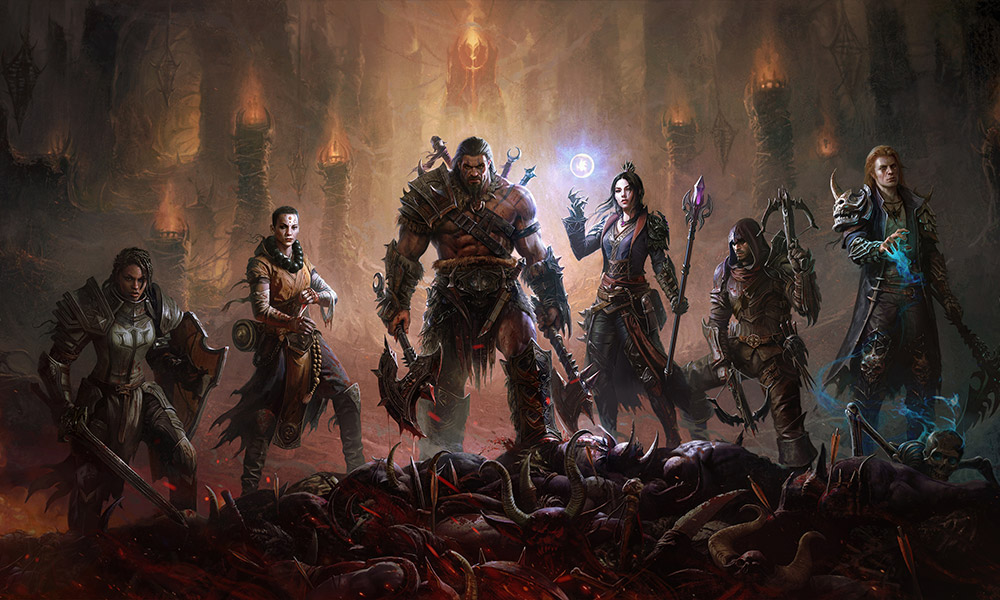 The mobile MMO will also attend to much of the player's feedback from its Technical Alpha like redesigning the underpowered Wizard class and its skills like Ray of Frost. Players had the idea that being a Wizard means you had to kite the enemies to fight, but they will completely balance that.
Since the MMO is a space where players meet hundreds of other players, one other noteworthy feedback is how other players can swoop in to steal credits for the monsters you were trying to kill. It will no longer be that case according to them as going forward, players will still get credits for their quests as long as they have dealt damage to the monsters.
Campaigns in the game will feature completely new dungeons, skill sets, items, and unique gems. Even with character customization, players can add facial tattoos and select the skin colours of their heroes. Additionally, an auto walk function can also be unlocked after players have fully explored the zone, something completely new to the Diablo franchise.
The game is currently in a "public testing phase" with no release dates were announced. Diablo Immortal will also include in-game voice features and a Battle Pass system to accumulate points gaining levels to unlock various rewards. They are also working on controller support.
If you've missed out on all the releases and teasers of the BlizzCon 2021, we've got it covered for you. 
---

Drop a Facebook comment below!