Cowabunga, dudes!
After the phenomenal showing of Injustice: Gods Among Us back in 2013, NetherRealm Studios once again proved their prowess in the fighting game category with Injustice 2 four years later. Like its predecessor, the power-hit sequel was also released to overwhelmingly positive response, and the developers have not looked back since, constantly keeping the game fresh with new characters and content.
Next in the works is the peculiar introduction of a familiar group of four turtle brothers that comic book fans may recognise as the Teenage Mutant Ninja Turtles. Considering the current lineup of DLC characters like Red Hood, Starfire, and Atom, the latest addition sure does come across as an odd choice.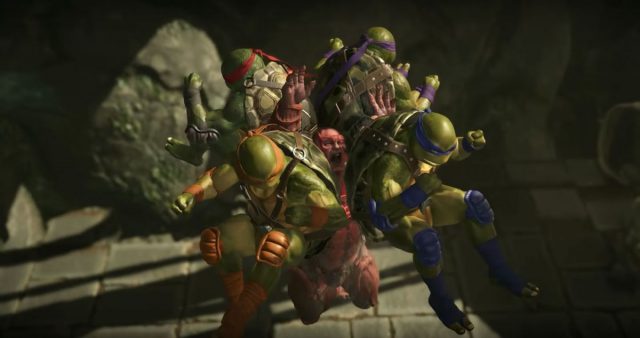 With the arrival of the Heroes in a Half Shell comes new gameplay mechanics. Instead of the usual single character selection process, players can now switch between the turtle of their choice through the game's unique gear customisation system. Double-wield swords, and slice through the enemy as Leonardo, or pick up Donatello's bo staff, and execute a clean sweep against your foe.
Fancy more action at even closer quarters? Swing your way to victory with Michelangelo's nunchakus, or sink the sharp edges of Raphael's sais into your opponent. The process is simple – just equip any one of these four accessories, and the character loadout will be changed accordingly.
In online or tournament play, where specific loadouts are unavailable, players will be selecting each individual turtle from the character selection screen instead.
No way.

Big Apple.

3AM.https://t.co/AMttCK0Tqq pic.twitter.com/a1Wp0Bylhg

— Grant Smith (@MasterWuggles) February 7, 2018
A personal favourite would be Michelangelo, oozing smooth confidence and charming cockiness. Apart from his trusty nunchakus, his skateboard aids him in combat as well – and the stickers on it serve as clever nod to a classic Teenage Mutant Ninja Turtles game, as sounded out by an observant fan on Twitter.
Making its first appearance in Teenage Mutant Ninja Turtles: Turtles in Time, the discovery is of huge significance, considering how "Big Apple. 3AM." is the statement to the opening level of the game. Neat.
The Teenage Mutant Ninja Turtles will be coming to the Injustice 2 Ultimate Edition, Injustice 2 Ultimate Pack, or Fighter Pack #3 on February 13, 2018, and is slated for release on the PlayStation Store, Xbox Store, Steam, and Microsoft Store as a standalone purchase from February 20, 2018 onwards.
Better brush up your Injustice 2 skills, lest you succumb to the teamwork of these four teenaged anthropomorphic turtles!