When will Hollywood ever learn?
Not happy with the long list of video game movies that have failed, Hollywood looks set to add another classic video game title to the list, as iconic first-person shooter Duke Nukem is getting the live-action treatment.

The 1990s franchise, which is literally about a big guy with even bigger guns, arguably has no storyline other than the memorable one-liner delivered by the hardass titular hero each time he shoots aliens.
According to The Hollywood Reporter, Legendary Entertainment (Dune, Godzilla movie series) has bought the Duke Nukem movie rights from Gearbox Software, and is set to produce alongside Cobra Kai creators Josh Heald, Jon Hurwitz and Hayden Schlossberg (the trio through Counterbalance Entertainment).
Guys, come on. It's time to sweep the legs on this.
If the headline sounds familiar, that's because it reads like this one from 2018.
Oh right, this isn't the first time Hollywood has flirted with Duke Nukem. It started all the way back in the 1990s when strongman-type movies were still the rage and even though the video game series was a massive hit, the earlier attempts didn't get a pass. Successive attempts, which include having former wrestler-turned-actor John Cena attached to star over four years ago stalled. That was around the time Assassin's Creed movie producer Jean-Julian Baronnet was on board with the Gearbox-led attempt. Then radio silence.
In the Duke Nukem games, you play as the titular character, a mostly silent, politically incorrect, hypermasculine man (just think Arnold Schwarzeneggar in The Terminator). As Duke, you travel from strip clubs to moon bases while killing aliens that invaded earth.
You perform those feats while wearing a red tank top and Ray-Ban sunglasses, armed with either a Desert Eagle pistol or Colt M1911, and equipped with a jetpack.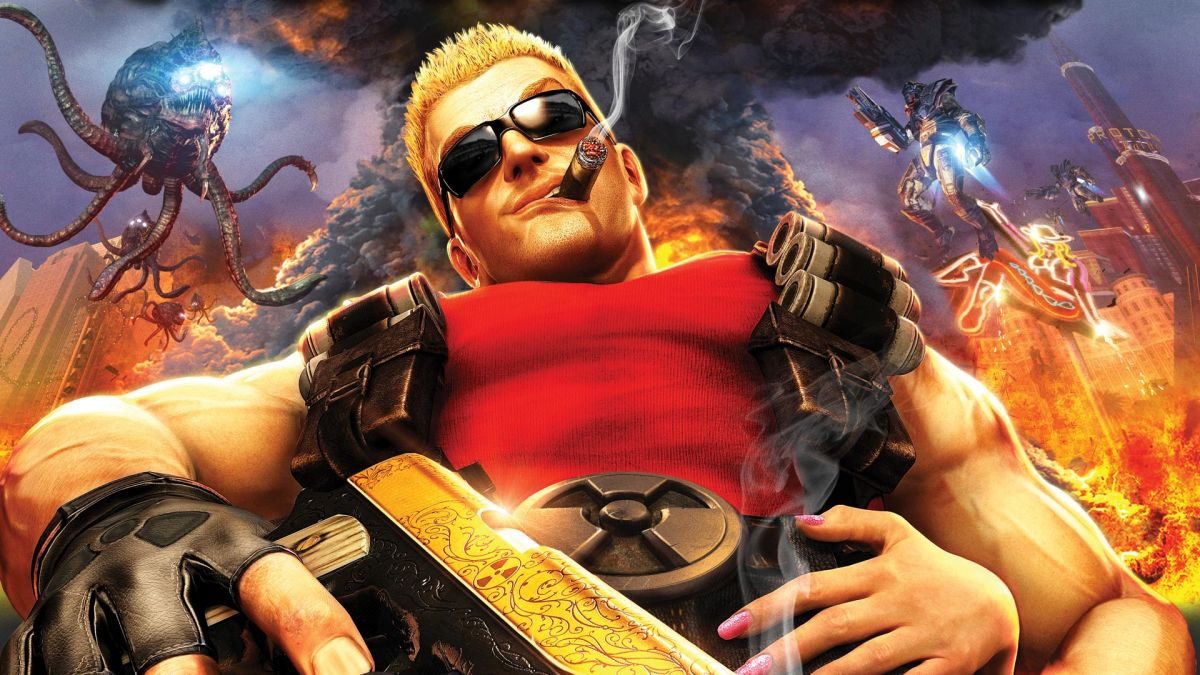 Duke Nukem's claim to fame is arguably its role in kickstarting the first-person shooter genre as we know it with the release of Duke Nukem 3D in 1996, the third game in the franchise. As far as the story goes, it is really as generic as it gets. Sure, there are some details but the basic gist of it is this. Aliens attack earth. Aliens kidnap women. You kill aliens. You get captured. You escape. You rinse and repeat.
Now, why would any movie adaptation of it ever have a problem getting off the ground? Beats me.
Let's hope this new attempt by the Counterbalance trio of Cobra Kai creators would prove more decisive. After all, they managed to reimagine The Karate Kid story for the new generation with Cobra Kai, which led to numerous Emmy nominations with a Season 5 coming out on 9 September.
But if Hollywood needs a Duke Nukem movie, best let it get done and over with. We wouldn't want there to be a Duke Nukem Forever-in-the-making after all. 
---

Drop a Facebook comment below!