Boardgame manufacturer CMON has collaborated with Spin Master Games to launch a Kickstarter campaign for Marvel United, a tabletop card game.
A project almost two years in the making, Marvel United is an entirely new and original board game featuring original gameplay that is built from the ground up by award-winning designers Eric Lang (Cthulhu: Death May Die) and Andrea Chiarvesia (Kingsburg).  
The game is a fast-paced, cooperative game that depicts Marvel's heroes and villains in an original "chibi-style" form and requires players to set up the mission board and select from one of three villains (Red Skull, Taskmaster, and Ultron) to battle against. Players will then choose a hero to bring to battle, their choices include Captain America, Hulk, Iron Man, Captain Marvel, and Black Widow. Players will then have to strategise with each other to bring down the villain's master plan. The players win if they successfully thwart the villain's plans and lose if the villain succeeds in unleashing his masterplan. 
The game is said to be able to provide around 40 to 60 minutes of gameplay each time.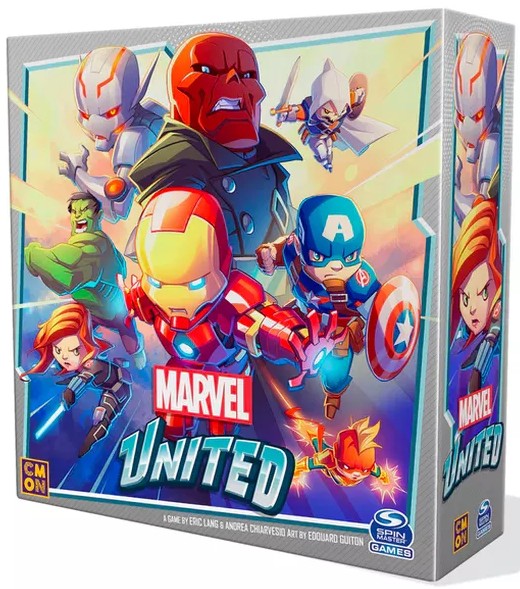 "We are excited to unveil the first-ever Marvel game on Kickstarter, delivering a truly unique and original game to fans," Elizabeth LoVecchio, VP of Spin Master Games, said in a press statement. "Spin Master takes pride in great partnerships and working with CMON exemplifies this value. Launching Marvel United on Kickstarter gives us the opportunity to bring the ultimate version of this game to superfans with exclusive expansions and characters that can be mix and matched in the game."
The Kickstarter was just launched and backers who pledged US$60 or more will get to receive the ULTIMATE fan edition if the project gets funded. This includes the Marvel United core box and all applicable stretch goal rewards that will be unlocked throughout the campaign. 
With how CMON is known as "Kickstarter's #1 funded company" and with the campaign being one for a Marvel tabletop game, it is pretty safe to say that Marvel United will reach its funding goals without any problems. 
If all goes well, the Kickstarter version of Marvel United should be shipped this fall.