Uniqlo is known for many things, but if there's one defining trait that makes them stand out from their competitors, it'd be their collaborative efforts with renowned, hot favourite IPs. Next on the list is the Gunpla 40th Anniversary UT Collection, which is slated for launch on 24 April 2020 in Japan.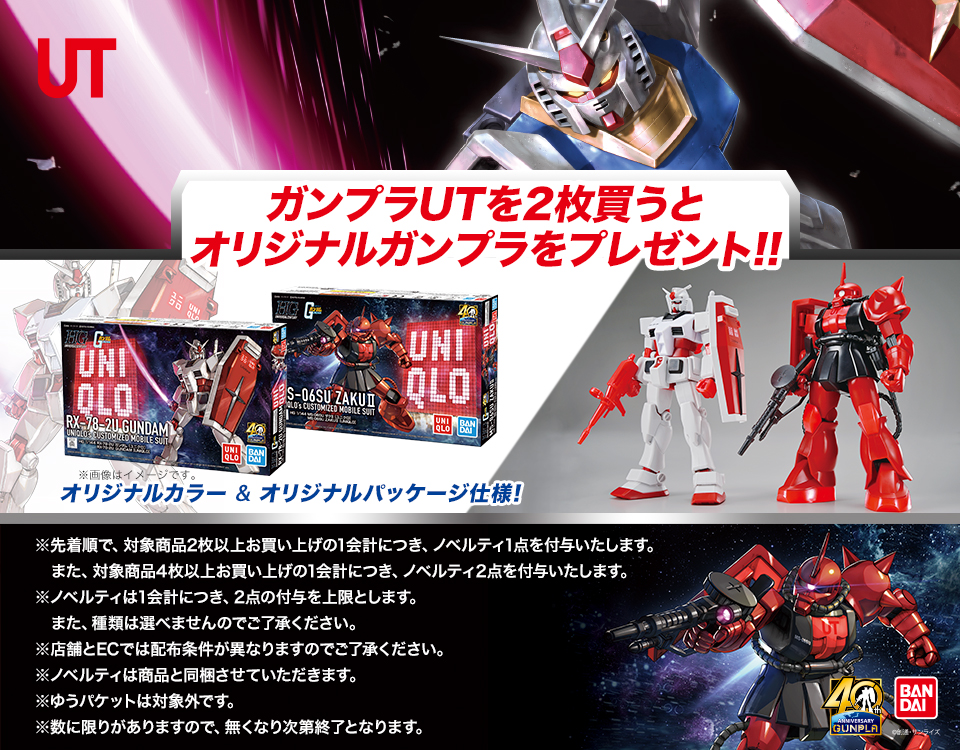 The t-shirt designs are based on selected popular mobile suits, such as the iconic RX-78-2 from the original Gundam series, RX-93 v Gundam (Mobile Suit Gundam: Char's Counterattack), MSZ-006 Zeta Gundam (Mobile Suit Zeta Gundam), and the Strike Freedom Gundam A (Gundam SEED Destiny). Each of them will also come with an accompanying logo print on the sleeves, as a nod to the signature features of the respective build.
The full line-up may be found below:
As part of the 40-year celebration, Uniqlo is offering a complimentary customised Gunpla kit for customers who have purchased two or more items from the collection as well. Two versions are up for grabs: The RX-78-2U Gundam, sporting the company colours of red and white, and the MS-06SU Zaku II, which uses red as its base, and swaps out the white hues for black.
The promotion is based on a first-come-first-served basis, and will end once the last of the stock is claimed. More importantly, the working mechanics are set to differ from one country to another – the US, for instance, requires customers to buy three Uniqlo x Gunpla shirts for eligibility instead of Japan's two. It's thus recommended to drop by the official Uniqlo website of your region for further specifics, especially for those who are affected by the lockdown policies brought on by COVID-19.