Let's face it – there are just way too many smartphones out there. Which one do we choose? Which one will suit our needs? And most importantly, which one fits our budget?
So instead of focusing on flagship devices, Geek Culture takes a closer look at three mid-range devices from three of the leading Android handset makers in the market – the Huawei Nova 3i, Samsung Galaxy J7 Duo and the OPPO A73s.
Display
Of the three, the Huawei Nova 3i has the biggest screen size, at 6.3-inches, followed by the OPPO A73s at 6.0-inch, and the Samsung Galaxy J7 Duo at 5.5-inch. Corresponding to the screen size, both the Huawei Nova 3i and OPPO A73s sport a Full High Definition (FHD+) display resolution, with the Huawei Nova 3i having a slightly higher resolution of 2340 x 1080 vs the 2160 x 1080 of the OPPO A73s.
The Samsung Galaxy J7 Duo has a normal High Definition resolution, at 1280 x 720. Performance wise, the Nova 3i has a sharper display, with plenty of screen real estate. If you are a fan, it even has the notch on the screen, for that all-around, more immersive experience.
Design
In terms of physical size, the Nova 3i is the biggest, measuring 157.6 x 75.2 x 7.6 mm. Though the smallest of the lot at 153.5 x 77.2 x 8.2 mm, the Galaxy J7 Duo is the heaviest at 174g. The Galaxy J7 Duo is also the only one with a physical home button at the face of the phone, as well as dedicated capacitive buttons, while the other two do not. The Galaxy J7 Duo has a thicker bezel than the rest, contributing to its wider size than the others.
The Nova 3i comes in two colour options, Black or Iris Purple. The Iris Purple is a metallic blue-purple gradient, making the phone stand out from the rest. The Galaxy J7 Duo comes in Blue or Black. Simple, but with not much pizzazz to it. The A73s comes in Special Diamond Black or Solar Red. The Special Diamond Black reflects like a diamond when looked at from different angles.
Taste is, of course, very subjective, so there's no clear winner here. There are different designs available for everyone. And if all else fails, there's always the option of buying a case.
Memory
The Nova 3i wins yet again when it comes to memory. It comes with 4GB of RAM, with 128GB of internal memory, with support for up to 256GB of external memory. That's a potential total of 384 GB of storage. The A73s follows with 4GB of RAM, and 64GB of internal space, as well as up to 256GB of expandable memory. The Galaxy J7 Duo comes in last with 3GB of RAM and only 32GB of internal memory, with support for up to 256GB of external memory.
Camera
The phone camera is now one of the, if not the most important thing to consider when buying a smartphone. Again, the Nova 3i has a clear advantage, with its 16-megapixel rear camera and 24-megapixel front camera. No, those numbers are not mixed up. The front camera here does have a better megapixel count than the rear camera, which is not a usual move for smartphones. Selfies anyone?
The Nova 3i also benefits from having dual cameras both on the rear and front cameras. With dual cameras on both sides, the bokeh effect is easily achieved with either side of the cameras.
The Galaxy J7 Duo also has a rear dual camera, while the A73s has none.
That's all in theory, but what about in practice?
All photos were taken with the auto mode on each phone. In terms of colour, Nova 3i definitely wins. The colours are brighter and have better contrast. The A73s' photo is brighter, but the colours are a little flat, while the J7 Duo is darker but has a bit more depth to the colours.
For the bokeh effect, crucial for those amazing portraits, each phone has a different way of achieving it. On the Nova 3i, there's portrait mode with bokeh effect, but to push the camera, we used the aperture setting and pushed it to the maximum setting that it will go, which is f/0.95. On the J7 Duo, it's called Live Focus, and we also pushed that to the maximum that it can go. On the A73s, the only camera without a dual lens system, it has a depth-of-field effect on its camera app.
Here's what they look like.
For comparison, here's what the figure looks like with a 50mm lens at f/1.8 on a DSLR.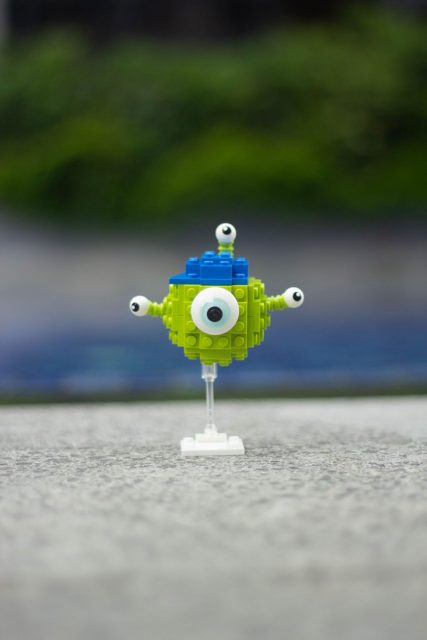 The blur on the Nova 3i looks really good. It even managed to detect the small edges of the figure and not blur it out with the rest of the background. For the J7 Duo, the edge detection is not as good, but a plus is the ability to change the focus after the photo was taken. And the A73s… Well, it tried. There's not that much noticeable blur in the background.
The Nova 3i definitely wins in the camera department. All that said, the Live Focus on the Galaxy J7 Duo can be useful, and might be worth considering when picking one of these phones.
Battery
What's the point of an advanced smartphone, with an amazing display and a great camera, if it can't last the whole day without needing to charge? Now, on the surface, the A73s has the biggest battery capacity, with 3,410 mAh, while the Nova 3i comes second with a 3,340 mAh battery, but that's not the whole story. The Galaxy J7 Duo has a feature that most smartphones these days do not have: a removable 3,000 mAh battery.
Some folks who don't like power banks might appreciate this, but who really wants to go through the hassle of not only changing batteries but also making sure the spare battery is charged? Not many people, probably. But if that seems like a feature that you're interested in, then, by all means, go for it.
Final Verdict
Since all three smartphones have similar price points, the specs and performance are what will edge one phone out over the others. For just S$398, the Huawei Nova 3i gives you the most bang for buck. It has a bigger, clearer display, more storage, and a better overall camera experience. And it feels premium too. For a slightly cheaper price, but pretty good quality, the Samsung Galaxy J7 Duo might be worth considering as well.
Specification
Huawei Nova 3i
Samsung Galaxy J7 Duo
OPPO A73s
Display
6.3 inches
2340 x 1080 (FHD+)
16.7 million colours
5.5 inches
1280 x 720 (HD)
16 million colours
6.0 inches
2160 x 1080 (FHD+)
16 million colours
Chipset
Huawei Kirin 710
Exynos 7885 Octa
MediaTek Helio P60
Connectivity
802.11b/g/n, 2.4 GHz
Bluetooth 4.2
Micro USB, USB 2.0
3.5 mm jack
802.11 a/b/g/n/ac, 2.4+5GHz
Bluetooth 5.0
Micro USB, USB 2.0
3.5mm jack
802.11 a/b/g/n/ac 5GHz
Bluetooth 4.2
Micro USB, USB 2.0
3.5mm jack
Sensors
Gravity Sensor
Ambient Light Sensor
Proximity Sensor
Gyroscope
Compass
Fingerprint sensor
Accelerometer
Fingerprint Sensor
Proximity Sensor
Digital compass
Light sensor
Proximity sensor
accelerometer
Camera
Rear Camera:
16 MP + 2 MP, f/2.2Front Camera:
24 MP+ 2 MP, f/2.0
Rear Camera:
13 MP + 5 MP, f/1.9, f/1.9Front Camera:
8.0MP, f/1.9
Rear camera:
13 MP, f/2.2Front camera:
8 MP, f/2.2
Battery
3,340 mAh
3000 mAh (removable)
3410 mAh
Dimension weight
157.6 x 75.2 x 7.6 mm
169g
153.5 x 77.2 x 8.2 mm
174g
156.5mm x 75.2mm x 7.8mm
155g
Price
S$398
S$348
S$429
Dea wishes she could play the latest Tomb Raider or Uncharted, but she can't, so instead she reads and watches other people play. On her down time, you can probably find her re-reading Captain Marvel. The Carol Danvers one.
---

Drop a Facebook comment below!